In my roughly eight years of pursuing photography seriously, one of the most exciting things I have seen is yesterday's announcement of the Sony a9 III, the first consumer interchangeable lens camera with global shutter.
Global Shutter: A Beast
The Sony a9 series were always great cameras, sporting some of the best autofocus available at any given time and being the favourite of many a wildlife photographer. The series just got a major upgrade with the 24.6MP a9 III, and one that absolutely sets a new bar for all cameras: global shutter.
What does global shutter mean? It means that at the point of pressing the shutter button, all photosites on your sensor are read out at once. In other words, the data from the entire sensor is captured in the same instant!
This is an amazing difference from traditional DSLRs and mirrorless cameras, which read out their sensors line by line – whether with mechanical shutter curtains or an electronic reading.
Although many cameras can do this very fast, a non-global shutter has a lot of limitations. One of the most obvious is sync speed for flash photography: traditionally, most cameras can only shoot at full flash power at shutter speeds around 1/200th or 1/250th of a second or slower. To get around this, photographers have had to use specialized technology known as high-speed sync to get flash to work. This made using fill-flash on bright days with fast lenses difficult.
The new Sony a9 III gets around this: it can sync up to 1/80,000. And yes, you guessed right, the fastest shutter speed for this beast of a camera is 1/80,000. It doesn't have a mechanical shutter either, just like the Nikon Z8 and Z9.
But global shutter isn't just for flash: because the shutter is read out at once, gone are the days of rolling shutter in video or fast-moving subjects in still photography. Banding in fluorescent light will also be a thing of the past. In short, the Sony a9 III should avoid any unwanted shutter-related artifacts and limitations that all other cameras have.
Other Specifications and Conclusion
Although the global shutter is by far the most exciting thing about this camera, the a9 III has some seriously impressive specifications, too. It has a new burst rate of 120FPS with full-time autofocus and metering that works with most of Sony's higher-end lenses. That's six times the speed of the old a9 II.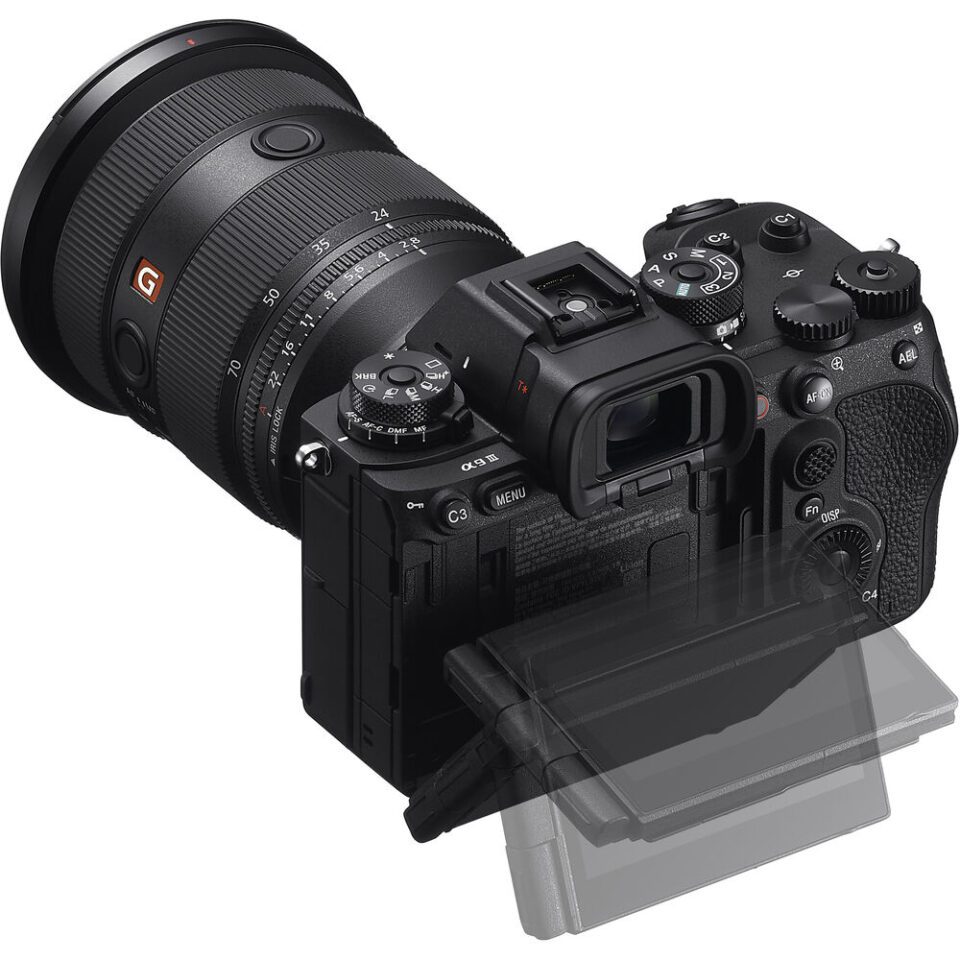 There's also an 8-stop 5-axis in-body image-stabilization, precapture up to 1 second, and 10-bit 4K120 downsampled video. That last point makes the a9 III one of the best video cameras outside of Sony's dedicated video line.
It's hard to overstate how exciting this camera is, and by extension, the appearance of long-awaited global shutters in consumer cameras. Being able to shoot flash at any shutter speed will be great for outdoor portrait shooters, and eliminating shutter-related limitations – from rolling shutter to banding artifacts in fluorescent light – will be very exciting for photographing or filming fast action.
The Sony a9 III is estimated to start shipping on Friday, February 23, 2024 for an MSRP of $5998, and you can pre-order it and show your support for Photography Life by using this B&H link when buying the a9 III.
Press Release
7th November 2023 – Sony today introduced the ground-breaking new Alpha 9 III (α9 III) camera equipped with the world's firsti full-frame global shutter image sensor.

The impressive new global shutter full-frame image sensor enables the camera to shoot at burst speeds at up to 120 fps with no distortion or camera blackout. By combining this innovative sensor with Sony's most advanced AF system to date – boasting AI autofocus with up to 120 times AF/AE focus calculations per second – as well as the ability to sync flash at all shooting speeds, the α9 III opens up a new world of possibilities for professional photographers to capture that decisive moment.

"The new Alpha 9 III is a landmark achievement for Sony's imaging business," says Yann Salmon Legagneur, Head of IP&S Marketing, Sony Europe. "Designed with the needs and demands of professional photographers in mind, every single update to this camera – from the sensor to the size to the button layouts and menu functions – has been made to address specific requests and feedback from our imaging community. We have listened and are thrilled to bring the new capabilities of the Alpha 9 III to fruition…capabilities which allow photographers to capture things they've never been able to capture before." Salmon Legagneur continued, "For creators everywhere, they can achieve even more dynamic expressions when the Alpha 9 III is combined with our rich line-up of lenses, in particular with the new 300mm F2.8 G Master – the world's lightestii large-aperture telephoto lens."

Features of the α9 III

A new dimension of still image performance created by the world's firsti global shutter image sensor:

The new α9 III is equipped with a newly developed world's firsti global shutter full-frame stacked CMOS image sensor with approximately 24.6 effective megapixelsiii and built-in memory, combined with the latest image processing engine BIONZ XR®. It achieves blackout-free Continuous Shooting with AF/AE trackingiv of up to approximately 120 frames per secondiv. The new α9 III is equipped with high-density focal plane phase detection AF. A designated AI processing unit uses Real-time Recognition AF to recognise a wide variety of subjects with high precision. By combining high-speed performance of up to 120fps with highly accurate subject recognition performance, it is possible to easily photograph decisive scenes and moments that cannot be captured with the naked eyeiv. The AI processing unit in the α9 III supports movies as well as stills with accurate subject form and movement recognition, providing a significant improvement in human eye recognition performance with Real-time Recognition AF and Real-time Tracking automatically recognising, tracking, and focusing on the eyes of a specified subjectv. The α9 III is equipped with 8.0 stopsvi of optical 5-axis in-body image stabilisation, allowing for high-quality image rendering.

Shutter speed is freed from the limitations of conventional mechanical shutter image sensors and achieves a maximum shutter speed of 1/80000 second (1/16000 second during continuous shooting)vii, making it possible to capture at high speed without any distortion. When a compatible Sony flashviii is attached, such as the HVL-F60RM2 and HVL-F46RM (sold separately), it is possible to synchronize the flash and take pictures at all shutter speeds up to 1/80000 secondvii. Previously, if the user released the shutter at a speed faster than the flash's synchronisation speed, the amount of light would drop sharply, but with the full-speed flash synchronisation function, it's now possible to photograph scenes that could not be easily captured with conventional technology. Also, when shooting stills or movies under LED lighting, the Hi Frequency Flicker function can significantly reduce high-frequency flicker problems by allowing the shutter speed to be finely adjusted to match the flicker frequency while viewing the monitor.

The α9 III features selectable release lag modes which allows the user to prioritise release lag or viewfinder/monitor displayix. The newly installed Pre-Capture function allows the user to go back up to 1 second and record the moment before pressing the shutter, a Continuous Shooting Speed Boostx change during shooting, and enhanced burst stamina ensures that important moments are reliably captured due to a large buffer memory and increased overall system speed allow up to approximately 390 Fine JPEG imagesxi to be captured in one continuous 30 fpsxii burst.

Customisable focus areas have been expanded to include from XS to XL instead of the previous S,M, and L sizes. The Preset Focus/Zoom function allows preset focus and zoom settings to be memorised in the camera for quick recall when neededxiii. In addition to the existing custom white balance frame size, the user can now select other sizes as needed which allows for fine white balance adjustment after an image has been composed. The α9 III has upgraded features such as the latest AF algorithms to achieve high AF precision down to light levels as low as EV-5 in AF-S mode (ISO 100 equivalent, F2.0 lens), AF tracking for continuous shooting at F22xiv and a composite RAW shooting function that gives the ability to combine multiple consecutive images into a high-quality composite.

Advanced video performance without distortion

The global shutter image sensor provides distortion-free image expression for videos as well as still images. For example, the user can shoot images of nearby scenery from a fast-moving vehicle such as a car or fast-moving subjects with ease. This camera is the first in the Alpha™ series to be able to record 4K 120p high-frame-rate video without cropping, allowing the user to shoot at the angle of view intended. It is also possible to shoot high-resolution 4K 60p videos with 6K oversampling.

The α9 III features S-Cinetone™, created through the development of the VENICE digital cinema camera for video production, making human skin and subjects stand out beautifully, creating natural highlights. The α9 III is equipped with the latest video performance including rich gradation performance and S-Log3, and when in Log shooting mode, it can reflect and display the user's favourite imported LUT. α9 III is compatible with the mobile app "Monitor & Control" for video creators.

Operability and reliability for professionals

Sony has listened to the voices of professional photographers and created operability and reliability that supports their needs. The shape of the grip is improved and ergonomically designed so that it can be easily held in the palm of the user's hand to avoid strain even when using a telephoto lens or over long periods of time.

The VG-C5 vertical grip (sold separately), offers the same operability and versatility when shooting horizontally; providing comfortable support for long shooting sessions. The grip and shutter button area share the same design as the main camera body, allowing image capture without feeling uncomfortable, with the same operability as the camera. The α9 III is equipped with a 4-axis multi-angle LCD monitor that can be operated by touch, allowing for intuitive operation using the latest touch menu. The electronic viewfinder uses a 9.44 million-dot Quad XGA OLED and achieves high visibility with the same brightness as the α7R V and a magnification of approximately 0.90x. A custom button is placed on the front of the camera, and the continuous shooting speed can be changed by operating the custom button assigned with Continuous Shooting Speed Boost with the finger holding the grip, allowing for highly immediate operation. It supports professional photographers when shooting in all environments.

High-speed workflow and scalability to support immediate delivery

New features for the α9 III include a playback image filter that allows the user to efficiently select a large number of images using high-speed continuous shooting, and a function menu that can be used even during image playback. Both features strongly support professional workflows from shooting right through to delivery.

A function menu can now be used during playback so the user can efficiently select a huge number of images using high-speed continuous shooting. The "Playback Function Menu" can be assigned in advance, so the user can perform protection, smartphone transfer, FTP transfer, etc. during image playback. The user can select images narrowed down with a playback filter and play them from the function menu, allowing for quick delivery of specific images. The camera is equipped with a dedicated microphone for voice memos on the back, and the built-in microphone located near the mouth allows clear recording of audio even in noisy environments. The recorded audio data can be transferred via FTP along with the images. The camera allows the user to set up to 20 presets from the International Press Telecommunications Council (IPTC), an international consultative body in which news organisations from various countries participate.

The α9 III can transfer data up to twice as fast as the α9 II. 5 GHz communication offers maximum speed and stability for news and sports shooters who need to deliver immediately via FTP, as well as for studio environments. The α9 III allows stills and movies to be recorded to memory media in numerous ways including the two media slots that support CFexpress Type A cards as well as UHS-I and UHS-II SD cards.

It is compatible with the professional mobile application "Transfer & Tagging" which speeds up the image delivery workflow, and the application "Remote Camera Tool" which allows remote shooting of PCs using wired LAN. Sony is also planning to support a new version of Camera Remote SDK, a software development kit that allows remote camera operation and changing shooting settings.

In addition, the α9 III is scheduled to support functional enhancements such as FTP operability, relay playback, and C2PAxv format supportxvi through a camera software updatexvii.

Sony will continue to expand functions such as breathing correction, relay playback, and C2PA format support for the α1 and α7S III in the futurexvii to meet the needs of professionals along with the α9 III.

Pricing and Availability

The α9 III camera will be available January 2024 The estimated European Retail Price for the camera body only is approximately €7,000/£6100.

The VG-C5 grip will be available January 2024at a variety of authorised dealers, priced at approximately €450/£390.

For detailed product information, please visit: ​

https://www.sony.co.uk/electronics/interchangeable-lens-cameras/ilce-9m3

###

About Sony Corporation

Sony Corporation is a wholly owned subsidiary of Sony Group Corporation and is responsible for the Entertainment, Technology & Services (ET&S) business in the Sony Group. With the vision to "continue to deliver Kando and Anshin* to people and society across the world through the pursuit of technology and new challenges," Sony Corporation supports the Sony Group with technology to create the entertainment of the future together with creators.

For more information, visit: www.sony.net ​

* Both Japanese words, Kando means emotion and Anshin has various meanings such as peace of mind, reassurance, reliability and trust.

Notes:

i Compared to interchangeable-lens digital cameras. As of the November 2023 product announcement. Sony survey.

ii As of the November 2023 product announcement. Sony survey of interchangeable 300 mm F2.8 lenses for full-frame digital cameras.

iii Approximate, effective.

iv Sony test conditions. Maximum continuous frame rate may be lower in some shooting conditions. Continuous shooting speed may vary depending on the lens used in AF-C focus modes. Visit Sony's support web page for lens compatibility information. https://www.sony.net/dics/ilce9m3cnlns/ A software update for the lens itself is also required. The software is scheduled to be released after December 2023.

v When subject recognition is ON during AF shooting. Face, eye, etc. recognition status can be monitored when subject recognition frame display is ON.

vi CIPA standards. Pitch/yaw shake only. FE 50mm F1.2 GM lens. Long exposure NR off.

vii Maximum shutter speed is 1/16000 second when F1.8 or larger aperture is used. 1/80000 second speed not available when shooting movies, when using the Var. Shutter function, or when no lens is mounted.

viii A software update is required. The software update will be released simultaneously with the α9 III. Some variation in brightness and colour may occur between shots when using shutter speeds higher than 1/10000 second. Light level may not reach the manual light output level setting at some shutter speeds, resulting in insufficient light level. Refer to the support page at https://www.sony.net/dics/ilce9m3fl/ for details.

ix With the default [Auto/Off] setting no blackout occurs when shooting is started, and release time is controlled for optimum display latency. The [Fast Release/On] setting provides the shortest possible release time lag with blackout occurring on only the first image in a continuous burst. The [Stable Release/On] setting minimises variations in release lag with blackout occurring on only the first image in a continuous burst, making it easier to release the shutter at the intended moment.

x Continuous shooting may be interrupted when Continuous Shooting Speed Boost is used to switch from a low shooting speed to a shooting speed higher than 60 fps, or when switching from a high shooting speed to a shooting speed lower than 30 fps.

xi With Sony CEA-G160T CFexpress Type A memory cards (sold separately). Sony test conditions.

xii Sony test conditions. Maximum continuous frame rate may be lower in some shooting conditions. Continuous shooting speed may vary depending on the lens used in AF-C focus modes. Visit Sony's support web page for lens compatibility information.

xiii Preset focus works with compatible lenses such as the FE 300mm F2.8 GM OSS. Preset Focus/Zoom settings cannot be recalled while the shutter button is half-pressed. Only focus can be preset for prime lenses. If a zoom lens without power zoom is attached, the focus position/zoom positions can only be registered and recalled via remote operation using the computer software Remote Camera Tool. For details, refer to the following website. https://support.d-imaging.sony.co.jp/app/remotecameratool/l/index.php

Preset Focus/Zoom can only be recalled when the lens that was mounted when the settings were registered is used. Not all lenses are compatible.

xiv When [Aperture Drive in AF] is set to [Focus Priority], the aperture size can be smaller than F22. Results may vary depending on shooting conditions and the lens used.

xv A standards organization that develops open standards and technical specifications for the origin and authenticity of digital content.

xvi Will be available in select countries and regions.

xvii Software update available by Spring 2024.