Today is a big day in the world of photography, because Sony announced a camera that might challenge DSLRs in terms of autofocus speed in accuracy. The much-anticipated update to the Sony A6000 we reviewed earlier is finally out and it looks like it was well worth the wait. The Sony A6300 is the first mirrorless camera that is specifically aimed at capturing fast-moving action, thanks to its "4D" autofocus system with a whopping 425 phase-detection autofocus points. The camera breaks the world record in terms of the number and the spread of these autofocus points, reaching all the way to the far end corners of the frame, allowing fast-moving subjects to be tracked and captured at up to 11 frames per second. Although with its 24 MP APS-C sensor the camera probably won't have the necessary buffer to be able to shoot action for prolonged periods of time like the Nikon D5 or Canon 1DX Mark II can, even shorter bursts with fast and accurate autofocus are going to make a huge difference. Couple all these capabilities with the 4K video capture (up to 100 Mbps) along with its MSRP of $999, and we've got one of the most desirably mirrorless cameras on the market.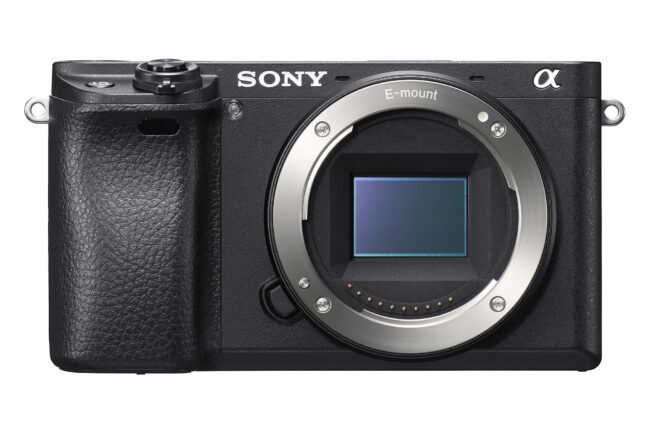 I will be honest, I was expecting to see a totally different Sony A6000 replacement. First of all, the name change did not make sense to me. Sony did the same thing as Nikon often does with its DSLRs, skipping numbers in between. We've never seen the A6100 or the A6200 and yet here we have the Sony A6300. Why? What's the point really? There might be production reasons for this: perhaps there were A6100 and A6200 models that never launched, but still, people don't know anything about that, so why skip two models? And what happens with the A3xxx and A5xxx lines? Will the next iterations of those also have matching numbers, i.e. A3300 and A5300? Anyway, this is just something that always confuses me and I am sure it will also confuse others.
Second, I expected the replacement to have in-body image stabilization (IBIS), as we have been seeing on all full-frame A7 models. With other competitors like Olympus integrating IBIS in their newer models, I thought that Sony would do the same, and yet the A6300 does not have IBIS. Perhaps it has to do with the complex 4D AF system – maybe Sony could not get IBIS and the insanely complex AF to work well together, or perhaps there were other challenges like battery life. Still, I was really hoping to see IBIS on the A6000 successor.
Third, I was hoping to see other neat features such as a touchscreen for quick AF point selection, weather sealing for operating the camera in tough weather conditions, more user-friendly GUI changes and other ergonomic updates, such as the ability to quickly select AF points. Sadly, none of those features made their way into the A6300.
Still, even with the lack of all of the above and the confusion with the model numbering, Sony managed to make a very compelling offer, concentrating heavily on autofocus capabilities of the camera. Just take a look at how amazing the new AF system looks:
https://www.youtube.com/watch?v=83ZSD-zj73A
What's impressive about the new AF system, is that it works wonders when shooting video as well. Take a look at the below video that shows how well the camera can continuously track focus while shooting 4K action video:
https://www.youtube.com/watch?v=6rv9a1g5iu8
That's very impressive, something we have previously not seen on other cameras. The new $6K Canon 1D X Mark II can track subject continuously in live view, but aside from that, most other implementations of subject tracking for video shooting we have seen are either too slow, or too inaccurate.
The 4K video shooting capabilities of the Sony A6300 also look very impressive. Apparently, the camera uses almost the entire region of the sensor (20 MP) for oversampling video at full pixel readout and no pixel binning in Super 35mm format. This equates to roughly 2.4x oversampling, which should provide beautiful low-noise footage in 4K video. Take a look at the below sample footage shot in 4K:
Looking that a small $1K camera can do such nice video, one has to wonder what Nikon was thinking with their 3 minute limitation on the $6500 flagship D5. If the Sony A6300 does not overheat when shooting 4K video like the Sony A7R II does, I might buy a couple of these to shoot our upcoming Photography Life courses…
What's remarkable about the Sony A6300, is its subject tracking speed. It would be wonderful to give this AF system a real test with a high-end super-telephoto lens, but sadly, Sony has not yet released any serious high-end lenses above 300mm. Perhaps that will change in the near future. For now, enjoy this video that shows tracking of a bird using the fast hybrid AF system on the A6300:
The A6300 is clearly something that Sony wants to market to videographers. Aside from the capability to shoot 4K video, the camera can also capture up to 120fps, allowing one to create beautiful slow-motion footage:
Very impressive indeed!
The biggest issue of the Sony APS-C cameras still remains though – aside from a couple of lens choices, there are no other strong options available, aside from the heavier and bigger FE-mount options. I hope Sony will continue making lenses for the APS-C E-mount, so that nice lenses can be coupled with these small and lightweight camera bodies. Speaking of lenses, Sony today also announced its premium "G Master" lens line-up, with three high-end lenses: Sony FE 24-70mm f/2.8, Sony FE 85mm f/1.4 and Sony FE 70-200mm f/2.8 OSS, along with 1.4x and 2.0x teleconverters.
Official Press Release
Here is the official press release from Sony:
New Mirrorless Camera Features World's Fastest AF speed and Highest Number of AF points plus Newly Developed 24.2 MP APS-C Sensor, High Resolution 4K video recording and more

NEW YORK, Feb. 3, 2016 – Sony Electronics, a worldwide leader in digital imaging and the world's largest image sensor manufacturer, has today introduced the latest addition to their award winning lineup of mirrorless cameras, the α6300 model.

The camera boasts an unrivaled 4D FOCUS™ system that can lock focus on a subject in as little as 0.05 seconds, the world's fastest AF acquisition time. Additionally, the α6300 has an incredible 425 phase detection AF points that are densely positioned over the entire image area – the world's highest number of AF points on any interchangeable lens camera, and can shoot images at up to 11 frames per second with continuous autofocus and exposure tracking,

The impressive new mirrorless model also has the ability to support full live-view continuous shooting on the Tru-finder or LCD screen at up to 8 frames per second, ultimately producing a real-time shooting experience that combines all the benefits of an electronic viewfinder with the immediacy of a through-the-lens optical viewfinder.

The versatile α6300 is equipped with a newly developed 24.2 MP (approx.. effective) APS-C sized Exmor CMOS sensor that works together with a BIONZ X image processing engine to produce outstanding image quality throughout the entire ISO sensitivity range ISO 100 – 51200 3. It can also shoot and record high resolution 4K video with full pixel readout and no pixel binning in the popular Super 35mm format.

"The α6300 is yet another example of the dominant innovation that Sony continues to bring to the industry, especially from the mirrorless space," said Neal Manowitz, Vice President of Digital Imaging at Sony Electronics. "With this new model, we've combined the world's fastest and most extensive AF system with a superb image sensor and many of our most advanced imaging and video technologies, creating a package that can far exceed the performance of any DSLR in its class. This camera connects you with the action like never before."

Unrivaled AF Performance
Sony's new α6300 camera builds upon the acclaimed 4D FOCUS performance of the α6000 model, utilizing a Fast Hybrid AF system that combines high-speed phase detection AF with extremely accurate contrast AF and allows it to capture and lock on to moving subjects in as little as 0.05 seconds. The camera's High-density Tracking AF technology positions 425 phase detection AF points over nearly the entire field of view, allowing it to accurately focus throughout a wide area – even on small, fast objects that other cameras would fail to recognize.

In addition to the extensive AF coverage, the α6300 debuts a new High-density tracking AF technology that significantly improves subject detection and tracking performance. This new technology can quickly activate a large number of AF points surrounding a subject – approximately 7.5 times more density than the α6000 – and intelligently adjust them in accordance with the subject's motion. This is a particularly powerful feature when used with high-speed 11 fps continuous shooting or the new 8 fps continuous live-view mode, which provides 100% accurate framing for fast moving subjects on the LCD screen or viewfinder.

Of note is the fact that the camera's 425 phase detection AF points, enhanced tracking and focus accuracy are all available on the α6300 when using A-mount lenses4 with a mount adaptor like the Sony LA-EA3. This is a first for Sony E-mount interchangeable lens cameras with an APS-C sized sensor, as the only other cameras to feature this capability are the full-frame α7R II and α7 II models.

Other enhancements to the α6300 include silent shooting functionality the ability to use AF in focus magnifier mode, expanded flexible spot AF, Eye AF in AF-C mode and more.

Powerful 24.2 MP Exmor CMOS Sensor and BIONZ X Processor
In order to maximize efficiency and overall camera performance, the α6300 features a new 24.2 MP sensor that is an ideal match for its BIONZ X image processing engine.

The new image sensor employs copper wiring in its structure, which improves light collection efficiency and significantly accelerates readout speed. The BIONZ X processor features an upgraded image processing algorithm designed to maximize the sensor's overall capabilities. Together, the two key components work together to produce images with low noise and exceptional resolution in sensitivity settings up to ISO51200, in particular in the mid-to-high sensitivity range.

Ultimate 4K Resolution and Other Professional Video Capabilities
In another first for non-full-frame Sony interchangeable lens camera, the new α6300 offers internal 4K movie recording in Super 35mm format. When shooting in 4K, the camera uses full pixel readout without pixel binning to collect 20 megapixels of information – approximately 2.4x (6K equivalent) as many pixels as 4K UHD and then oversamples the information to produce high quality footage with exceptional detail and depth.

The camera utilizes the XAVC S codec during video shooting, which records at a high bit rate of 100 Mbps7 during 4K recording and 50 Mbps during standard Full HD shooting, ensuring maximum detail and clarity in both video formats. Additionally, the camera will focus approximately twice as fast as its predecessor during movie shooting thanks to its new and improved AF system. AF speed and AF tracking sensitivity are also adjustable for expanded creativity.

Other professional caliber video features include the ability to record Full HD at 120 fps at 100 Mbps, another first for α interchangeable lens cameras with APS-C sized sensors. This mode allows footage to be reviewed and eventually edited into 4x or 5x slow motion video files in Full HD (24p or 30p) resolution with AF tracking. The new α6300 also offers S-Log gamma recording for wide dynamic range shooting – approximately 14-stop latitude in S-Log3 gamma setting – and supports S-Gamut for a wider color space. Both options allow for greater creativity for processing video post-production.

Also included on the new camera is a microphone line input that accepts external microphones and also supports XLR input with Sony's XLR adapter kit, as well as Gamma Display Assist, a new function that allows users to monitor images or check focus when recording S-Log movies. The new model has enhanced Zebra functionality for greater exposure control. Picture profile settings are available, as well as Time Code / User Bit and much more.

Enhanced Operability and Ergonomics
The α6300 camera is equipped with a high contrast, high-resolution XGA OLED Tru-Finder with approximately 2.4 million dots that offers exceptional corner-to-corner visibility. There is also a new mode available for the viewfinder that allows display of images at 120 fps, ensuring that action is displayed smoothly with very few afterimages, making subject tracking through the Tru-finder easier than ever.

Aesthetically, the new α6300 camera features an extremely solid feel in hand thanks to its robust, magnesium alloy design. It can be customized to fit nearly any shooting style or preferences, with 9 customizable buttons that one of 64 different functions can be assigned to. The camera adds a digital level gauge as well as upgraded dust and moisture resistance, a reinforced lens mount structure and a new shutter release button and mode dial with improved operability and grip.

The new α6300 camera is Wi-Fi® and NFC compatible and fully functional with Sony's PlayMemories Mobile™ application available for Android™ and iOS platforms, as well as Sony's growing range of PlayMemories Camera Apps™, which add a variety of creative capabilities to the camera. It also supports QR code for easy connection to non-NFC smart phones.

Pricing and Availability
The Sony α6300 interchangeable lens camera will be available in March for about $1,000 for the camera body or for about $1,150 paired with a 16-50mm F3.5 – F5.6 kit lens (model SELP1650). Prices for the Canadian market will be about $1,350 CA for the body and about $1,500 CA for the camera kit. It will be sold at a variety of Sony authorized dealers throughout each region.
Additional Product Images
Below are the additional product images of the Sony A6300: