While the new Zeiss Otus 28mm f/1.4 seems like a wonderful chunk of glass for those who do not mind a 1.35 kg beast, Sigma has just released its new 20mm f/1.4 Art-series lens, which is a much wider lens, while being as fast as the Otus. In fact, Sigma claims this one to be another "world's first" as far as the focal length and the aperture – the next fastest lens is the Nikkor 20mm f/1.8G. With its MSRP of $899, the Sigma 20mm f/1.4 Art is only $100 more than Nikon's excellent 20mm f/1.8G, so the big question is, is 2/3 of a stop worth the $100 premium Sigma is asking for? Well, the answer to that question is not so simple, because there is a lot more than just stops involved here. Sigma's 20mm f/1.4 Art is completely different optically compared to the Nikon. First of all, we are dealing with a lens that has more superior optical glass inside, with 5 low-dispersion, two ultra low-dispersion and two aspherical lenses. One of those aspherical elements is particularly difficult to make, because it is a "double" aspherical lens with a large 59mm diameter. Essentially this element was the reason that Sigma was able to produce a 20mm f/1.4 – something no other manufacturer was able to achieve to date. So in a way, we can consider the Sigma 20mm f/1.4 to be in a different class of its own when compared to the Nikkor 20mm f/1.8G. However, there is one major pitfall – due to the large element on the front of the lens, it cannot take any regular screw-on filters!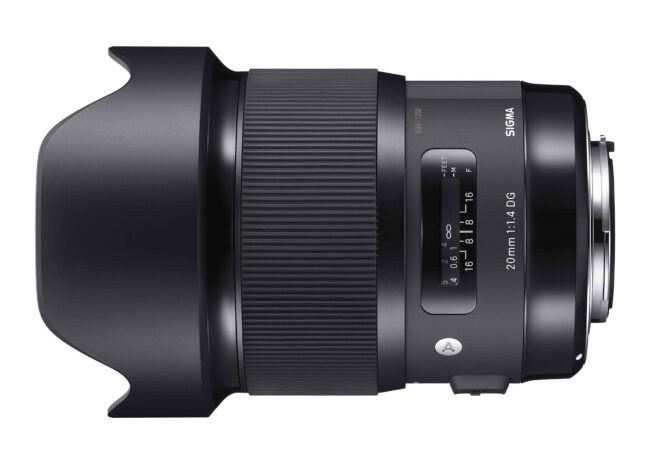 While another Sigma Art lens is welcome, lack of ability to take filters is the Sigma 20mm f/1.4's Achilles heel! While many photographers don't use filters and won't particularly care, landscape and architecture photographers will surely consider this a deal breaker, as they rely on filters all the time. I personally would choose the Nikkor 20mm f/1.8G over the Sigma for this reason alone, as I rely on filters all the time. One could argue that filters at such wide focal lengths are unnecessary, but I strongly disagree. Shoot a large waterfall at close proximity without a polarizing filter, or a seascape without an ND filter and you will see that your setup will be limiting. While I am sure such options as the Wonderpana will make adapters available soon, the idea of lugging a huge and heavy filter system is not very appealing to me.
Now one particular use for this lens would be astrophotography, but only if the lens can handle coma well. If it does, it will be a popular choice among astrophotographers. If it doesn't, then the Nikkor 20mm f/1.8G will be its fiercest enemy… Time will tell.
Official Press Release
Here is the official press release:
RONKONKOMA, NY – October 16, 2015 – Sigma Corporation of America, a leading DSLR lens and camera manufacturer, is setting new benchmarks for wide-angle image quality with the announcement of the newest Global Vision and market's first full-frame 20mm F1.4 lens, the Sigma 20mm F1.4 DG HSM Art lens. The lens will be on display at PhotoPlus International Conference + Expo in New York City from October 22-24. The lens will become available late November for the street price of $899, and will be available in Sigma, Canon and Nikon mounts.

This revolutionary prime lens is designed to bring out the full potential of ultra-high-megapixel DSLR cameras. With a focal length of 20mm and F1.4 aperture, this lens delivers outstanding large-aperture brightness and bokeh. Through decades of experience in lens design and Sigma Global Vision lens craftsmanship, the 20mm incorporates both "F" Low Dispersion (FLD) glass, and five Special Low Dispersion (SLD) glass in a design of 15 elements in 11 groups. The combination of advanced optics and optimized lens power distribution minimizes spherical aberration, axial chromatic aberration and field curvature, producing outstanding image quality. The wide angle and outstanding image quality make this lens great for seascape, cityscape, and astrophotography, as well as for photos in low light, indoor photography, portraits, and event and wedding photography.

"While many saw the development of a 20mm lens for today's super-resolution DSLRs as challenging, Sigma approached it head-on utilizing our advanced manufacturing technologies to create the world's first 20mm F1.4 ultra-wide-angle lens," said Mark Amir-Hamzeh, president of Sigma Corporation of America. "This new lens is a result of years of experience by the company's optical engineers in developing state-of-the-art lens designs and proven production knowledge, and high-precision craftsmanship by our factory team in Aizu, Japan."

From the start of the design process, Sigma took steps to minimize flare and ghosting, and established an optical design that is resistant to strong incidental light sources such as backlight with its Super Multi-Layer Coating. As with all Sigma Global Vision lenses, the 20mm F1.4 lens incorporates the latest Sigma technology, including an optimized autofocus (AF) algorithm for smooth, fast, and accurate focusing. In addition, Thermally Stable Composite (TSC) compound material is used, which has a high affinity to metal parts, consistently performs well at extreme temperatures, and reduces the size and weight of the lens.

This lens is compatible with Sigma's USB Dock, (sold separately) which allows photographers to update the lens' firmware, adjust focus points and customize full-time manual focus over-ride function settings using Sigma's Optimization Pro software. A new metal lens cap (LC907-02) is also available as a separate accessory for $23.

The Sigma 20mm F1.4 Art lens will also feature:

A Hyper Sonic Motor (HSM) that ensures a silent, high-speed AF function. Smoother AF is achieved when the this AF algorithm is optimized
A nine-blade, rounded diaphragm creates an attractive blur to the out-of-focus areas of the image
A brass bayonet mount of highly precise and durable construction to enhance mount's strength and long-term wear resistance
Specifications: Weight of 33.5 ounces; a diameter and length of 3.6 inches by 5.1 inches; a minimum aperture of F16; and angle of view (35mm) of 94.5°; minimum focusing distance of 10.9 inches; and a maximum magnification ratio of 1:7.1

Sigma fans can feel confident knowing that every 20mm lens that leaves Japan's factory has been tested using Sigma's own modulation transfer function (MTF) measuring system, "A1." Other prime lenses in the Art line include: 24mm F1.4 DG HSM, 30mm F1.4 DC HSM, 35mm F1.4 DG HSM, and 50mm F1.4 DG HSM.