Sigma just announced that three of their existing APS-C lenses – the 16mm f/1.4, 30mm f/1.4, and 56mm f/1.4 – are launching for the Nikon Z system later this year! I've been a fan of Sigma lenses for years, and it's exciting to see them finally add some Z mount options.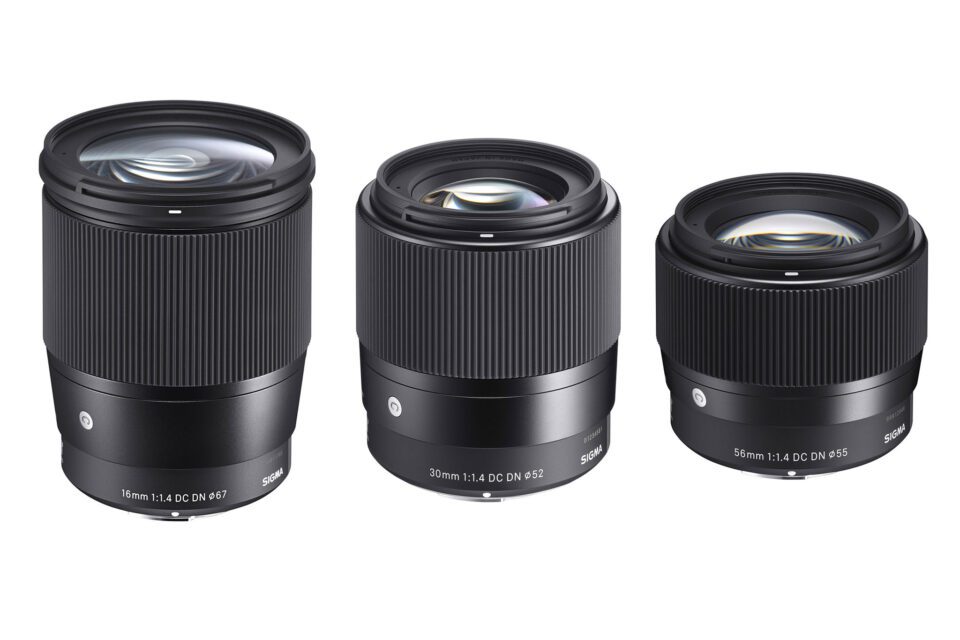 All three of these lenses seem like useful additions to the Z system, which is sorely lacking in native DX lenses at the moment, especially primes. (There are none so far, although there's a 24mm DX lens on the roadmap.) Although none of the three lenses have image stabilization, the f/1.4 maximum aperture makes them good choices for low-light situations and shooting with a shallow depth of field.
The exact prices have not been formally announced, but it's easy to estimate them, because the lenses are already available for four other lens mounts (M4/3, L mount, Sony E, Fuji X, and Canon EF-M). In particular, the 16mm f/1.4 is $449. Meanwhile, the 30mm f/1.4 is $339, and the 56mm f/1.4 is $479. Full specifications for each lens are listed in the press release that I've copied below.
To me, the most interesting part about this announcement isn't necessarily the lenses themselves, although I do think they'll be useful. Instead, it's one of the footnotes in the press release: "This product is developed, manufactured and sold under the license agreement with Nikon Corporation." Now that Sigma is confirmed to be working with Nikon's license agreement – like Tamron already was – we should start to see third-party autofocus options snowball for the Z system.
What lenses we'll see next, if any, are anyone's guess. But Sigma already has a great line of mirrorless lenses that are waiting to be fitted with a Z mount. For reference, here's a list of Sigma's existing mirrorless lenses for the Sony E mount:
14mm f/1.8 Art
14-24mm f/2.8 Art
16mm f/1.4 Contemporary (Crop sensor)
16-28mm f/2.8 Contemporary
18-50mm f/2.8 Contemporary (Crop sensor)
20mm f/1.4 Art
20mm f/2 Contemporary
24mm f/1.4 Art
24mm f/2 Contemporary
24mm f/3.5 Contemporary
24-70mm f/2.8 Art
28mm f/1.4 Art
28-70mm f/2.8 Contemporary
30mm f/1.4 Contemporary (Crop sensor)
35mm f/2 Contemporary
35mm f/1.2 Art
35mm f/1.4 Art
40mm f/1.4 Art
45mm f/2.8 Contemporary
50mm f/1.4 Art
56mm f/1.4 Contemporary (Crop sensor)
60-600mm f/4.5-6.3 OS Sport
65mm f/2 Contemporary
70mm f/2.8 MACRO Art
85mm f/1.4 Art
90mm f/2.8 Contemporary
100-400mm f/5-6.3 OS Contemporary
105mm f/1.4 Art
105mm f/2.8 MACRO Art
135mm f/1.8 Art
150-600mm f/5-6.3 OS Sport
Not a bad lineup! I'm sure that most Nikon Z users will see a few lenses above that pique their interest. Anything in this list could conceivably be ported to the Z system by simply adding the Z mount.
That said, there's some question whether Nikon would allow Sigma to sell a lens that's too similar to an existing Nikon Z lens under the terms of their license agreement. But beyond that, there's some question about what counts as "too similar!" For instance, would the Sigma 20mm f/1.4 Art step on the toes of the Nikon Z 20mm f/1.8 S, or would Nikon let it slide because of the different maximum apertures? It's all speculation at this point.
Regardless, I'm hoping that we see more Sigma lenses for the Z system soon. Nikon has mostly fleshed out the Nikon Z lens essentials at this point, but there are still plenty of gaps for niche lenses. Some strategic Sigma lenses from the list above would certainly help with that. What are you hoping to see the most?
Here's the full press release from Sigma:
SIGMA launches interchangeable lenses for Nikon Z Mount system

SIGMA Corporation (CEO: Kazuto Yamaki) is pleased to announce the upcoming launch of interchangeable lenses for Nikon Z Mount system. This addition allows users to enjoy high performance, and high quality SIGMA lenses in native mount on their Z Mount system. Three F1.4 prime lenses (16mm F1.4 DC DN | Contemporary, 30mm F1.4 DC DN | Contemporary, 56mm F1.4 DC DN | Contemporary), which are currently available in five mounts (Sony E-mount, Canon EF-M mount, FUJIFILM X Mount, Micro Four Thirds mount and L-Mount) will be simultaneously released in Z Mount.

For detailed product information, please refer to the following link.

Main specifications and features

Control algorithm including AF drive and communication speed optimization has been developed specifically for Z Mount interchangeable lenses. In addition to realizing high-speed AF, the lens also supports AF-C (Continuous AF) and in-camera aberration correction*. The mount is rubber-sealed to cater for use in a variety of environments.
* Available on supported cameras only.

Specifications

16mm F1.4 DC DN | Contemporary

Lens Construction:16 elements in 13 groups|Angle of View:83.2°|Number of Diaphragm Blades:9 (Rounded diaphragm)|Minimum Aperture:F16
Minimum Focusing Distance:25cm|Maximum Magnification Ratio:1:9.9|Filter size:φ67mm
Dimensions (Diameter × Length):φ72.2mm × 94.3mm|Weight:420g|Compatible hood:LH716-01

30mm F1.4 DC DN | Contemporary

Lens Construction:9 elements in 7 groups|Angle of View:50.7°|Number of Diaphragm Blades:9 (Rounded diaphragm)|Minimum Aperture:F16
Minimum Focusing Distance:30cm|Maximum Magnification Ratio:1:7|Filter size:φ52mm
Dimensions (Diameter × Length):φ70.0mm × 75.3mm|Weight:285g|Compatible hood:LH586-01

56mm F1.4 DC DN | Contemporary

Lens Construction:10 elements in 6 groups|Angle of View:28.5°|Number of Diaphragm Blades:9 (Rounded diaphragm)|Minimum Aperture:F16
Minimum Focusing Distance:50cm|Maximum Magnification Ratio:1:7.4|Filter size:φ55mm
Dimensions (Diameter × Length):φ70.0mm × 61.5mm|Weight:295g|Compatible hood:LH582-01

*The appearance and specifications of the products are subject to change.
*This product is developed, manufactured and sold under the license agreement with Nikon Corporation.

Contact

For further information and availability, please contact your local authorized SIGMA Service Station listed in the link below:
https://www.sigma-global.com/en/world-network/