Yesterday I was walking with my camera through the beautiful Krkonose mountains on the border of the Czech Republic and Poland. Even the rain could not take away their beauty. I used one of the smallest Nikon Z-mount lenses available to photograph one of Europe's largest rivers, the Elbe. Specifically, my lens was the new 27mm f/2.8 from TTArtisan, which you can read about below. I will be reviewing the lens soon.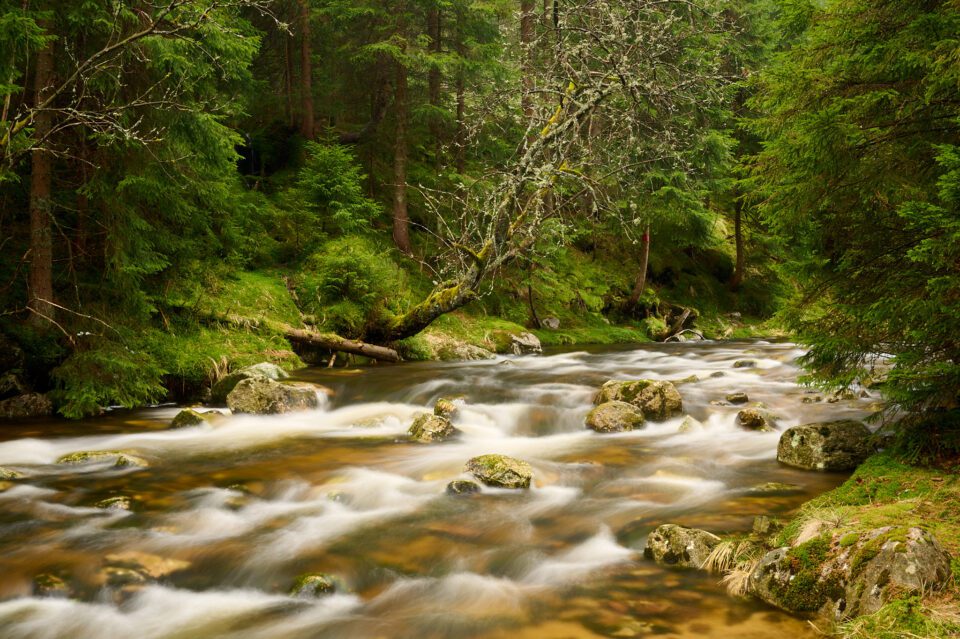 Recent Announcements
TTArtisan AF 27mm f/2.8: It was the first TTArtisan autofocus lens for Fujifilm X-mount cameras (released in October 2022). Now it's launched for APS-C mirrorless cameras with Nikon Z and Sony E-mount. The big strengths of this pancake lens are its size (3 cm thick) and weight (100g). The AF is driven by a stepping motor with manual focus override. Comes with a rear cap that allows firmware updates (via USB-C). Sells for $159.
DJI Mavic 3 Pro and Pro Cine: The DJI Mavic 3 is a three-eyed king. This new drone (available in both Pro and Cine models) has three separate cameras, for equivalent focal lengths of 24mm, 70mm, and 166mm. The main camera – the 24mm equivalent – has the same large Micro Four Thirds sensor as before, while the other two lenses have smaller sensors behind them. The difference between the Pro and Pro Cine versions is that the Cine offers Apple ProRes encoding (4:2:2 HQ, 4:2:2 and 4:2:2 LT) for all three cameras. The DJI Mavic 3 Pro drone with DJI RC can be pre-ordered for $2,199. The DJI Mavic 3 Pro Cine will retail for $4,799.
The Rumor Mill
Nikon Z8: Are you ready?
Nikon has finally officially confirmed that something big is in the works. On their YouTube channel, Nikon has posted a teaser that hints at a May 10th release date for their long-awaited Nikon Z8 mirrorless camera. As the announcement date approaches, more and more information is leaking out. Below are the rumored specifications from Nikon Rumors. For clarity, I've highlighted the specs that are identical to those of the Nikon Z9:
Sensor: 45.7MP (stacked)
ISO range: 64-25,600
20 fps (120fps in JPEG mode)
5-axis in-body stabilizations: 6 stops
Shutter speed: 1/32000 – 900s
Electronic shutter only
Autofocus: 493 AF points
HEIF 10-bit support
Video: 8.3k @60p
3.2″ tilting LCD screens
EVF: 3690k-dot OLED
Memory cards: CFExpress + SD
Dimensions: 144×118×83mm | 5.6×4.6×3.2in
Weight: under 1kg
Price: €4,599 (equivalent to around $5,000)
As you can see, there are a lot of (rumored) parallels. I'm reminded of the Nikon D3 and D700 cameras. There were so many similarities between these cameras that it took a toll on the sales of the more expensive D3. Will history repeat itself? We won't know for sure for another ten days, but stay tuned.
New standard zoom lens for Canon APS-C cameras
According to information posted on Canon Rumors, users of Canon APS-C cameras could see a new standard zoom lens as early as this year. This information is based on a trio of new patents that Canon has registered. The link between all the patented lenses is their minimum focal length of 15mm (24mm equivalent). This would certainly be a welcome addition to Canon's APS-C line-up, as existing standard zooms start at 18mm (29mm equivalent).
The three candidates are: the Canon RF-S 15-70mm f/4, the Canon RF-S 15-70mm f/2.8-4, or the Canon RF-S 15-85mm f/2.8-5.6. The relatively wide maximum aperture values indicate higher-end kit lenses. Any of them – or none of them – could make it to production.
Photo Contest Corner
Portrait Photography Collective 2023
Topic: Portrait
Fees: £9 to £32 (1 to 6 entries)
Prize: Prize money will be generated from the entry fee collected. A total of 50% will be split 35% to the winner and 15% to the runner-up.
Deadline: May 6
Topic: Animals of all kinds
Fees: $35.00 for submission set of 5 images. $5.00 for each additional image.
Prize: Up to 36 images will be selected by the juror for exhibition at Praxis Gallery. One Curator's Choice and three Honorable Mentions will be awarded and featured in the exhibition, the printed show catalog, and the online exhibit gallery.
Deadline: May 15
"​​​Black and White​" Photography Competition
Topic: Black and White photos
Fees: $12 to $36 (1 to 6 entries)
Prize: Cash Awards up to $10,000 to the Top Three Photographers.
Deadline: May 7
Good Deals and New Sales
After the discounts on Nikon products that we informed you about last week, you can now also save on Sony products this week. The discounts are mostly around $200 for cameras and $100 for lenses. And what caught my eye in the selection of discounted cameras and lenses?
Cameras
Lenses
Full-frame zoom lenses
Full-frame primes
Other Pages of Interest
Bird feeders around the world are the easiest way to see and photograph species that are otherwise difficult to observe. For inspiration, I've provided three links (The Cornell Lab, Audubon, Mangolinkcam) where you can live-stream birds from webcams covering virtually the entire world.
If you're a fan of old cameras, you should know that the 42nd Leitz Photographica Auction will take place on June 9-10 in Wetzlar, Germany. Several rare cameras will be up for auction, including Leica CL prototypes and cameras used by legendary photographers. The auction will include a Leica M3 used by British photographer John Bulmer, a Leica M2 used by French conceptual artist Sarkis Zabunyan, and other beautiful cameras and lenses. You can see the most interesting items, along with estimated prices, here.
It is no surprise that the tropics are home to venomous species of snakes, frogs, octopuses, centipedes, spiders, insects, and even mammals. But would you believe that there are also venomous bird species? Indeed there are. Two relatively common birds from Papua New Guinea have been found to have a toxin in their feathers similar to the deadly dart frogs of South America. You can read about them here.