They say the best camera is the one you have with you. Well, maybe that's true of a camera, but what about a lens? In accordance with Murphy's Law, I would say the best lens is the one that's currently at home in my study, about 300 km away.
I'm sitting in a mountain hut in the Jeseníky Mountains right now, watching Red Crossobill right outside my window. These handsome and very interesting birds are usually high in the canopy of spruce trees, but here they are perched on the tops of low trees right in front of my nose. Close enough for my 400mm lens, but too far for my 24-120mm. Once you tell yourself you won't need a particular lens, fate is guaranteed to convince you otherwise. Try it, it really works.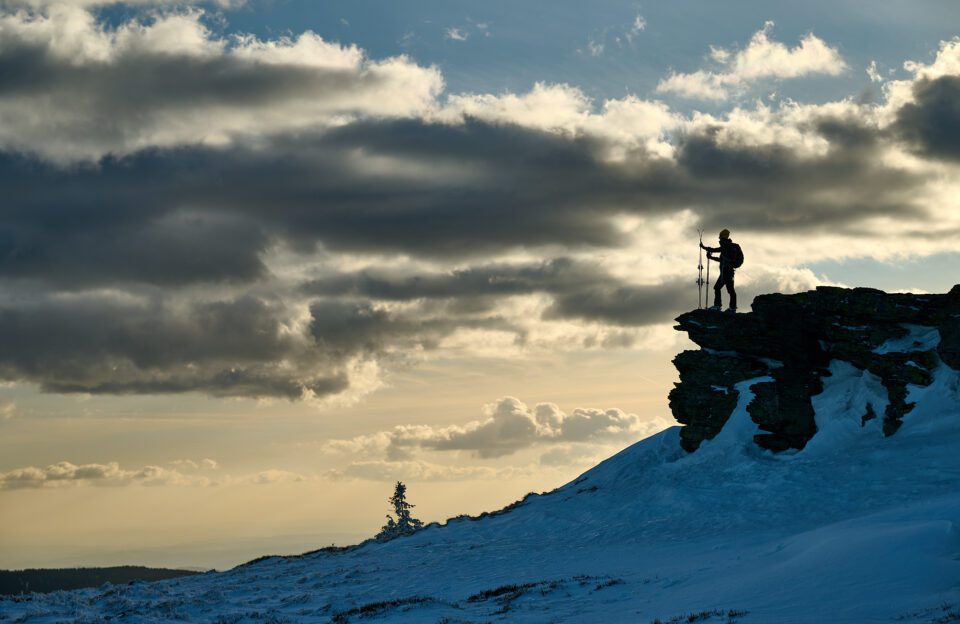 Recent Announcements
DxO PureRAW 3: The expected upgrade to the current version brings the improved DeepPRIME XD noise reduction algorithm, previously only available as part of DxO PhotoLab. The algorithm provides an even higher level of noise reduction and detail preservation than the previous version. Our recent test proved this. The user interface has also been improved. The price for new users is $129, and $79 for the upgrade.
Mitakon Speedmaster 65mm f/1.4 XCD: It's a manual "nifty fifty" equivalent for Hasselblad X-mount. For $599 you get a lens that is faster than any original Hasselblad lens. The advantage of this should be a nice rendering of photos with a shallow depth of field. Of the 11 optical elements, there are 2 with high refractive index and 2 with ultra-low dispersion. The maximum magnification is 0.25x (70cm).
The Rumor Mill
Canon confirms ongoing development of EOS R1
We all knew that the EOS R1 was in the works, but it's more official now. According to the General Manager of Canon's Imaging Division, Go Tokura, the current Canon flagship is the EOS R3, but the R1 is in development and will be the "most premium model." That said, it looks like the R3 will remain on the throne until at least the end of 2023. In fact, the new ruler is unlikely to appear before the 2024 Olympics.
Three new lenses from Sigma
According to Sony Alpha Rumors, we are a few weeks away from the introduction of three new lenses from Sigma. These should be two full frame (17mm f/4 and 50mm f/2) and one APS-C (23mm f/1.4) lens. All of the planned lenses should be Contemporary series. President of Sigma Corporation, Kazuto Yamaki, also confirmed during a recent interview that a 70-200mm f/2.8 lens with a different design is in the works. For which mounts? That is still a question.
A new wide-angle lens from 7artisans
At least that's what it looks like, according to the company's new teaser. Judging by the sketch of the optical design of the lens, it looks like a lens with a focal length somewhere around 15mm. If we wait until April 8, we'll know the details. That's the date when the lens should be officially announced.
Via Photo Rumors
Will Panasonic revive the Lumix G7?
A hint could be a claim by Panasonic manager Yosuke Yamane, who said that more affordable Lumix MFT cameras with phase-detection autofocus are coming soon. According to the Chinese rumor site CameraBeta, this MFT camera could be the second generation of the G7. Considering that the latter was introduced back in 2015, it would definitely deserve an upgrade. Plus, if it gets the new autofocus from the Panasonic S5 II, it could be really interesting.
Via 4/3 Rumors
Sony to unveil new camera at the end of March
On March 29, Sony is expected to unveil its next addition to the camera segment for vloggers and Internet filmmakers. They will be able to take advantage of a shallower depth of field and better high ISO performance when shooting, as the new model will be full frame. The camera, called Sony ZV-E1, is expected to feature the 12.1MP sensor from the Sony A7S III. The video output should allow 4K60p and 4K120p without cropping or pixel binning, up to ISO409,000. The autofocus system should come from the Sony A7 IV for a change. The body is supposed to be quite compact, similar to the Sony A7C.
Photo Contest Corner
Topic: Six categories covering the following biomes: forests, rivers, lakes and lagoons, deserts, rocks and cliffs, grasslands, steppes and savannas, polar caps, glaciers and tundra, and seas and coasts.
Fees: €25 to €30 (up to 30 images).
Prize: The total value of the first prize is €4,000 (€2,000 cash and €2,000 photographic equipment). The category winner will receive €750 cash / €750 equipment.
Deadline: March 31
Black & White Photography 2023 by The Artist Gallery
Topic: Black and white photography
Fees: 1 photo $10; 3 photos $25; 5 photos $35.
Prize: 1st place gets 15% of the money collected from the contest registration fees. 2nd and 3rd place gets 10% and 5%.
Deadline: March 31
Topic: Nature, Wild animals, Romanian nature
Fees: Depending on the category, the fee is €5 to €15.
Prize: The grand winner will receive the Milvus Trophy, €750, and a guided wildlife photo tour in the Danube Delta for 2 people worth €1000. Category winners will receive €300.
Deadline: April 2
Good Deals and New Sales
Recently, I experienced once again how much power is packed into the relatively compact body of the Canon EOS R5. Plus, with new firmware on the way, it looks even more appealing. The current sale at B&H is for $3,699, which is a $200 discount. But I found an even more tempting deal on Adorama. The price of the camera is the same, but as a bonus you get a license for one of the best photo editors, Capture One 23 Pro (normally $299).
The same goes for the Nikon Z9. Bundled with the FTZ II mount adapter and Capture One 23 Pro, it can now be purchased at Adorama for $5,647. We won't be seeing big deals for the Z9 any time soon, but this is at least something.
If you're serious about shooting video with your camera, an external monitor/recorder might come in handy. Like the Atomos Ninja V 5″ 4K HDMI Recording Monitor. For $399 (was $499), you'll be able to record in Apple ProRes RAW and DCI 4K60 on select cameras.
You can also save some money in Europe right now, which is pretty unusual with the current inflation. For example, Fotokoch in Germany is running sales on Sony, Canon, Nikon, and Olympus. Hundreds of Euros can be saved on a single purchase.
Other Pages of Interest
The last few hours of photography I've done have put me in a "tunnel vision" mood – I can hardly see anything but birds. And there were a lot of them! In the last few hours alone, three new endemic species landed on my memory card. Unfortunately, this completely overshadowed the fact that I was shooting alongside renowned Swiss nature photographer Thomas Marent, whose excellent book Rainforest is in my library. Take a look at his inspiring photographs or buy one of his books. Both are well worth it.
Don't have anyone to talk to about your photos? Afraid of harsh criticism? Want an opinion about your photos? I'm sure you've been there – you show your photo to someone you love and all they say is one word: nice. Well, maybe you need to open the new version of the GPT-4 chatbot, which can now accept photos as input. I can't wait to talk to GPT-4 and ask for critiques. I hope it will be as sensitive to me as my grandmother was…
We can dislike it, we can disagree with it, we can even protest against it. But that doesn't change the fact that subscriptions are the way to record revenues. At least at Adobe, that seems to be the case. Fortunately, there are alternatives if you don't like the subscription model.