Last week, I told you my resolution for 2023: to try new things. So, last night I went into the pitch-black woods with my camera, tripod, flash, and headlamp. The forest at night is a magical place and my photo hopefully proves it. That said, I'm glad that no one saw me when I was taking the picture. A guy running around a bunch of trees with a red light is probably terrifying.
Hopefully you'll be entertained by the resulting photo as well as last week's news in the photography world.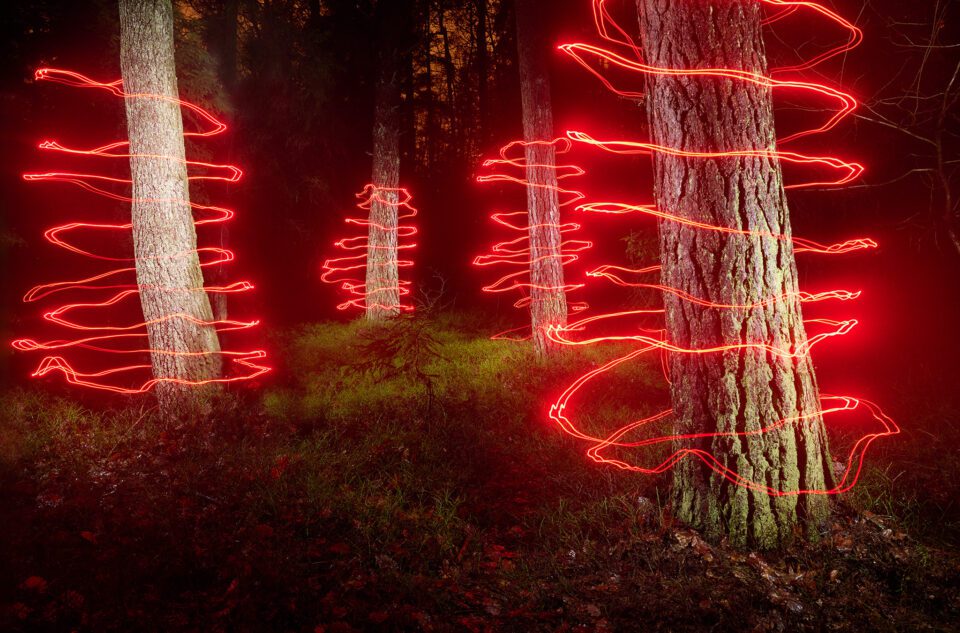 Recent Announcements
Sigma 60-600mm F4.5-6.3 DG DN OS: A completely redesigned version of the lens of (almost) the same name, designed for L-mount and E-mount (Z-mount is unfortunately missing for now). Compared to the original version, the lens has a different motor (High-response Linear Actuator), impressive macro capabilities (1:2.4 magnification at 200mm) and lower weight (2.5kg). The weather-sealed design is made of magnesium, carbon-fiber-reinforced plastic, and a thermally stable composite. Available from mid-February 2023 for $1999.
Fuji X-H2S Firmware Version 3.0: The new firmware expands the AF subject-detection capabilities by including insects and drones. Somewhat interestingly, Fuji has added insect detection to the "Birds" and drone detection to the "Airplane" AF modes. According to Fuji, the AF algorithm has also been improved for situations where the subject is backlit, looking sideways, occupying a small area of the frame, or moving very fast.
DJI RS 3 Mini: At 795g, it is the smallest of DJI's RS 3 gimbals for videography. It supports gear weighing up to 2kg, such as a standard mirrorless camera like the Sony A7 with a 24-70mm f/2.8 lens attached. The gimbal includes the latest third-generation stabilization technology, a 1.4″ touchscreen, native vertical shooting, and other features. Priced at $369.
The Rumor Mill
New radio trigger controller from Godox
According to Photo Rumors, it looks like the current radio trigger controller from Godox could be getting a second generation. What would make it better than the first one? First of all, it should improve compatibility with more of today's mirrorless cameras. Additionally, it should include more user settings options, firmware updates via USB-C, and a new menu interface, among other features.
Cosina will soon introduce two new Voigtlander lenses for Nikon Z
Specifically, the Nokton 50mm f/1.0 Aspherical MC and the Super Wide-Heliar 15mm f/4.5 Aspherical III. Both lenses already exist, but the former is only available for the Leica M-Mount, while the latter is only available for the Sony E-mount. I find the Nokton particularly interesting. For a reasonable price (the M-mount version costs $1,799) you get a super fast 50mm lens for shallow depth of field. An original Nikon lens with similar specs costs $7,997. Note that I'm not comparing the optical qualities of the two here. In the case of the 15mm f/4.5, I would have liked a shorter focusing distance. Unfortunately, this wish is likely to remain unfulfilled.
Via Nikon Rumors
Seven on the Horizon
I'm not referring to either The Magnificent Seven or Se7en – although they're great movies – but seven new lenses on the roadmap from TTArtisan. In addition to wide-angle and normal lenses, we can expect a 100mm f/2.8 macro and a telephoto zoom. But all we have so far are drawings and no specifications, so take it as subject to change. Either way, I'll keep you informed.
Via Sony Rumors
Photo Contest Corner
Topic: Black and white photo. Twelve themes (Abstract, Architecture, Conceptual, Fine Art, Landscapes, Nature and Wildlife, Nude, People, Photojournalism, Portrait, Street Photography and Travel) divided into Series and Single sections.
Fees: Series $30, Single $25
Prize: The winner of the Single section will receive $2,000 and the Winning Series will be awarded a $3,000 cash prize.
Deadline: January 22
Suffolk Wildlife Trust Photography Competition 2022
Topic: Nature photos in several categories. In addition to the three junior categories (UK Wildlife), there are My Mobile Moments, Wilder Perspectives, Birds and Mammals, Invertebrates and Plants, Fungi, Reptiles, Amphibians, Marine.
Fees: Free (up to 3 images)
Prize: £200 cash prize for the overall winner
Deadline: January 23
International Street Photography Exhibition
Topic: Street photography
Fees: Free (If your work is selected, there is a participation fee of £48, which will cover the full cost of the exhibition)
Prize: Photographers who are selected will have their work displayed for a month-long exhibition with the opportunity to sell their photographs.
Deadline: January 25
Good Deals and New Sales
I have my good old Manfrotto 055 aluminium tripod at my cabin in the mountains. I still use it for backyard photography. The last time I had it on an expedition was 8 years ago in Colombia. It is simply too heavy for travel. Its current carbon version, the Manfrotto MT055CXPRO3, is a different story. It weighs 2kg, its load capacity is 9kg and its maximum working height is 169.9cm. In addition, the central column can be mounted off the axis of the tripod so that you can get the camera into a position that a conventional tripod doesn't allow. Now $156 off, for $344.
Another memory card deal?! Well, you know I love them. If you're buying your memory cards at full price at this point, you must not be checking my Photography News articles very often! Today, the type-B Sandisk Extreme Pro CFExpress card is on sale for $117 from its usual price of $250 – more than half off. This is for the 128 GB card. The 256 GB card is also on sale, this time for $260 (was $400).
Other Pages of Interest
Instead of showing you some winning photo contest photos this week, I'll present the work of one respected photographer instead. Do you know the name Tim Laman? If not, you may have seen some of his photos or videos in BBC or Netflix documentaries. Probably his most famous project is documenting all species of birds-of-paradise, which he worked on with biologist Ed Scholes. During their work in the tropics of Indonesia, they even discovered a new species of these amazing birds.
Do you find post-processing enjoyable, or is it something that bothers you a bit and takes you away from the real creative work? If the latter, you basically have three options. Either bite the bullet and learn to edit faster, let someone else edit your files, or teach a robot your own style and leave the rest of the work to it. You can try out the third option with some software from Neurapix.
Now that you know what's going on in the photography world, you can go outside and shoot something cool. It's raining outside my windows right now, but that doesn't deter me. After I finish this sentence, I'm going to go photograph the Eurasian Bullfinch. I wish you good ideas and good light in your photography this week.