Probably the biggest news of the past week for me personally is that we launched our Weekly Photo Challenges at Photography Life! It's a great way for you, our readers, and our writers to inspire each other. As you probably saw, the theme for this week was central composition. Among the photos I took last week, this pair of European Bee-eaters meets the criteria. But now on to last week's news.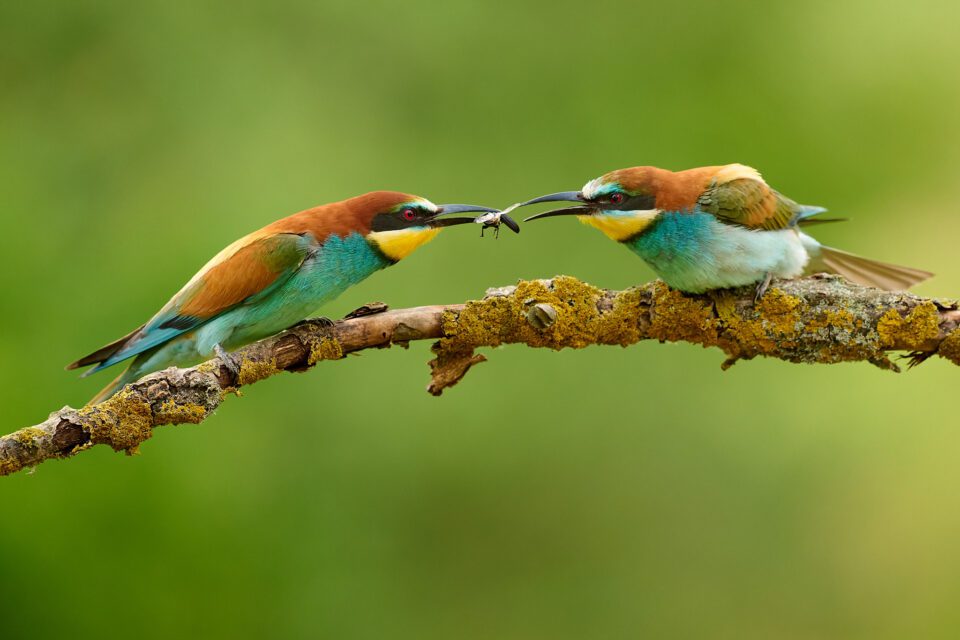 Recent Announcements
Sigma 14mm f/1.4 Art: Super wide, super fast and super big. That's how you could characterize this 1170-gram (2.6 pound) lens from Sigma, aimed mainly at astrophotographers. For now, it's compatible with Leica L and Sony E mounts. The 14mm f/1.4 Art has a lens heater retainer, removable tripod collar, manual focus lock switch, AF/MF switch, de-clickable aperture ring, and rear filter holder. The lockable front cap has slots for storing up to two filters. The lens is sealed against dust and moisture. These advanced features come at a price of $1,599.
Apple M2 Ultra: The already powerful M1 Ultra chip, introduced a year ago, is getting its successor. Does the new M2 Ultra follow Moore's Law? The Neural Engine in the new chip should be able to perform 31.6 trillion operations per second, which is 40% faster than its predecessor, so Moore's Law still seems to be roughly true for now. Photographers will benefit from this performance when editing high-resolution video, merging large panoramas, and doing other complex tasks. Apple's M2 Ultra has so far found its way into new devices such as the Mac Studio, Mac Pro.
Comica VM30: The world's first wireless shotgun microphone. The signal is transmitted via a built-in 2.4GHz wireless transmitter up to 100 meters away. If required, sound can also be transmitted via the traditional wired path. The microphone has a super-cardioid pickup pattern and records at 24-bit depth and 48KHz sampling rate. Available for $189.
The Rumor Mill
Canon R1: tremors before the earthquake
There is no doubt that once the Canon R1 arrives, it will compete against the two kings (Nikon Z9 and Sony a1) that currently rule the photography world. The EOS R1 will be Canon's most advanced mirrorless camera by far, stepping up above the EOS R5 and EOS R3. So, it's clear that Canon is going to bring out the best it currently has. The Canon Rumors website summed up everything that has been leaked so far last week. In a nutshell, the Canon R1 will have:
A larger body than the Canon R3
The largest OLED rear display among competitors, possibly 4″ diagonal
A resolution of around 45MP
The highest resolution EVF on the market, with a very fast refresh rate and no blackout
Global shutter
Two CFexpress B slots
Ergonomic design in EOS-1D style
Fully customizable, possibly color, top display
New autofocus system (possibly quad pixel AF)
Next super-fast lens for Fujifilm X-mount
According to Fuji Addict, another interesting Pro lens is about to roll out of the Chinese Viltrox factory, this time for Fuji X-mount. The focal length is said to be 27mm, which corresponds to a full frame equivalent of 40.5mm. The maximum aperture of f/1.2 promises good usability in low light and the advantage of a shallow depth of field.
Photo Contest Corner
Topic: Photojournalism, portrait, nude, architecture, landscape, wildlife, abstraction, experimental, street photography, still life, artistic photography, or alternative processes.
Fees: €30 to €60 (you can send from 1 to 12 images).
Prize: € 1,000 for the overall winner. The best 100 images along with the winning images will be published in the yearly book "Monochromatic – Best Photographers of 2023".
Deadline: June 30
World Nature Photography Awards 2023
Topic: There are 14 categories within the WNPA. See the list here.
Fees: The entry fee is £30 per entry, which allows you to enter up to 6 images.
Prize: The winner will receive the title of the World Nature Photographer of the Year and a cash prize of $1000.
Deadline: June 30
Good Deals and New Sales
Topaz Photo AI in its latest version 1.3.7 is a tool that promises to remove noise, improve sharpness and increase resolution on "autopilot." I intend to review it on Photography Life after trying it on more of my photos, but for now, you can take it for a spin yourself (either for the free trial or for a discount). Until June 16, you can get it for the discounted price of $159 – regular price $199.
As usual, new technology drives down the price of old. Although the word "old" is not appropriate in this case, as Apple's last-generation computers are still among the fastest devices on the market. I find that the best price-to-performance ratio these days with Apple is to buy one generation prior. The 13.6-inch MacBook Air is a great choice (was $1,199, now $999), as is Apple's Mac Studio with M1 Max (was $2,699, now $2,499).
Datacolor SpyderX is a color calibration tool for your monitor, which is critical for any photo editing. There's a huge kit of Spyder equipment on sale for $299, was $399. Specifically, it includes the SpyderX Elite colorimeter, the metal transport case, the SpyderCUBE exposure calibration tool, the SpyderLENSCAL autofocus calibration aid, and the SpyderCHECKR color calibration chart.
Other Pages of Interest
Each week, I try to bring you the hottest news from the world of photography. Today I will take it a bit literally. Kīlauea is one of the world's most active volcanoes. It was born about 200,000 years ago at the bottom of the Pacific Ocean and rose to the surface about 100,000 years later. It has been spewing lava almost continuously since 1780. Occasionally, it pauses to catch its breath for more activity, as it did five years ago when it destroyed hundreds of homes. This week, it started erupting again, and you can be in the middle of it via a webcam placed near the crater.
You may be familiar with the famous charcoal drawings and polychrome paintings from the Altamira Cave in northern Spain. But the Paleolithic artists of the eastern Iberian Peninsula weren't just lazing around in the shade of their cave shelters. More 7,000-year-old paintings have now been discovered by scientists at the University of Alicante using drones – these in hard-to-reach rocky terrain. You can see what they discovered here.
The summer travel season is slowly beginning. The results of the Scottish Landscape Photographer of the Year competition are an invitation to one of Europe's most beautiful wildernesses.