I wrote some of today's Photography News within this small, cozy office I set up near a kingfisher's nest. The period when the kingfisher parents incubate their eggs is a slow one for photography. It can take up to three hours between two rotations on the nest while you wait for action. The first rotation occurred before sunrise – not much light, but it provided me with some samples for an upcoming article about the Nikon Z9 and high ISOs. You can read that one next week; for now, here is the week's news in the world of photography.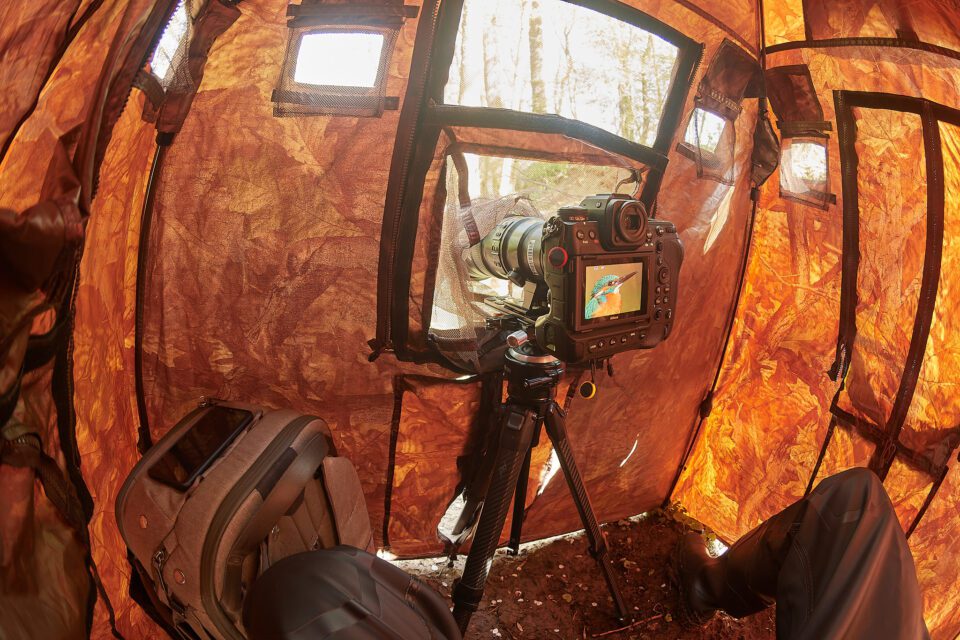 Recent Announcements
ON1 Photo RAW version 2023.5: The biggest change is the integration of Resize AI with its new Face Recovery AI feature, which should do a better job when resizing images of people. Noise Reduction has also been improved, along with some better masking and selection options. Available in June.
ShiftCam LensUltra: A new line of seven lenses designed for smartphones. ShiftCam says it is the first company in the world to use fluorite for this type of lenses. The line includes a 60mm telephoto lens, a 16mm wide-angle lens, a 200-degree fisheye lens, a 75mm "long-range" macro lens, and a 10x traditional macro lens. For video, there are two anamorphic lenses: a 1.33x cinematic wide and a 1.55x super wide. Two filters are also included: polarizing and ND. Available on Kickstarter for prices ranging from $119 (single lens) to $850 (complete set).
Nonikkor 35mm f/1.4: This vintage-style lens from Artralab is available for Nikon Z, Sony E, and L-mount systems. There are two variations available, one styled after 1980s lenses and one styled after 1960s lenses. Of course, they are manual focus only. Priced at $280.
The Rumor Mill
Will a Canon RF 500mm f/4 be a zoom lens?
Canon recently surprised us by introducing the missing 300mm f/2.8 telephoto lens for the RF mount in a zoom form. Speculation is now rife as to what the last missing link in the lineup of popular telephoto lenses will look like. In the classic quartet of 300mm f/2.8, 400mm f/2.8, 500mm f/4, and 600mm f/4 telephoto lenses, the wildlife classic 500mm is missing for the RF mount. There is speculation on Canon Rumors that this lens will be a 200-500mm f/4 rather than a 500mm prime.
The first photo of the Leica Q3: Find a difference!
On the Leica Rumors website, you can see the first leaked image of the upcoming Leica Q3. Leica is known for building on the traditional design of its cameras, and it took me a while to find the difference between the current Q2 and the upcoming new model. For those of you who like to look for differences between two almost identical images, click away before my spoiler! It looks like the grip is a slightly different texture, and the baseplate is thinner. Well, hopefully the changes will be more significant under the hood.
New Canon vlogging camera
Vloggers and content creators have seen their dreams come true in the past few years. These days, there are plenty of easy-to-use, relatively compact cameras that can shoot high-resolution video and, of course, still photos. According to Canon Rumors, it looks like next week, on May 11, those who have been hoping for a similar camera from Canon will also get one.
Photo Contest Corner
Topic: Black and White photography (single or series) in 12 categories
Fees: Single $25, series $30
Prize: Total prize fund worth $5,000
Deadline: May 14
Nature Photographer Of The Year 2023
Topic: Various categories
Fees: €29 to €44.50
Prize: The prestigious title of "Nature Photographer of the Year 2023" and prizes totaling €25,000 (overall winner gets € 3.000).
Deadline: June 4
Good Deals and New Sales
Something big is going on at Canon. How else to explain the huge discounts on the EOS R5 and EOS R6 models? Maybe Canon wants to empty the shelves before the successor arrives. However, both cameras are still among the top in terms of focusing speed and image quality. The Canon EOS R5 is currently on sale for the tempting price of $3,399 (was $3,899). But that's not all. As a bonus, you get the Canon BG-R10 Battery Grip normally priced at $349!
The Canon EOS R6 already has a successor. Perhaps not to have father and son sitting next to each other on the shelves like in a photo museum, Canon now offers the first generation EOS R6 for $1,999 (was $2,299). Again, the price includes the BG-R10 Battery Grip.
We know for sure that something big is coming from Nikon. Apparently, the new Z8 will indeed be something like a mini Z9. Perhaps to give Nikon enough price space between the current Z7 II and the Z9, the Nikon Z7 II is now being sold at a significant discount (was $2,997, now $2,597). This 45.7MP body is being sold in several discounted bundles. Personally, I use the Nikon NIKKOR Z 24-120mm f/4 S lens, which is sold with the camera for $200 off. A great option, especially for traveling, is the Nikon Z 24-200mm f/4-6.3 VR lens, which is $300 off in the bundle.
Its sibling, the Nikon Z6 II with 24.5MP resolution, has also seen a nice price drop (was $1,997, now $1,696). Again, it's possible to save money by buying a bundle with one of the aforementioned lenses. For the sake of completeness, the Nikon Z 24-50mm f/4-6.3 and Nikon Z 24-70mm f/4 S lenses can also be purchased in the discounted bundle.
Other Pages of Interest
One of the most talked-about topics today is artificial intelligence, or machine learning. And it's now the case that viral "photos" may not be photos at all. We saw fake images of the Pope in a stylish winter jacket, Donald Trump being tackled by law enforcement, and an AI-created winner in the Sony World Photography Award 2023 go viral. Can you distinguish between a real photograph and an AI-generated fake? On the Czech Radio website you can find the answer to this question in a simple test.
In the One Eyeland Photography Awards, the world is (hopefully) still all right, and the authors of the winning images are real flesh-and-blood photographers. You can check out their winning photos here.
You know what's even better than beautiful nature photos? Nature photos that reveal interesting facts about little-known subjects. Or nature photos that raise questions and get the viewer thinking about nature. Spanish photographer Roberto García Roa is a scientist and conservation photographer whose photographs have that overlap. Take a look at his inspiring portfolio here.