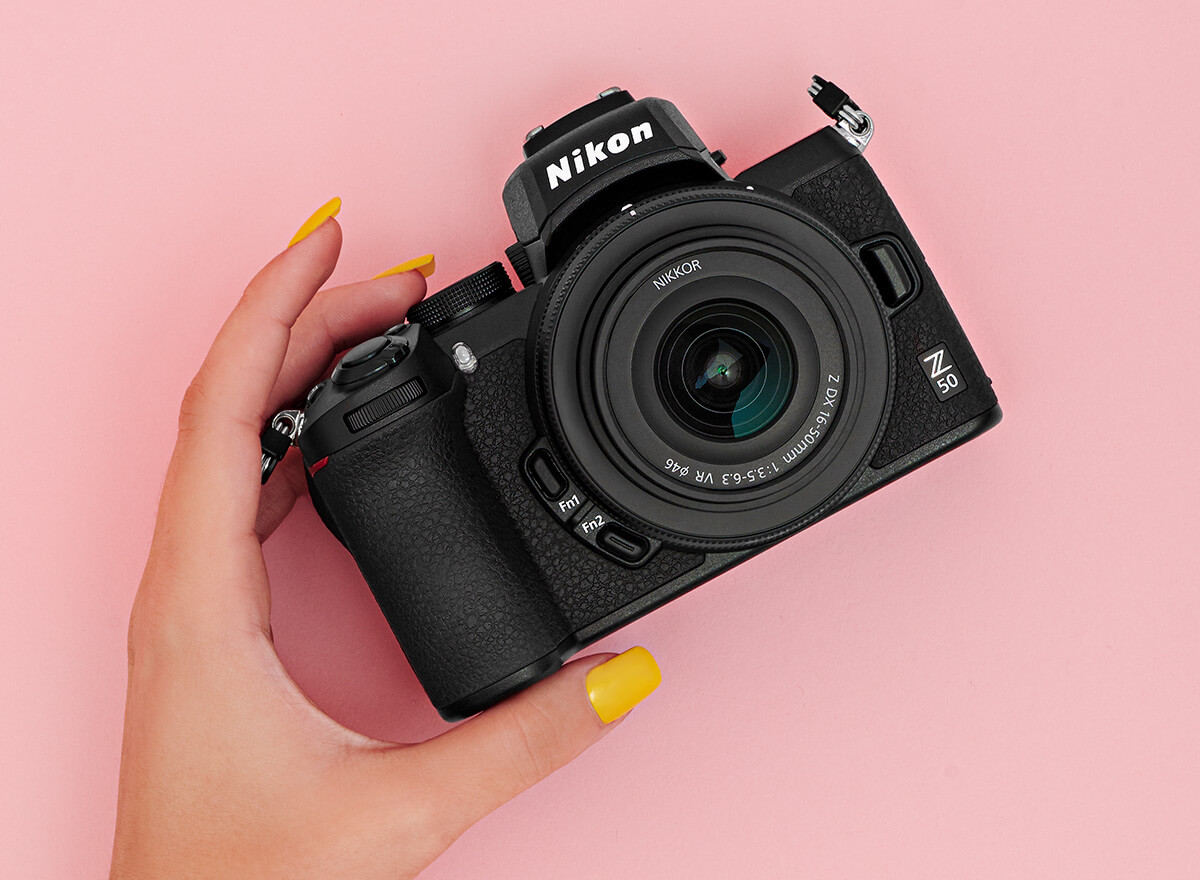 Today, Nikon announced its newest mirrorless camera, the Nikon Z50. Sporting a host of advanced features at an aggressive $860 price ($1000 including lens), the Z50 is Nikon's attempt to reclaim some of the pocket-sized ILC market that Sony, Fuji, and Canon gobbled up. Here's what you need to know.
What Is It?
The Z50 is Nikon's third Z-series mirrorless camera – and the first one ever with a smaller DX-size sensor. The other two in Nikon's lineup, the Z6 and Z7, started shipping around this time last year, but they're much more expensive cameras. Body only, the Z50 sells for $860, while the Z6 is $1800 and the Z7 is $2800.
Traditionally, DX cameras have been Nikon's lifeblood, outselling the company's FX cameras at least three to one. Anyone who's paying attention knows that Nikon is depending heavily on the Z50 (and likely other mirrorless DX cameras) as a critical part of their future.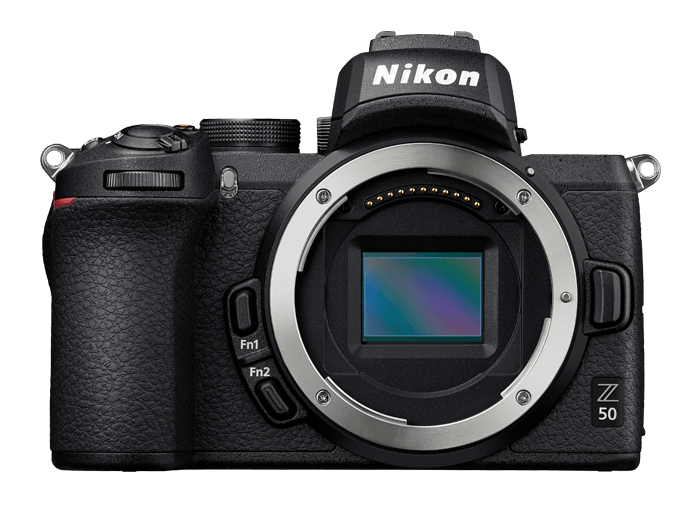 What Lenses Does It Come With?
Alongside the Z50 camera itself, Nikon released two new Z lenses, both of which are DX only. Those are the:
Nikon Z DX 16-50mm f/3.5-6.3 VR lens, selling for $300
Nikon Z DX 50-250mm f/4.5-6.3 VR lens, selling for $350
Most photographers who buy the Z50 will get at least the 16-50mm. If you do, the lens/camera combo is $1000, saving you $160 compared to buying them separately. If you want to buy both new lenses alongside the Z50, the kit price jumps up to $1350, which doesn't save any additional money.
Personally, I'm impressed by the small size of these two lenses. The 16-50mm in particular is practically a pancake, weighing just 135 grams (4.8 ounces). Here's how the two lenses look: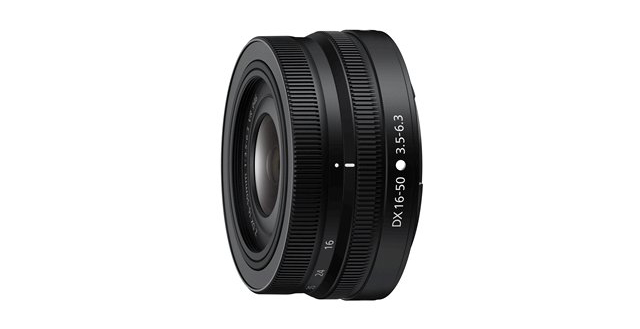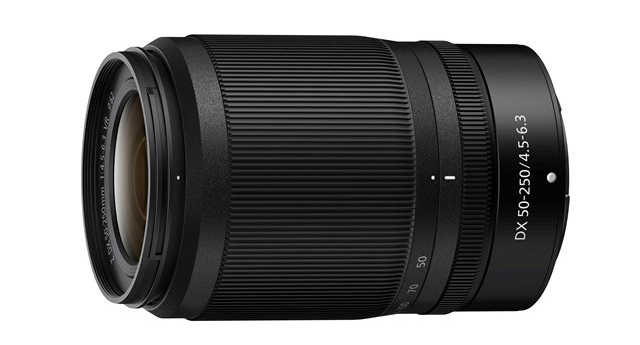 Key Specifications
Camera Feature
Nikon Z50
Sensor Resolution
20.9 megapixels
Sensor Type
CMOS
Sensor Size
23.5 × 15.6 mm
Sensor Pixel Size
4.22 µ
Low Pass Filter
No
In-Body Image Stabilization
No
Image Size
5568 × 3712 pixels
Image Processor
Expeed 6
Viewfinder Type
2.36 million dot OLED electronic viewfinder
Viewfinder Coverage
100%
Viewfinder Magnification
1.02× (0.67× FF equivalent)
Built-in Flash
Yes
Storage Media
1× SD, UHS I Compatible
Continuous Shooting Speed
11 FPS
Electronic Shutter
Yes
Shutter Speed Range
1/4000 to 30 seconds
Exposure Metering Sensor
TTL exposure metering using main image sensor
Base ISO
ISO 100
Native ISO Sensitivity
100-51,200
Boosted ISO Sensitivity
Up to 204,800
Focus Points
209 focus points
On Sensor Phase Detection
Yes
Flicker Detection
Yes
Video Maximum Resolution
4K up to 30 fps; 1080p up to 120 fps
LCD Size
3.2″
LCD Resolution
1,040,000 dot
LCD Type
Tilt Down
Touchscreen
Yes
Built-in Bluetooth
Yes
Built-in Wi-Fi / NFC
Yes
Battery Life
300 shots (CIPA)
Movies: Approx. 75 min. of movie recording
Weight (Body Only)
395 g (13.9 oz)
Dimensions
126.5 × 93.5 × 60 mm (5.0 × 3.7 × 2.4 in)
Current Price (Body Only)
$860 (body only); $1000 (with 16-50mm kit lens)
Where Is It Positioned?
Nikon has positioned the Z50 on the upper end of "consumer," above the D3400 and D5600 DSLRs and about the same as the D7500. Even ignoring price and specifications, one way to tell this is to recognize that the Z50 has two command dials, in line with Nikon's higher end cameras: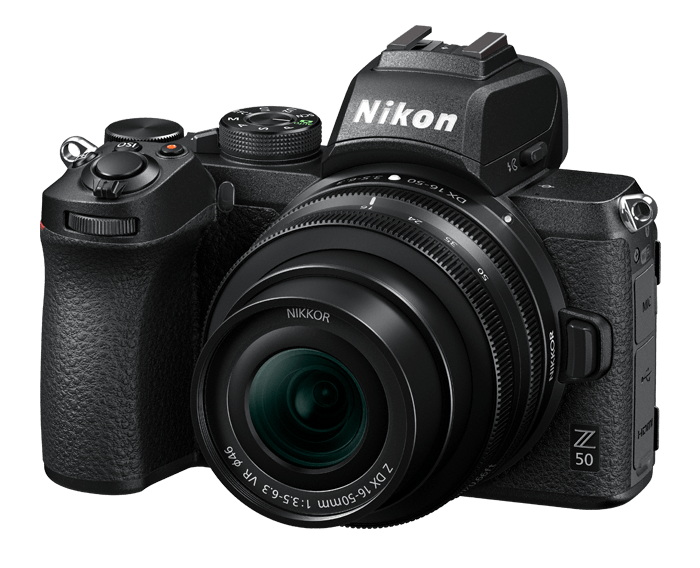 In price, the Nikon Z50 sits slightly below the Nikon D7500. Body only, the D7500 is $900, rather than the Z50's $860. However, the D7500 has a more expensive kit lens (the 18-140mm f/3.5-5.6 VR), bringing the DSLR's total price to $1200.
On paper, the Z50 looks equal or better than the D7500 in most ways. However, I suspect that the D7500 in practice will retain a slightly more advanced user base – largely those who want Nikon's battle-tested 51-point autofocus system and access to a much larger lineup of native lenses.
As for non-Nikon cameras, one of the Z50's closest competitors is the recently-announced Canon M6 Mark II. That mirrorless camera has a 32.5 megapixel sensor, costs $1100 with Canon's kit lens, shoots 14 FPS stills, and weighs 361 grams (to the Nikon's 395 grams). On paper, the Canon looks like it's ahead, although I'm interested to test them side-by-side before making a final judgment. Without in-person testing, it's impossible to know how the Nikon performs in terms of autofocus, high ISO performance, dynamic range, ergonomics, lens quality, and so on.
Another close competitor in specifications is the Sony a6400 (though the whole Sony a6000 line has some similarities; see our comparison). The a6400 costs $1000 with a kit lens, just like the Nikon. It has a 24 megapixel sensor, shoots at 11 FPS, films 4K video (plus 1080p at 120 fps), and weighs 403 grams (including battery and card) versus 395 for the Nikon (body only).
Beyond that, the Z50 competes closely with the Fuji X-T30, a $900 camera (including lens). The Fuji shoots up to 20 frames per second stills at full resolution, sports a 26 megapixel X-Trans sensor, and includes a retro design with great manual controls. Not to mention Fuji's excellent lens lineup.
All that said, we'll need to wait for some in-person reviews to show how these cameras actually handle side by side. I suspect this will be a case of "pick any and you'll be happy," with minor differences here and there to sway first-time photographers. Certainly the Z50 seems like a worthy release from Nikon, both in features and in build. Here are a couple more images of its control layout: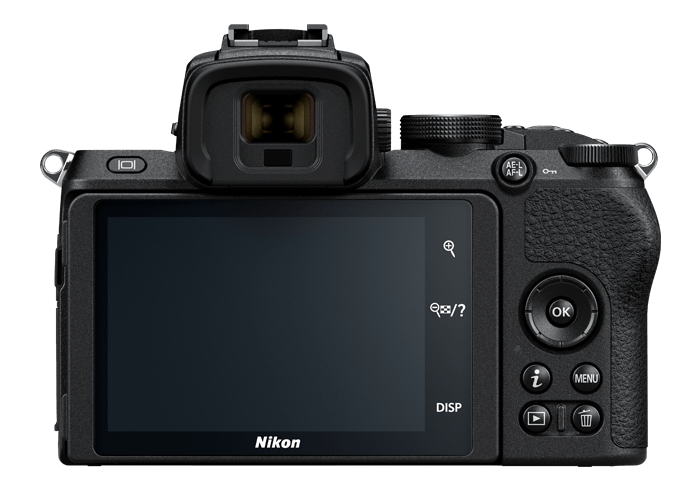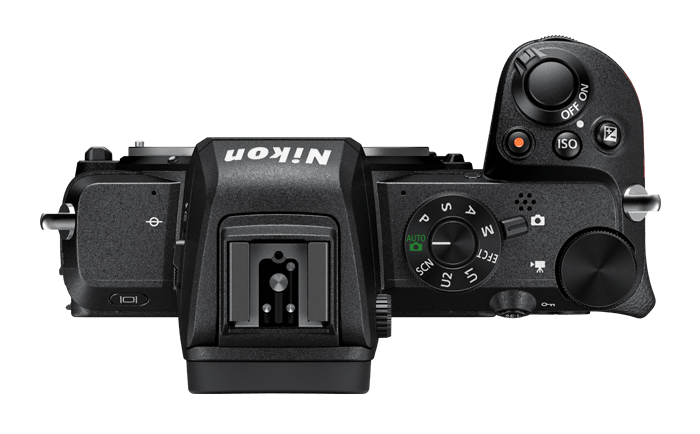 Missing Features
The Z50 looks like a great camera in many ways, and I can't wait to test it out. Still, here are some of the camera's missing features that catch my eye initially:
No DX prime lens. Nikon was infamous for its giant lineup of small-aperture zooms for its DX DSLRs, falling way behind companies like Fuji and Sony in creating a comprehensive DX lens lineup. Will mirrorless be different? Not if the first two lenses are anything to go by.
No IBIS. At this price, it's not really expected – neither the Canon M6 Mark II nor the Sony a6400 has in-body image stabilization – but it would have been a good way for Nikon to differentiate itself in the market.
Tilt down LCD rather than tilt out to the side. This decision puzzles me. A lot of cameras today have LCDs that can be flipped to face the front, which is a useful feature for vlogging. (It might not be your thing, but it's a rapidly growing market – one of the few in photography.) But the Z50's screen tilts down, which means it's blocked completely when the camera is on a tripod or gimbal. The down angle is only useful for shooting handheld selfies – and maybe I'm going out on a limb, but I don't think that's something most of this camera's audience cares about very much.
No physical zoom in/out buttons. Touchscreens are becoming more and more popular on cameras these days, but they still have some ergonomic flaws. You can't use them with (most) gloves, and there's no way to know what to press when your camera is to your eye. On the Z50, Nikon removed the magnification buttons in favor of touchscreen icons, which could annoy some potential users.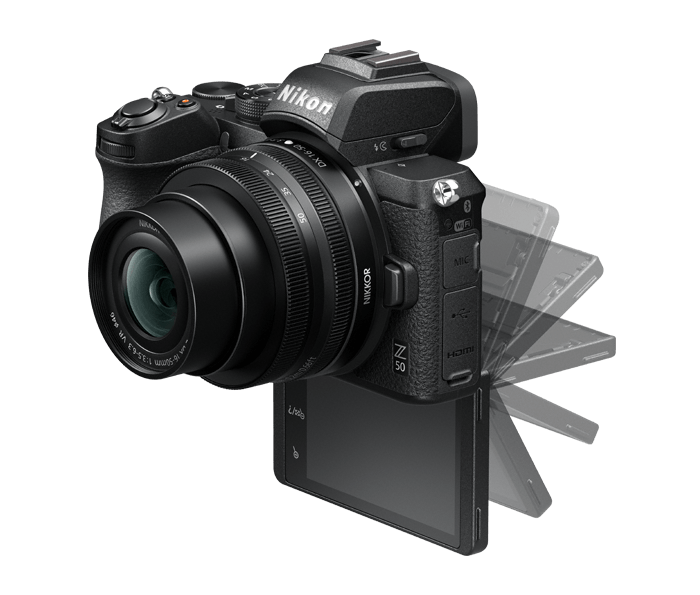 None of these issues is what I'd call fatal, but they're all important to keep in mind! And of course we'll be putting the Z50 through its paces as soon as we can, which should reveal more about the camera's pros and cons.
Press Release
A Bigger Mount To Share The Boldest Ideas: It's Easy To Take Creativity Further With The Lightweight Nikon Z 50 Mirrorless Camera

Nikon Also Announces the NIKKOR Z DX 16-50mm f/3.5-6.3 VR and NIKKOR Z DX 50-250mm f/4.5-6.3 VR, Two New Lenses That Deliver Incredible Image Quality and Outstanding Portability

MELVILLE, NY – Today, Nikon Inc. announced the next Z series mirrorless camera, the DX-format Nikon Z 50, along with two new companion NIKKOR Z lenses, the NIKKOR Z DX 16-50mm f/3.5-6.3 VR and NIKKOR Z DX 50-250mm f/4.5-6.3 VR. The new Nikon Z 50 takes full advantage of Nikon's larger Z mount, providing creators of all types with the most innovative optical system for superior image and video quality. The compact and lightweight Nikon Z 50 was made for unique individuals seeking a camera that has the speed, portability and style to keep pace and share their creative storytelling and imagination, especially when paired with the new ultra-compact 16-50mm zoom and the slim 50-250mm telephoto zoom lenses."The new Nikon Z 50 is a small yet capable camera that brings the best of the Nikon Z series to all kinds of creators to discover, share and engage," said Jay Vannatter, Executive Vice President, Nikon Inc. "The new NIKKOR Z DX lenses expands the Nikon Z series to provide new creative tools for those looking to take their photo and video passions to new heights."

When a sudden case of jet-set wanderlust strikes, or if there's an idea that just has to be shared in 4K video, the Nikon Z 50 is the unobtrusive companion that promises to help deliver content that truly stands out. This is Nikon's first DX-format mirrorless camera, delivering a more compact lightweight system to those upgrading to mirrorless or discovering the Nikon Z mount system. The new Z 50 offers an ergonomic design, intuitive operability and the steadfast reliability Nikon is known for, but in a slimmer, lightweight and attainable body. Taking advantage of the Nikon Z mount, the Z 50 produces stunning image quality and provides optimal performance for any type of content creation, from still photography to high-quality 4K video.

SMALL ON SIZE, BIG ON FUN: The easy-to-carry, compact and lightweight 14-oz body of the Nikon Z 50 is designed with intuitive controls and an agile yet durable magnesium alloy frame. It's effortless to carry while vlogging a vacation, hiking the backcountry or exploring a new part of town. Since it's mirrorless, users can activate the silent shutter function for truly low-profile shooting in sensitive situations.

TELL YOUR STORY, BEAUTIFULLY: A DX-format 20.9-megapixel CMOS sensor delivers superior image quality, sharpness, color and tones to document it all, even in low light. The EXPEED 6 image-processing engine helps to achieve excellent low-light performance and the highest standard sensitivity in its class1 for still-image shooting – ISO 51,200 – so users can capture high-resolution photos in challenging lighting conditions, like concerts or night street photography.

HIGH-SPEED PERFORMANCE: The camera quickly locks focus with a 209-point Hybrid AF System that enables broad coverage of approximately 87% of the frame horizontally and 85% vertically. It's also the first Nikon DX-format camera to employ Eye-Detection AF, which makes portrait photography simple by recognizing and instantly focusing on a subject's eyes, even if they are moving. What's more, with fast 11 fps (with AF/AE) continuous shooting, users can keep up with fleeting moments and never miss a moment of the action.

FLIP-DOWN SELFIE SCREEN: The Nikon Z 50 features an easy to use interface with a 3.2-inch flip-down LCD touchscreen that's ideal for selfies and vlogging. The LCD features familiar soft keys and icons, while intuitive controls make storytelling simple. Selfie Mode automatically disables all but essential controls while the LCD is flipped down, which makes it easy for the photographer to turn the camera on themselves and capture flattering photos and videos without worry of accidentally changing settings.

EPIC VIDEO FEATURES AND NEW CREATIVE OPTIONS: Sharp, vibrant 4K video is just the beginning – Experience built in 120p slow-motion, time-lapse and interval timer as well as in-camera video trimming and 20 Creative Picture Controls. These Creative Picture Controls and Special Effect modes instantly transform an image or video footage, while Scene Modes automatically adjust settings to optimize performance for beginners. For smooth footage, the camera also incorporates additional built in stabilization while shooting Full HD or 4K video.

SHARE BETTER CONTENT, INSTANTLY: Built-in Wi-Fi® and Bluetooth connectivity along with support for the new SnapBridge2 version 2.6 app allows users to seamlessly share still images and videos with friends, families and followers. In addition to automatically sending gorgeous images to one's phone, users now also have the ability to easily transfer video to their smart device quickly. The latest version of SnapBridge also supports RAW image transfer and advanced remote capture functions.

THE NIKKOR Z DX 16-50mm f/3.5-6.3 VR & NIKKOR Z DX 50-250mm f/4.5-6.3 VR – NEXT GENERATION DX-FORMAT NIKKOR LENSES

The new NIKKOR Z DX 16-50mm standard zoom and the NIKKOR Z DX 50-250mm telephoto zoom lenses are designed to complement the new Z 50, striking the balance of small size and sharp optics. The NIKKOR Z DX 16-50mm f/3.5-6.3 VR lens is a slim zoom lens that lets users capture a wide variety of scenes, from beautiful landscapes to candid portraits. The compact telephoto NIKKOR Z DX 50-250mm f/4.5-6.3 VR lens allows anyone to go the extra distance and capture far-away subjects, like city skylines or birds in flight. When paired with the new lenses, Dual Detect Optical VR is enabled on the Z 50 to help control the effects of camera shake when shooting.

Both the new NIKKOR Z DX lenses unleash the potential of the Nikon Z mount, using the superior design flexibility made possible by the large-diameter and the 16mm flange focal distance to deliver outstanding optical performance and sharpness in a deceptively compact form factor.

In addition to achieving incredible image quality, the new NIKKOR Z DX lenses are optimized for video capture when paired with the Z 50, making them must-haves for emerging content creators. Both lenses promise reduced focus breathing, a customizable control ring for smooth control of aperture or exposure compensation, as well as fast and quiet operation. Additionally, the new lenses offer in-lens optical Vibration Reduction (VR) technology to allow for smooth recording, with camera shake compensation equivalent to 4.5 stops3 and 5.0 stops3, respectively.

Beyond these two new lenses, Nikon Z 50 users can enjoy greater variety in imaging expression by mounting any of the current lenses in the NIKKOR Z lineup. A vast selection of traditional F-Mount NIKKOR lenses is also available to shooters via the Mount Adapter FTZ, with many lenses retaining functions such as VR and AF.

Price and Availability

The Nikon Z 50 will be available in November 2019, in several configurations including body-only for a suggested retail price (SRP) of $859.95*, a one-lens kit with the NIKKOR Z DX 16-50mm f/3.5-6.3 VR lens for a SRP of $999.95* or a two-lens kit with both the NIKKOR Z DX 16-50mm f/3.5-6.3 VR and NIKKOR Z DX 50-250mm f/4.5-6.3 VR lenses for a SRP of $1349.95.

For more information on the latest Nikon products, including the new Nikon Z 50, NIKKOR Z DX 16-50mm f/3.5-6.3 VR, NIKKOR Z DX 50-250mm f/4.5-6.3 VR and the full Nikon Z mount system, please visit www.nikonusa.com.

About Nikon

Nikon Inc. is a world leader in digital imaging, precision optics and photo and video capture technologies; globally recognized for setting new standards in product design and performance for an award-winning array of equipment that enable visual storytelling and content creation. Nikon Inc. distributes consumer and professional digital SLR cameras, NIKKOR optics, Speedlights and system accessories, Nikon COOLPIX® compact digital cameras and Nikon software products, as well as the revolutionary Nikon Z series of mirrorless cameras and NIKKOR Z lenses, which achieve a new dimension in optical performance. In 2018, Nikon Corporation, the parent company of Nikon Inc., announced the production of 110 million NIKKOR lenses, creating a new milestone in Nikon's heritage of superior optics. For more information, dial (800) NIKON-US or visit www.nikonusa.com, which links all levels of photographers and visual storytellers to the Web's most comprehensive learning and sharing communities. Connect with Nikon on Facebook, Twitter, YouTube, Instagram, Vimeo and Flickr.