The Nikon Z30 is the most entry-level camera in the Nikon Z series yet – and the first without a viewfinder. Nikon's advertising leans heavily on the camera's video prowess, although its specs frankly aren't very different from those of 2019's Nikon Z50. It ships mid-July for $710 body only.
Nikon Z30 Key Specs
Sensor size: 23.5 × 15.7 mm (aps-c)
Resolution, effective: 20.9 megapixels
ISO range: 100-51,200
In-body image stabilization: No
Autofocus points: 209
Frame rate: 11 FPS
LCD type: Fully articulating touchscreen
Max video specs: 3840 × 2160 (4K) at 30 FPS; 1080p at 120 FPS
Video compression: H.264/MP4
Battery life: 330 photos
Memory cards: 1× SD, UHS-I compatible
Weight w/ battery and card: 405 g (0.89 lbs)
Dimensions (W×H×D): 128 × 74 × 60

mm

(5.0 × 2.9 × 2.4 in.)
Price: $710 (body only), $850 (with 16-50mm kit), $1150 (with 18-140mm kit)
Other Features
Not listed in the specifications above are some new video features on the Nikon Z30. Namely:
The Z30 has a tally lamp (a red light on top) that turns on when recording
It records 1080p up to 125 minutes and can be powered by USB
There's a built-in stereo microphone with the option for a $10 wind screen add-on
The first two are welcome features for working videographers, although the third isn't as important, since most will use an external mic for important projects.
Impressions and Recommendations
I'm a bit underwhelmed by the Nikon Z30's features. It's a less expensive Z50 ($710 vs $860), without the EVF and with few meaningful improvements in more than two years, other than an articulating screen. On top of that, I'm frustrated that Nikon is missing some important video-oriented details on a camera they advertise so heavily for the vlogging crowd. The Z30 has no headphone jack, for example, let alone more advanced video features like in-body image stabilization or 4K 60p.
As a side note, I have yet to find detailed video specifications for the Nikon Z30. Surely they're available somewhere, but after extensive searches, I'm still in the dark. Is the Z30 capable of 10-bit recording? N-log? 4:2:2 sampling? Who knows. That should be easy information to find if Nikon really wants videographers to care about the Z30.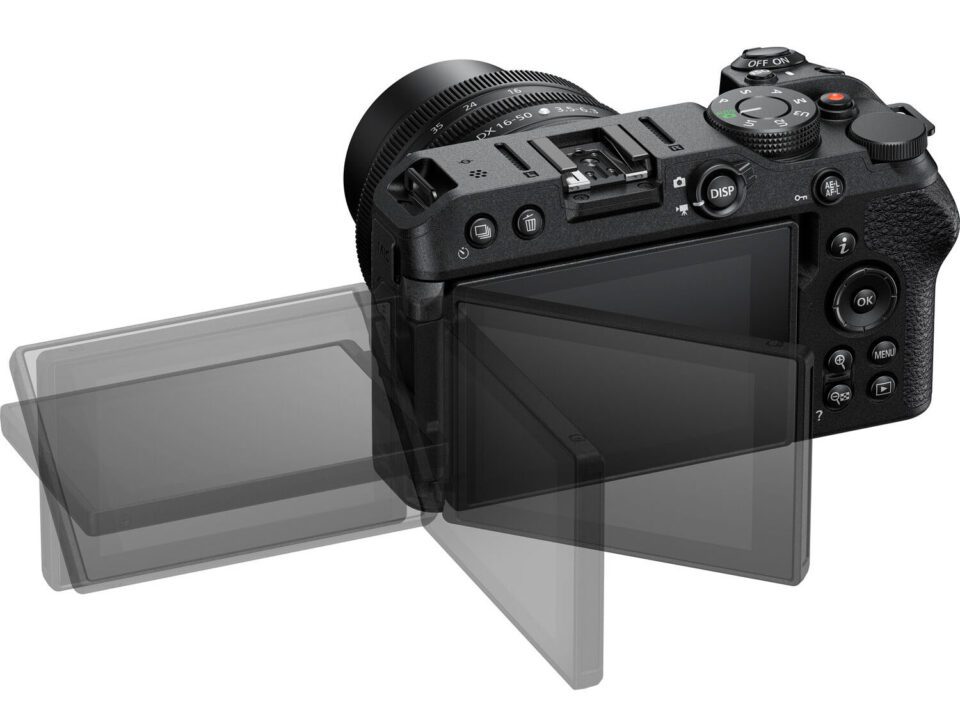 If this were still 2019, and the Z30 had been announced alongside the Z50, I would hardly be complaining about it. The differences between the Z30 and Z50 are minor, except the Z30 loses the viewfinder and adds articulation to its LCD, plus those small video features like a tally light. At the time, that would have been a reasonable tradeoff for a camera that costs $150 less. The trouble is that it's mid-2022, and the Z30 already looks like it needs a refresh as much as the Z50. (To the same point, Nikon appears to have matched the Z30's features very closely to those of the Sony ZV-E10, which was announced 11 months ago.)
An alternative that would make the Z30 look more logical is to put it on sale immediately, so that Nikon has a true entry-level price point in their camera lineup. Remember that the Nikon D3500 launched for $500 with a kit lens four years ago; the Z30 is $850 with a kit lens, hardly even targeting the same market. The Z30 has better features of the two, of course. But the reason Nikon's D3000-series cameras sold so well had nothing to do with features; it was all about price. The Z30 should be closer to $600 with a kit lens if Nikon wants to fill a similar slot in the market – which I think should have been their goal from the start.
I'd still recommend the Nikon Z30 to some photographers, albeit halfheartedly. I like the 11 FPS shooting and good low-light sensor borrowed from the Z50. If you're shopping for a Nikon camera on a budget, yet you don't want to buy used or refurbished, the Z30 is a reasonable choice. But I don't think it's great that Nikon's first entry-level camera in the Z series already looks slightly outdated and overpriced on day one.
Pre-Order
You can pre-order the Nikon Z30 at B&H here for $706.95, to ship mid-July:
Hey, how did this next link get here? I wonder if it's a sign.
Press Release
Nikon releases the Z 30 APS-C size mirrorless camera which is ideal for vlog contents creators

June 29, 2022

The smallest and lightest mirrorless camera among the Nikon Z series, with thoroughly pursued ease of use for video recording.

TOKYO – Nikon Corporation (Nikon) is pleased to announce the release of the APS-C size/DX-format Nikon Z 30 mirrorless camera.

Featuring the smallest and lightest body among the Nikon Z series models, as well as a vari-angle LCD monitor, REC lamp that immediately notifies of recording, and up to 125 minutes of recording time*, the Z 30 is a mirrorless camera that gives comprehensive consideration for video recording of a wide range of scenes, from daily shooting to creative expression including vlogs.

The Z 30 delivers outstanding depiction with high resolution by incorporating the same EXPEED 6 image-processing engine adopted in the Nikon Z 7 and the image sensor adopted in the Nikon Z fc, in combination with NIKKOR Z lenses.

In addition, the Z 30 is a camera that pursues ease of use and a design optimized for video recording, so that even first-time mirrorless camera users can casually enjoy imaging expression. It also features functions such as "Creative Picture Control" that enables diverse expressions, 4K UHD/30p video, and slow-motion video, all of which can meet the challenge for more particular video expression.

Nikon will continue to pursue a new dimension in optical performance while meeting users' needs, contributing to the development of imaging culture, with the hope of expanding possibilities for imaging expression.

*

In Full HD/24p/25p at 25°C/77°F. The camera's ability to always achieve the full 125 minutes is dependent on conditions like battery life or the camera's internal temperature. Approx. 35 minutes of recording time is available in 4K UHD.

Primary features

1.Outstanding rendering performance, equivalent to that of higher-class models, for vlog contents creators

High-resolution, superior rendering performance is realized by adopting the same image-processing engine as the Z 7 as well as the image sensor adopted in the Z fc, in combination with NIKKOR Z lenses. Covering a standard sensitivity range of ISO 100-51200*, high-quality images can be captured regardless of the scene, whether indoors, outdoors or at night.
In addition to stills, Eye-Detection AF and Animal-Detection AF that detect the eyes of people, dogs and cats are also adopted for video recording, letting users reliably capture the eye of subjects in motion in both video and stills. By adopting AF-F (Full-time AF) that continues focusing on a subject as it moves or as the composition changes, the Z 30 allows even first-time mirrorless camera users to capture lively facial expressions of a subject without failure. The touch-sensitive, vari-angle LCD monitor enables users not only to check how they look while shooting selfies, but also to freely shoot high-angle, overhead shots and low-angle shots such as walking feet. It offers smartphone-like operation while shooting, setting changes and pinching-in/out when playing back images.

All the outstanding DX-format and FX-format NIKKOR Z lenses are available with the Z 30, from wide-angle lenses ideal for vlogs to prime lenses that offer beautiful bokeh and zoom lenses that cover a wide range of scenes with one lens, allowing anyone to enjoy a breathtaking diversity of imaging expression.

*

The maximum standard sensitivity for video recording is ISO 25600.

2.The smallest and lightest camera among the Nikon Z series with a design optimized for video recording

Realizing the smallest and lightest body among the Nikon Z series, the Z 30 features a deep grip that is comfortable and stable to hold during extended shooting. Although it is intended for first-time mirrorless camera users, it inherits the same design and operability as higher-class models. With a large video-record button more visible than conventional models, a large microphone where a wind muff can be attached easily, as well as a REC lamp that immediately notifies of recording, the Z 30 is optimally designed for video recording including vlogs.

3.More creative expressions are achievable with ease and as intended

The exposure compensation is adjustable even in AUTO mode, and more creative imaging expression can be attained easily and exactly as intended thanks to 20 Creative Picture Control options. Users can also make fine adjustments such as contrast and brightness to achieve their desired results. 4K UHD/30p without crop and Full HD/120p for creating slow-motion videos are also available. Three user setting modes are adopted on the mode dial, allowing users to assign the camera settings they want. What's more, the i menu is accessible with just one touch without going deep into the menu, and the two Fn buttons can be assigned frequently used settings. These functions let users effectively customize the Z 30 according to their needs.
For those pursuing expressions that they can make uniquely their own, approx. 360 types of NIKKOR F lenses from AI type onwards, are available via the Mount Adapter FTZ II, allowing users to enjoy even more diverse expressions with a great variety of lenses including older models.

4.Additional features

Up to 125 minutes of video recording time provides extended shooting.
Approx. 11-fps high-speed continuous shooting*1 enables capture of the intended moment beautifully and more reliably.
Still images and videos can be transferred to a smart device*2 via SnapBridge application for casual posting on social media.
Computer software: NX Studio's Movie Editor function offers video editing via simple operation.
Compatible with Webcam Utility that turns the camera into a webcam.
Compatible with a variety of accessories, supporting comfortable video recording.

*1

With a mechanical shutter, in high-speed continuous shooting (extended), in JPEG and 12-bit RAW recording.

*2

iPhone®, iPad®, iPod touch® and Android™ devices to which the SnapBridge app has been installed can be used. The SnapBridge app can be downloaded free of charge from the App Store® and Google Play™. See Nikon's website for further information.