Today, Nikon announced the development of a firmware update for Z series mirrorless cameras, with three new major features coming soon: RAW video output, Eye AF, and CFexpress card support. This marks one of Nikon's largest firmware updates ever, following up on the company's goal to add new features to the Nikon Z cameras over time (and departing from their more limited style of DSLR firmware updates). The release date of this update has not yet been announced.
CFexpress Support
We already knew that the Nikon Z series cameras would eventually support CFexpress memory cards; Nikon said as much when they first announced the Z6 and Z7. Nevertheless, it is nice to see the update coming so early in the Z6 and Z7's product cycle, since CFexpress cards have an even higher maximum speed than XQD – itself already faster than SD or regular CF cards today.
In theory, CFexpress can be several times faster than XQD. In practice, the amount of improvement depends on the implementation of the cards in question. The fastest commercially available XQD cards today have a write speed of 400 MB/s and 440 MB/s read speed. No CFexpress cards are on the market as of this article's publication. However, demonstrations of CFexpress cards so far have shown write speeds from 700 MB/s to 1000 MB/s, and read speeds up to 1400 MB/s.
For Nikon Z shooters, the practical benefits of CFexpress over XQD are likely to involve the buffer. It may allow the Z6 and Z7 to capture several more seconds of high-FPS shooting before the buffer fills, as well as clearing the buffer more quickly when it is full. The exact improvements, however, are yet to be tested.
RAW Video
Perhaps the most surprising of the three new features Nikon announced is support for RAW video using specific third-party external recorders. Nikon specifically mentions compatibility with the Atomos Ninja V using the ProRes RAW codec. The recently announced Ninja V is sold for $695.
For that price, a Nikon Z6 kit with the Ninja V and 24-70mm f/4 lens would be capable of 4K RAW video of remarkable quality for a total of $3295 – an impressively low price for the features you get. Add in a gimbal, and you'll have one of the most capable video kits on the market for a very reasonable price overall. Many video shooters who have been using a smaller-sensor camera like the Panasonic GH5 or a Blackmagic Pocket Camera will find the full-frame Nikon sensor with RAW video very tempting.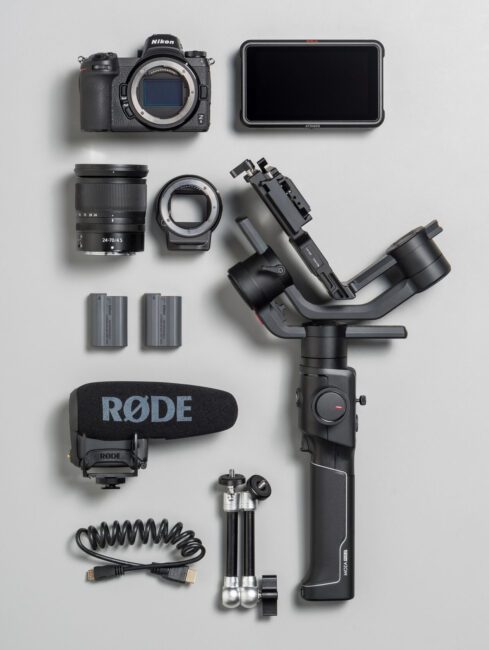 Eye AF
It is no secret that the Eye AF feature on Sony mirrorless cameras is highly praised and appreciated by photographers of a wide range of genres. Nikon now appears to be joining that club with today's announcement.
Eye AF is especially useful for photographing portrait subjects and other scenes where people's faces are visible, since the camera can track the subject's eye as they move around the frame (rather than just their face). Nikon has not said whether the new firmware update includes options like "nearest eye" and "farthest eye" priority that some cameras have, such as the Fuji X100F.
In our review of the Nikon Z7, we found that the camera had impressively good AF-S autofocus, but its tracking capabilities with AF-C autofocus were more limited and awkward to use. Although today's announcement does not mention any broader improvements to the Z cameras' autofocus capabilities, this is a clear step in the right direction. At a minimum, it shows that Nikon is listening to its customers, given the negative feedback about a lack of Eye AF that appeared when the camera was released.
As a side note, Canon now looks like the odd one out among the three major full-frame mirrorless companies today. Although Canon does have Eye AF in their EOS R camera, it is only available in single-servo mode rather than continuous servo. Assuming that Nikon's is available in AF-C mode, it will be interesting to see whether Canon adds this option to the EOS R in continuous servo mode or waits until announcing a new camera before doing so.
What Features Are Still Missing?
The update announced today goes a long way toward adding exciting features to the Nikon Z cameras and boosting customers' trust that Nikon really is planning to improve these cameras with firmware updates. Especially with the Eye AF announcement that directly fixes a common complaint, Nikon has shown that they are listening to feedback on the Z series and doing what they can to make them as good as possible.
However, Nikon's announcement does not mention updates to other elements of the camera, including the known issue where it is not possible to remove shooting data from the rear LCD for a clear image preview in live view. The Z cameras also do not remember their focus position after the camera is turned off, and one must use a workaround method instead. We have compiled a more detailed list of useful firmware updates for the Z cameras here, based on reader feedback and our own extensive tests.
This announcement shows that Nikon has done a great job thinking about real features to add to the Z cameras over time. Hopefully they will continue that trend as they build this system up in the coming years.
Press Release
Nikon's full press release, which also includes details about the Nikon Z 14-30mm f/4 S (also announced today) and Nikon's events at CES, is below:
Nikon Delivers Imaging Innovation, Inspires Creators at CES 2019

New Products Including NIKKOR Z 14-30mm f/4 S Lens and Nikon Z 6 Filmmaker's Kit Will be Showcased; Attendees Invited to Booth to See Amazing Speakers, Fun & Sharable Displays as Well as Future Z System Updates

LAS VEGAS –CES BOOTH #14006 – Today, Nikon Inc. announced details surrounding their activities and new products at CES 2019. This year, Nikon will livestream a myriad of exciting and inspiring presentations from renowned Nikon Ambassadors and photographers directly from the show floor, while also offering instantly shareable and interactive experiences for show attendees. Additionally, Nikon will be showing the latest digital imaging innovations available now and in the near future with a Z Series exhibition featuring the new NIKKOR Z 14-30mm f/4 S lens, the Nikon Z 6 Filmmaker's Kit and a display of upgrades currently in development for the Z Series that will add new features and enhance usability.Booth Activities: Livestream, Presentations and Shareable Moments

During CES, the Nikon booth will host live presentations and panel discussions from various Nikon Ambassadors and photographers covering a wide array of topics; from capturing weddings to conservation, outdoor adventures to iconic rock legends and more. Nikon will also be holding hands-on demonstrations and discussions with Nikon Ambassadors at an additional stage within the booth. Show attendees are encouraged to visit Nikon for giveaways, to chat with a product expert, or to check out the full line of award-winning Nikon DSLR cameras. While there, visitors can also experience the vast selection of NIKKOR lenses and an assortment of other products, including the COOLPIX P1000 with its powerful 125x optical zoom lens.

For those around the world who want to join in, Nikon will again be livestreaming all presentations directly from the booth from Tuesday, January 8 to Friday, January 11. To watch, please visit www.nikonusa.com/live or www.facebook.com/nikonusa. A full schedule of Nikon presentations can be found below.

New for CES 2019

NIKKOR Z 14-30mm f/4 S Lens – This is the first ultra-wide zoom lens for the Z Mount System and the world's first* full-frame 14mm filter-attachable lens. This new S-Line lens is ideal for a variety of shooting scenarios including landscapes, interiors and architecture. The 14-30mm f/4 S lens is both compact and lightweight while delivering incredible sharpness and versatility. This new lens takes full advantage of the benefits of Nikon's new Z Mount and demonstrates superior optical performance that maximizes the potential of high pixel-count digital cameras like the 45.7-megapixel Nikon Z 7. The NIKKOR Z 14-30mm f/4 S lens will be available in Spring 2019 for a suggested retail price of $1,299.95**.
Nikon Z 6 Filmmaker's Kit – For content creators and filmmakers looking to fully utilize the Nikon Z 6's advanced video capabilities, Nikon has created a new Filmmaker's Kit incorporating the camera as well an array of essential video capture accessories. The bundle includes: a Nikon Z 6 camera, NIKKOR Z 24-70mm f/4 S lens, Mount Adapter FTZ, Atomos Ninja V 4K HDR 5" Monitor Recorder, Rode VideoMic Pro Plus, MOZA Air 2 3-Axis Hand-Held Gimbal Stabilizer, an additional EN-EL15b battery, a coiled HDMI cable, a 12-month Vimeo Pro membership and a complimentary Nikon School Online class. The Nikon Z 6 Filmmaker's Kit will be available in late January 2019 for a suggested retail price of $3,999.95**.
Share Your Experience from the Nikon Pop-Up Studio – CES attendees are encouraged to stop by the Nikon booth to experience the interactive fan area, which will give show-goers the chance to capture visually fun and distinct moments to share with their own social media followers and friends. A selection of carefully curated scenes will depict whimsical and colorful interactive environments that create fun photo opportunities. All still images and slow-motion video will be captured by the latest Nikon Z series mirrorless cameras and NIKKOR lenses, delivering incredible image quality and results.

The Nikon Z Series: Upcoming Firmware on Display

The Nikon Z series will continue to adapt to changing user needs through the development and roll-out of firmware updates to meet and exceed creative expectations. Taking into account feedback from photographers and creators, Nikon will display three feature updates under development that open creative opportunities for the Z 6 and Z 7. Displays will include:

CFexpress – Coming soon to the Z 6 and Z 7 cameras is support for CFexpress, which is compatible with the XQD memory card form-factor.
Eye AF – Under development is an Eye AF function, which will automatically detect the subject's eyes to make attaining critical focus on the eyes easier. It will allow users to capture photos in which focus has been clearly acquired on the subject's eye, which is useful for portrait, event and street photography scenarios.
RAW Video Support – Nikon is currently developing a feature that works with the ATOMOS Ninja V to output video in RAW format, using the ProRes RAW codec.

Details, including the release date of new firmware updates, will be shared at a later date.

Nikon Theater Presentation Schedule

The Nikon Theater will feature a full schedule of inspiring and engaging photographers throughout CES. Presentations will be available via livestream so those not attending CES 2019 can watch remotely here: www.nikonusa.com/live or www.facebook.com/nikonusa. Presentations will be captured using Nikon cameras, NIKKOR lenses and various automated broadcast solutions from MRMC, a Nikon company.

Day 1 – Tuesday, January 8 (Show Hours: 10:00 A.M. – 6:00 P.M. PST)

10:45 AM- 11:15 AM: Day to Night – Stephen Wilkes
11:30 AM- 12:00 PM: Adventures in Z Land – Joe McNally
12:00 PM- 12:30 PM: Showing Motion with A Single Frame – Kristi Odom
12:45 PM- 1:15 PM: Ocean's Matter – Brian Skerry
1:15 PM- 1:45 PM: Flowmotion (and the importance of finding your style) – Rob Whitworth
2:00 PM- 2:45 PM: Framing the Narrative: Photography in Conservation – Panel Discussion with Ami Vitale, Brian Skerry, James Balog
2:45 PM- 3:15 PM: Framing the Narrative – Ami Vitale
3:30 PM- 4:15 PM: The Power of Personal Projects – Panel Discussion with Stacy Pearsall, Jen Rozenbaum, Tamara Lackey
4:15 PM- 4:45 PM: Z Pictures Everywhere: Travel, In – Studio and Every Day Life! – Tamara Lackey
5:00 PM- 5:30 PM: The Human Element: A New Vision of Nature – James Balog
5:30 PM- 6:00 PM: How to Wow – Jerry Ghionis

Day 2 – Wednesday, January 9 (Show Hours: 9:00 A.M. – 6:00 P.M. PST)

9:45 AM- 10:15 AM: A Colorful Career in Black and White – Stacy Pearsall
10:30 AM- 11:00 AM: Sports Photography: Capturing Moments from Sandlots to the Pros – Rod Mar
11:00 AM- 11:30 AM: Magazine Portraits: Celebrities, Athletes, and the Race Against Time – Joey Terrill
11:45 AM- 12:30 PM: Photographing Animals and Wildlife – Panel Discussion with Ron Magill, Michelle Valberg, Keith Ladzinski
12:30 PM- 1:00 PM: Storytelling the Wild Way – Ron Magill
1:15 PM- 2:00 PM: Sports and Action Photography – Panel Discussion with Andrew Hancock, Jen Edney, Jen Pottheiser, Rod Mar
2:00 PM- 2:30 PM: Creative Storytelling in Sports Photography – Andrew Hancock
2:45 PM- 3:15 PM: Finding Your Way in Sports Photography – Jen Pottheiser
3:15 PM- 3:45 PM: The Modern Photographer – Keith Ladzinski
4:00 PM- 4:45 PM: Concert Photography: "Then and Now" – Panel Discussion with Baron Wolman, Knight, Owyoung, Jenn Deveraux
4:45 PM- 5:15 PM: Music Photography: Low Light, All Access- Todd Owyoung
5:30 PM- 6:00 PM: My Journey into Adventure Photography- Jen Edney

Day 3 – Thursday, January 10 (Show Hours: 9:00 A.M. – 6:00 P.M. PST)

9:45 AM- 10:15 AM: Wildlife Photography: Creating Emotional Impact – Michelle Valberg
10:30 AM- 11:00 AM: Z Joy of Photography – Matthew Jordan Smith
11:00 AM- 11:30 AM: Journey Through Landscape – Taylor Glenn
11:45 AM- 12:30 PM: Photography in Social World – Keith Ladzinski,
12:30 PM- 1:00 PM: Small Footprint Video Production: The Making of Morning – Corey Rich
1:15 PM- 2:00 PM: Storytelling with Motion – Video Panel Discussion with Corey Rich, Chris Hershman, Keith Ladzinski, Diane Fitzmaurice
2:00 PM- 2:30 PM: Intimate Portraits: Healing on Both Sides of the Lens – Jen Rozenbaum
2:45 PM- 3:15 PM: I Saw the Music – Baron Wolman
3:15 PM- 3:45 PM: Filmmaking in The Music Industry – Chris Hershman
4:00 PM- 4:45 PM: On the Rise – Getting Started in Photography – Up and Coming-Young Photographers – Panel Discussion with Taylor Gray, Kiamarie Stone, Nicolas Bruno
4:45 PM- 5:15 PM: Be Consistent: Build Your Brand – Kiamarie Stone
5:30 PM- 6:00 PM: Wedding Day Moments Captured – Cliff Mautner

Day 4 – Friday, January 11 (Show Hours: 9:00 A.M. – 4:00 P.M. PST)

9:15 AM- 9:45 AM: Photographer Talk
9:45 AM- 10:15 AM: Creative Landscapes: Finding Shots Beyond the Obvious – Mandy Lea
10:30 AM- 11:00 AM: Relive the Moments: Documenting Life – Charmi Pena
11:00 AM- 11:30 AM: Exploring the Art of Landscape and Time- lapse Photography – Taylor Gray
11:45 AM- 12:30 PM: The Power of Portrait Photography – Panel Discussion with Jerry Ghionis, Charmi Pena, Dixie Dixon
12:30 PM- 1:00 PM: Lights, Camera, Fashion – Dixie Dixon
1:15 PM- 2:00 PM: Making Dynamic Landscape Photograph s- Panel Discussion with Mike Mezeull II, Joshua Cripps, Mandy Lea
2:00 PM- 2:30 PM: Why I Love Chasing Extreme Weather – Joshua Cripps
2:45 PM- 3:15 PM: The Wild Among Us – Melissa Groo
3:15 PM- 3:45 PM: Nature's Fury: The Allure of Tornado Alley – Mike Mezeul II

For more information on Nikon's latest products including new the NIKKOR Z 14-30mm f/4 S lens and Nikon Z 6 Filmmaker's Kit, please visit www.nikonusa.com. For more information about Nikon's presence at CES 2019, including the livestreaming of presentations through the show, please visit www.nikonusa.com/live or www.facebook.com/nikonusa