Nikon just announced that it is developing a 500mm f/5.6 lens with a Phase Fresnel element, which would make it only the second lens in Nikon's lineup to have such a specialized component, the other being the 300mm f/4 PF. This indicates that Nikon is prioritizing low weight for the 500mm f/5.6, given that a PF element can replace multiple standard lens elements with one that is much smaller and thinner. No price, shipping date, or photos of the new lens have been released. The full name is the AF-S NIKKOR 500mm f/5.6E PF ED VR.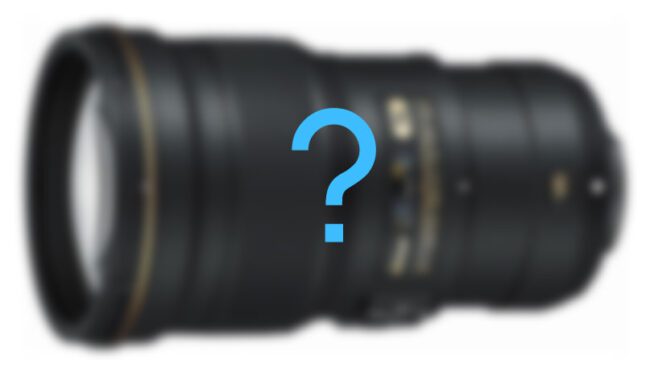 Although not much information has been released about the new lens yet, we do have a few hints at what the telephoto will be like, based on sources such as Nikon's patent for a 500mm f/5.6 PF lens. The patent depicts it as 28 cm long (11 inches) with 19 lens elements. By comparison, the current 300mm f/4 PF lens is 14.8 cm long (5.8 inches) and has 16 elements. The 300mm f/4 PF sells for $2000, so you can expect that the new 500mm f/5.6 will not be a cheap lens.
However, you can expect that it will be lightweight, at least for such a long telephoto. The 300mm f/4 PF still impresses photographers with its comparatively low weight, totaling only 755 grams (1.67 pounds). The older 300mm f/4, which does not have a Phase Fresnel element, weighs 1.44 kilos grams (3.17 pounds), almost twice the weight.
There are also parallels between the new 500mm f/5.6 and Nikon's most recent iteration of the 500mm f/4, which itself experienced a major weight reduction compared to its prior versions. However, the 500mm f/4 E still weighs a hefty 3.09 kilos (6.81 pounds). It also costs $10,300. (Though, as our review shows, the 500mm f/4 E is an exceptional lens.) Will photographers be willing to forego one aperture stop in exchange for, presumably, far less weight and a far lower price? It remains to be seen, but I certainly suspect that many will.
Another Nikon lens worth comparing is the 200-500mm f/5.6. This lens also weighs a decent amount at 2.3 kilos (5.07 pounds) and, of course, zooms. As you can see in our review of the 200-500mm, it also decreases in performance noticeably at 500mm. For those reasons, the two lenses are likely to have somewhat different audiences. Assuming the new 500mm f/5.6 PF lens is sharp and comparatively lightweight, I can see people willing to pay significantly more than they do for the 200mm-500mm (which sells for just $1400).
I certainly am looking forward to hearing more details about the 500mm f/5.6 PF, including its weight, price, and sample photos! Here is Nikon's press release for the lens:
Nikon Announces Development of AF-S NIKKOR 500mm F/5.6E PF ED VR, a Portable Super-Telephoto FX-Format Lens

The AF-S NIKKOR 500mm f/5.6E PF ED VR Will Deliver Exceptional Agility and Optical Performance in an Incredibly Compact and Lightweight Package

MELVILLE, NY – Today, Nikon Inc. announces the development of the AF-S NIKKOR 500mm f/5.6E PF ED VR, an FX-format fixed focal length super-telephoto lens, which will offer a compelling combination of portability and performance. The AF-S NIKKOR 500mm f/5.6E PF ED VR will be a high-performance super-telephoto lens that is significantly smaller and lighter than comparable predecessors due to the adoption of the same type of Phase Fresnel (PF) lens element found in the AF-S NIKKOR 300mm f/4E PF ED VR lens, introduced in January 2015. Despite its 500mm focal length, the lens is small and light enough to use hand-held in a wide variety of situations where a photographer must capture unpredictable and fast-moving subjects, including sporting events and wildlife photography.

Phase Fresnel Lens Elements

The Phase Fresnel (PF) lens element developed by Nikon effectively compensates for chromatic aberration utilizing the photo diffraction phenomenon*. Compared to many general camera lenses that employ an optical system using the photorefractive phenomenon, a remarkably compact and lightweight body can be attained with fewer lens elements.

Price and Availability

Information regarding the release of the AF-S NIKKOR 500mm f/5.6E PF ED VR lens, including final specifications and pricing, will be announced later this year. For more information on the latest Nikon products, please visit www.nikonusa.com.