Nikon has just announced the Nikon D610 camera, an update to the popular entry-level full-frame DSLR. It has been a little over a year since the Nikon D600 came out. Considering the typical refresh cycle of 2-3 years for lower-end camera bodies, this is a pretty unusual update that is meant to address the dust issue that we previously discussed in our Nikon D600 review. After a number of complaints from major review sites, including DPReview, Nikon finally acknowledged the flaw and issued a service advisory. To keep the image of the D600 line good, Nikon decided to release a refresh sporting mostly identical features. And to sweeten up the deal, Nikon made a few tweaks to the camera, making it even more attractive. But the biggest surprise is the price of the new D610 – it is now $100 cheaper than what the D600 was when initially launched, at $1999!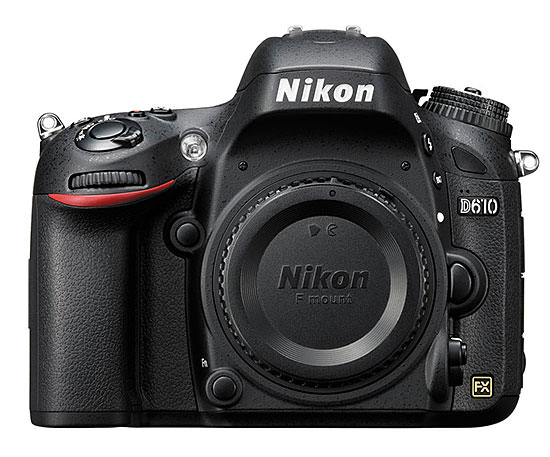 Despite the dust issue, the Nikon D600 has been a very popular camera. And with the number of returns from those that experienced the dust issue and did not feel like sending the camera to Nikon for service, the price of the refurbished D600 with a kit lens dropped to a mere $1500 at one point, making it a killer deal. Obviously, such returns and service costs were not doing good for Nikon's books, so the D610 update is a good move to try to restore the trust. And the $100 off the price at launch makes it a very attractive package, especially when compared to its competitor, the Canon 6D (which turned out to be not all that impressive when we compared the two cameras side by side).
So what has changed? Let's take a look at the list of updates to the camera:
A New Shutter Mechanism – looks like the issue on the D600 was the actual shutter mechanism that somehow shed particles on the sensor. Nikon completely replaced it with a different shutter, which not only addresses this dust issue but also allows for a slightly faster frame rate (see next point).
Faster Frame Rate of 6 FPS – the Nikon D600 had a 5.5 FPS continuous shooting speed and the D610 is now slightly faster at 6 FPS.
New Improved Automatic White Balance – not that we had any complaints on the previous white balance performance of the D600, but for some reason, Nikon decided to upgrade it as well. This one seems to be just a slight firmware improvement.
Quiet Continuous Shooting Mode – this one is a new feature, designed to work at 3 FPS.
Better Weather Sealing – Nikon claims that the Nikon D610 has exactly the same weather sealing, dust, and moisture resistance as the Nikon D800.
Aside from the above, everything else stayed the same.
Here is the official press release from Nikon USA:
MELVILLE, NY (October 8, 2013) – Nikon Inc. today announced the Nikon D610, the latest FX-format HD-SLR to incorporate cutting-edge features and superior operability to help photographers create amazing images and Full HD video. Engineered for those enthusiasts who focus on the color, sharpness and clarity of their images, the D610 provides enhanced performance and image quality improvements, coupled with Nikon core technologies, all in a lightweight form factor. With image quality rivaled only by the 36.3 megapixel Nikon D800, the D610 is an attractive option for those willing to step up to FX-format.

"For many of us, photography is an unexplainable passion; a relentless pursuit of sharpness and fidelity in every image captured, as we endlessly seek a way to express ourselves," said Masahiro Horie, Director of Marketing and Planning, Nikon Inc. "The Nikon D610 is a tool to help us capture and share our creative vision with all the benefits of a full-frame sensor, including expanded depth-of-field control, wide dynamic range, high image quality, low noise, fine color, and low-light capability."

Superior Image Quality
Inside and out, the Nikon D610 is dynamically engineered to deliver the outstanding balance of image quality, performance and operability that only a full-frame camera can offer. The large 24.3-megapixel FX-format (35.9 x 24mm) CMOS sensor is capable of creating low-noise images with amazing dynamic range, clarity and precise color, even in challenging light. No matter the type of photography, from landscapes to wildlife, portraits to sports, the Nikon D610 excels, delivering stellar sharpness, superior handling, and the ability to enjoy the full resolution benefits of a wide variety of NIKKOR glass. Image quality and performance are further bolstered with the aid of Nikon's EXPEED 3 image-processing engine, which helps to provide vivid colors and an exceptionally broad tonal range while quickly processing image data transfer from capture to the card. Additionally, EXPEED 3 contributes to surprising energy efficiency for all-day shooting.

Serious Performance for the Advanced Photographer
Whether capturing an awe-inspiring vista at the golden hour, or portraits that absolutely have to flatter, the swift response and advanced feature set will appeal to a wide range of users. From Nikon core technologies to thoughtfully laid-out controls, the robust and innovative feature set of this D-SLR will satisfy even the most demanding enthusiast.

Low-Light Performance: A wide ISO range helps the user master any lighting challenge. From a clean ISO 100 to a versatile 6,400 (25,600, Hi-2), the D610 provides minimal noise and maximum confidence.
39-Point AF System and Scene Recognition System: Users can select single point, continuous, dynamic or 3D autofocus modes to adapt to any shooting situation from static subjects to dynamic athletics. The Nikon D610's 39-point AF system quickly acquires focus throughout the frame, even on fast moving subjects. For further accuracy, the system uses Nikon's exclusive 3D Color Matrix Metering II 2016 pixel RGB Sensor in conjunction with the Scene Recognition System to analyze the scene and adjust exposure, white balance and focus. The resulting images display a more balanced exposure, precise sharpness and accurate color. Furthermore, the D610 utilizes nine cross-type sensors, seven of which retain AF ability up to f/8, a true boon to wildlife and sports photographers who rely on teleconverters for maximum distance.
New Improved Automatic White Balance (AWB): With an updated AWB algorithm, users can capture more vivid skies, and more natural-appearing reproduction of artificial light than ever before. Additionally, more natural skin tones can be captured, rendering faces with a more three-dimensional appearance.
New Increased Speed and Performance: A new shutter mechanism in the D610 affords a faster frame rate. Users can now capture the action at a continuous 6 frames-per-second (fps), which is ideal for photographing action sports or elusive wildlife.
New Quiet Continuous Shutter Mode: Ideal for weddings and other sensitive events, the D610 features a new Quiet Continuous Shutter Mode. When selected via the main command dial, users can shoot discreetly at up to 3 fps.
100% Frame Coverage and 3.2-inch High-Resolution LCD: Shoot all day comfortably and compose easily through the wide and bright optical viewfinder, which offers 100% frame coverage. Additionally, the high-resolution 921K dot, 3.2-inch LCD screen is viewable from a wide variety of angles making it easy to compose, review and share.
Unleash Creativity with Advanced Modes: With a wide variety of creative modes designed for enthusiasts, users can continue to express themselves in new, creative ways. A series of images with multiple exposures can be combined with built-in HDR, while users can explore their inner artist with an automatic Time Lapse Mode, or the intervalometer found in all advanced Nikon D-SLR's. To adjust color, saturation and other image parameters on the fly, Picture Controls can be applied to both stills and HD video.
Dual SD Memory Card Slots: The Nikon D610 accepts two SD memory cards, which users can set to copy and overflow, or mark as one dedicated video when shooting multimedia. Additionally, the D610 accepts blazing-fast and high capacity SDXC and UHS cards.
Full High Definition Capabilities: Capture stunning Full 1080P HD video in a variety of frame rates, including a cinematic 24p, 30p and 60i. A useful feature inherited from professional Nikon cameras, the Nikon D610 can feed 100% full screen, uncompressed video via HDMI to an external device such as a monitor or digital recorder. Additionally, a stereo microphone and headphones can be connected through thoughtfully placed auxiliary input jacks for capturing and monitoring audio.
Share a Stellar Shot Instantly: When using the optional WU-1b Wireless Mobile Adapter1, unbelievable images can be shared directly to a compatible smart mobile device such as a phone or tablet. Users can then share these images with friends and family through their own social networks or photo sharing applications.
Robust Construction: The Nikon D610 is sealed and gasketed, with dust and moisture resistance of the same caliber as the Nikon D800. The top and rear covers of the camera are made of magnesium alloy for maximum durability, while the shutter unit is tested to 150,000 cycles.

NIKKOR, Speedlight and System Compatibility
The Nikon D610 is compatible with a wide variety of NIKKOR Lenses, allowing users to truly realize a lens's potential with an FX-format camera. For eighty years, photographers have come to rely on Nikon's heritage of optical excellence for lenses that deliver the pinnacle of optical quality. Additionally, the Nikon D610 is fully compatible with Nikon's Creative Lighting (CLS) System and can act as a Commander to control up to two groups of Speedlights, in-camera.

Price and Availability
The Nikon D610 D-SLR will be available in late October 2013 in a variety of configurations.

Body Only – $1999.95* Suggested Retail Price (SRP)
With AF-S NIKKOR 24-85MM F/3.5-4.5G ED VR Lens – $2599.95* SRP
With AF-S NIKKOR 28-300MM F/3.5-5.6G ED VR Lens + 32GB Class 10 memory card + Large Laptop Bag – $3049.95* SRP
With AF-S NIKKOR 24-85MM F/3.5-4.5G ED VR Lens + AF-S VR ZOOM-NIKKOR 70-300MM F/4.5-5.6G IF-ED Lens + WU-1b Wireless Mobile Adapter + D-SLR Tablet Bag + 32GB Class 10 memory card – $3249.95* SRP
Some additional image samples of the D610.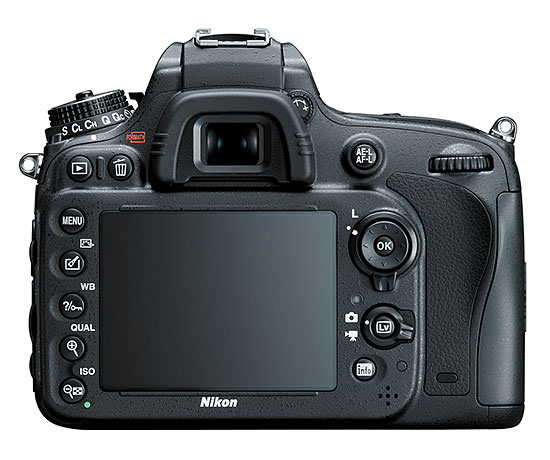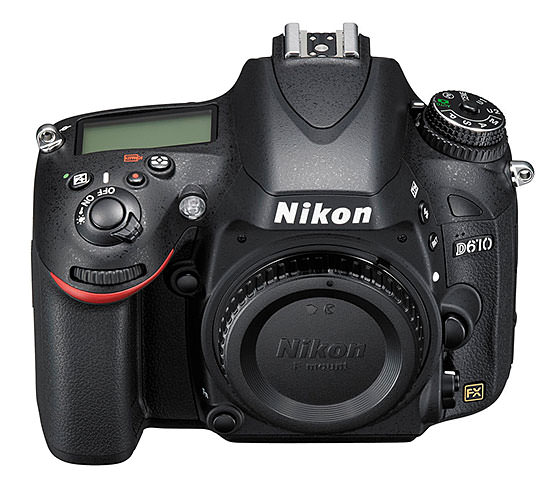 There is no point in doing a side by side comparison because the D600 and the D610 look identical.
Prognosis
Based on the popularity of the D600, the Nikon D610 should do well. Now that the dust/oil issues are addressed and the camera got better feature-wise, I expect the D610 to sell like hotcakes in the future (at least in the US market). I am not sure how good of a job Nikon will do with providing enough stock this time, but it will probably become a top-selling item in many local and online stores this holiday season. I praised the Nikon D600 highly in my review (see the summary page) and bought one for myself, because the camera has a phenomenal sensor. I know that many folks did not feel like getting the D800, because it was too much of a camera to them, especially with its massive RAW files. The D600, on the other hand, had a perfect balance of pixels and ISO performance. The biggest problem for the D600 was the dust, which truly scared off many potential buyers (although for me personally, it was not such a huge deal since I deal with cleaning sensors all the time). And now with the D610 we get the same superb performance and no dust/oil headaches to deal with.
What's sad, in all honesty, is the fact that Nikon released the D600 with a flaw and had to address that flaw with a different camera. I don't know if it was a simple oversight or some hard-pressed deadlines, but the D600 should not have been released with any serious QA issues. As far as I know, we have not seen this before on any DSLRs, so this is the first. Nikon had an overheating issue on its SB-900 speedlight before and the SB-910 was released to address the issue, but that was a speedlight, not a camera. And the D600 was a second blow on Nikon's image and QA process, thanks to the previous autofocus fiasco on the D800. Hopefully, these two cameras were a good lesson for Nikon and we won't be seeing such major issues in the future – at least that's my hope!
What about the current D600 owners? Instead of introducing a new camera with almost identical features, Nikon should have either recalled the D600 and addressed all issues for good or should have issued a better service advisory that takes care of the D600 issues completely. I don't think this "update" was necessary – why not go back and fix the problem? Based on this announcement, Nikon is essentially saying that one should either deal with the D600 dust issue through service centers directly or buy the new D610. Not a great approach by a company that is struggling to sell cameras…