Nikon just announced the D3500 DSLR, the most recent in their popular line of entry-level D3X00 cameras, with a starting price of just $499 with the 18-55mm AF-P kit lens. It has been two years since the prior model, the D3400, was released, and the new D3500 comes with a few noteworthy changes. Namely, the new camera has higher battery life than its predecessor (up from 1200 to 1550 shots), as well as a lighter and more ergonomic design.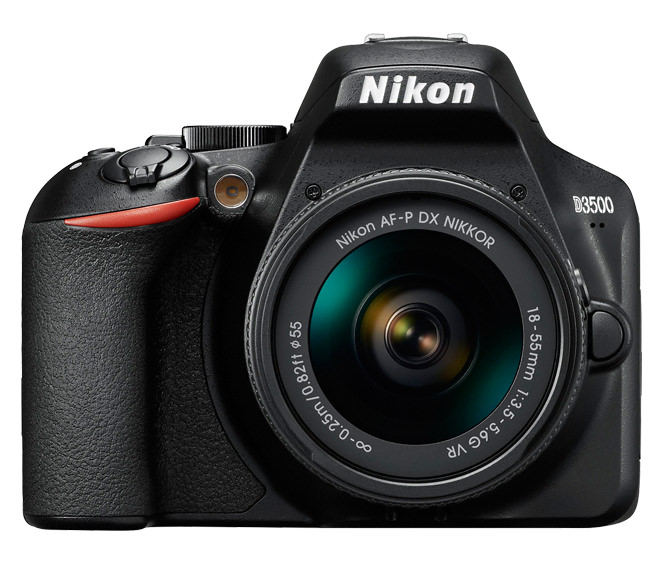 Differences Between D3500 and Older D3X00 Cameras
Nikon's updates to their line of entry-level DSLRs often have been minimal, both for the D3X00 series and the D5X00 series. The new D3500 continues this trend by adding better battery life, a slightly lighter design, and a more ergonomic body, but nothing else.
Here's a chart of the most important differences between the D3500 and older cameras in the same lineup:
| | Nikon D3100 | Nikon D3200 | Nikon D3300 | Nikon D3400 | Nikon D3500 |
| --- | --- | --- | --- | --- | --- |
| Released | September 2010 | April 2012 | January 2014 | August 2016 | August 2018 |
| Megapixels | 14.2 | 24 | 24 | 24 | 24 |
| Autofocus Points | 11 | 11 | 11 | 11 | 11 |
| Max Frame Rate (Stills) | 3 fps | 4 fps | 5 fps | 5 fps | 5 fps |
| Viewfinder Magnification | 0.8× | 0.8× | 0.85× | 0.85× | 0.85× |
| LCD Screen | 230,000 dots | 921,000 dots | 921,000 dots | 921,000 dots | 921,000 dots |
| ISO Sensitivity | 100-12,800 | 100-12,800 | 100-25,600 | 100-25,600 | 100-25,600 |
| Max Video Frame Rate at 1920 × 1080 | 24 fps | 30 fps | 60 fps | 60 fps | 60 fps |
| Bluetooth | No | No | No | Yes, which lets you use SnapBridge | Yes, which lets you use SnapBridge |
| GPS | Yes, with GP-1 or GP-1A | Yes, with GP-1 or GP-1A | Yes, with GP-1A | Yes, with SnapBridge | Yes, with SnapBridge |
| Battery Life | 550 shots | 540 shots | 700 shots | 1200 shots | 1550 shots |
| Weight (Body Only) | 16.0 oz / 455 g | 16.0 oz / 455 g | 14.5 oz / 410 g | 13.9 oz / 395 g | 12.9 oz / 365 g |
| Dimensions | 124.5 × 96.5 × 73.7 mm | 127 × 97 × 79 mm | 124.5 × 99.1 × 76.2 mm | 124 × 98 × 75.5 mm | 124 × 97 × 70 mm |
The D3500's design has also been slimmed down, with a thinner but deeper grip akin to that of the Nikon D5600 (which we preferred, as described in our D5600 review).
As you can see, the Nikon D3500 is the most advanced DSLR in this lineup, although the older models are quite similar overall, with few huge differences between them. The better battery life is really the big selling point of the D3400, although if the new grip is more similar to that of the D5600, it would also be a welcome sight. The D3X00 series has always had a relatively uncomfortable grip compared to Nikon's other DSLRs.
In our review of the Nikon D3400, we found it to be a very solid camera at a highly attractive price. The image quality of the D3400 is among the best you can find today for a 1.5x crop-sensor camera, with great dynamic range and impressive high ISO performance beating Canon's competing offerings. Given the low price of the D3500, we have no doubt that it will continue to be one of the most popular DSLRs on the market.
The D3500 ships in September as a kit for $499.95 with the 18-55mm f/3.5-5.6 AF-P lens. For comparison, the Nikon D3400 kit with the same lens had a launch price of $599.95, although it has been selling recently for $399.95; its current price is up to $499.95. So, there is no real reason to buy the D3400 new at the moment, unless you need it before September. If you wait for the D3500, you'll get some extra battery life and a more comfortable design.
Press Release
The New Nikon D3500: Capture and Share Your Treasured Moments With the Lightest, Friendliest Nikon DSLR yet

The Redesigned Nikon D3500 is the Most Portable Entry-Level Nikon DSLR Ever, and the Easiest Way to Capture the Moments that Matter Most

MELVILLE, NY – Today, Nikon unveiled the new Nikon D3500, a compact, entry-level DSLR that makes capturing the world easier and more convenient than ever. The 24.2-megapixel D3500 features an updated CMOS image sensor and Nikon EXPEED image processor to capture sharp details and vivid colors, and is packed with easy-to-use features that help first-time DSLR users start capturing better photos and video right away.With its ergonomic and lightweight body, approximately 1,550 shots on a single charge and convenient features like Nikon SnapBridge and helpful Guide Mode, the Nikon D3500 is a great option for parents, travelers and photo enthusiasts who are eager to take their photography to the next level.

"The Nikon D3500 is ideal for consumers who are looking to easily capture the kinds of images that their smartphone simply cannot match, and share them seamlessly with family and friends," said Jay Vannatter, Executive Vice President, Nikon Inc. "The D3500 reaffirms our commitment to releasing convenient DX-format DSLR options for those just discovering photography."


Capture Stunning Images and Video with Ease

The Nikon D3500 is bursting with high-performance features that help first-time DSLR users capture amazing images in a variety of situations. The camera's broad ISO range of 100-25,600 makes it easy to capture sharp, clear images in low-light shooting situations with very little noise, while the 11-point autofocus (AF) System locks onto subjects, even fast-moving pets or children to help ensure that fleeting moments aren't missed. The D3500 also features built-in Effect Modes to help entry-level users discover and express their personal creative vision.

Additionally, the Nikon D3500 is capable of continuous shooting up to five frames-per-second (fps), helping to capture candid moments with ease. The Nikon D3500 is also equipped with Full HD 1080/60p video capability. Users can switch from shooting photos to video at the press of a button, allowing them to capture spur-of-the-moment memories that will last a lifetime with stunning sharpness and clarity.

To further expand creativity, the in-camera Guide Mode gives new DSLR users the tools they need to learn about their new camera's capabilities and become better, more knowledgeable photographers.

All these amazing features have been incorporated into a new ergonomic and lightweight design featuring a more comfortable, deeper grip and the slim monocoque body design similar to the Nikon D5600. The new design also features a more beginner-friendly and intuitive control layout, with a larger playback button and the most frequently-used controls all relocated to the right side of the camera's LCD where they are easiest to access.

The redesigned Nikon D3500 is ideal for a fast-paced on-the-go lifestyle, making it the perfect companion for any family event or travel adventure.


Always Connected for Easy Sharing

Sharing photos with the ones you love is easier than ever with the Nikon D3500 and Nikon SnapBridge app. The D3500 uses Bluetooth2 to create an always-on3 connection between the camera and a compatible smart device, making it possible to seamlessly share 2MP images to social media as they are captured. Additionally, D3500 users will now be able to trigger their camera remotely via Bluetoothusing SnapBridge. Nikon SnapBridge users can also access Nikon Image Space4, a free online image sharing and storage service that preserves memories in the cloud.


Pricing and Availability

The Nikon D3500 will be available in a two-lens kit option, including the AF-P DX NIKKOR 18-55mm f/3.5-5.6G VR and AF-P DX NIKKOR 70-300mm f/4.5-6.3G ED, for a suggested retail price (SRP) of $849.95* in September 2018. A Nikon D3500 single-lens kit with the AF-P DX NIKKOR 18-55mm f/3.5-5.6G VR will also be available for (SRP) of $499.95* in September 2018. For more information on the new Nikon D3500, please visit www.nikonusa.com.