In their first announcement of 2023, Nikon has revealed the development of two upcoming lenses: the Nikon Z 85mm f/1.2 S and the Nikon Z 26mm f/2.8. Neither of these lenses will surprise you if you've kept an eye on Nikon's roadmap, and we still don't know most of the lenses' specs.
Even so, at least we got a photo of both lenses and now know for certain what their maximum aperture values will be. As expected, the mystery 85mm prime on the roadmap is an f/1.2 lens – joining the Nikon Z 50mm f/1.2 S in that regard – while the 26mm f/2.8 is a tiny pancake lens (but still covers full frame). Here's what we know about both lenses.
Nikon Z 85mm f/1.2 S
When this lens starts to ship, Nikon will be one step closer to closing the gaps in their mirrorless lens lineup. Until now, high-end portrait photographers with the Z system have had to choose between the 50mm f/1.2 S, 85mm f/1.8 S, or something like the 70-200mm f/2.8 S. Those are all great lenses, but none of them mimic the classic F-mount portrait lenses of the 85mm f/1.4G and 105mm f/1.4E, which combine a long focal length and an extremely wide maximum aperture.
As expected of an f/1.2 lens, the 85mm f/1.2 S is going to be chunky. Just look at it: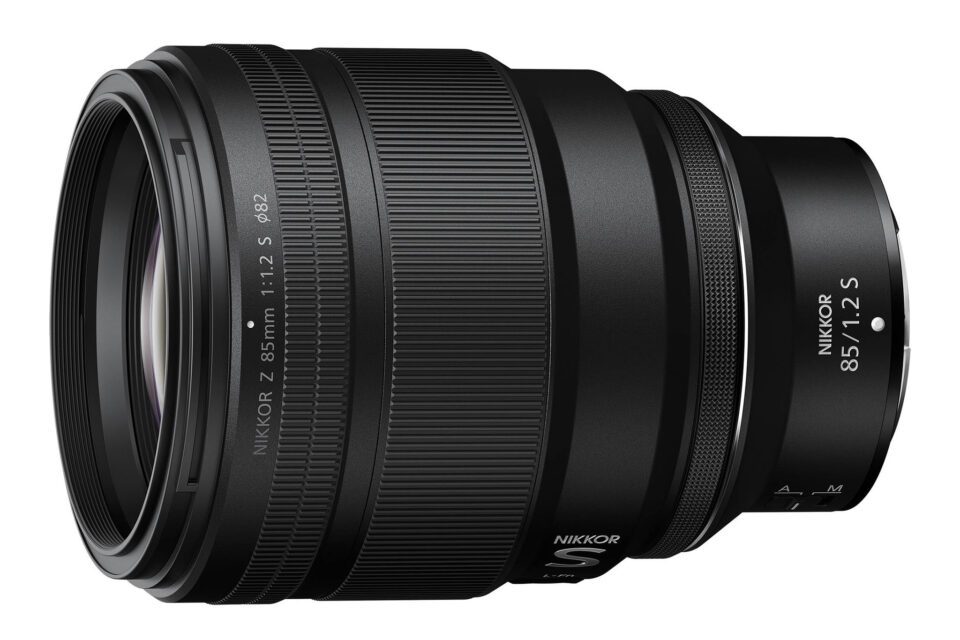 All that glass is there to gather as much light as possible and throw your background into a sea of colorful, creamy goodness. The front filter thread is 82mm, same as the Z 50mm f/1.2 S, but this is definitely going to be a heftier lens. Here's my best attempt at matching the two lenses to scale, based on keeping the lens mounts and filter thread sizes the same: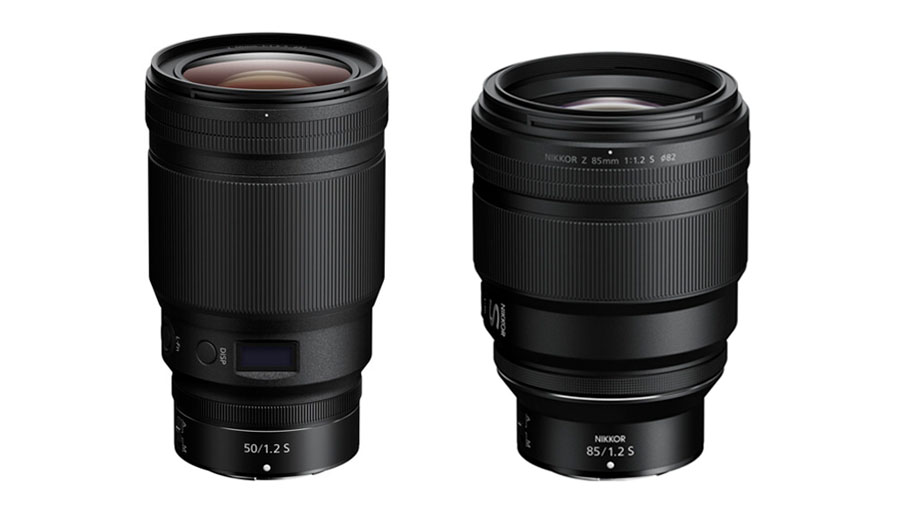 I'm a bit surprised by the lack of a OLED display on the 85mm f/1.2, not that it's a super useful feature anyway. It also seems that prior rumors of a "defocus smoothing" feature on the 85mm f/1.2 were just pipe dreams rather than anything grounded in reality. Looks like the F-mount Nikon 105mm f/2 DC and 135mm f/2 DC (plus various lenses from other brands) are still the kings if you need manual control over your background blur.
That's about all we know about the 85mm f/1.2 S. No pricing, shipping date, or other specs have been announced yet. However, a prototype of the lens will be on-hand at the CES show in Las Vegas for anyone who may be attending. Feel free to send us photos of the lens if you're there!
Nikon Z 26mm f/2.8

The other new lens is the Nikon Z 26mm f/2.8. At first glance, it's surprising that Nikon would release a lens like this, considering that there's already a compact 28mm f/2.8 in their lineup. But there are a couple of noticeable differences between the 26mm and 28mm primes. In particular, the 26mm f/2.8 is the first "true" pancake lens in the Z lineup, while the 28mm f/2.8 is small but not as slim as a pancake.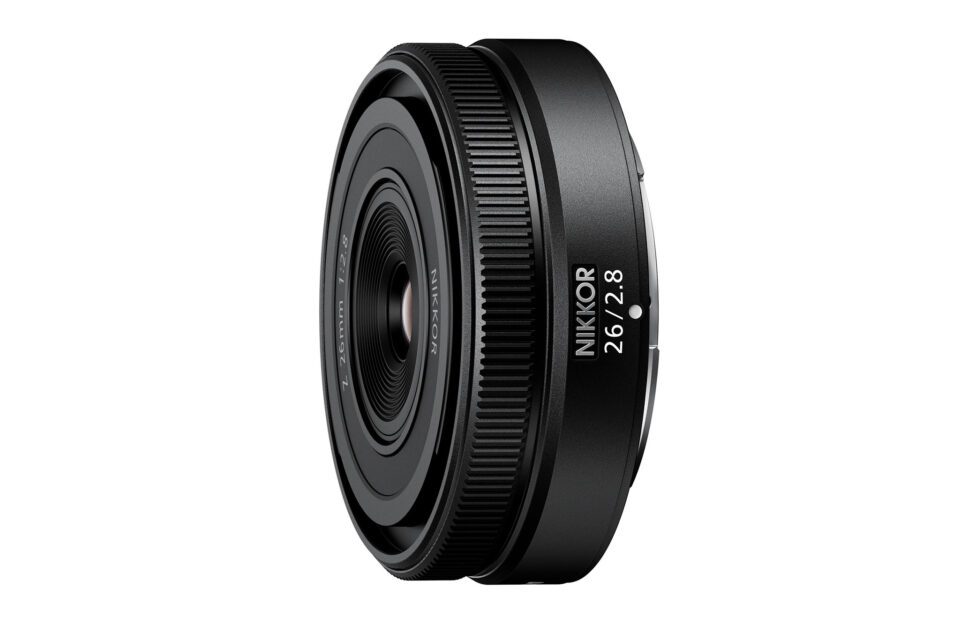 Beyond that, the product photos released by Nikon show that the 26mm f/2.8 has a metal lens mount, rather than plastic like the 28mm f/2.8. It also seems to have no filter threads, so you'll probably need to attach filters to the lens hood rather than directly to the lens itself.
There was some speculation that the 26mm would be an f/4 or f/5.6 lens in order to keep it as small as possible, but Nikon apparently found a way to keep the aperture at f/2.8 while still covering full-frame. Does this mean the lens will have some optical compromises? It's impossible to say right now, but I'll point out that Nikon's existing 28mm f/2.8 "muffin" lens is hardly a perfect optic, and it's about twice as big as this one. It wouldn't surprise me if the 26mm f/2.8 has a few optical issues as a result.
Nikon still needs to announce the remaining specs of the 26mm f/2.8, especially its price. If the lens launches in the $150-200 range, it would at least stand out compared to the $300 28mm f/2.8. But if it ships at $300 or more, I don't think Nikon should have bothered with this lens when there are bigger gaps in their lineup at the moment, like a lightweight telephoto zoom.
My Thoughts and Takeaways
On one hand, the development announcements today don't tell us much; most of the specs for these two lenses are still a mystery. On the other hand, the announcements might tell us quite a bit about the state of Nikon at the moment. The company is definitely behind schedule.
Development announcements are iffy for PR in general, except in cases of major products like the Nikon Z9. To announce the development of two unsurprising lenses – lenses that have already been on Nikon's roadmap for a while – seems pretty silly to me. My guess is that Nikon felt a strong pressure to announce something for the ongoing CES trade show, but they didn't have anything in the immediate pipeline other than these lenses. And apparently even these lenses aren't far enough along to fully announce.
It might be dangerous to read into things more than that, but I'll do it anyway: This strikes me as a bad sign for new Nikon cameras in the near future. My concern is, wouldn't Nikon have announced the development of a (hypothetical) Z8 or a Z90 for the CES show if they could have done that instead? Or even a Z6 III / Z7 III? Since they didn't, I can't help but wonder if those cameras are still a long way off – longer than most of the Nikon faithful had been anticipating.
In any case, I'm not knocking the two lenses whose announcement was announced today. The 85mm f/1.2 S is sure to be a stunning lens if Nikon's previous S-line primes are any indication. And although the 26mm f/2.8 is a bit surprising considering the existing Nikon Z 28mm f/2.8, it's nice to see a true pancake lens finally join the Nikon Z lineup. I'm curious to test it in the lab and see how it compares to the 28mm f/2.8.
Press Release
Nikon is developing the NIKKOR Z 85mm f/1.2 S, a fast mid-telephoto prime lens, and the NIKKOR Z 26mm f/2.8, a slim wide-angle prime lens for the Nikon Z mount system

January 5, 2023

TOKYO – Nikon Corporation (Nikon) is pleased to announce the development of the NIKKOR Z 85mm f/1.2 S, a fast mid-telephoto prime lens, and the NIKKOR Z 26mm f/2.8, a slim wide-angle prime lens, for full-frame/FX-format mirrorless cameras for which the Nikon Z mount has been adopted.

The NIKKOR Z 85mm f/1.2 S is part of the S-Line* NIKKOR Z lens series, and realizes both superior rendering performance and large, beautiful bokeh. It expands possibilities for users capturing portraits in areas such as weddings and fashion.
The NIKKOR Z 26mm f/2.8 achieves outstanding slimness and lightness, as well as high rendering performance, making it an ideal lens for advanced amateur photographers who take their camera everywhere so as not to miss a moment.

Nikon will continue to pursue a new dimension in optical performance while meeting users' needs, contributing to the development of imaging culture, with the hope of expanding possibilities for imaging expression.