Today Nikon revealed its first pulse motor (AF-P) lens designed specifically for full-frame cameras, the AF-P NIKKOR 70-300mm f/4.5-5.6E ED VR. This is a very interesting release for a number of reasons. First, it improves the already great 70-300mm f/4.5-5.6G VR budget telephoto lens by making it sharper, faster and lighter. Second, it vastly improves the image stabilization system on the lens, capable of compensating up to 4.5 stops when shooting hand-held, in addition to adding a Sport VR mode for panning. Third, the new 70-300mm gains an electronic diaphragm and its new optical design allows to get even closer to subjects with a minimum focus distance of 1.2 meters. And lastly, its $700 price tag puts it just $100 above its predecessor, making it a great choice for budget conscious photographers. Being such a lightweight and compact lens, it seems like an ideal choice for travel photography.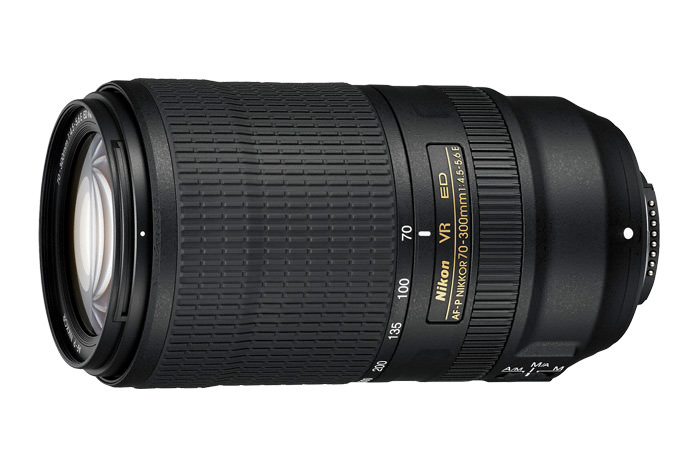 Considering how popular the Nikon 70-300mm f/4.5-5.6G VR has been in the past, I have no doubt that this new AF-P version is going to be a winner. I can picture myself traveling with such a lens – at just 680 grams, it looks like a great choice for capturing distant subjects on the go. Although Nikon dropped one ED element from the design, the MTF charts for the new 70-300mm VR AF-P look great when compared to its predecessor (top two charts: Nikon 70-300mm VR AF-S, bottom two charts: new Nikon 70-300mm VR AF-P):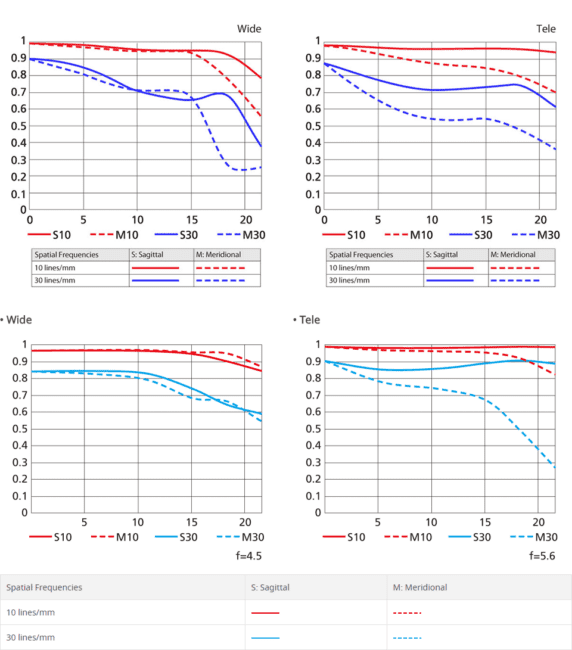 While there is a slight drop of sharpness at the wide end in the center of the frame, the new 70-300mm looks optically superior with no field curvature to worry about. Its MTF curves look more uniform and the lens is supposed to deliver even sharper corners. Zoomed in to 300mm, we can see that the new optical design is vastly better. Not only does the lens show improved contrast, but it also seems to be sharper throughout the frame compared to its predecessor. The only worrying element here is the large division between the sagittal and meridional lines, which is an indication of fairly noticeable astigmatism. Not too big of a deal in my opinion, since its predecessor also had quite a bit of it in the first place. Many budget telephoto lenses suffer from this – even the Nikon 200-500mm f/5.6E VR has quite a bit of astigmatism at 500mm.
Still, considering everything I see from the above MTF, the new 70-300mm VR AF-P looks really good. If it resolves detail very well when stopped down in the corners, it might even be a great choice for shooting landscapes. It has all the right properties for that, including "dust and drip resistance".
https://www.youtube.com/watch?time_continue=1&v=eUZoimzYvjs
Now keep in mind that this is a new generation lens with a stepping motor (AF-P). Unfortunately, such lenses only work with the latest generation Nikon DSLR cameras, so if you have an older DSLR and you are not planning to upgrade, you might want to stay away from this one. As of today, Nikon shows the following cameras to be fully compatible: Nikon D7500, D5600, D5500, D5300, D3400, D3300 and D500, which is kind of crazy, because those are all DX cameras. The more recent full-frame cameras are compatible, but with "limited functions" (not able to change lens settings through the camera): Nikon D5, D810 series, Df, D750, D7200, D7100, D5200, Nikon 1 series with the FT1. And if you have any older DSLRs from the following list, this lens is going to be completely unusable on those bodies: Nikon D4 series, D3 series, D2 series, D1 series, D800 series, D700, D610, D600, D300 series, D200, D100, D7000, D5100, D5000, D90, D80, D70 series, D3200, D3100, D3000, D60, D50, D40 series, film cameras.
This certainly limits the use of the camera, despite its "FX / DX" label at the moment. However, this is also an indication of camera refreshes coming later this year, but I will save that thought for another article :)
For more information about the lens, see the Nikon AF-P NIKKOR 70-300mm f/4.5-5.6E ED VR page in our lens database.
Below is the official press release:
MELVILLE, NY (July 11, 2017 at 12:01 A.M. EDT) – Today, Nikon announced the new AF-P NIKKOR 70-300mm f/4.5-5.6E ED VR, modernizing this popular zoom lens with a myriad of the latest Nikon technologies. The new lens features enhanced Vibration Reduction (VR) image stabilization capability and integrates a stepping motor for fast and quiet AF performance, making it Nikon's first full-frame AF-P lens. This new NIKKOR lens is a versatile, compact telephoto option for intermediate FX and DX-format photographers looking to capture sports, wildlife, candids, travel and other subjects at long distances, all with stunning clarity.

"This latest lens reaffirms Nikon's commitment to giving FX-format shooters of all levels the unparalleled quality of NIKKOR glass, with the benefits of our latest optical technologies," said Kosuke Kawaura, Director of Marketing and Planning, Nikon Inc.

Updated with the Latest NIKKOR Lens Technologies
Whether capturing a baseball game from the bleachers or the sights of a scenic vacation, the new AF-P NIKKOR 70-300mm f/4.5-5.6E ED VR is a versatile lens that helps users capture sharp images and video, even in challenging light. The new AF-P NIKKOR 70-300mm is lighter than its predecessor, despite packing new technologies that help those shooting photos and video achieve stellar results. Enhancements to the lens include:

Improved Vibration Reduction (VR) System: The new AF-P NIKKOR 70-300mm lens provides users with up to 4.5 stops* of VR stabilization, to help create sharp photos and smooth video, even in low light or while handheld. Users can choose from either Normal or Sport VR Modes for added stability when shooting from a non-stationary location.
Lightweight with Stepping Motor Technology: This AF-P lens uses a stepping motor for fast and quiet autofocus, which reduces the sound of lens operation while recording HD or 4K UHD video. This new technology also contributes to the lens' reduced weight, making it easy to carry on all-day excursions.
Electronic Diaphragm: This lens takes advantage of the fast burst speed of Nikon DSLR cameras, as the Electronic Diaphragm not only provides smooth exposure transitions during video capture, but also helps maintain consistent exposure during high-speed shooting, such as when photographing sports.
Get Close: The AF-P NIKKOR 70-300mm lens features a minimum focus distance of only 3.94 ft. (1.2 meters) and a reproduction ratio of 0.25x, letting users get even closer to capture the most extravagant details, even at 300mm.
Lens Construction: The lens features dust and drip resistance, along with a metal lens mount for durability. It features a 9-blade diaphragm for a natural, circular bokeh. The lens also features an ED element to significantly reduce instances of chromatic aberration.

Price and Availability
The Nikon AF-P NIKKOR 70-300mm f/4.5-5.6E ED VR lens will have a suggested retail price (SRP) of $699.95**, and availability will be announced at a later date. For more information on this new NIKKOR lens as well as the latest Nikon products, please visit www.nikonusa.com.

*Based on CIPA Standard. This value is achieved when FX-format compatible lenses are attached to a FX-format digital SLR camera and zoom lenses are set at the maximum telephoto position.
**SRP (Suggested Retail Price) listed only as a suggestion. Actual prices are set by dealers and are subject to change at any time. Specifications, equipment and release dates are subject to change without any notice or obligation on the part of the manufacturer.