Nikon has just announced two highly anticipated super telephoto lenses for sports and wildlife photography, the AF-S Nikkor 500mm f/4E FL ED VR and the 600mm f/4E FL ED VR. After Nikon released the 800mm f/5.6E VR and the 400mm f/2.8E VR lenses, it was a matter of time before the 500mm and 600mm lenses got updated with the latest and greatest optical designs and technology. As before, Nikon has completely revamped the optical formula of these new lenses, shredding as much as 20% off the total weight on the 500mm and 25% off the total weight on the 600mm! Now the new 600mm f/4E VR weighs as much as the 400mm f/2.8E VR, which is incredible. Considering how hand-holdable the 400mm f/2.8E VR is, both of these new lenses open up a lot of amazing opportunities to get closer to action.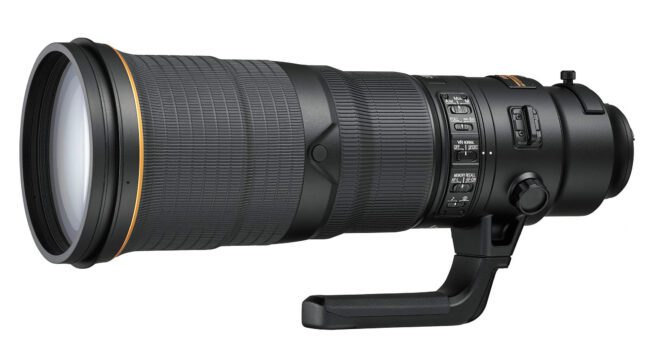 Out of all the previous-generation super telephoto lenses, my personal favorite has always been the 500mm f/4G VR, because it had plenty of reach and it was a lens I could hand-hold for relatively short periods of time when chasing wildlife – and that was when the lens weighed 3.8 kg. At just 3 kilos now and with its weight distributed all across the lens instead of just the front, it will, without a doubt be an ultimate super telephoto lens that has the best balance of performance, weight and price. Speaking of price, the new 500mm f/4E will sell for $2K more than its predecessor – at $10,300. While it is a lot of money to pay for a lens, I expect the 500mm f/4E to sell quite well, especially once current owners of 500mm lenses start selling their old gear. The used lens market will probably get flooded with plenty of great offers once the new 500mm hits the market, so if you have been saving up for a 500mm prime, it might soon be a great time to snatch one off at a good price.
What can we expect from the 500mm f/4E VR performance-wise? All you have to do is look at the below MTF graphs (Left: Nikon 500mm f/4E VR, Right: Nikon 500mm f/4G VR):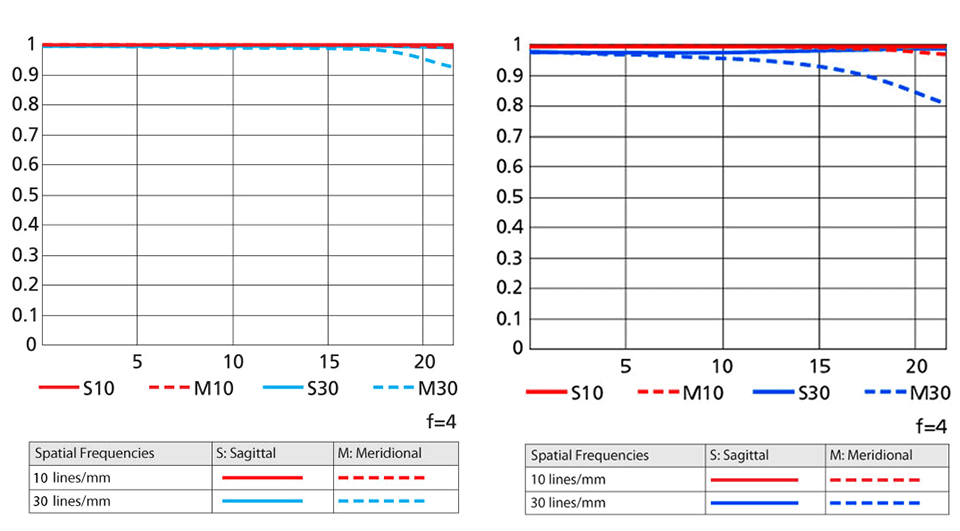 See that straight line on the left? That's an indication of practically a perfect lens (check out my detailed guide on how to read MTF charts). Nikon outdid itself here – I find it hard to imagine how Nikon could further improve on this lens in the future. I think the 500mm f/4E VR is fairly close to being Nikon's last iteration of the 500mm lens, until some major breakthrough is invented in optics…
And if you are wondering about the new 600mm f/4E VR and see what benefits it brings compared to its predecessor, basically, everything I have said above in terms of optical design applies to the 600mm as well. In fact, if you have already been shooting with a 600mm lens, you get even more weight savings than the 500mm crowd – around 25%, which translates to a whopping 1.2 kg of less weight!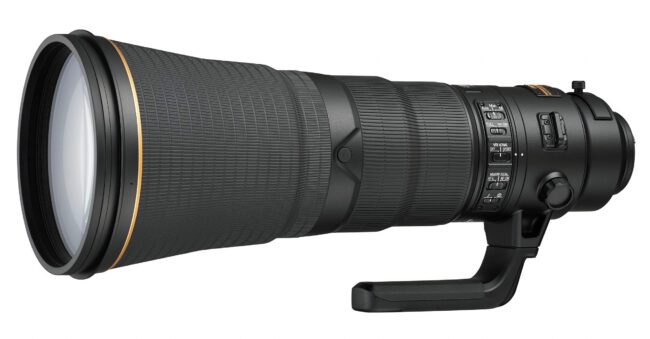 Handling-wise, that's a pretty significant and serious advantage of the new optical design. Again, since Nikon changed the biggest front elements to fluorite, the 600mm f/4 will no longer be front-heavy, making the lens much more balanced when hand-holding the lens or shooting from a tripod.
Performance-wise, take a look at the below MTF charts (Left: Nikon 600mm f/4E VR, Right: Nikon 600mm f/4G VR):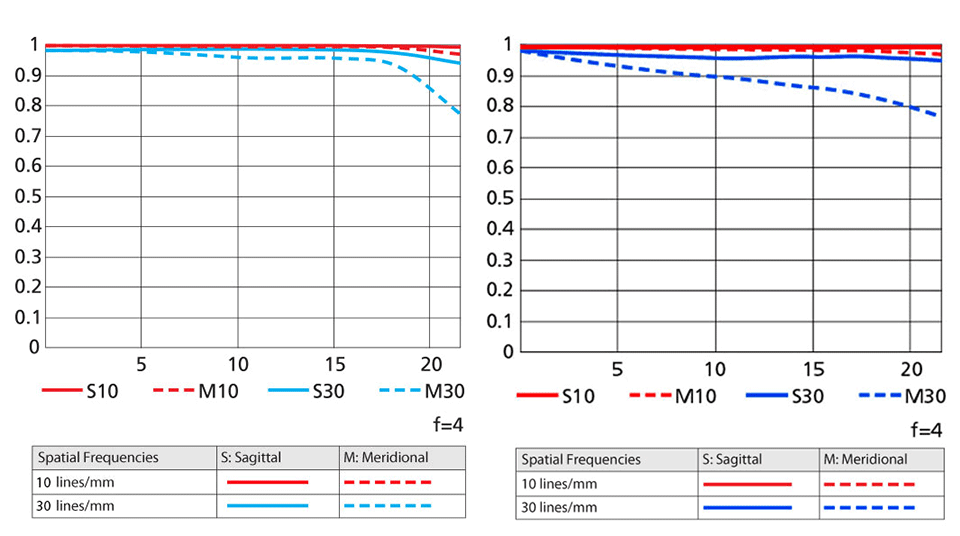 Once again, that MTF is pretty much impossible to improve on! Expect sharpness, contrast and bokeh to be outstanding – basically "out of this world". Price-wise, the 600mm beast will retail for $12,299, which is roughly $2,600 more than what the older "G" version is currently selling for.
As before, Nikon packed all kinds of optical technologies into these lenses, including the new fluorine coating, to make it easier to wipe off water, dirt and smudges.
Both 500mm and 600mm lenses have been the bread and butter of many sports and wildlife photographers, due to their long reach, exceptional bokeh and superb sharpness/contrast. I have used the previous generation 500mm and 600mm lenses and aside from their heavy weights and high prices, there is very little one could complain about. These new lenses basically take care of the weight part and the higher price premium is something many of us expected – after-all, we are dealing with incredible lenses that no other lenses for the same mount can truly compete with…
Official Press Release
Below is the official press release from Nikon:
Pack Lighter to Go Further: Nikon Announces Two New Professional Super Telephoto NIKKOR Lenses

The AF-S NIKKOR 500mm f/4E FL ED VR and AF-S NIKKOR 600mm f/4E FL ED VR Lenses Dominate the Sidelines With Superior Optical and AF Tracking Performance, While New Design Reduces Weight
MELVILLE, NY – Today, Nikon Inc. announced two new super telephoto lenses, the AF-S NIKKOR 500mm f/4E FL ED VR and AF-S NIKKOR 600mm f/4E FL ED VR. These two NIKKOR lenses use the latest Nikon lens technologies to enhance autofocus (AF) tracking and optical performance, while benefitting photographers with a significant reduction in weight. Ideal for sports, action, wildlife and press events, these lenses offer photographers the ability to capture striking images from afar with brilliant clarity and sharpness.

"The new NIKKOR 500mm and 600mm f/4 lenses were developed to give photographers the advantage on the sidelines or in the field, with a lens that can keep up with the action and get the decisive shot," said Masahiro Horie, Director of Marketing and Planning, Nikon Inc. "By the fourth quarter or final period, users will sincerely appreciate the weight reduction of these lenses which allow for extended shooting, even into overtime."

Increased Performance, Reduced Weight
These new super telephoto NIKKOR lenses have been optimized for today's high-resolution image sensors and fast-shooting Nikon DSLR cameras. The new lens designs significantly improve AF tracking performance, helping photographers to capture images of dynamic wildlife or athletes in precise clarity, even when subjects are moving erratically, at random speeds or at the camera. Both lenses also utilize Nikon's Electromagnetic Diaphragm, helping to maintain consistent exposure during high-speed burst shooting of fast action.

The addition of fluorite lens elements to the optical formula helps to reduce chromatic aberration, as well as decrease the overall weight of the lenses, saving nearly two pounds (lbs.) for the 500mm f/4E FL ED VR, and nearly three lbs. for the 600mm f/4E FL ED VR. For extended shooting days in the field, the AF-S NIKKOR 500mm and 600mm lenses also employ magnesium alloy construction for enhanced durability and further weight reduction.

Because the AF-S NIKKOR 500mm f/4E FL ED VR weighs in at just 6.8 lbs./3090 grams (vs. 8.5 lbs./3880g of its predecessor), super telephoto performance has never been so light. This premium NIKKOR lens is ideal for nature and sports photographers who are always traveling on assignment and are looking for a fast, constant aperture lens to capture photos and HD video from a distance. The combination of nimble agility, low-light capability and superior optical performance makes this lens an obvious choice for tack-sharp images of birds in flight, aircraft or other fast moving subjects when a tripod is not always an option. The optical formula of this lens combines two fluorite elements and three Extra Low Dispersion (ED) glass elements to further reduce chromatic aberration while providing superior sharpness and color accuracy.

For long reach with superior optical performance, professional photographers should consider the AF-S NIKKOR 600mm f/4E FL ED VR, which provides the ultimate in fast-aperture and focal distance for challenging subjects. With a constant aperture of f/4, the new 600mm lens gives the photographer the ability to fill the frame and create dramatic separation between subject and background. With a weight of merely 8.3 lbs. /3810g (vs. 11.5 lbs./5060g of its predecessor), the lens features two fluorite lens elements and four ED elements to provide discerning photographers with unrivaled sharpness.

NIKKOR Lens Technologies
Adding to a long legacy of renowned optical excellence, both lenses feature the most advanced NIKKOR lens technologies, including the addition of Nikon's exclusive Nano Crystal Coat to further reduce instances of ghosting and flare; an essential feature for capturing outdoor sports or action under the lights. Both lenses also incorporate Nikon Vibration Reduction (VR) technology, affording up to four stops of image stabilization*, with automatic tripod detection to counteract vibrations when mounted on a tripod. For pros shooting fast and erratic moving sports or subjects, using the SPORT VR mode will yield a more stable viewfinder image whether handholding the lens, using a monopod or even when panning.

For enhanced durability, both lenses are sealed and gasketed against the elements and have a fluorine coating on a front protective meniscus element to make it easier to remove dirt, moisture and smudges from the lens surface. For shooting from extreme distances, the new lenses are also compatible with select Nikon teleconverters** that provide photographers with the ability to autofocus up to f/8 with many Nikon professional DSLR bodies.

Price and Availability
The new AF-S NIKKOR 500mm f/4E FL ED VR will be available in mid-July for a suggested retail price (SRP) of $10,299.95***. The AF-S NIKKOR 600mm f/4E FL ED VR will be available in mid-July for the SRP $12,299.95***. Both lenses also come with a newly redesigned, lightweight, custom-fit hard case for transport. For more information on these new NIKKOR lenses as well as other Nikon products, please visit www.nikonusa.com.