Nikon's last announcement today is the new Nikkor 200-500mm f/5.6E ED VR, a super telephoto zoom lens designed for sports and wildlife enthusiasts. This lens is a very interesting announcement, because it is very different from all other super telephoto Nikon lenses we have seen in the past – it is Nikon's first zoom lens with a fixed aperture that covers such a long range. Many enthusiasts have been asking for a 400mm f/5.6 lens and one wonders if this lens could address such needs. The 200-500mm f/5.6E VR supposedly can work with all three teleconverters and if it proves to be as versatile as it sounds, this might be something many wildlife photographers have been waiting for. The best part is the price – at $1,399.95 MSRP, it certainly falls into the "affordable" category when compared to other super telephoto lenses. Let's take a look at this lens in more detail.
Update: We have already published our detailed Nikon 200-500mm VR Review. Please see the review for up-to-date information, image samples and comparisons!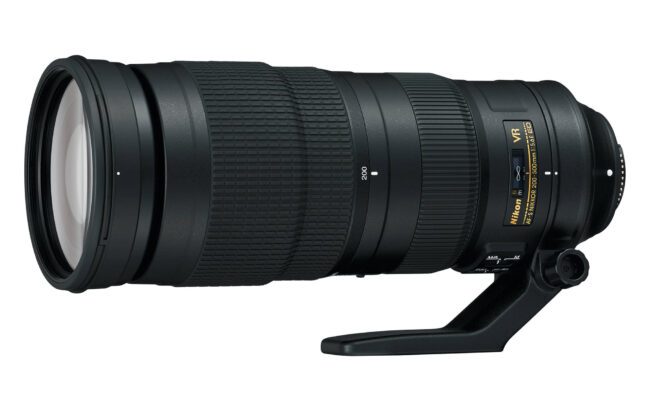 The new 200-500mm f/5.6E ED VR has a different optical design than the 80-400mm f/4.5-5.6G VR or Tamron's and Sigma's 150-600mm variable aperture lenses. With a total weight of 2,300 grams, it is noticeably heavier than the 80-400mm (at 1,570 grams), the Tamron 150-600mm f/5-6.3 VC (at 1,951 grams) and the Sigma 150-600mm f/5-6.3 DG OS HSM (at 1,930 grams). It is probably more appropriate to compare it to Sigma's Sport version of the 150-600mm lens weight-wise. Although it is the only lens with a fixed aperture of f/5.6 in this group, it does not have the same reach opportunities as the 150-600mm lenses – but let's not forget that those lenses cannot be used with teleconverters, while the Nikkor 200-500mm f/5.6E VR can. So theoretically, one could get to 700mm with the 200-500mm f/5.6, although at the cost of light – the maximum aperture would be limited to f/8 at all focal lengths. The big question is, would the 200-500mm give good results with a 1.4x teleconverter or not. If it does, it would be a great choice for wildlife, but if it does not, then the Tamron and the Sigma lenses sound like better choices overall.
It is hard to say how the lens will behave with teleconverters, but one could make a rough guess by looking at the MTF charts. So let's take a quick peek at the telephoto range and compare it to other lenses. Here is the 200-500mm f/5.6E at 500mm compared to the 80-400mm at 400mm (Left: 200-500mm, Right: 80-400mm):
It is pretty clear that the new 200-500mm f/5.6E ED VR is significantly sharper in the long end than the 80-400mm VR – the difference is pretty drastic! I personally did not like how the 80-400mm VR performed with teleconverters, even with the 1.4x attached, the lens did poorly both in terms of autofocus and sharpness. Looks like the 200-500mm f/5.6E is a better fit for such needs.
What about the 150-600mm lenses at the long end? Let's take a look at how the 200-500mm at 500mm looks compared to the Sigma 150-600mm Contemporary at 600mm (Left: Nikkor 200-500mm, Right: Sigma 150-600mm C):
Both lenses seem fairly close in sharpness according to the provided MTF charts, but I would not be surprised to see the Sigma edge out the Nikon – longer focal length lenses usually do better compared to lenses with teleconverters attached. But it is only a rough guess – keep in mind that we are only looking at theoretical performance and MTF charts between manufacturers cannot be directly compared. There is a chance that the Nikkor might be as good, if not better. However, we would still be looking at f/8 vs f/6.3, so there is a definite difference in how the two lenses would perform in low-light conditions.
At the same time, given that the Nikkor 200-500mm f/5.6E VR can take up to 2x TCs, this would potentially be an interesting budget choice to get to 1000mm. The lens would not autofocus and sharpness would probably suffer significantly, but it could still be usable for such needs as photographing the moon.
Nikon put some of its modern technology into this lens. Although it does not come with Nano Coating, the lens does feature electromagnetic diaphragm mechanism, Silent Wave Motor, up to 4.5 stops of Vibration Reduction compensation, internal focus design and 3 extra-low dispersion lens elements. Unfortunately, Nikon screwed up the tripod collar again – seems like this one will have to be replaced with a Kirk or Really Right Stuff version.
Definitely seems interesting, but I am a bit cautious about this one until I put it against the Tamron and Sigma 150-600mm lenses…
Official Press Release
Here is the official part of the press release from Nikon:
The new Nikon AF-S NIKKOR 200-500mm f/5.6E ED VR is an exhilarating new lens option, giving enthusiast FX and DX-format photographers the ability to go further with amazing zoom power and tack-sharp clarity. This compact super-telephoto zoom is ideal for bringing distant subjects closer, including birds, sports, wildlife and motorsports. This lens opens the doors for a fresh new perspective; with a maximum reach of 500mm on FX-format Nikon cameras and a staggering 750mm equivalent reach on DX-format cameras. With a maximum aperture of f/5.6, photographers have the ability to fill much of the frame with their subject and create a pleasing background blur, even in challenging light. This lens also features Nikon's Electromagnetic Aperture for consistent exposures, as well as VR with 4.5 stops of image stabilization. Additionally, the VR features Sport Mode, which is well-suited for capturing vibrant, sharp images of distant subjects at high frame rates or when panning with fast-moving action. The lens also lets users focus as close as 7.2 ft. throughout the entire focal range, for when a decisive play comes closer than expected, or capturing intricate details of nature.

Whether spending all day at an air race or in the field, the new NIKKOR 200-500mm f/5.6 is surprisingly lightweight at only 5 lbs 1.2 oz. (2300 grams) including the tripod collar, making this lens easy to use handheld for extended periods. Photographers looking for even more reach can increase the zoom power using an optional compatible Nikon 1.4x, 1.7x or 2x E series Teleconverters** to capture even the most distant subjects.

The new AF-S NIKKOR 200-500mm f/5.6E ED VR's optical formula features three ED elements to enhance sharpness and minimize chromatic aberration. A 9-blade aperture provides a desirable, smooth bokeh, while Nikon's Silent Wave Motor technology helps to quickly and quietly achieve critical focus. The filter diameter of the new 200-500mm lens is 95mm, and Nikon will also offer optional 95mm NC (Neutral Color) and the 95mm Circular Polarizer CPL2 filters.