Nikon is under a lot of pressure in 2018, because this is the year that the public is anticipating hot new products from the company, especially the highly anticipated full-frame mirrorless camera that the company is currently working on. The very first product that Nikon has launched in 2018 is a lens – it is the Nikon AF-S NIKKOR 180-400mm f/4E TC1.4 FL ED VR – a beast of a lens targeted specifically at sports and wildlife photographers and videographers. Many Nikon 200-400mm f/4G VR shooters have been waiting for a replacement to the lens and it looks like Nikon didn't just deliver an update – the 180-400mm is a whole new lens with a completely revamped optical design and engineering. At $12,399 MSRP, it is the second most expensive lens in Nikon's line-up after the exotic Nikon 800mm f/5.6E VR and for a good reason, if you were to look into what Nikon has packed into it. Without a doubt, it is a marvel of a lens, something that is soon to become one of the most desirable lenses in Nikon's arsenal. Read on to find out why.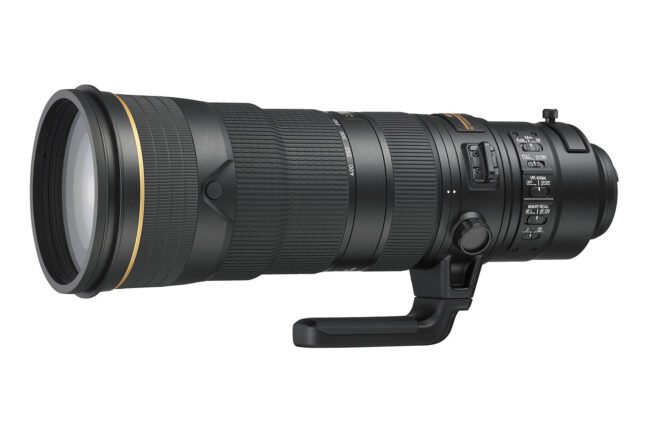 Lens releases such as this one are very rare in the photography world. We see camera and lens announcements practically every month, but true high-level innovations are not easy to bring out due to the amount of time, effort and resources that are required to make it all happen. That's why lenses like the 180-400mm f/4E TC1.4 FL ED VR are expensive, as they require many years of engineering and testing in the field – such lenses are aimed specifically at professionals who will be using and abusing their gear in the field. Therefore, manufacturers have to pay extreme attention to every bit of detail to make sure that their products are able to function reliably over a long span of time, in any conditions. Nikon and Canon know that their clients choose their systems because of having such options, which is why they never rush exotic lenses into the market. Meticulous precision, careful hand assembly, thorough testing and high attention of detail are critical to make high-level lenses function without any issues in the field, which is why we rarely ever see lens variation in exotic super telephoto lenses. Having tested a number of such lenses both in the field and in a lab, I have to admit that I have not come across a bad lens sample, which is something that happens very often when I test standard lenses.
Anyway, the reason why I am bringing all of this out, is because some of our readers might express their frustration with such announcements, arguing that $12,399 is too much to pay for a single lens, that the 180-400mm f/4E VR is too overpriced. I agree, it is a lot of money, but please don't forget that this lens is made for a very specific niche of photographers who want a high-performance zoom lens, just like all other modern super telephoto lenses such as the 400mm f/2.8E FL VR, 500mm f/4E FL VR, 600mm f/4E FL VR and 800mm f/4E FL VR. Every single one of those is priced above $10K for the same reasons as stated above.
Nikon 180-400mm f/4E TC1.4 FL ED VR vs Nikon 200-400mm f/4G VR II Specifications Comparison
To make the 180-400mm f/4E a stellar lens in terms of performance, Nikon went with a completely different optical design to yield the best performance. Because of this, we can see a noticeable difference in total number of lens elements (27 vs 24), as well as in the number of extra-low dispersion elements (8 vs 4). Due to the use of a fluorite lens element, Nikon was able to shave off a large lens element from the front of the lens, which makes the lens much more balanced to hand-hold compared to its predecessor – it is no longer as front-heavy as the 200-400mm f/4G VR II. Take a look at the new lens construction of the 180-400mm lens and feel free to compare it to the one on the 200-400mm: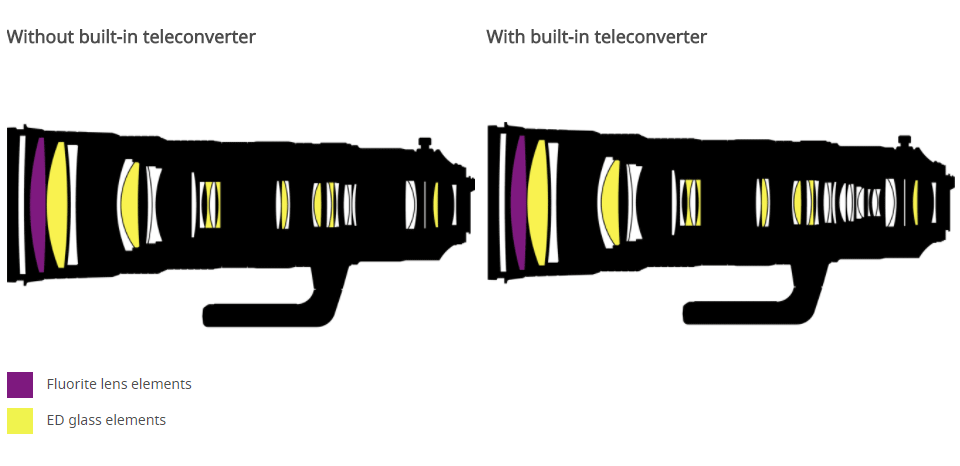 The addition of the built-in teleconverter adds a total of 8 more glass elements, as well as more metal on the side of the lens to be able to switch the teleconverter on and off, which obviously increases the overall weight of the lens. However, due to the addition of the fluorite lens element, Nikon was able to keep weight under control – the new 180-400mm f/4 is only 140 grams heavier compared to its predecessor, which is not going to be noticeable at all when hand-holding.
Lastly, let's not forget about the benefits of all the new technology and optical coatings that Nikon was able to incorporate to the 180-400mm. In addition to Nano and Super Integrated coatings, the front of the lens is also fluorine-coated in order to repel water, dust, dirt and other environmental elements. The new electronic diaphragm should yield very high exposure accuracy when shooting in bursts. When it comes to AF performance, I expect the new 180-400mm to be also faster and more accurate when compared to the 200-400mm f/4G VR II, but that remains to be seen when we actually have a chance to test the two side-by-side.
Nikon 180-400mm f/4E TC1.4 FL ED VR vs Nikon 200-400mm f/4G VR II Sharpness Comparison
Let's take a closer look at the 180-400mm f/4E TC1.4 VR and compare it to the Nikon 200-400mm f/4G VR II in terms of MTF performance. Below are the MTF charts for both lenses at their widest focal lengths: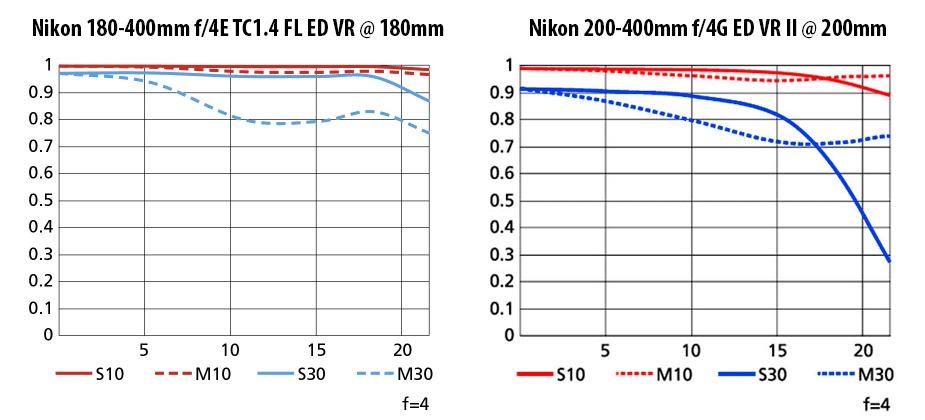 The Nikon 200-400mm f/4G VR II is a phenomenal lens, but it looks like the new 180-400mm f/4E FL VR sets a new standard for a super telephoto lens. Contrast levels are exceptionally high on the 180-400mm, but sharpness is where we can expect a huge win – look at that blue line being so close to the red one! Another big benefit of the new 180-400mm is its edge performance. It looks like the lens will be stellar throughout the frame at its shortest focal length, something the older 200-400mm could not deliver. But the big question is, can the new 180-400mm deliver the same level of performance at 400mm? Let's take a closer look: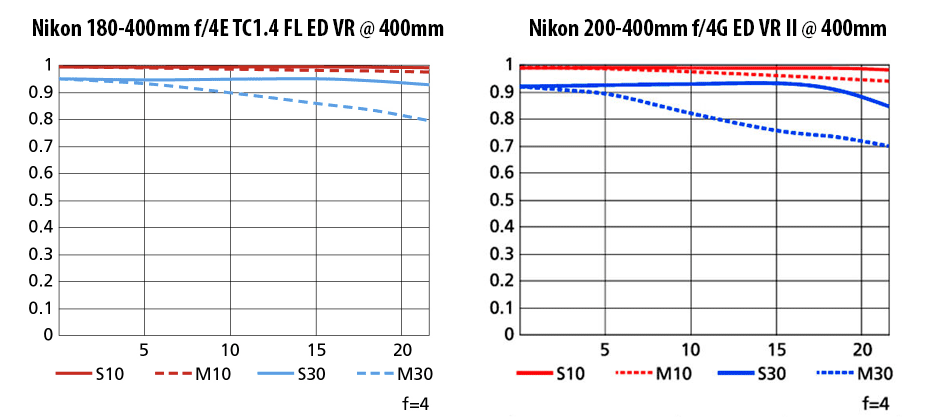 Once again, we can see that Nikon has made the lens noticeably sharper in comparison. On top of that, judging by how close sagittal lines are to meridional, we can expect the lens to yield exceptionally beautiful bokeh, something exotic super telephotos specialize in.
Obviously, these aren't as flat of MTF curves as we have previously seen on Nikon's prime super telephotos, but considering that we are looking at a zoom lens, this is pretty darn impressive to say the least. In short, just based on Nikon's MTF charts, we can conclude that the new 180-400mm is a big step above its predecessor.
Nikon 180-400mm f/4E TC1.4 FL ED VR Teleconverter Performance
What about that built-in teleconverter? Well, the reason why it is always better to have a built-in teleconverter, or a teleconverter that is specifically made for the lens (and the only two lenses in Nikon's arsenal that have such teleconverters are the 180-400mm and 800mm f/5.6 lenses), is because manufacturers can fine tune teleconverters with a specific lens to yield the best performance. Since there are manufacturing variances in both lenses and teleconverters, if the two are made for each other specifically, those variances can be minimized. This is why you cannot just go out and purchase a 1.25x teleconverter for the 800mm f/5.6 lens – you won't find any for sale, since it is only made to couple with the specific 800mm f/5.6 it is shipped with. In the case of the 180-400mm f/4E, the 1.4x teleconverter is built-in, so it can be enabled or disabled by flicking a switch on the side of the lens: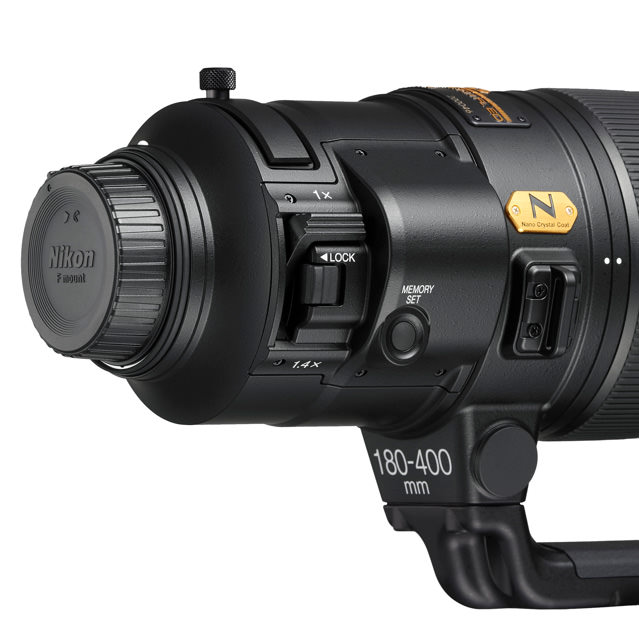 Since teleconverters rob light, contrast and sharpness from lenses, it is expected that there is going to be a big drop in performance. Let's take a look at how Nikon is expecting the lens to perform with the built-in teleconverter switched on: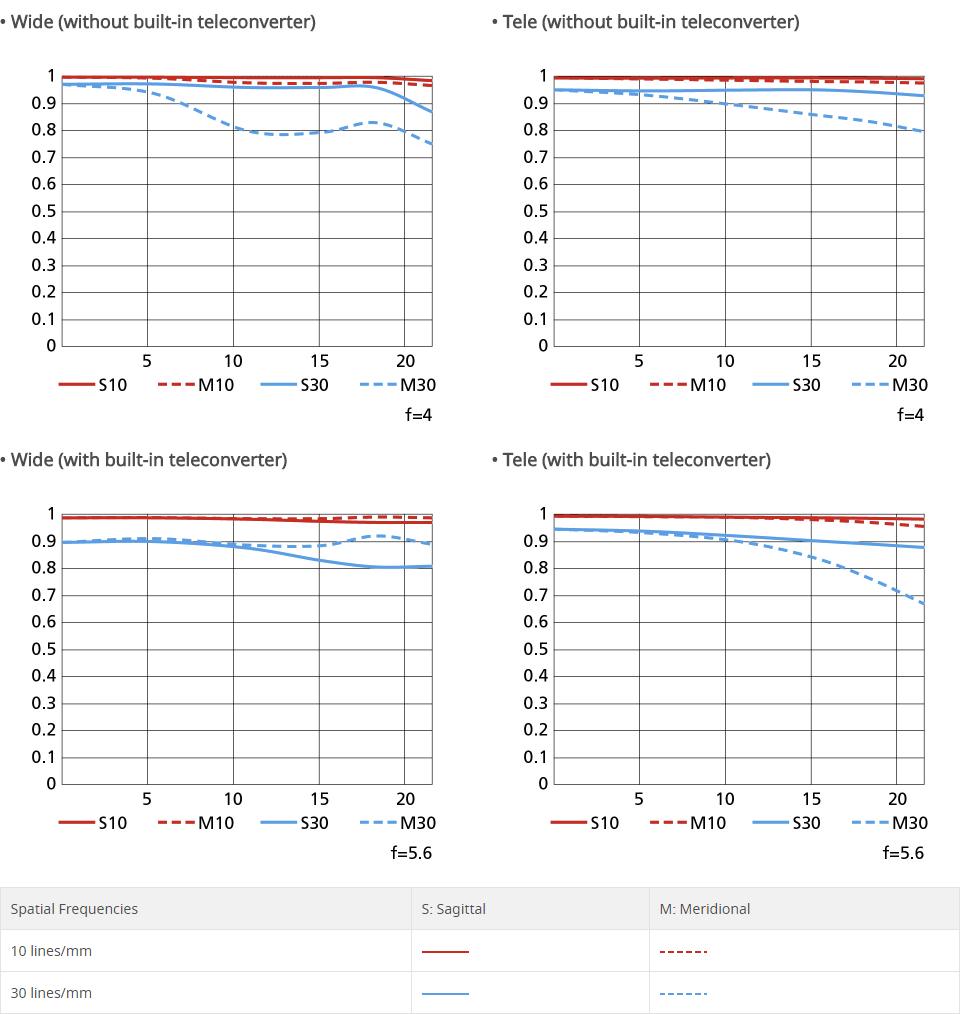 The above MTF charts are extremely impressive. Looks like the built-in 1.4x teleconverter mostly negatively affects the wider focal lengths, where there is a visible drop in sharpness. However, if you look at the MTF charts of the Nikon 200-400mm f/4G VR II above, you will realize that the 180-400mm with the 1.4x performs as good as the 200-400mm without one! I honestly did not expect the built-in teleconverter to be this good, but as I have pointed out earlier, that's what happens with a teleconverter is specifically made for a lens. Now take a look at the right two graphs, where performance at 400mm is shown with and without a teleconverter – this is where I was blown away when I first saw the MTF chart. With these MTF charts, Nikon is basically saying that the built-in 1.4x teleconverter will not affect contrast or sharpness, since the lines are practically unchanged! Only towards the mid-frame and edges of the frame is where we can see a slight drop in performance, but otherwise, this looks unbelievably good. To me, this looks like an invitation to stack another 1.4x on top of the lens…
While I personally cannot afford to spend $12K+ on such a lens, I will most likely have a chance to test it out later this year. Having previously owned the 200-400mm f/4G VR, I am looking forward to testing this lens and I am especially excited about the possibility of using the built-in 1.4x teleconverter to make it a very versatile 252-560mm f/5.6 lens combo. I am also excited about the possibility of adding more teleconverters to get even more reach – with an additional 1.4x TC, this would make a 353-784mm f/8 lens, which is obviously not ideal in terms of maximum aperture, but that's still a potentially powerful combination when one needs to get closer to action. And based on the above MTF figures, it looks like there won't be a huge penalty in sharpness either. It will be interesting to see how the 400mm f/2.8 + 2x will do in comparison to the 180-400mm stacked with two 1.4x teleconverters!