Along with the two new Art lenses that Sigma just announced, they also introduced something that will make Sony users especially happy: native compatibility for nine prime lenses from Sigma's Art lineup, including the two new lenses and seven older designs. Sony is really pushing things forward with their efforts to offer a large native lens lineup, and, with the excellent quality of Sigma's Art lenses, this is an excellent step to take!
Just to be clear, Sigma isn't announcing a total of nine new optical designs all at once. That would be insane. Instead, the two new lenses (the 70mm f/2.8 Macro Art and the 105mm f/1.4 Art) and seven of Sigma's older primes simply come in a Sony mount now. In the past, you would have needed adapters in order to use these lenses with Sony cameras, which inherently comes with autofocus restrictions (even with Sigma's own MC-11 adapter, which is not as fast to focus as with a native lens). Along with that, certain adapters also lead to image quality issues due to a greater potential for misalignment and flare.
Here are the nine lenses that Sony users now can use natively. Sigma has not yet said when (or if) they will add some of the Art and Sports zooms to this list, and even the announcement dates for the lenses below have not yet been released. The following lenses are going to be compatible with Sony:
14mm f/1.8
20mm f/1.4
24mm f/1.4
35mm f/1.4
50mm f/1.4
70mm f/2.8 Macro [New]
85mm f/1.4
105mm f/1.4 [New]
135mm f/1.8
It's not a coincidence that this lens compatibility was announced on the heels of the Sony A7 III announcement yesterday. On one hand, it's CP+ time, and companies are announcing new gear left and right. But beyond that, Sony is making a clear push to feature their cameras' capabilities as a fully-fledged system as prominently as possible, and it certainly seems to be working. Sigma's Art series lenses represent a significant boost to Sony's fast-growing lineup, including options like a 14mm f/1.8 and a 20mm f/1.4 that simply didn't exist natively for the E-mount before today. On top of that, some Sigma Art lenses are noticeably less expensive than the Sony/Zeiss alternatives (like the 35mm f/1.4), making the Sony system more affordable overall.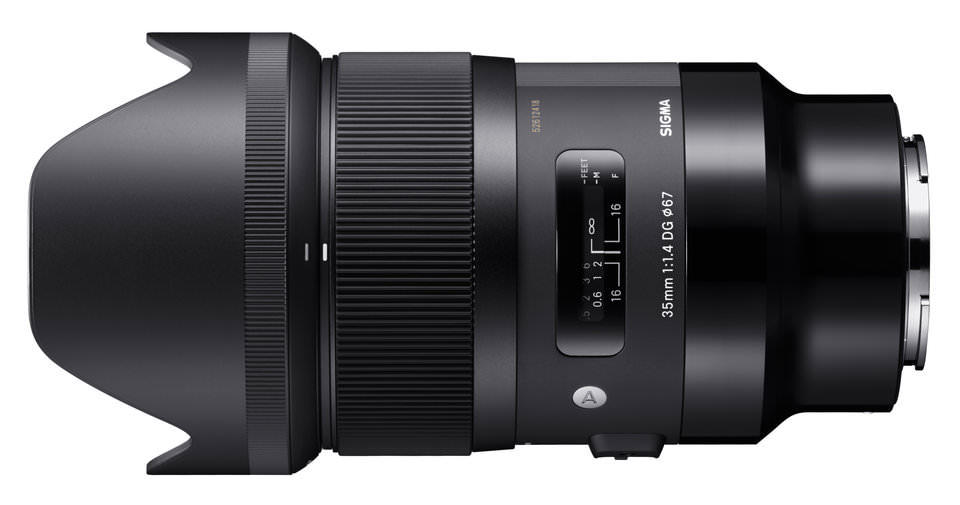 If you've been using Sigma Art lenses on Sony cameras already via an adapter, too, you'll be happy to know that Sigma's mount conversion service has been extended to cover the E-mount as well. You might not need it – Sony cameras have famously good manual focus with magnification, and adapters that allow autofocus can work quite well for certain subjects – but the option is there if you want it. Sigma's mount conversion costs $80-$250, depending upon the lens, with a price of $150 being typical for Art-series lenses.
A newly updated page on Sigma's website doesn't say clearly whether or not the Sony mount conversion service extends to Sigma's other Art lenses, including zooms like the 24-70mm f/2.8 and the 24-35mm f/2. The quote I've seen from Sigma related to this topic is: "It is not possible to convert a lens to a mount that SIGMA has not released," which isn't really talking about the same thing. My gut says it likely will not be possible, but I've reached out to Sigma and will update this article when I hear back.
If Sigma does end up adding native Sony compatibility to their complete lineup of Art, Sports, and Contemporary lenses – even if it requires sending those lenses off for mount conversion – that would be quite an excellent development. Regardless, any of these nine primes would make a great addition to a Sony user's kit. I am not a Sony photographer myself, but I have to say that the double-whammy of this announcement and the new A7 III make the company's current lineup look pretty darn impressive.
Here is Sigma's press release:
SIGMA launches seven interchangeable Art prime lenses for Sony E-mount cameras with full-frame sensors

SIGMA Corporation is pleased to announce the upcoming launch of interchangeable lenses for the Sony E-mount digital camera series with full-frame image sensors. SIGMA will gradually introduce the lenses as members of the Art line, which offers photographers the highest level of optical performance.

While offering the same high-performance optical design as other lenses in the Art line, the new Sony E-mount models will feature a newly developed control algorithm that optimizes the autofocus drive and maximizes the data transmission speed. In addition, these lenses will be compatible with Sony's Continuous AF (AF-C) and high-speed autofocus, which are not addressed by SIGMA MOUNT CONVERTER MC-11. Like the converter MC-11, the lenses will be compatible with in-camera image stabilization and in-camera lens aberration correction, which includes corrections for peripheral illumination, chromatic aberrations, and distortion.

The lineup will include the Art line set of seven prime lenses covering 14mm to 135mm. It will also include two models that SIGMA will be exhibiting at CP+ 2018: 70mm F2.8 DG MACRO | Art and 105mm F1.4 DG HSM | Art (launch date TBD). Further, SIGMA plans to introduce additional Sony E-mount models in the Art line going forward.

Note: This product is developed, manufactured and sold based on the specifications of E-mount which was disclosed by Sony Corporation under the license agreement with Sony Corporation.

Key features

1. Autofocus tuned for each lens

Thanks to an autofocus drive control program tuned for each lens and high-speed data transmission, the lenses will offer high-speed autofocus at the same performance level as that of a lens designed exclusively for mirrorless cameras. In particular, in E-mount cameras offering Sony's Fast Hybrid AF, AF-C mode will deliver exceptional subject following performance. Moreover, autofocus will remain extremely precise even in those E-mount cameras offering only contrast AF.

2. Compatible with in-camera image stabilization

The lenses will be compatible with in-camera image stabilization. The Sony E-mount camera senses the focal length of the lens and automatically optimizes image stabilization performance.

3. Data loaded for compatibility with in-camera aberration correction

The lenses will be fully compatible with in-camera aberration correction, which includes corrections for peripheral illumination, chromatic aberrations, and distortion. By matching corrections to the optical characteristics of the lens, this function takes image quality to an even higher level.

4. Native mount for a more rigid and stable feel

Making the mount native to the lens makes possible a more rigid and stable feel to the lens. Featuring a special surface treatment to enhance strength, the brass bayonet mount offers a high-precision fit and exceptional durability. The mount connection area incorporates rubber sealing for dust- and splash-proof construction.

5. Available Mount Conversion Service

This service converts the mount of SIGMA lenses to that of a different camera body, allowing photographers to continue using their favorite lenses over the long term regardless of camera system.

Note 1: The Mount Conversion Service is different from a normal repair. In order to apply for the service, please contact your nearest authorized SIGMA subsidiary or distributor. https://www.sigma-global.com/en/about/world-network/
Note 2: This service is performed exclusively by SIGMA.