With the new hot Nikon Z6 and Z7 cameras, along with lenses and accessories that will be released with the mirrorless system, you might be wondering how you can best pre-order it all, so that you can get the equipment in your hands sooner than later. As you might already know, Nikon has limited capacity when it comes to making camera gear, and based on the lack of Nikon D850 availability (even after 1 year), we know that if you wait too long, it might take months before you can get your hands on the Nikon mirrorless system. If you are wondering how you can pre-order the Nikon mirrorless system and get it on time, please take a look at the tips below!
Note: We have also decided to donate $20 for each pre-ordered camera from PL to charity (we will pick a non-religions, non-political charity with the least overhead).
How to Get to the Top of the Pre-Order List for Nikon Mirrorless
First, we want to let you know that we at Photography Life are going to do our best to be the first website to publish pre-order links to the Nikon mirrorless cameras the moment the embargo is lifted. If you want to receive our browser notifications so you know the moment we publish the pre-order links, click the red bell icon at the bottom-right of this page and hit "subscribe."
Aside from that, if you want to get on the top of the pre-order list for the upcoming Nikon mirrorless system, below is list of recommended steps you can take:
1. Place Your Pre-Order As Soon As Possible
This one goes without saying – the sooner you pre-order, the higher the chance that you will get the gear as soon as retailers ship it out. We are going to post pre-order links as soon as they become available, which will happen later tonight, most likely after the official announcement.
2. Use Your NPS Membership
One of the biggest benefits of having Nikon Professional Services (NPS) membership, is that you can order products with priority delivery. This means that no matter how big the pre-order queue is, Nikon will fulfill your order first, way before it starts shipping to regular customers. If you have an NPS membership, make sure to login to NikonPro.com, then navigate to "Your Benefits" section, as shown below: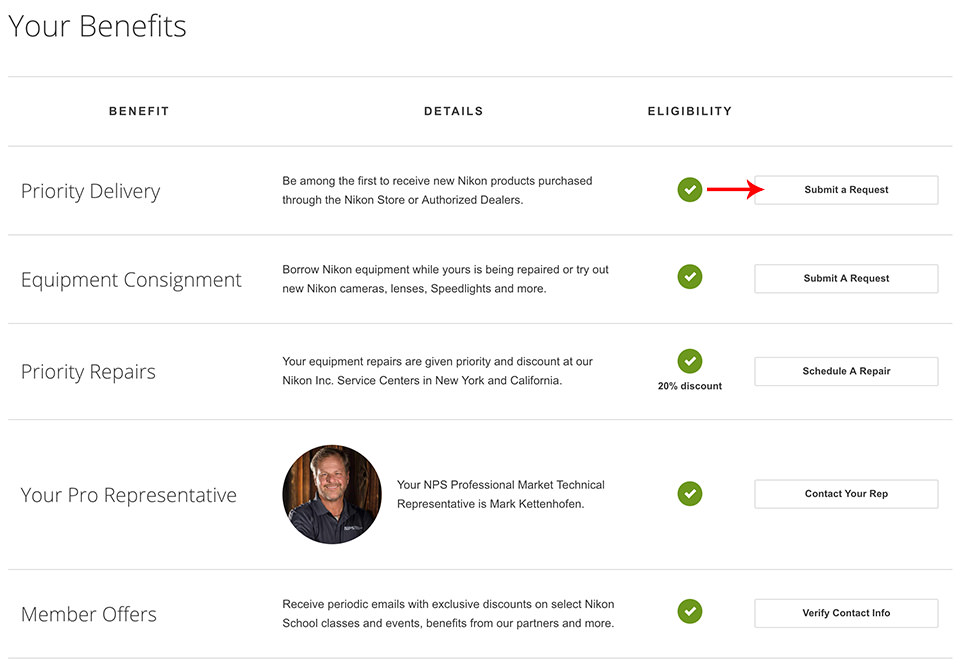 Within that section, "Priority Delivery" is highlighted first. All you have to do is click the "Submit a Request" button, then follow the steps to provide your order number from the retailer of choice (must be an authorized Nikon dealer). As soon as the Nikon Z6 and Z7 camera system is announced, Nikon will place a pre-order link into that page so that you can get the process started.
3. Buy Through Your Local Camera Store
If you want to support your local camera store, placing a pre-order there is another great option. I was recently talking to one of our PL readers and after we discussed the Nikon mirrorless system, the reader told me that he already had a pre-order on the camera. When I asked him how he was able to do that, he told me that he simply contacted the manager of the local camera store, who apparently put him on the list of customers who want to buy the Nikon mirrorless system. Since many camera stores are official Nikon distributors, they can actually provide direct requests to Nikon for order fulfillment. Once they receive cameras, they go by their internal lists to fulfill them.
This really does work and I have seen a number of people obtain their Nikon D850 cameras this way!
4. Pre-Order From Multiple Places
Another option is to pre-order the gear from multiple places at once. Doing so will increase your chances of receiving the camera gear as soon as it ships. When your order is shipped from one of the retailers, you can simply cancel your other orders. Just make sure that you don't do this with your local camera store…
Don't Forget About the Camera Hype
Lastly, don't forget about the Camera Hype. Yes, the Nikon mirrorless system looks very promising, but always keep in mind that it is the first iteration of the camera, so it might make sense to wait until the second iteration of Nikon mirrorless comes out for all the bugs and potential issues to be ironed out. I am confident that Nikon will deliver a great product on release, but we cannot expect it to be perfect…
Keep in mind that by pre-ordering your Nikon mirrorless system from Photography Life, you support our efforts. Pre-ordering through our links does not add any cost to your purchase and allows us to receive a small portion of the purchase from the shipped, non-returned orders. Additionally, we decided to pledge $20 towards a charity with the least overhead for each camera that our readers pre-order.