Having just reviewed both WD My Passport Wireless SSD and the original Gnarbox, I came to the conclusion that both were half-baked solutions (with each having its own list of pros and cons) due to all the performance, hardware and software issues I encountered. It looks like while I was busy reviewing the Gnarbox, the team behind the product was already busy releasing the next iteration, "Gnarbox 2.0 SSD". After looking at the details of this major release, it appears that most of my concerns have been addressed.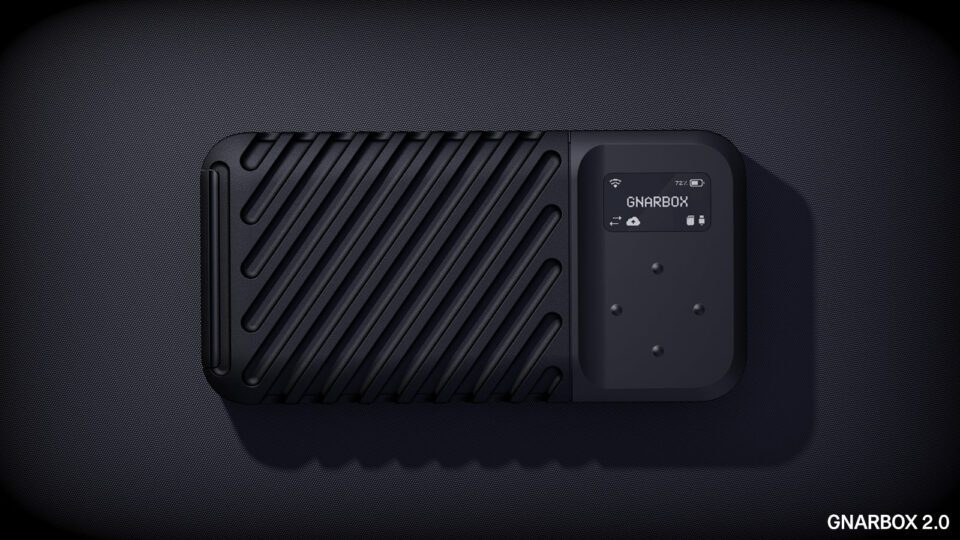 First of all, the performance of the built-in SD card reader has been pushed all the way to 75 MB/sec, which is impressive compared to the original Gnarbox that could barely push 22 MB/sec. According to the released benchmarks, this should put it ahead of the speed of the WD My Passport Wireless SSD. Second, the new Gnarbox 2.0 now features a USB Type C connection, which should make it a breeze to connect with the latest laptops, as well as provide the ability to transfer data at up to 450 MB/sec. Third, storage concerns have also been addressed – now you can get Gnarbox in 512 GB and 1 TB configurations, which means that you no longer have to carry an extra storage device to fit your data needs when traveling. Fourth, the software has been completely revamped, allowing Gnarbox 2.0 to integrate with Adobe Premiere, Lightroom CC, Lightroom Classic, LumaFusion and Dropbox.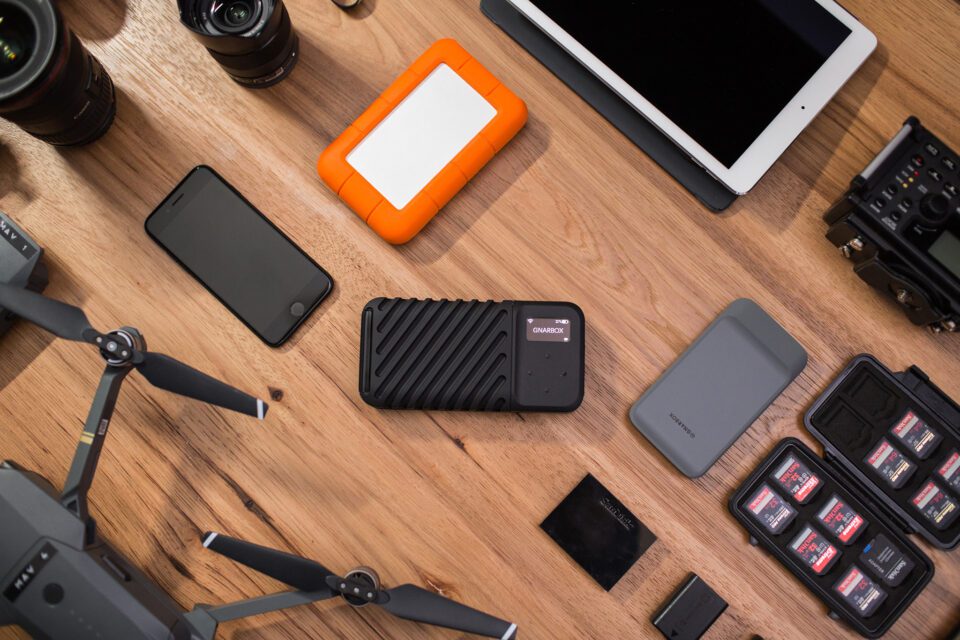 You can now cull through your photos and rank them, which saves the metadata in sidecar XMP files, so that the information gets transferred over to your image editing platform of choice. For those who shoot video, it will be possible to export edits to XML Project files, so that the data can be imported back into Adobe Premiere or Final Cut Pro software. Fifth, there are now buttons and a small LCD screen on the device itself, which allow one to back up data without having to connect any device, simplifying the backup process: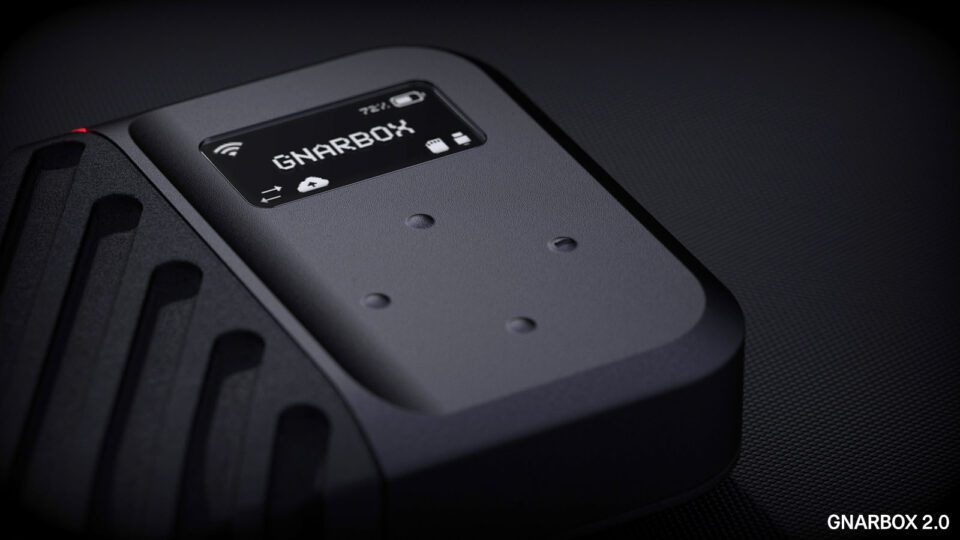 Sixth, for those, who want to preview or showcase their photos and video, it will be possible to output their work to an external display or a TV screen via the provided HDMI port. Seventh, the Gnarbox 2.0 will be IP67-Certified, allowing the device to be submerged into water up to 1 meter deep for 30 minutes without damage, as well as protecting the device against dust and debris. Just like its predecessor, it will be shock-proof as well. Eight, its battery will be easily replaceable, something that was not possible on the original Gnarbox: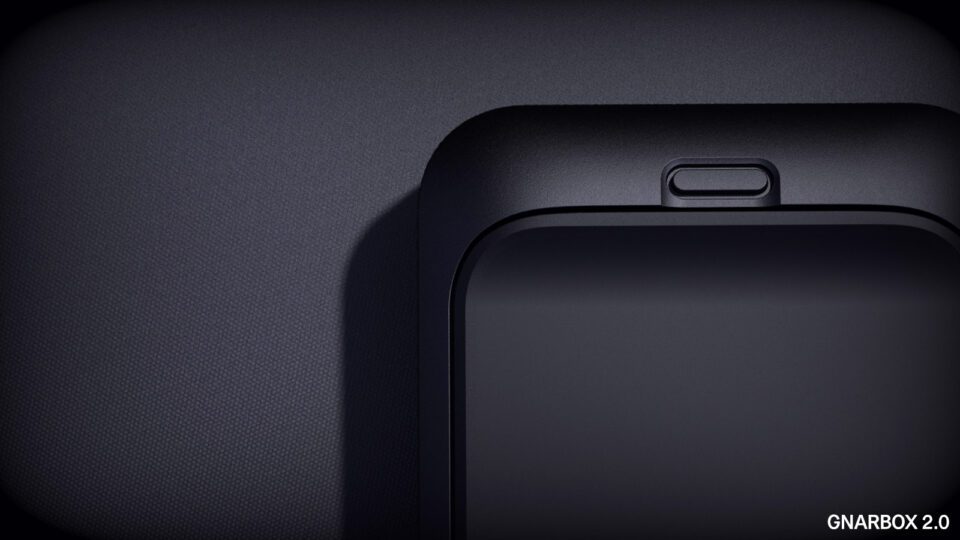 And lastly, the Gnarbox 2.0 will feature Intel's 2.4 Ghz Atom processor with up to 4 GB of RAM, which makes it a pretty powerful device for its size. To make sure that the device does not suffer from overheating issues like its predecessor, Gnarbox engineers designed the chassis with much better heat dissipation – there are now heatsinks installed right above the main board: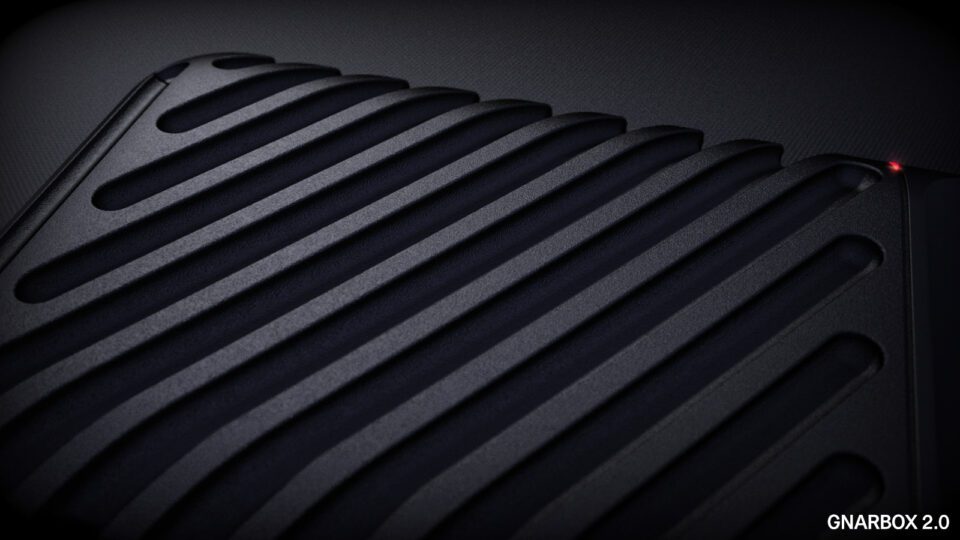 Speaking of the chassis, it is now a little longer in size, but slightly narrower as well compared to the original, which should make it easier to pack it in a camera bag, or carry inside a pocket.
Below is a promotion video from the current Kickstarter campaign:
As you can see, the Gnarbox 2.0 is a whole different beast compared to its predecessor. This is not an incremental update that we are used to seeing in most other products – the Gnarbox 2.0 is a completely new platform with pretty large updates to make it an appealing choice for traveling photographers.
And here is the live demo of the product from one of the Gnarbox founders:
For now, Gnarbox 2.0 is only available for backing on Kickstarter, so if you want to jump in on an early deal, you can back the project through different options from $299 for the 128 GB version, all the way to $599 for the 1 TB version (no longer available, but you can get the 1 TB model + extra battery for $699). Gnarbox has announced the project today and they have already far surpassed their goal of raising $180K ($316K at the time of writing this announcement), so this product is most likely going to see the light of the day, something many other Kickstarter projects often fail to do. As of today, it looks like the product is set to ship at the end of 2018.
Here is a comparison of the Gnarbox to its main competitor MyPassport Wireless SSD, along with other laptops: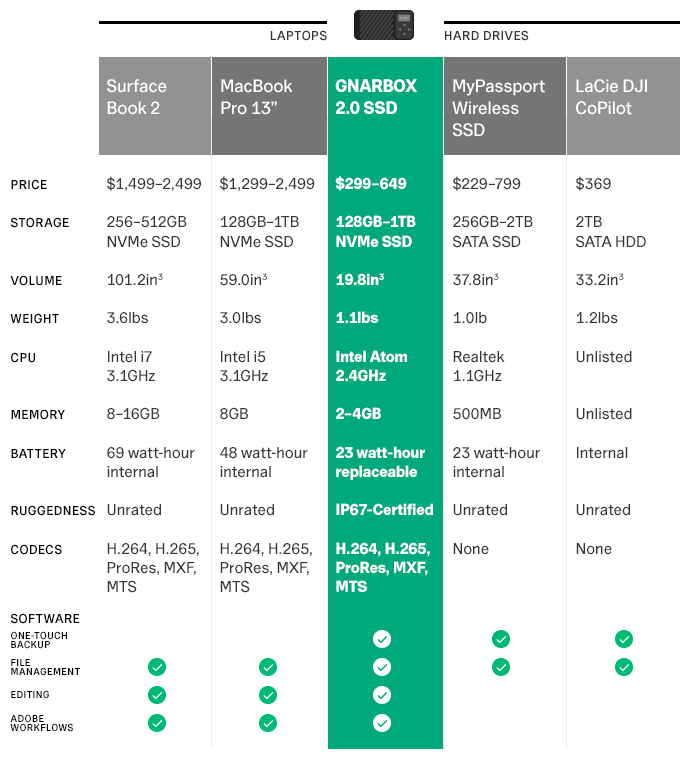 Below is an official press release from the company:
(Los Angeles, CA)​ – MYGNAR INC., the developer of rugged backup devices for cameras, proudly announces aKickstarter campaign to support the development of the second generation of their core product GNARBOX​, launching globally on April 3rd, 2018​.

GNARBOX 2.0 SSD ​is a rugged backup device for content creators who prefer to travel without a laptop. Unlike other portable hard drives, GNARBOX has assembled an ecosystem of mobile applications that serve the professional workflow from the field to the studio.

"We believe in making the creative process easier for anyone with a camera. Since the launch of GNARBOX 1.0, we've worked with our active community of photographers and videographers to understand the goals of content creators." said Tim Feess​, co-founder and CEO of MyGnar Inc. "GNARBOX 2.0 SSD is designed for professionals who want to reliably back up their cards in the field and advance their mobile editing workflow. The goal is leave your laptop at home and streamline a process that can otherwise be a burden to creativity. With this product, you can get more work done in the field so you spend less time at home in front of your computer. It's water, shock, and dust resistant, ​yet packed with the power to review RAW photos and render ProRes videos while in the field." continued Feess.

Since shipment of its first units in Spring 2017, GNARBOX is quickly becoming the industry-standard mobile workflow platform for on-the-go content creators. The market for backup devices has expanded in early 2018 with the introduction of the Western Digital MyPassport Wireless Pro SSD and LaCie DJI CoPilot. GNARBOX 2.0 SSD will be the highest-powered, most versatile, premium option on the market. With software tools for creative independence, hands-on customer support, and the most third party integrations on the market, GNARBOX has demonstrated its clear position as the leader in this space.

New to the redesigned GNARBOX is an on-box OLED display and button array, allowing users to backup files faster than ever before. When a card is detected, the box prompts you to kick off a transfer with the single press of a button. With a second tap, you can direct the transfer to a preset folder tree for automatic organization. This new tool is designed to save creators meaningful time in the field, and add needed reliability to their creative process.

GNARBOX 2.0 SSD is proud to offer key integrations with widely-used software tools, including LumaFusion, AdobePremiere Pro, Adobe Lightroom and Dropbox:

GNARBOX + LumaFusion Integration​: GNARBOX integrates with LumaFusion by leveraging its processing power in support of the most powerful multi-track timeline video editor available on iOS.
GNARBOX + Adobe Premiere Pro/Final Cut Pro Integration​: GNARBOX integrates with Adobe Premiere Pro and Final Cut Pro to create a frictionless ​video editing workflow that starts in the field and follows you back to your production studio.
GNARBOX + Adobe Lightroom Integration​: GNARBOX integrates with Adobe Lightroom CC to create a direct connection to the industry-leading photography app.
GNARBOX + Dropbox Integration​: GNARBOX can sync folders with Dropbox to create a seamless transition to your cloud storage.

GNARBOX is also launching four new mobile applications with the 2.0 product:

Safekeep:​ The most powerful field backup experience, with tailored file/folder organization and sleek tools to manage file movement across your devices.
Selects:​ Super-fast preview of RAW photos, ​making it easy to mark your selects with EXIF metadata and prepare for editing in Lightroom Classic/CC.
Sequence:​ An accelerated rough-cut assembly app that acts as a bridge to Industry-Standard editing tools like Premiere Pro and FinalCut Pro. You can review videos, prepare bins, and send your sequences to your favorite timeline editor with the widely-used XML format.
Showcase:​ The laptop-free way to project your photos and videos on a big screen, wherever you are.

Complete Technical and Hardware Specifications of GNARBOX 2.0 SSD:

CPU: Intel Quad Core, 2.40GHz
GPU: 4 Core Intel HD Graphics GPU
WiFi: 867mbps 802.11 ac/b/g/n
RAM: 2-4GB LPDDR3
Storage: NVMe SSD up to 1TB
SD Card Backup: 75-100MB/sec write speeds
USB-C Backup: 400-500MB/sec read/write speeds
Ports: 2x USB-C, SD & microHDMI
Battery: 3200mAh 7.4v removable lithium ion
Battery Life: 5 hours backup / 3 hours editing
Weather-Sealing: IP67, Waterproof to 1m for 30 minutes
Dimensions: 6" x 3" x 1.16" / ~1.1lb

GNARBOX 2.0 SSD will offer several storage capacities in association with special pricing for Kickstarter rewards throughout the campaign, which are listed below along with MSRP:

GNARBOX 2.0 SSD (128GB) – $399 USD
GNARBOX 2.0 SSD (256GB) – $499 USD
GNARBOX 2.0 SSD (512GB) – $599 USD
GNARBOX 2.0 SSD (1TB) – $999 USD

Each pledge for a GNARBOX 2.0 on Kickstarter will receive an extra battery along with a USB-C to C cable and custom wall plug for superfast charging. With a Kickstarter goal of $180,000, MyGnar intends to begin manufacturing in September 2018 and shipping to backers in December 2018. International pledges are encouraged as the product will ship globally.

Three years after the first successful Kickstarter for the original GNARBOX (now aptly titled GNARBOX 1.0) whichraised over $500,000 in 30 days, the brand has developed a strong, supportive community of experienced content creators; ranging from professional photographers, videographers, adventure/travel bloggers and even field reporters and journalists.

"GNARBOX 2.0 is a tool that we expect to be in everyone's camera bag before long," said Will Africano​ co-founder and CMO of MyGnar Inc. "We've heard from many of the industry's most decorated photographers and videographers, our own community of GNARBOX users on live chat and Facebook, and the YouTube reviewers who helped share our story. We're confident in how innovative 2.0 will be for the world of creators.

"GNARBOX prides itself on offering unparalleled customer service which includes personal one-on-one guidance and assistance from their internal teams who maintain expertise in media production workflows and troubleshooting. In addition, GNARBOX also crafts workflow-specialist-led tutorials and reviews designed to support the skills and development journey of a streamlined content creator via Youtube.

An active community of production industry experts also supports the GNARBOX Ecosystem with reviews and testimonials, including support from Chris Burkard, UnboxTherapy, Peter McKinnon and PhotoJoseph.​ GNARBOX Insiders​, a forum-like Facebook community, ​gathers creative individuals dedicated to streamlining their workflows; connecting GNARBOX users and sharing their latest content and workflow tips and tricks. Insiders also provides an exclusive look at software and product releases before they are publicly announced.

In 2017, the GNARBOX Pro Team was introduced as a group of photo/video professionals who are both creators as well as educators. As Pro Team members, they actively aid in creating public conversations around GNARBOX, and provide GNARBOX-related education at workshops and industry events. The original device is now referred to as GNARBOX 1.0 with differentiating storage versions of 128GB or 256GB. This entry-level GNARBOX will continue to be supported and will see the same software improvements from future 2.0 software releases and updates. GNARBOX 2.0 SSD will provide significant improvements to backup speeds, transcoding times and on-board functionality that are not available to GNARBOX 1.0. There are currently no plans for an upgrade or trade-in program. With single-step backup, fast file review and culling, and integrated access to professional editing software, GNARBOX 2.0 SSD will save content creators time and make them more reliable creators.