It would seem releasing great and very desirable optics has now become Fujifilm's habit. Several months ago, we were very excited about Fujifilm's updated lens roadmap – it promised we'd see some truly spectacular lenses. No myriad of only slightly different super-zooms, no tenth kit zoom to be seen. Whoever is responsible for planning future lens releases at Fujifilm, they are doing a mighty good job. And here's some good news – the official lens roadmap has just received an update to shed some more information on what awaits Fujifilm X-mount system users.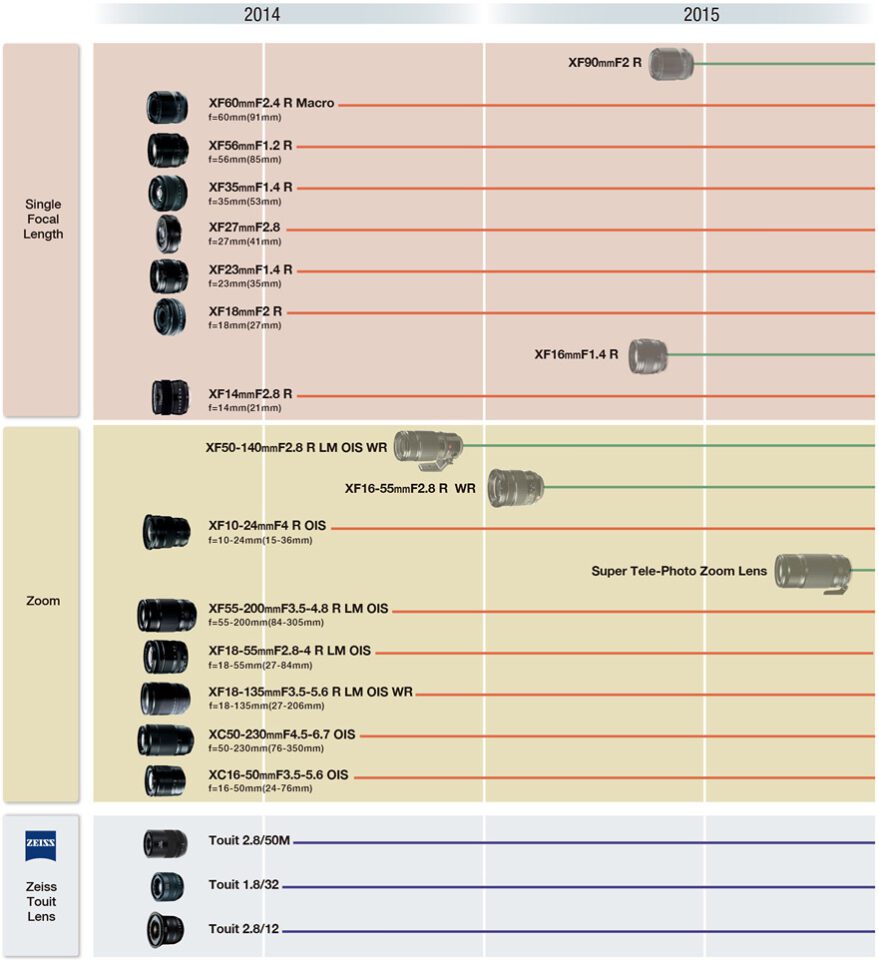 The Lenses
In a year, the X-mount Fujinon lens line-up should consist of at least 17 lenses not counting those developed by other manufacturers for the system. The last time we saw an update like this one, it promised the following zoom lenses to be released in late 2014/early 2015 (the XF 18-135mm f/3.5-5.6 R OIS is already out). There are a few changes worth noting:
XF 16-55 f/2.8 R WR – this lens will act similarly to how a 24-85mm lens would on a full-frame camera and will be designed as an alternative to 24-70mm class lenses. As you can see from the specifications, it will most likely target professional photographers and, assuming it will perform on the level we expect Fujinon lenses to, might just lure a few more DSLR users to embrace Fujifilm X system as the main one. Looking at the lens line-up, that certainly seems to be one of Fuji's goals! Since the last roadmap update, the specs of this lens have changed slightly – unlike before, there's no mention of optical image stabilization. However, that omission is offset by weather sealing, which certainly makes it a tempting choice for Fujifilm X-T1 users.
XF 50-140mm f/2.8 R LM OIS WR – as a 70-200mm f/2.8 lens is an ever-present companion to a 24-70mm f/2.8 lens, this constant aperture zoom lens is a natural sibling to the aforementioned XF 16-55mm f/2.8 lens with basically the same target audience (professionals). It will surely be among the biggest and heaviest Fujinon X-mount lenses. The full-frame equivalent focal length is 75-210mm. If you are primarily a zoom lens users, this lens coupled to the upcoming XF 16-55mm f/2.8 and the already-current XF 10-24mm f/4 lens should help you cover more or less any situation except for when you might need a longer focal length (wildlife photography) or a macro lens. Just as with the XF 16-55 f/2.8, Fujifilm now hopes to add weather sealing to the design. On top of that, Linear Motor (LM) should help with focusing speed and quietness.
Super Telephoto Zoom Lens – I mentioned wildlife photography? Well, perhaps Fujifilm has something in store for those who need more reach than 210mm full-frame equivalent. It is hard to say what sort of lens this will be, so we will just have to wait and see.
You may have noticed I deliberately skipped two lenses. One of them is the upcoming XF 16mm f/1.4 R. Previously, it was specified as a "high speed wide angle lens", which we correctly assumed to stand for "16mm with an aperture of f/1.2 or f/1.4". As a 24mm f/1.4 (in terms of 35mm equivalent field of view and light gathering), it now completes Fujifilm's set of f/1.4 primes, something most compact camera system manufacturers can't boast about.
The second lens is the XF 90mm f/2, 35mm equivalent of 135mm f/2 lens (in terms of field of view and light gathering). 135mm focal length is one of the classic choices for portraiture and I've seen a lot of photographers ask for such a lens.
Why Release a Roadmap?
Fujifilm X-mount system can still be considered to be fairly young and, as such, not all photographers feel comfortable investing into it. Fujifilm realizes that – the roadmaps are there to show such customers that the company is working hard on expanding the system and providing the users with all the necessary optics that they might need. It also gives us a chance to plan forward and compare not only what is currently on offer, but also what is soon to come. So far, Fujifilm has managed to deliver what was promised. Personally, I am very impressed by what they are doing. For once it seems that the people behind the X-mount system are actually photographers. Here's hoping they keep it up.