Today Fujifilm unveiled yet another line in the X-series mirrorless cameras, the Fuji X-H1. This is a significant release for the company, because the X-H1 is the first Fuji camera to feature a 5-axis in-body image stabilization (IBIS), something many Fuji photographers have been waiting for. Fuji has long been criticized for not incorporating IBIS into its camera bodies to take advantage of its lenses that do not have optical image stabilization, so the company responded with a camera that is capable of providing up to 5.5 stops of stabilization. When compared to the Fuji X-T2, the X-H1 gains quite a few new exterior and interior features. It has a larger, heavier and more durable magnesium alloy construction, a higher resolution electronic viewfinder and a touchscreen tilting LCD. The big changes, however, are mostly in the internals of the camera. Aside from IBIS, the X-H1 has a powerful dual processor, allowing up to 4K video at up to 29.97p @ 200 Mbps with an internal F-Log capability, which is impressive (although the recording time is limited to 15 minutes – 30 minutes with a grip). The Fuji X-H1 now features an electronic front-curtain shutter feature, which was previously only available on the Fuji GFX 50S. Lastly, the X-H1 has a superior autofocus system, with improved phase detection AF sensitivity and other autofocus tweaks to make it both faster and more reliable. Price-wise, the X-H1 will retail for $1,899 MSRP and if you want to add the vertical grip that can accommodate two additional batteries, you will be able to purchase the combo at $2,199.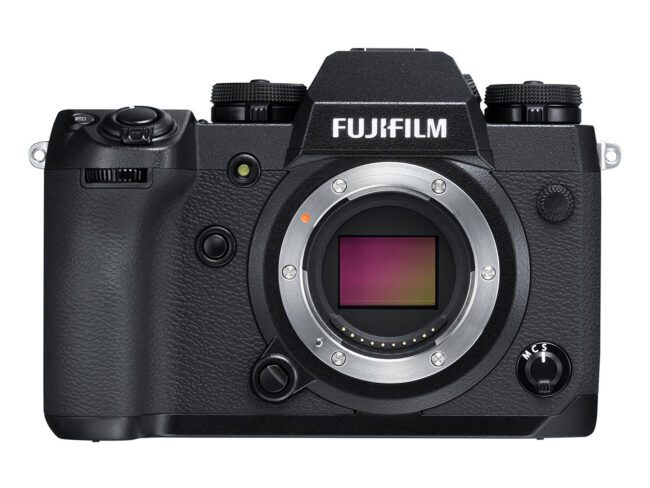 Fuji X-H1: Key Features
While the sensor technology on the Fuji X-H1 is the same as on the X-T2 (24 MP X-Trans III sensor), Fuji wanted to make the X-H1 a lot more powerful compared to the X-T2, which is why it comes with dual processors in order to be able to provide all the data throughput and versatility needed for its new features, such as the 5-axis IBIS, reduced blackout, 4K video recording and faster autofocus operation.
Below are the detailed specifications of the Fuji X-H1:
Fuji X-H1: Specifications
Sensor: 24.3 MP (1.5x crop factor) X-Trans III CMOS Sensor, 3.9µ pixel size
Sensor Size: 23.6 x 15.6mm
Processor: Dual X-Processor Pro
Resolution: 6000 x 4000
Native ISO Sensitivity: 200-12,800
Boost Low ISO Sensitivity: 100 (JPEG-only)
Boost High ISO Sensitivity: 25,600-51,200 (JPEG-only)
Sensor Cleaning System: Yes
In-Body Image Stabilization: 5-axis IBIS providing up to 5.5 stops of stabilization
Lens mount: FUJIFILM X mount
Weather Sealing/Protection: Yes
Body Build: Full Magnesium Alloy
Shutter: Up to 1/8000 and 30 sec exposure
EFCS: Yes
Shutter Control: Focal Plane Shutter
Storage: 2x SD slots (UHS-II compatible)
Viewfinder Type: 3,690,000-dot OLED Color Viewfinder
Viewfinder Magnfication: 0.75x
Continuous Shooting Speed: 8 fps, up to 14 fps with battery grip
Exposure Meter: TTL 256-zones metering
Built-in Flash: No
Autofocus System: 325-point AF system
Autofocus Phase Detection EV Sensitivity: -1 LW, usable up to f/11
LCD Screen: 3.0 inch, 1,040,000 dot tilting touchscreen LCD
Movie Recording: Up to 4K (4096×2160) @ 24p Up to 200 Mbps, 4K (3840×1080) 29.97p Up to 200 Mbps
Face Detection in 4K Video: Yes
Internal F-Log: Yes
High Speed Movie Recording: Full HD (1920×1080) @ 120p Up to 200 Mbps
GPS: No
Bluetooth: Yes
WiFi: Yes
Battery Type: NP-W126S
Battery Life: 310 frames, up to 35 mins of 4K video recording and 45 mins of Full HD video recording
USB Standard: 3.0
Dimensions: 139,8mm (W) x 97,3mm (H) x 85,5mm
Weight: 623g (excluding battery and accessories)
Price: $1,899 MSRP body-only at launch
I will provide a separate analysis of the X-H1 compared to the X-T2 in a comparison article shortly.
Fuji X-H1: In-Body Image Stabilization
Being the first Fuji X-series camera with in-body image stabilization (IBIS), the X-H1 is going to get a lot of attention from the photography community, since IBIS is a very useful tool in achieving sharp images when hand-holding a camera. The X-H1 features a three-axis accelerometer, a three-axis gyro sensor and a dedicated dual processor to achieve excellent image stabilization performance and precision. The correction is based on five axis (up and down / right and left pitch, yaw angle and optical axis rotation) to achieve more than five-stops (up to 5.5 EV) of stabilization with any Fuji lens that does not have optical image stabilization (OIS). This means that you can use the X-H1 with any of the excellent Fuji primes and get them stabilized! I am personally excited about this feature, because the X-H1 looks like it will be a formidable tool for street, event and travel photography. While the X-T2 and X-Pro2 cameras are wonderful, their lack of image stabilization is something that pushed many photographers towards other systems on the market. With the X-H1, photographers now have an excellent choice with IBIS within the Fuji ecosystem. But what is exciting is the future – I am sure Fuji will be pushing IBIS to its future cameras, especially after all the positive feedback it gets from all the X-shooters.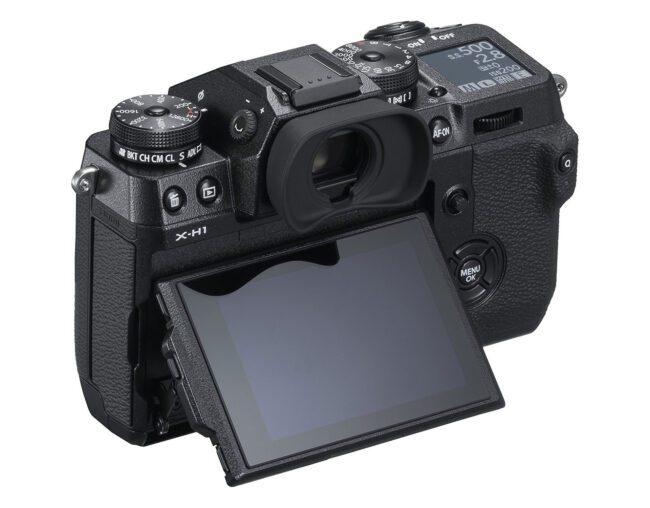 Fuji X-H1: Improved Autofocus
The Fuji X-H1 has an updated autofocus system that is capable of shooting more accurately than all previous generation Fuji cameras, thanks to its improved phase detection AF range, which went up from 0.5 EV to -1 EV (1.5 stops of difference). This means that the camera will be able to shoot more accurately with longer lenses coupled with teleconverters and it will be able to achieve focus even at f/11, which is very impressive. While it has the same 325-point AF system as the X-T2, Fuji improved AF-C tracking performance with the X-H1, which should make it an excellent choice for shooting fast moving action. As expected, a few extra autofocus firmware features have been added to the X-H1 as well.
Fuji X-H1: Ergonomic Changes
With the X-H1, Fuji wants photographers to experience the most comfort when shooting with the camera. The X-H1 now has a larger, much more comfortable grip, similar to the one on the GFX-50S medium format camera. In addition, the camera body has been revamped to be even more durable and weather-resistant than the X-T2. The Fuji X-H1 is both water and dust-resistant, and it is supposed to handle extreme temperatures better than any other X-series cameras. Fuji wants photographers to be able to use gloves when operating the camera, so we can observe changes in button placement, as well as their spacing. As a result of all this, the camera grew in both size and weight – something that is going to be welcomed by some, and resisted by others. One more thing, the X-H1 now has a 25% thicker mangesium alloy shell, so that alone added quite a bit of weight to the camera. Personally, I certainly welcome these ergonomic changes with a larger camera body, because I work in harsh conditions all the time and I would love to be able to use this camera with gloves on. The Fuji X system is pretty lightweight overall, so the slight changes in body weight do not bother me.
Take a look at the top view of the Fuji X-H1: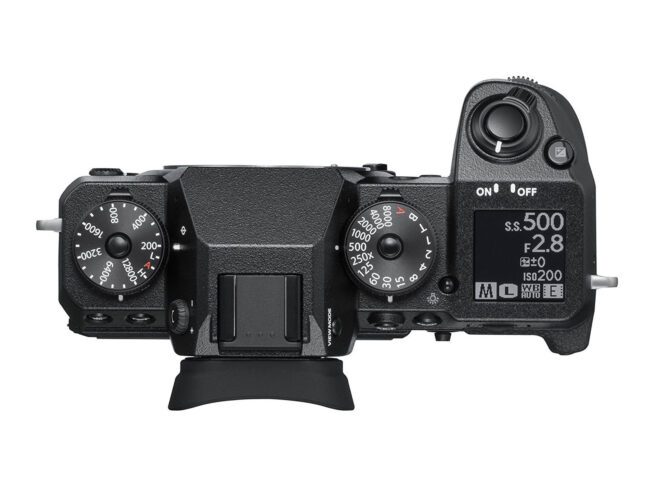 As you can see, the camera grip is indeed quite large – much larger than on the X-T2 and the X-Pro2 cameras. The biggest change is the beautiful customizable LCD screen on the right side, similar to the one on the GFX 50S. To be able to fit the screen, Fuji removed the exposure compensation dial and put it on a separate button to the right side of the shutter release / camera on / off button.
And here is how the camera back looks: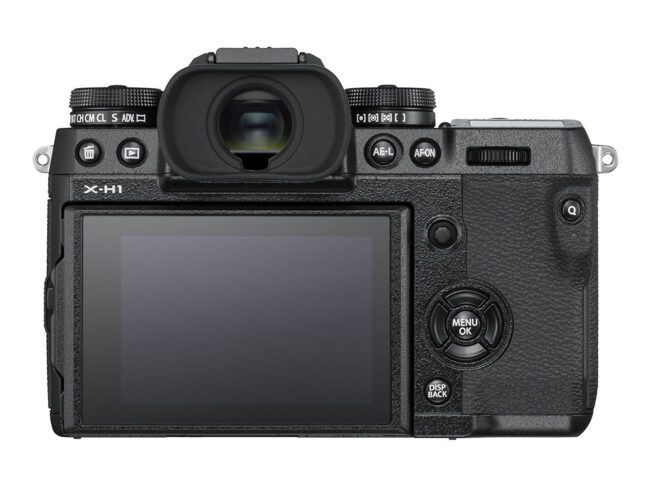 Again, pretty significant changes here. It is pretty clear how much larger the camera has gotten, along with its buttons. The AE-L button is now huge and there is now a dedicated AF-ON button! Looks like Fuji engineers are getting inspired by Nikon design, because this very much looks like some of the Nikon DSLRs, which is great for many of us Nikon shooters – it will be easy to get used to this camera layout. The "Q" button has been placed on the side and the joystick is now standing on its own, which will make it easy to access it when using gloves.
Just like the X-T2 and GFX 50S, the X-H1 has a nice 3″ LCD screen that can be titled 90 degrees upwards and 45 degrees downwards, making it an excellent camera to shoot both horizontal and vertical images.
I do have one gripe with the X-H1 and that is the battery. Fuji wanted X-series camera owners to be able to interchange batteries, so it decided to keep the same NP-W126S battery as on the X-T2. This is unfortunate, because once you factor in the dual processors and the power-hungry EVF and LCD screens, this battery is just too darn small for this camera. Fuji should have pushed the NP-T125 battery from the GFX 50S, which is a much more powerful battery that would have delivered many more images per charge in comparison. Fuji knows that power draw is going to be a problem with the X-H1, so it is expecting that people will be getting the camera with the battery grip that can accommodate two additional batteries. But that's not a way to solve the power issue in my opinion. Sony got a lot of negative feedback from many of us regarding its battery life and it finally decided to move up to a much larger capacity battery on the new Sony A7R III. Fuji should have done the same…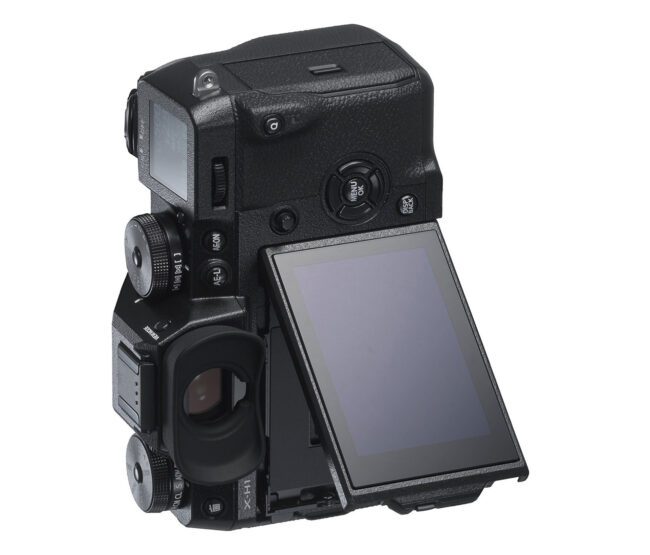 Fuji X-H1 Promo Videos
Below are some of the promo videos from Fujifilm on the X-H1:
Official Press Release
Below is the official press release from Fujifilm:
FUJIFILM UNVEILS THE NEW X-H1, THE HIGHEST PERFORMANCE CAMERA IN THE X SERIES LINEUP
Introducing in-body image stabilization, professional video capabilities, and a range of new features in a robust, durable camera body

Valhalla, N.Y., February 15, 2018 – As a leader in advanced digital camera technology and outstanding image quality, FUJIFILM North America Corporation is excited to announce the new FUJIFILM X-H1, featuring a 24.3 megapixel APS-C sized X-Trans CMOS III sensor and X-Processor Pro image processing engine for outstanding image quality. The new X-H1 is the highest performance camera in the X Series line of mirrorless cameras, and the first to feature in-body image stabilization (IBIS), a new Flicker Reduction mode that allows for stable exposure under fluorescent and mercury lighting, DCI 4K and other impressive video capabilities.

"The new X-H1 is our first X Series model to feature in-body image stabilization, and we are very excited to introduce this camera to the market," said Yuji Igarashi, General Manager of the Electronic Imaging Division & Optical Devices Division at FUJIFILM North America Corporation. "In addition to ensuring outstanding image quality, the X-H1 is fully equipped with an array of features and functionality specifically designed to enhance creative expression in a wide range of settings."

The X-H1 boasts a newly designed, robust and durable body, and a range of features that support shooting in various situations by professional and experienced amateur photographers, and videographers. When used in combination with FUJINON lenses and Fujifilm's signature color reproduction technology, the X-H1 produces outstanding image quality and video reproduction.

New 5.5 Stops In-Body Image Stabilization
The new X-H1 is the first X Series camera to feature in-body image stabilization, harnessing three axial accelerometers, three axial Gyro sensors, and a specially-developed dual-processor to achieve approximately 10,000 calculations per second. When combined with compensating mechanisms, the X-H1 produces uncompromised image quality and precision. 5-axis image stabilization is possible with all XF and XC lenses, with certain lenses capable of up to a maximum of 5.5 stops. In addition, a new spring mechanism has been added to reduce micro-vibrations caused by operation of the mechanical shutter. Photographers may also choose to use the electronic front curtain shutter or the electronic shutter, virtually eliminating the effect of vibrations to maximize the benefits of image stabilization.

Robust, Weather-Resistant Body Design and Easy Operability for a Wide Range of Shooting Environments
In addition to its dust and water-resistant properties and ability to operate in temperatures as low as 14°F \ -10°C, the X-H1 also features 25% thicker magnesium alloy than the X-T2. The camera also features a high quality, scratch-resistant coating and a compact, lightweight body that maintains high precision and strong resistance to impact shock torsion and other sources of deformation.

The new X-H1 features a high-magnification and high-precision electronic viewfinder with a magnification ratio of 0.75 times and 3.69 million dot resolution, leading the class for APS-C mirrorless cameras. The viewfinder display is extraordinarily smooth, with a display time lag of just 0.005 seconds and a frame rate of 100 frames per second, allowing the user to instantly confirm the movement of the subject and position the focus with great precision. The X-H1 also features a 3-direction tilt, 3-inch, 1.04 million dot electrostatic touch-panel LCD, which can be intuitively set to the desired angle. In addition, the 1.28 inch sub-LCD on the top of the camera, which emulates the design of the mirrorless medium format GFX 50S, allows for instant confirmation of shooting information.

The X-H1 incorporates additional improvements based on feedback from professional photographers, including a large grip design, leaf-spring switch for the shutter-release button, near-silent shutter sound, a new focus level, and a new AF-ON button and enlargements of buttons on the rear of the camera.

Comprehensive Range of Video Features Support Movie Production
The X-H1 is the first camera in the X Series to include ETERNA, a new film simulation mode that is ideal for shooting movies. This mode simulates cinematic film, creating understated colors and rich shadow tones, greatly enhancing creative freedom during post-processing. The X-H1 boasts many functional and performance improvements to video image quality, including the 1080/120P high-speed video mode (1/2, 1/4 and 1/5 speed slow motion) for recording spectacular slow-motion footage; F-log SD card recording which aids smooth workflow; a DCI 4K shooting mode (4096×2160); a 400% dynamic range setting (approximately 12 stops); 200 Mbps high bit rate recording; a high-sound quality internal microphone (24 bit/48 kHz); and verbal time codes.

First Flicker Reduction Mode and Improved Autofocus Algorithms
The X-H1 features a flicker reduction mode, allowing for stable exposure during burst shots even under fluorescent and mercury lighting. In addition, improvements to the autofocus (AF) algorithm have achieved a number of performance enhancements. Low-light limit for phase detection AF has been improved by approximately 1.5 stops—from 0.5EV to -1.0EV—raising the precision and speed of AF in low-light environments. The minimum aperture has been expanded from F8 to F11, and major improvements have been made to the AF-C performance while operating in zoom, making the X-H1 ideal for shooting rapidly moving subjects.

Vertical Power Booster Grip VPB-XH1
The Vertical Power Booster Grip (VPB-XH1) is a weather-resistant grip capable of operating at temperatures as low as 14°F/-10°C that fits two additional batteries to increase maximum number of shots to 900 (in normal mode) and increases the maximum period for shooting movies in 4K to about 30 minutes.
The Vertical Power Booster Grip features a shutter release button, focus lever, AE-L button, AF-ON button, command dial, Q button, and Fn button, providing the same ease of operation when using the camera in vertical or horizontal positions. The grip is equipped with a headphone socket to allow monitoring sound while recording, and includes recharging capability.

Wide Eyecup EC-XH W
The Wide Eyecup EC-XH W covers a broad area around the eye, greatly reducing light interference to enhance concentration during long shoots. The eyecup can be rotated in 90° increments, making it adaptable for either eye and for shooting either vertically or horizontally.

Availability and Pricing
The X-H1 will be available on March 1, 2018 in the U.S. and Canada. The X-H1 Body will be available for USD $1,899.95 and CAD $2,449.99 and the X-H1 Body with Vertical Power Booster Grip Kit will be available for USD $2,199.95 and CAD $2,799.99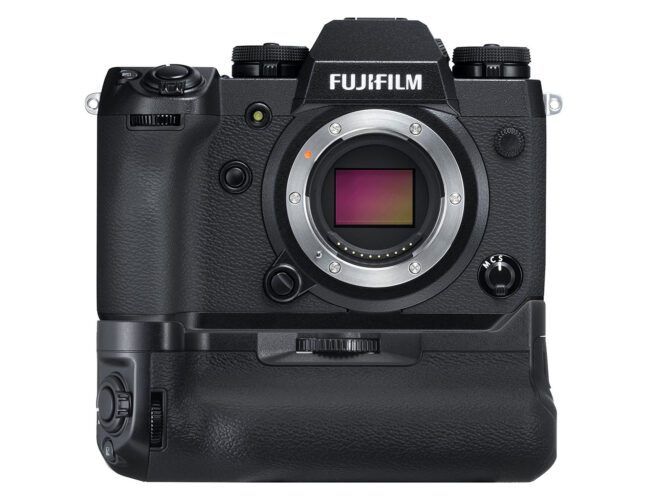 The Fujifilm X-H1 looks incredible. I have been waiting for an X-series camera with these features (especially with EFCS), so that I can perform proper lens testing going forward. I will be purchasing the X-H1 for this reason and I will start my review as soon as I get a hold of it in March! Exciting times for Fuji shooters! More to come!