Canon has just announced the RF 200-800mm F6.3-9 IS USM, a supertelephoto zoom lens for Canon mirrorless cameras that offers a unique maximum focal length of 800mm in a package the size of most lenses that just go to 600mm! What does Canon's new zoom have to offer?
Canon's Supertelephoto Zoom
Undoubtedly, the most interesting aspect of Canon's new supertelephoto zoom is that it goes to 800mm, albeit with a fairly narrow aperture of f/9. At the 600mm focal length, it is slightly brighter with maximum aperture of f/8.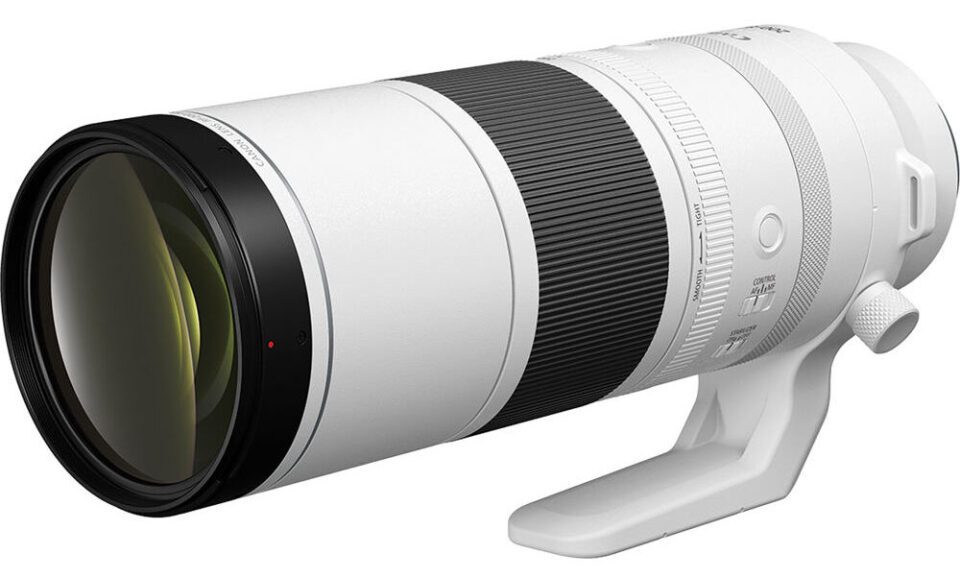 Given its MSRP of $1,899 USD, I expect its performance to be in line with most typical supertelephoto zooms – in other words, fairly good but not at the level of an exotic prime. I think this lens is going to make a pretty nice combination when paired with a camera like the Canon R7, which is Canon's most advanced APS-C body. With a combined price of $3398, this lens plus the R7 is by far one of the cheapest ways to get into wildlife photography with this level of reach.
Even though this lens is 800mm, it's still fairly compact In fact, with a length of 31.4mm (12.4″) and a weight of 2kg, it's a tad shorter and lighter than the Sony 200-600mm (though the Canon has an external zooming mechanism).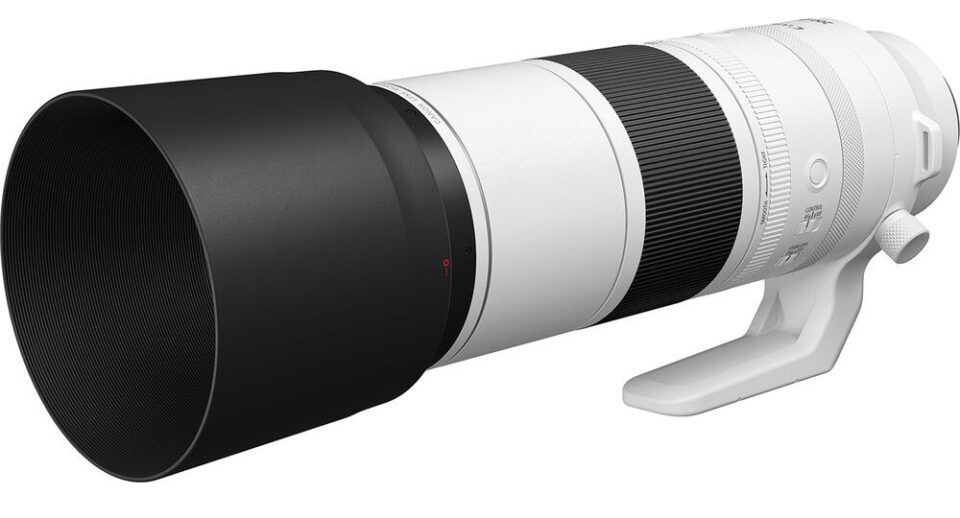 This lens also takes Canon's newest 1.4x and 2x teleconverters, although with the 1.4x teleconverter you'll already be at f/12.6. Given such a narrow maximum aperture, and considering that this lens already reaches 800mm natively, I'd skip the teleconverters.
Note that there is also a Canon RF 100-500mm f/4.5-7.1L already, which provides less reach but is significantly smaller and lighter (1.4 kilos versus 2 kilos, or 3 pounds versus 4.5 pounds). Both lenses have similar light-gathering capabilities at a given focal length.
Specs and Comparison with the Nikon 180-600mm f/5.6-6.3
I find it interesting to compare this lens against its counterpart in the Nikon world, the Nikon 180-600mm f/5.6-6.3 VR. Here are the most important features of each:
| Spec | Canon RF 200-800mm f/6.3-9 | Nikon 180-600mm f/5.6-6.3 |
| --- | --- | --- |
| Minimum Focal Length | 200mm | 180mm |
| Maximum Focal Length | 800mm | 600mm |
| Aperture at 600mm | f/8 | f/6.3 |
| Max Magnification | 0.25x | 0.25x |
| Optical Design | 17 elements, 11 groups | 25 elements, 17 groups |
| Vibration Reduction | Yes | Yes |
| Filter Thread | 95mm | 95mm |
| Length | 31.41mm (12.4″) | 31.55mm (12.4″) |
| Weight | 2kg (4.5 lbs) | 1.9kg (4.3 lbs) |
In terms of size and weight, these lenses are almost exactly alike. My prediction is that sharpness will also be similar. The main advantage to the Nikon is the brighter maximum aperture at 600mm, while the Canon of course has 200mm more reach on the telephoto end. It would be interesting to compare the optical performance of the Nikon with a 1.4x teleconverter, which gives an 840mm f/8.8, versus the Canon's 800mm f/9.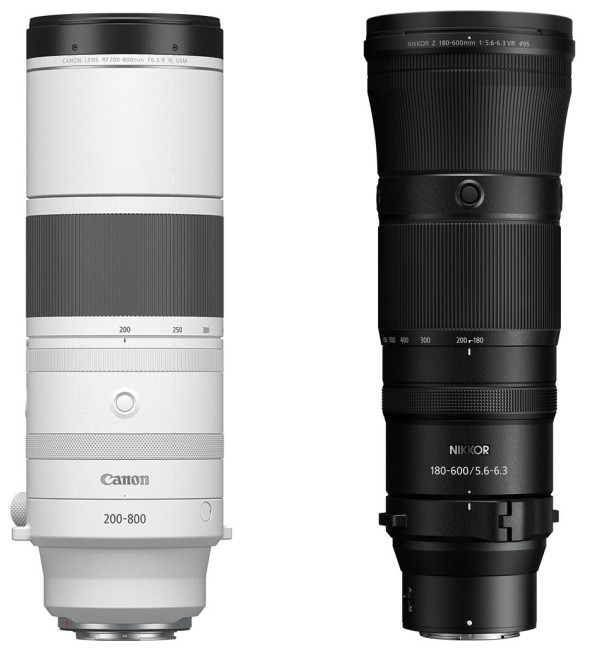 Conclusion
Canon's new 200-800mm f/6.3-9 is a great release for photographers who need a huge zoom range, and it's nice to see manufacturers experimenting with new kinds of focal length configurations. Never before have we see such a focal length in a first-party zoom. If the lens performs decently in the 600mm-800mm range, it may become a very popular choice among wildlife photography enthusiasts who don't mind the narrow maximum aperture.
As usual, if you intend to pre-order the Canon RF 200-800mm f/6.3-9 and want to support Photography Life, consider ordering it through B&H. It's no additional cost to you and helps support us!
Press Release
CANON INTRODUCES THREE NEW LENSES, ENHANCING STILL PHOTOGRAPHY AND VIDEO PRODUCTION FOR ANY SKILL LEVEL

MELVILLE, NY, November 2, 2023 – Photographers aiming to get a powerful, ultra-wide angle shot, or looking for a superb zoom range, can improve their images with three new lenses announced today by Canon U.S.A., Inc., a leader in digital imaging solutions. The RF-S10-18mm F4.5-6.3 IS STM, the RF24-105mm F2.8 L IS USM Z, and the RF200-800mm F6.3-9 IS USM lenses can benefit a wide range of users — from beginners all the way to working professionals.

The RF-S10-18mm F4.5-6.3 IS STM lens offers users of APS-C sensor size EOS R-series cameras an ultra wide-angle zoom, helping create strong still images and video. It is an ideal lens for vloggers, travelers, and general shooters. Beginners in video and still photography can make good use of this lens, as well as the more advanced pros. Key features include:

10–18mm ultra-wide zoom (equivalent to 16-29mm on full-frame camera).
Image Stabilization, for even greater hand-held sharpness and video steadiness.
Compact and lightweight design, making it an excellent choice for travel.
A new optical design, optimized for RF lens mount and APS-C sensor size.
An affordable price tag for those just stepping into ultra-wide video and still imaging.

Still and video professionals who want a single lens that can handle most tasks with low-light capabilities will find what they're looking for with the RF 24-105mm F2.8 L IS USM Z. This is the world's first 24-105mm focal length lens combined with consistent f/2.8 maximum aperture, offering true portrait-length telephoto coverage resulting in sharp images. High-end photographers, photojournalists, and video content creators can utilize this lens' other features that include:

Constant overall length when zooming.
Manual aperture ring for video use.
Optimized optics for high-level video.
Image stabilization.

A new Power Zoom Adapter will also be available for the RF 24-105mm F2.8 L IS USM Z lens, an optional accessory for super-smooth zooming during video operation. This detachable device allows for more natural movement when zooming in and out, and easier control for solo camera operators. A standard version of the Power Zoom Adapter will be available, as well as a 20-pin port version to support zoom and focus demands. The firmware updates that will be available in early December for the EOS C70 and EOS R5 C cameras will add support for the RF24-105mm F2.8 L IS USM Z lens.

Last, but not least — nature, wildlife, and outdoor sports shooters will find the RF 200-800mm F6.3-9 IS USM super telephoto zoom lens a great tool to take crystal-clear images of action at a distance. This lens is lightweight and easy to hold in your hand, allowing most users to carry it to help capture a range of subjects, whether it's a still image of a landscape, or video of a moving target. Unique features of the RF 200-800mm F6.3-9 IS USM lens also include:

Up to 800mm focal length.
Up to 5.5 stops image stabilization.
Compatible with optional Canon RF 1.4x and 2x tele extenders.
Weather-resistant design.
Rotating tripod mount.

Price & Availability

The new RF-S10-18mm F4.5-6.3 IS STM, the RF24-105mm F2.8 L IS USM Z, and the RF200-800mm F6.3-9 IS USM lenses are expected to be available in December for estimated retail prices of $329.99, $2,999.00, and $1,899.00, respectively. The two versions of the Power Zoom Adapter for the RF24-105mm F2.8 L IS USM Z will be available Spring 2024 for an estimated retail price of $999.99, and $1,299.002 for the version with the 20-pin port. For more information, please visit usa.canon.com.