Canon has just announced the RF 100-300mm f/2.8 L IS USM, which fills one of the last major gaps in the brand's RF lens lineup. Instead of being a traditional 300mm f/2.8 prime lens, this zoom forms a sort of bridge between standard and super-telephoto lenses. Here's what we know about the lens so far.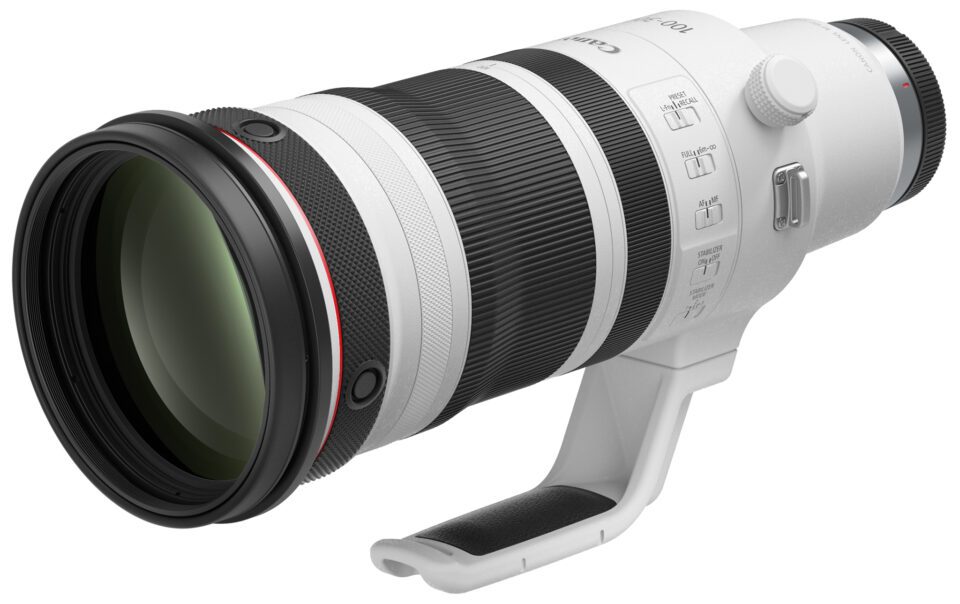 RF 100-300mm f/2.8 L IS USM Specifications and Features
Full Name: Canon RF 100-300mm f/2.8 L IS USM

Mount Type: Canon RF

Focal Length: 100-300mm (3× zoom)

Angle of View (FX): 24° to 8° 15′

Maximum Aperture: f/2.8

Minimum Aperture: f/22

Aperture Blades: 9

Filter Size: 112mm

Lens Elements: 23

Lens Groups: 18

Special Elements: 1 fluorite element, 4 UD elements, 1 aspherical element

Coatings: Fluorine coating, and a super spectra (SSC) coating

Electronic Diaphragm: Yes

Vibration Reduction: 5.5 stop(s)

Internal Focusing: Yes

Internal Zooming: Yes

Control Rings: Focus ring, zoom ring and programmable control ring

Focus Motor: Two built-in nano ultra-sonic motors (USM)

Minimum Focus Distance: 1.80 meters (70.87 inches)

Maximum Magnification: 0.16×

Mount Material: Metal

Weather/Dust Sealing: Yes

Dimensions (Length × Diameter): 323 mm x 128 mm (12.72 × 5.04 inches)

Weight: 2650 g (5.84 lb)

MSRP: $9,499.00 (check current price and availability)
The idea of taking a traditional lens in the 70-200mm f/2.8 range and extending its reach to 300mm, while retaining the maximum aperture of f/2.8, is not completely new – Sigma came up with a similar lens back in 2002, and a few companies have made them since. Still, it is a less common type of lens than a typical 70-200mm f/2.8 or 300mm f/2.8 prime. With the RF 100-300mm f/2.8, Canon is the first to make a dedicated mirrorless lens of this type.
Compared to a traditional 70-200mm lens, the extra 100mm of focal length will significantly expand the possibilities of using this lens. It will appeal to press photographers, wedding photographers, and sports and wildlife photographers. One could say that this lens merges together both the Canon 70-200mm f/2.8 and the Canon 300mm f/2.8.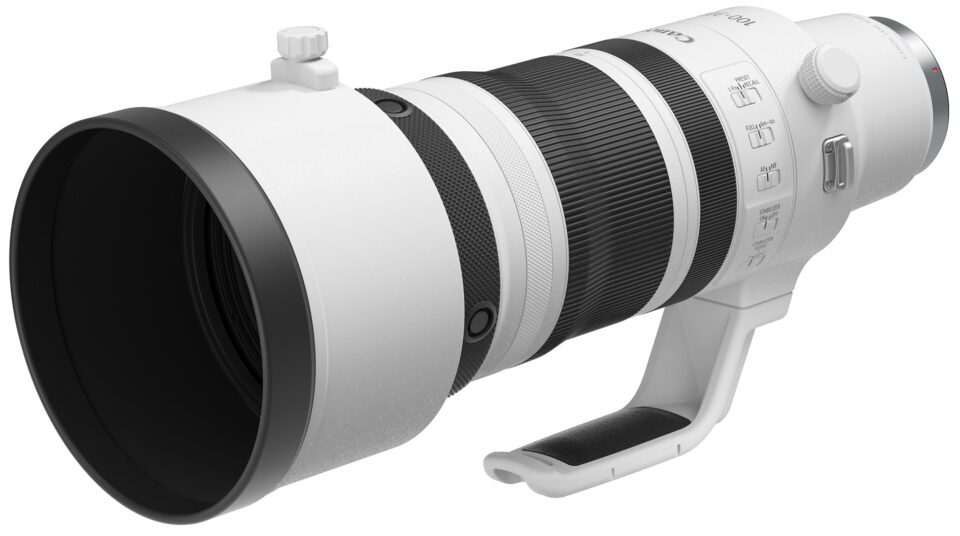 Looking at the specs of the Canon RF 100-300mm f/2.8, several features caught my eye. First and foremost, of course, is the price. While the Canon RF 70-200mm f/2.8 lens retails for $2800, the new RF 100-300mm f/2.8 will be available for $9500. This, of course, is a huge difference for many. But if we compare the price to the current Canon EF 300mm f/2.8L IS II lens, the situation begins to change. The price of that lens is $6100! So, if you're the type of photographer who carries both a 70-200mm f/2.8 and a 300mm f/2.8, the price of the 100-300mm f/2.8 may not look so bad.
Then there's the size and weight. At 2650 g (5.84 lbs), the new RF 100-300mm f/2.8 is not a light lens. But it's barely heavier than the Canon EF 300mm f/2.8L IS II, which weighs 2400 g (5.29 lbs). Considering that this new lens is a 100-300mm zoom, I'm impressed that Canon kept the weight reasonable. The new lens also focuses a bit closer than the EF 300mm f/2.8, which will be welcome for photographing small subjects like nearby birds and lizards.
All other features of the RF 100-300mm f/2.8 L IS USM are what you would expect from a professional-grade, L-series lens. Canon has used the best technologies it currently has in its arsenal. Be it advanced coatings (SSC, Flourine Coating, ASC), 5.5 stop image stabilization, fully sealed construction, or a pair of Nano USMs for fast focusing. The proof will be in the performance, but everything I'm seeing so far suggests that the RF 100-300mm f/2.8 L will be a very impressive lens indeed.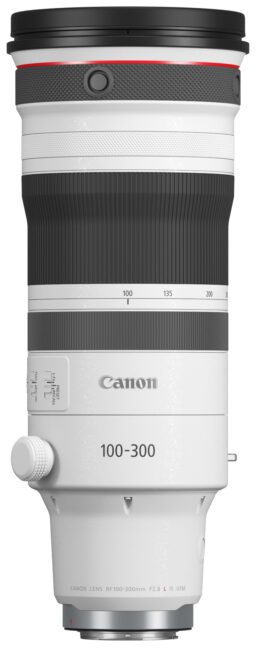 Shipping and Pre-Order
The Canon RF100-300mm f/2.8 L IS USM is launching at an MSRP of $9499. You can pre-order it now at the links below, with shipping expected to begin in May 2023.
Official Press Release
Canon Introduces the RF100-300mm F2.8 L IS USM to Its Lens Lineup

The new lens combines the flexibility of a zoom lens with the quality of a telephoto lens

MELVILLE, NY, April 20, 2023 – Today, Canon U.S.A., Inc., a leader in digital imaging solutions, announced the launch of the RF100-300mm F2.8 L IS USM lens, answering calls from photojournalists and professional level customers for a modern 300mm f/2.8 equivalent lens.

"This lens is an absolute game changer! It gives you the most incredible range, but without sacrificing the f/2.8 aperture. To have this kind of performance at your fingertips is incredible!"

Roberto Valenzuela, fashion and wedding photographer

For decades, the 300mm f/2.8 telephoto lens has been an industry standard for photojournalists, professionals, and aspiring enthusiast photographers due to its outstanding image quality, excellent speed for indoor shooting, and relatively light weight for hand-holding. Now, with the launch of the RF100-300mm F2.8 L IS USM, Canon delivers the flexibility of a zoom lens design with the truly outstanding quality of a 300mm f/2.8 L-series telephoto lens. Exceeding the reach and potential of traditional 70-200mm lenses, and adding zoom flexibility to its Canon EF 300mm f/2.8L IS predecessor, the RF100-300mm F2.8 L IS USM lens brings new value to customers with the following features:

Wide Focal Range — 100-300mm range
Extended Zoom — Optional RF1.4x and 2x extenders are supported with this lens, enabling a zoom range of up to 600mm
Spectacular Image Quality — f/2.8 constant wide aperture; Fluorite Aspherical and UD-glass design
Reliable Stabilization — Up to 5.5 stops correction with in-lens Optical Image Stabilization and up to 6.0 stops correction with in-body coordinated Image Stabilization (CIPA standard)
Weather and Dust Resistant — Durable in various environmental conditions
Compact and Lightweight Design — Despite capabilities to zoom over 300mm, this lens is unusually lightweight, just barely heavier than the EF300mm f/2.8L IS II

"I love this lens! It's incredibly lightweight, versatile, and sharp. Toss on the 2x extender and you can snipe gorgeous frames at a distance, especially with the built in image stabilizer. This lens is going to change the game for live concerts, weddings, and so much more."

Ben Hagarty, Grammy award-winning cinematographer

This telephoto zoom lens is ideal for professionals who use a Canon EOS R3, EOS R5 or EOS R6 Mark II full-frame mirrorless camera, but can also be a catalyst for users who have developed into serious, aspirational enthusiasts and are looking to step beyond their traditional telephoto lens experience. Best use cases include, but are not limited to, indoor sports, motorsports, outdoor fashion, video and cinema, photojournalism and theater work. For high-level shooters and videographers particularly working in low-light settings and seeking a hand-holdable solution, this lens provides the total answer.

​​​Price & Availability

​​​​​​​The Canon RF100-300mm F2.8 L IS USM lens is expected to be available in May for an estimated retail price of $9,499.00*. For more information, please visit usa.canon.com.

About Canon U.S.A., Inc.

Canon U.S.A., Inc., is a leading provider of consumer, business-to-business, and industrial digital imaging solutions to the United States and to Latin America and the Caribbean markets. With approximately $30.3 billion in global revenue, its parent company, Canon Inc. (NYSE:CAJ), as of 2022 has ranked in the top-five overall in U.S. patents granted for 37 consecutive years†. Canon U.S.A. is dedicated to its Kyosei philosophy of social and environmental responsibility. To learn more about Canon, visit us at www.usa.canon.com and follow us on Twitter @CanonUSA.

† Number of patents for 2021 are based on figures released by IFI CLAIMS Patent Services. Figures for 2005 to 2020 are based on information issued by the United States Patent and Trademark Office.

* Specifications, availability and prices are subject to change without notice. Actual prices are set by individual dealers and may vary.