Canon just announced a new addition to their full-frame mirrorless lineup with the EOS R8, a mid-range camera with some nonetheless impressive features and specifications. At the heart of the camera is a 24 megapixel sensor with up to 40 FPS bursts, or 30 FPS when shooting RAW pre-release bursts.
Canon EOS R8 Specifications
Sensor: 24.2MP CMOS, full-frame
IBIS: No
Shutter Speeds: Mechanical shutter: 1/4000 to 30 Seconds; Electronic shutter: 1/16,000 to 30 Seconds
ISO: ISO 100-102400, expandable to ISO 50-204800
Autofocus System: Dual Pixel CMOS AF II system with 1053 automatic AF points (both contrast and phase detection); 100% coverage; Automatic recognition of people, animals and vehicles.
AF Detection Range (standardized to f/2): -5 EV to +22.5 EV
Frame Rate: 6 fps using mechanical shutter (40 FPS 12-bit with electronic shutter); 30 FPS Raw burst mode with 0.5 seconds of pre-capture buffer
Card Type: Single UHS-II SD slot
Buffer: 6 FPS Mechanical shutter up to 1000 images (Raw); 40 FPS Electronic shutter up to 100 images (C-RAW)
Video: 4K video recording oversampled from 6K, up to 60p
LCD: 3.0″ vari-angle (fully articulating tilt-flip) screen with 1.62 million dots
EVF: 100% coverage, 2.36 million dots, 0.70x magnification
Battery Life: 150 shots (EVF Smooth); 220 shots (EVF Power Saving); 370 (LCD Smooth); 440 (LCD Power Saving)
Weight: 1.01 lb / 461 g (with battery + card)
Price: $1,499 body only (check current price)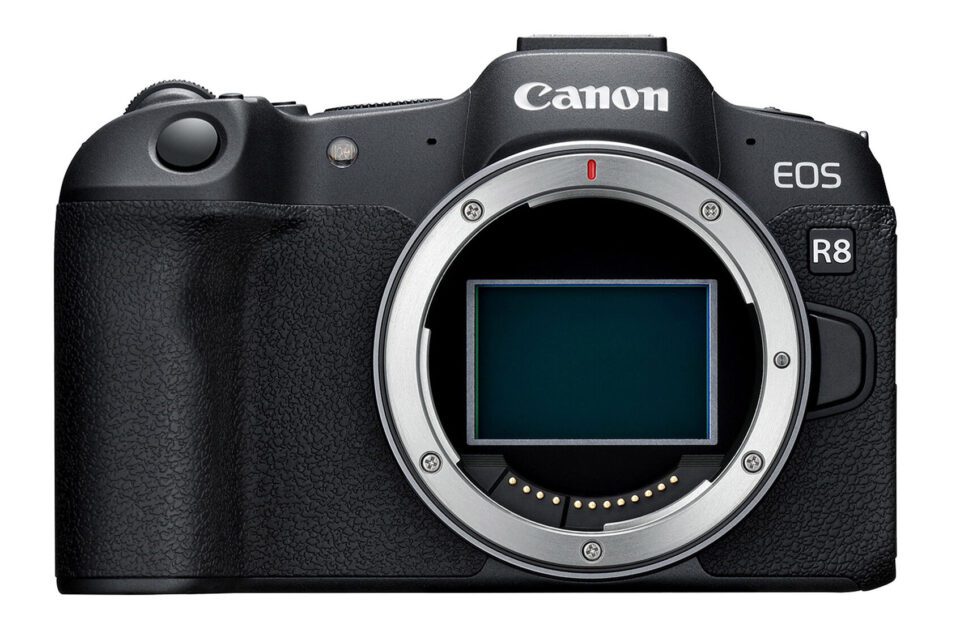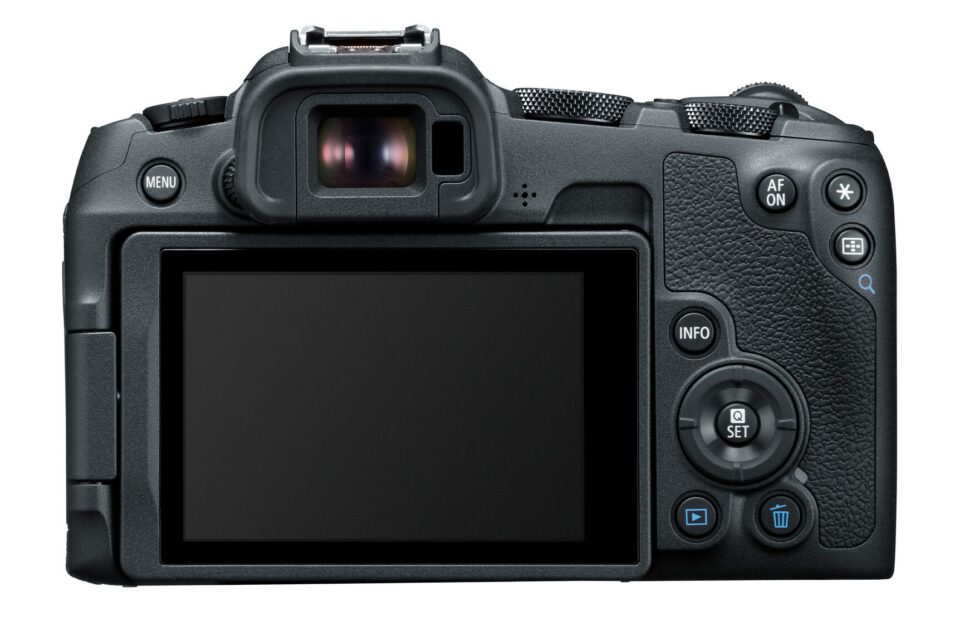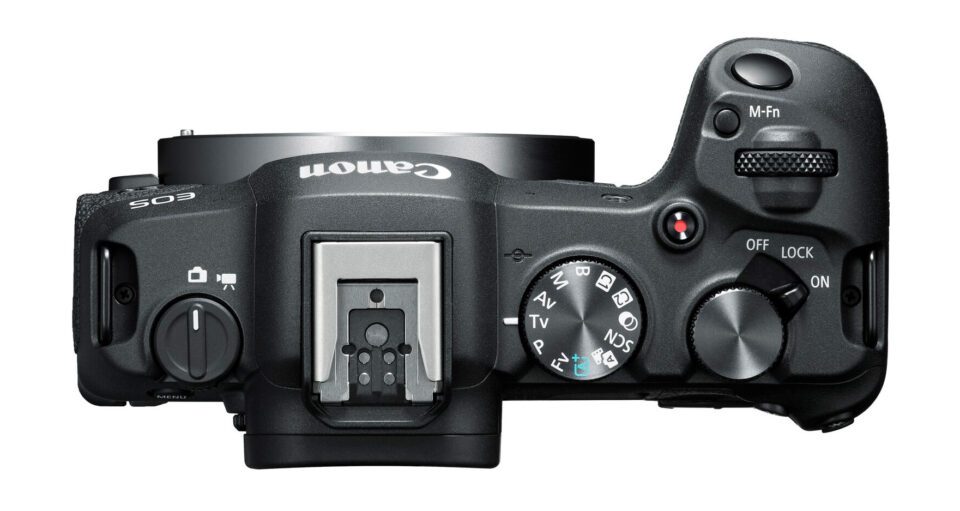 EOS R8 vs EOS R6 II
Much of the EOS R8 is based on the higher-end EOS R6 II, even though the EOS R8 will launch for just $1499 rather than the $2499 price of the R6 II. Both cameras share the same sensor, processor, autofocus system, 40 FPS burst, and 30 FPS pre-release RAW burst feature.
Even so, it is the lower-end of the two cameras in some subtle but important ways. First is that the R8 lacks IBIS, which makes it harder to shoot handheld with non-stabilized lenses. Beyond that, the EOS R8's mechanical shutter is limited to 6 FPS, whereas the EOS R6 II has a 12 FPS mechanical shutter curtain. (This matters because the mechanical shutter is a useful way to prevent rolling shutter effects on these cameras.)
As for video, the EOS R8 shoots up to 4K 60p – impressive, but the EOS R6 II beats it by allowing external 6K 60p RAW video over the HDMI port. The battery life is also much worse on the EOS R8, with 370 shots compared to the R6 II's 760 shots (both in LCD power saving mode). Finally, the EOS R8 has a single SD card slot compared to dual card slots on the EOS R6 II.
Are there are any other meaningful differences? The build of both cameras is certainly different, with a noticeably smaller form factor to the EOS R8. As a result, there's a very different button layout, with the biggest change being the loss of the focusing joystick on the EOS R8. Although there are a few other differences here and there in their specifications and layouts, those are the most important.
For these differences, you get a camera that's $1000 cheaper and a good bit smaller/lighter than the EOS R6 II. I think that potential EOS R8 buyers are looking at an excellent value. It seems to be about 90% the camera of the EOS R6 II for about 60% of the price.
Canon EOS RF 24-50mm f/4.5-6.3 IS Announcement
Alongside the EOS R8, Canon also announced a new full-frame lens, the RF 24-50mm f/4.5-6.3 IS. It sounds pretty similar to the existing Nikon Z 24-50mm f/4-6.3 that I gave a mixed review, although admittedly the Canon lens adds image stabilization. Still, it's not a very useful zoom range or maximum aperture.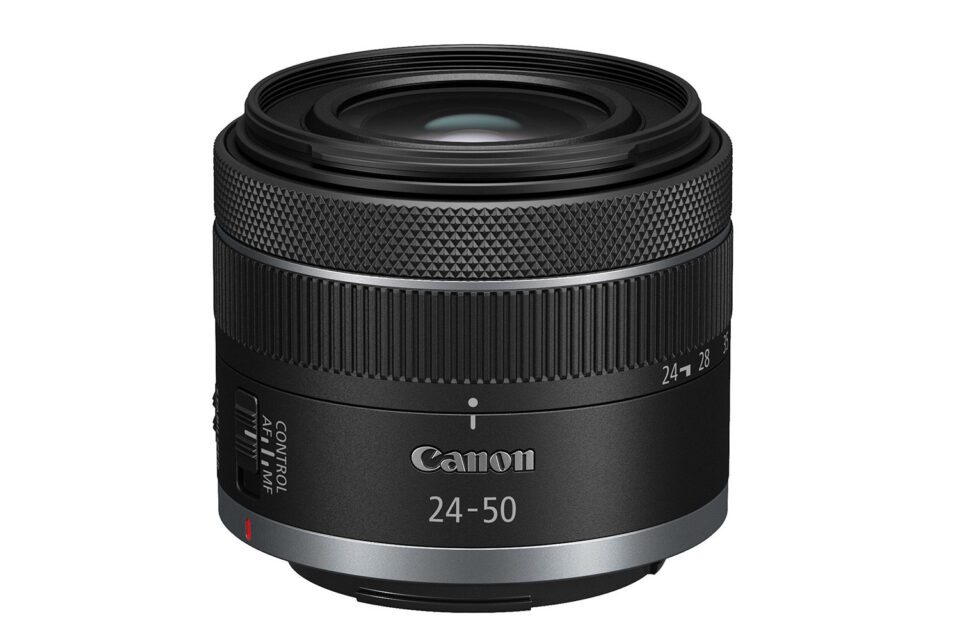 On the bright side, the RF 24-50mm is a small and lightweight lens at 210 grams (0.46 pounds), so it will pair well with the EOS R8 if you need something portable. The lens is launching for $299, but there's a $100-off package deal if you buy it as a kit with the EOS R8.
Ordering Information
So far, Canon is only saying that the EOS R8 will be released in "Spring," so it could be a few months until it officially starts shipping. (And Punxsutawney Phil saw his shadow last week, which won't help the situation.)
However, pre-orders are open already, both body-only for $1499 or packaged with the newly released RF 24-50mm f/4.5-6.3 IS lens for $1699. That's $100 off the price of buying the lens and camera separately.
Here are the pre-order pages for B&H and Adorama. I'm not yet seeing a pre-order page on Amazon.
You can also order the Canon EOS RF 24-50mm f/4.5-6.3 IS separately for $299. Like the EOS R8, it ships sometime in Spring.
Press Release
Canon Adds EOS R50 and EOS R8 to the Growing EOS R Mirrorless Camera System

Plus, Image Story Telling Through R-Mount Lenses Is Ramped Up With Additions of the New RF-S55-210mm F5-7.1 IS STM and RF24-50mm F4.5-6.3 IS STM Lenses

MELVILLE, NY, February 7, 2023 – Canon U.S.A., Inc., a leader in digital imaging solutions, announced today the launch of the new EOS R50 camera body, ideal for entry level users, and the EOS R8, an extremely compact, full-frame camera aimed at advanced amateur photo and video enthusiasts looking for budget-friendly options that don't sacrifice performance. Additionally, two new RF-Mount lenses are being introduced to the ever-growing R-mount lens lineup.

EOS R50

Compact, lightweight and ideal for those looking to step up their video quality, the EOS R50 provides an impressive movie-shooting experience thanks to the APS-C sensor, with 4K video, uncropped 4K capture (at all frame rates), and outstanding Dual Pixel CMOS AF technology. With the addition of whole area tracking, subject detection, and movie-prerecording, difficult photo and movie opportunities can be easier to capture with a 24.2-million-pixel, APS-C sized image sensor. In addition, the EOS R50 is equipped with an eye-level electronic viewfinder to help achieve shot steadiness and ease viewing in bright sunlight conditions. A great camera for those who are looking to lean into interchangeable lenses, the EOS R50 camera can capture travel adventures, family portraits, sports, wildlife and even help a small business with marketing imagery. For those who are budding content creators, the EOS R50 will be available later in 2023 as part of a Content Creator Kit – packaged with a microphone, lens and grip. Overall, the EOS R50 is truly a jack of all content creation trades.

"The first time I picked up the EOS R50, I noticed how light it was. When I saw the footage, I wondered how the quality can be so good when it's this lightweight in my hand. My mind was blown!" Bianca Matisse Taylor – Content creator and blogger

EOS R8

The EOS R8 — affordable and functional — is a full-frame mirrorless camera aimed at the up-and-coming video or photo enthusiast. This camera comes with class-leading autofocus while still extremely capable for everyday and general photography use. Equipped with a 24.2-megapixel CMOS image sensor and DIGIC X image processor, the EOS R8 is optimal for full-frame RF lenses — allowing enhanced wide-angle field of views when compared to APS-C sensor cameras. Extremely lightweight and compact, the EOS R8 shoots up to 6-fps with 1st-curtain Electronic shutter, and up to 40-fps with full electronic. For users who've already explored interchangeable lens cameras but haven't yet broken into mirrorless, the EOS R8 should be the camera that takes them over the threshold to capture events, weddings, still life, travel and pets.

"My work is a lot about movement and not missing a beat with the fast shutter on the EOS R8 is so important to me as an artist." Jasper Soloff – Photographer and Director

Additional product specs include:

Video performance

Uncropped 4K video to 59.94p (29.97p with EOS R50) (with 6k oversampling)
Full-HD to 59.94 fps, and High Frame Rate to 119.8 fps (Full HD 180p with the EOS R8)
Dual Pixel CMOS AF, with subject detection for people, animals and vehicles
Up to 2 hours of continuous recording (one hour with EOS R50); no 30 min limit
Focus breathing correction

Enhanced usability for video correction

Vertical Video Metadata
Movie Self Timer
Audio Noise Reduction (only in EOS R8)
UVC/UAC Support, for USB livestreaming
Recording Emphasis
Aspect Markers

Connectivity

Easy wireless connection from camera to compatible smartphone
Camera Connect with USB connection to compatible smartphone
USB streaming direct to computer via Zoom™, Teams™, or Skype™
MFI Certified (Apple); WPA3-Personal protected access
Convenient firmware updates via compatible smartphone
Cloud RAW processing

Alongside the camera bodies, Canon will release two new lenses. The RF-S lens line, optimized for the smaller APS-C sensor size, expands with the Canon RF-S55-210mm F5-7.1 IS STM lens. This is a telephoto zoom, giving coverage equivalent to an 88–336mm lens on a full-frame camera. The lens opens the door to telephoto photography and videography, with 4.5 stops optical image stabilization, and close-focusing that can fill the frame with a subject roughly 2×3 inches in size (at its 210mm zoom setting, and minimum focus distance). And it does all this in an incredibly lightweight and compact package.

The Canon RF24-50mm F4.5-6.3 IS STM is a new, compact standard zoom lens for full-frame EOS R-series cameras. Ranging from true wide-angle to traditional "standard lens" coverage at 50mm, the lens is a travel friendly design with an extremely compact exterior. The RF24-50mm F4.5-6.3 IS STM lens is just over 2 inches long when fully retracted, and under 3.5 inches when extended — weighing less than half a pound. Optical Image Stabilization, with 4.5 stops of shake-correction, further enhances its appeal for video and still-image shooting. It's also useable on an APS-C sensor Canon camera, where the lens' effective coverage is equivalent to what a 38–80mm would deliver on a full-frame camera.

​​​Price & Availability

​​​​​​​The Canon EOS R8 camera body will be available for an estimated retail price of $1,499.00*. The Canon RF24-50mm F4.5-6.3 IS STM lens with the EOS R8 will have an estimated retail price of $1,699.00*. The Canon EOS R50 camera body will be available for an estimated retail price $679.99*. The EOS R50 with the RF-S18-45mm F4.5-6.3 IS STM lens will be available for an estimated retail price of $799.99*. The EOS R50 with the RF-S18-45mm F4.5-6.3 IS STM and RF-S55-210mm F5-7.1 IS STM lenses will be available for an estimated retail price of $1,029.00*. The RF24-50mm F4.5-6.3 IS STM lens will be available for an estimated retail price $299.99* while the RF-S55-210mm F5-7.1 IS STM lens will have an estimated retail price of $349.99*. All products are currently scheduled to be available in Spring 2023.

For more information, please visit usa.canon.com.