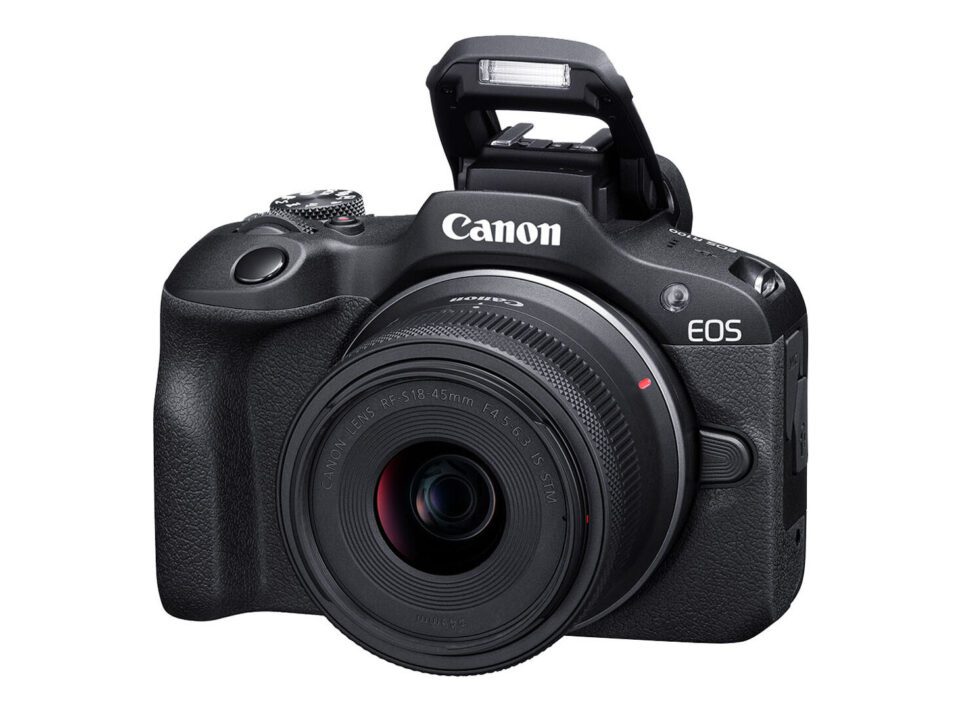 The newest addition to Canon's RF mount is the EOS R100, an entry-level APS-C mirrorless camera with a starting price of $479. Unsurprisingly, the EOS R100's features are quite basic, and its tech feels a couple of generations old. But that's by design – Canon's goal here was price, not features.
The EOS R100 has a 24 megapixel sensor, a built-in flash, and eye-detection autofocus. Critically, it also boasts an electronic viewfinder, unlike Nikon's Z30 or Sony's ZV-E10. (Granted, those two cameras have tilting LCD screens which the EOS R100 lacks.)
In terms of compromises, the EOS R100 has no touchscreen capabilities, a tiny image buffer, and lower-end video features. It also shoots just 3.5 FPS with autofocus, and 6.5 FPS when focus is locked on the first frame. Advanced photographers will find the degree of manual controls to be lacking.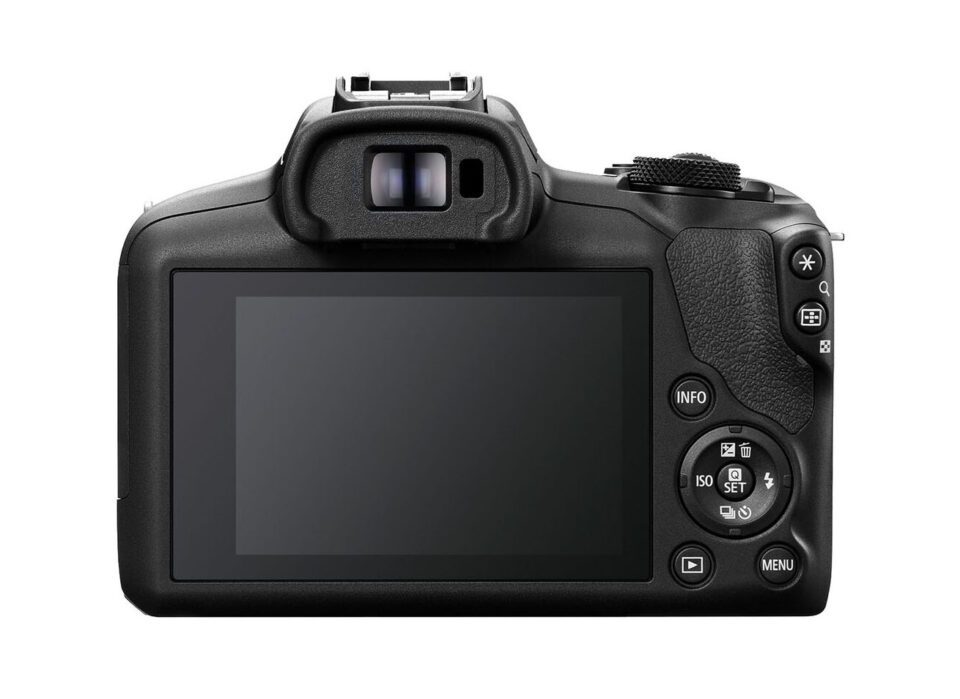 Here are the main specifications:
Sensor: 24.1MP CMOS, aps-c crop sensor
IBIS: No
ISO: ISO 100-12,800, expandable to ISO 100-25,600
Autofocus System: Dual Pixel CMOS AF system with 143 automatic AF points. 88% horizontal coverage, 100% vertical. People and eye detection.
Low-Light AF detection (standardized to f/2): -2.5 EV
Shutter: Electronic front-curtain shutter only
Frame Rate: 6.5 FPS with one-shot AF; 3.5 FPS with full autofocus
Buffer at 6.5 FPS: 6 frames (RAW); 17 frames (C-RAW); 100 frames (JPEG Fine)
Card Type: Single UHS-I SD slot
Video: 4K video recording at 24p; 1080p video recording at 60p
Video Crop: 1.55x additional crop for 4K video
LCD: 3.0″ fixed screen with 1.04 million dots, no touchscreen
EVF: 100% coverage, 2.36 million dots, 0.95x magnification (0.6x full-frame equivalent)
Built-in Flash: Yes
Battery Life (CIPA): 320 shots (EVF); 400 shots (LCD)
Weight: 356 g / 0.78 lbs (with battery + card)
Price: $479 body only, $599 with 18-45mm kit lens (check current price)
Nothing there is going to turn a lot of heads, aside from the camera's low price and weight. And that's probably the point. In the DSLR era, Canon was known for its entry-level Rebel cameras, which were great sellers that helped them convert massive amounts of market share over the years. That segment of the market has been somewhat neglected in the mirrorless era.
Instead, recently, camera companies have been pushing expensive cameras with higher profit margins, which has helped keep their revenue relatively high in a shrinking market. But the alternative approach – high volume, low margin – still has some merits for camera companies that want to capture first-time photographers. Heck, the reason that I shoot with Nikon today can be traced back to my purchase of the Nikon D5100 back in the day, and most photographers I know have similar stories.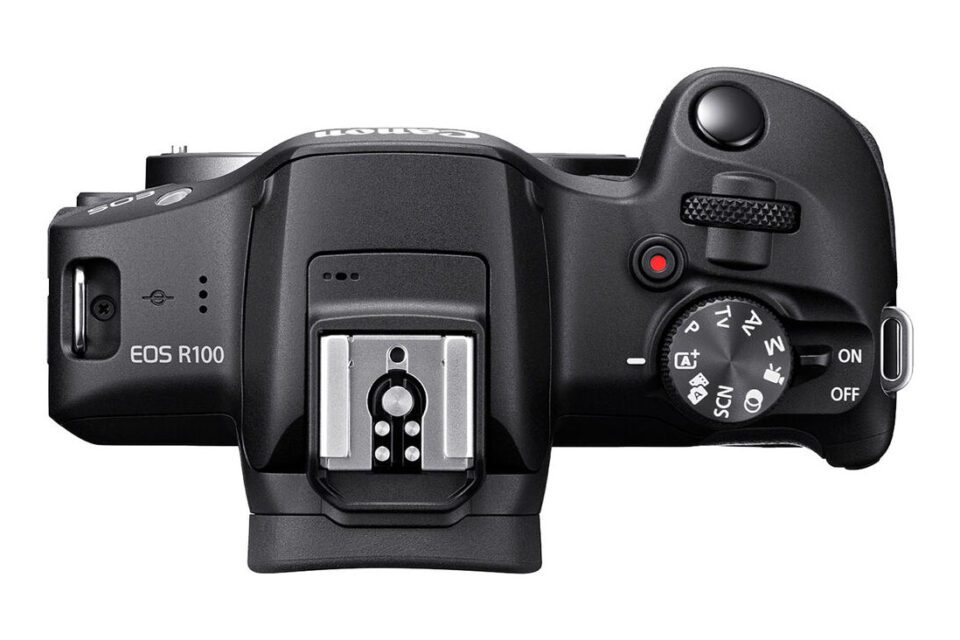 The R100 will not be a record-setting camera, but it will be an easy camera to recommend to friends and family who aren't (yet) photographers. Hopefully, the R100 spurs some other camera companies to release similar cameras that entice new photographers. After all, it is not easy to convince someone to spend $1000+ on a camera setup if they are on the fence about taking up photography…
Press Release
Canon today announces the launch of the EOS R100, tailor-made for those who want to preserve quality time spent with family and friends, perfect for capturing special occasions and lasting memories. With a 24.1 megapixel, APS-C sensor and Dual Pixel CMOS AF packed into its compact and lightweight body, the EOS R100 offers stunning yet effortless image quality, perfect for shooting on the go. Accompanying the launch of the camera is the RF 28mm F2.8 STM, Canon's smallest and lightest lens in the RF range, as well as the OC-E4A, a new off-camera shoe cord for Canon's multi-function shoe.

Canon's newest entry-level EOS R System mirrorless camera has been designed to effortlessly capture special moments in outstanding quality and is small enough to carry on any family adventure. Canon also demonstrates its commitment to expanding the advanced range of RF prime lenses with the launch of the RF 28mm F2.8 STM – the smallest and lightest RF lens yet.

The EOS R100 features a 24.1 megapixel APS-C sensor which is several times larger than that found in a top of the range smartphone, providing a noticeable step up in image and video quality. This not only delivers impeccable colour and incredible detail, but also gives users the ability to shoot in low light conditions and achieve beautiful, authentic bokeh where the background is smoothly softened, allowing the subject to stand out.

With the intelligent autofocus of the EOS R range, the EOS R100 has Dual Pixel CMOS AF with fast and accurate subject detection, tracking people's eyes when using the viewfinder or the LCD screen, keeping up with the action and focusing on what really matters.By offering up to 6.5 fps continuous shooting with One Shot AF and 3.5 fps with Continuous AF, the EOS R100 helps capture that special moment.

The EOS R100 has improved video performance compared to a smartphone or DSLR, offering 4K 25p video, bringing the benefits of the EOS R System to this easy-to-use, entry-level camera. It is also capable of Full HD video recording at 60 fps and 120 fps at 720p resolution, ideal for smooth slow-motion videos, which is particularly useful when getting creative with holiday content. The reliable Dual Pixel CMOS AF also enables face detection and eye tracking when recording in Full HD.

Unlock your potential

The portable design of the EOS R100 – weighing just 356g – is smaller and lighter than a traditional DSLR, perfect for those who want to shoot on the move. Its comfortable grip, electronic viewfinder, intuitive controls, and guided user interface give users the tools to be the family's very own photographer, without having to be a professional. This is supported by creative assist, making it easy to adjust background blur, brightness, contrast, and colour balance.

Users also have the option to experiment with an array of versatile accessories, such as innovative RF lenses, microphones and Speedlites, making the creative possibilities endless. Compatibility with Canon's RF and RF-S lenses in particular means users can extend their reach and get creative with fast apertures.

Seamlessly connect and share

Wi-Fi® and always-on Bluetooth® connectivity enable users to seamlessly transfer images and videos to their smartphone using the Canon Camera Connect app for instant sharing. The app also enables users to operate the camera remotely, while Bluetooth connection allows simple control with the BR-E1 remote control or a smartphone, perfect for group photos and videos.

Introducing Canon's smallest and lightest RF prime lens

The RF 28mm F2.8 STM is an extremely compact and lightweight full frame RF prime pancake lens. It has been carefully designed to be the perfect combination for cameras such as the recently launched EOS R8. It can easily fit into any kit bag or be used instead of a body cap, ideal for travel and street photographers on the move.

Its versatile 28mm focal length and fast F2.8 maximum aperture make it suitable for a variety of shooting scenarios. The fast aperture enables low light shooting and achieves a shallow depth of field for blurred backgrounds to make the subject stand out. The RF 28mm F2.8 STM includes a combined control and focus ring, enabling users to easily adjust settings and quickly switch to manual focus if required. What's more, the STM motor also allows quiet autofocus and smooth transitions between subjects.

Canon's combination of an EOS R body and RF lens enables a variety of correction options to be implemented to assist entry-level photographers and videographers, offering better image quality, and allowing for a smaller lens design. The effective placement of three high-precision plastic moulded aspheric elements achieves excellent rendering capability and compactness while also keeping the number of elements to a minimum.

As a super compact, lightweight and affordable option, the RF 28mm F2.8 STM broadens the choice of Canon's advanced prime lenses for EOS R System users, which also includes:

• RF 16mm F2.8 STM
• RF 24mm F1.8 MACRO IS STM
• RF 35mm F1.8 MACRO IS STM
• RF 50mm F1.8 STM
• RF 85mm F2 MACRO IS STM

Additional flexibility with Canon's new OC-E4A

The OC-E4A is Canon's new cable for the multi-function shoe, featured on several EOS R System cameras, which allows the new advanced range of accessories to be placed away from the hotshoe. It allows multi-function accessories such as Speedlites to be used off camera for correct lighting when shooting vertically to prevent shadows and reduce red eye. The OC-E4A can also provide power to devices such as microphones and it has been designed to enable use with the RF 5.2mm F2.8L DUAL FISHEYE lens.

EOS R100 key features:

• 24.1 MP APS-C sensor
• Dual Pixel CMOS AF with subject detection
• 4K video (crop, 25p)
• Full HD 60 fps and 120 fps 720p
• Electronic viewfinder
• Compact and lightweight body

RF 28mm F2.8 STM key features:

• Slim and lightweight
• Affordable wide-angle prime lens
• Versatile 28mm focal length
• Fast F2.8 maximum aperture
• Optical quality and clever corrections