It has been less than two weeks since Nikon announced its new Z mirrorless camera system, and today, Canon has also released their own much-anticipated Canon RF mirrorless system. With this release, Canon has announced its first camera in this category, the Canon EOS R. The camera is basically a compact mirrorless version of the Canon 5D Mark IV with a very similar image sensor and other features. In the heart of the camera we have a 30.4 MP full-frame CMOS sensor with a native ISO range of 100-40,000, promising to deliver superb high ISO performance. Canon took advantage of its Dual Pixel CMOS AF technology in order to deliver a phase-detection autofocus system with a whopping 5,655 focus points, which is the highest we have seen so far on any camera. The Canon EOS R is capable of shooting 8 FPS continuous shooting speed (with AF locked, otherwise 5 FPS), which is not particularly impressive, considering that the Canon 5D Mark IV can shoot at 7 FPS with full-time autofocus. However, Canon went with a UHS-II SD card slot instead of UHS-I, which allowed the new EOS R to gain buffer capacity of 47 images, so the camera should be able to last longer when shooting in bursts. Although the LCD screen stayed the same at 3.2″, its resolution has been slightly bumped up and it is now a fully tilting touchscreen like the one on the Canon 6D Mark II, which should make this camera a very popular choice for vlogging. Being a mirrorless camera, the Canon EOS R now features a high-resolution electronic viewfinder (EVF) with a total of 3.69 million dots, 100% viewfinder coverage and 0.76x magnification. With its full magnesium alloy construction and weather sealing, along with a relatively compact build, the EOS R only weighs 580 grams, making it a lightweight and compact mirrorless camera. In short, it is a pretty well-rounded camera from Canon, which should make it popular among Canon shooters, especially given its attractive price of $2,299 for the camera body.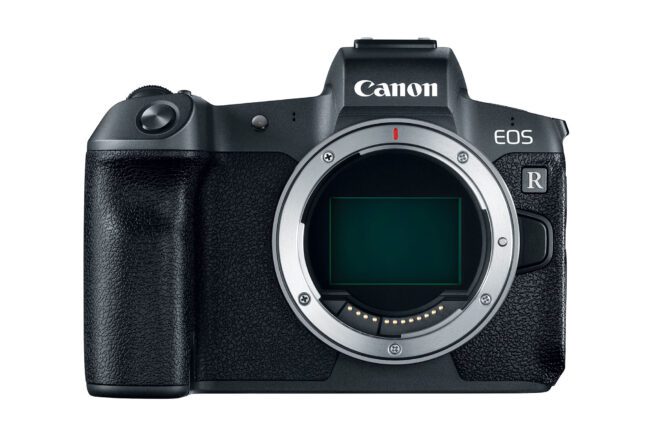 Let's take a quick look at the key specifications of the camera.
Canon EOS R Specifications
| Camera Feature | Canon EOS R |
| --- | --- |
| Mount Inner Diameter | 54.0 mm |
| Mount Flange Distance | 20.0 mm |
| Sensor Resolution | 30.4 MP |
| Sensor Type | CMOS |
| Sensor Size | 36.0 x 24.0mm |
| Low-Pass Filter | Yes |
| Sensor Pixel Size | 5.36µ |
| Image Size | 6,720 x 4,480 |
| Image Processor | DIGIC 8 |
| Native ISO Sensitivity | ISO 100-40,000 |
| Viewfinder Type | OLED (Electronic / EVF) |
| Viewfinder Coverage and Magnification | 100%, 0.76x |
| Built-in Flash | No |
| Flash Sync Speed | 1/200 |
| Storage Media | 1x SD (UHS-II) |
| Continuous Shooting Speed | 8 FPS max with autofocus locked, 5 FPS with full AF |
| Eye Autofocus | Yes, in One Shot Mode Only |
| Max Buffer Capacity (Rated, RAW) | 47 images with UHS-II card |
| Shutter Durability | 150,000 cycles |
| Number of AF Points | 5655 AF points selectable |
| Video Maximum Resolution | 3,840 x 2,160 (4K) @ up to 30 FPS |
| Video Crop in 4K | 1.74x |
| HDMI Output | 4:2:2, 10-bit |
| LCD Size and Type | 3.2″ Tilting Touchscreen LCD |
| Dual Pixel AF / RAW | Yes / Yes |
| LCD Resolution | 2,100,000 dots |
| Wi-Fi / Bluetooth | Yes / Yes |
| Battery Life (CIPA) | 350 minimum (viewfinder only), 560 maximum (eco mode and power saving enabled, rear LCD only) |
| Weather-Sealed Body | Yes |
| Weight (Body Only) | 580g |
| Dimensions | 135.8 x 98.3 x 67.7mm |
| MSRP Price | $2,299 Body-only |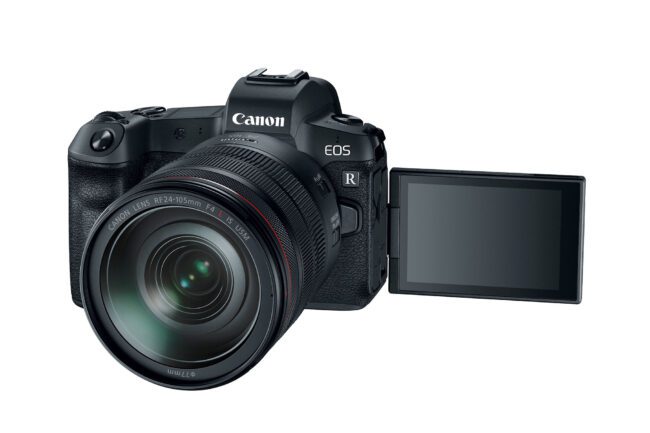 Unfortunately, unlike Nikon that decided to go ahead with in-body image stabilization (IBIS), Canon decided to stick with lens-based image stabilization. This was a bit surprising to see for me personally, since all other camera manufacturers have already pursued IBIS in at least some of their camera bodies, while Canon has not done so on any of its interchangeable lens cameras (EF / EF-S, EF-M and the RF). While this might not be a big concern for some Canon shooters, it is certainly a disadvantage, particularly when comparing to other systems on the market. Canon has been adding image stabilization to more lenses lately, but it is still lacking on many of them. For example, only two out of the four newly-announced lenses for the RF mount are image stabilized (more on lenses further down below).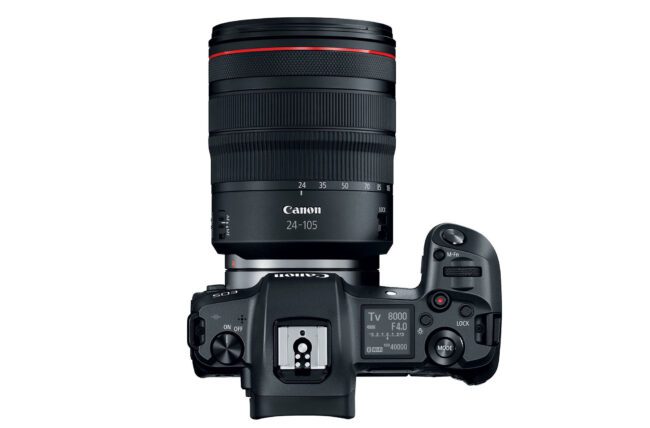 Canon went with some interesting design decisions for the EOS R. Looking from the top, while the camera has a very deep and what appears to be a comfortable grip, quite a bit has changed when compared to the Canon 5D Mark IV in terms of ergonomics. First of all, similar to the Nikon Z-series cameras, the Canon EOS R now features an OLED screen on the top of the camera, which changes information depending on what you are doing on the camera. Second, the PASM dial has been removed from the left side (there is now an On / Off switch there) and replaced by a multi-function dial with a "Mode" button in the middle, placed to the right of the OLED screen. Although the top dial is still there as before, we no longer have three main function buttons to change things like White Balance, Drive / AF Modes and ISO. Instead, there are only three total buttons scattered across the top: light, red video recording button and "LOCK" button. This will surely take some time to get used to for existing Canon shooters who are used to a DSLR layout, but it seems to be a relatively easy transition here.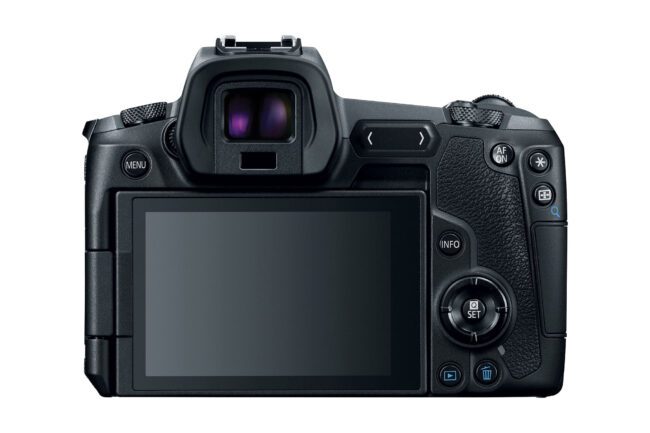 The back of the camera has also been drastically changed. On one hand, it resembles the Canon 6D Mark II thanks to the flip out screen and lack of buttons to the left of the LCD, but on the other, some of the button locations have been completely changed. Although the MENU button is still on the left side of the viewfinder, the INFO button has been relocated to the right of the LCD, similar to what Nikon has been doing on its cameras. One interesting feature is the multi-function bar. This is a brand new feature we have never seen on any other camera before. The multi-function bar is a touch-enabled bar that can be customized to do all kinds of things, such as quickly switching ISO. The traditional rotary dial / control wheel that Canon shooters have used for years is also gone and replaced by a multi-selector button and a center button, once again, similar to what Nikon has been doing for years. The AF-ON button has also been moved down and to the right a little and it has grown in size compared to what we normally see on Canon DSLRs. Additionally, both playback and zoom buttons have been relocated from their normal places to different areas on the back of the camera.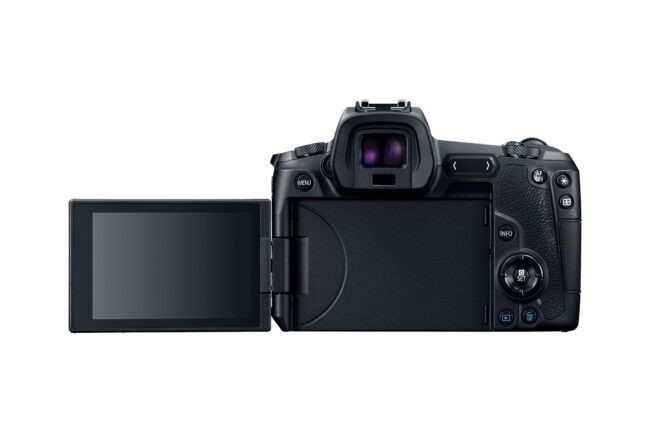 The only thing that has not seen much change in the layout and organization, is Canon's menu system.
It looks like Canon completely overhauled the design of the EOS R, pushing for a brand new feel and ergonomics. This could be both good and bad – good, as it could make the camera more ergonomic thanks to such features as multi-function bar, but also bad for existing Canon DSLR shooters who want to have an easier transition path to a mirrorless system. Personally, I welcome these changes and I am excited to see how the EOS R handles in the field.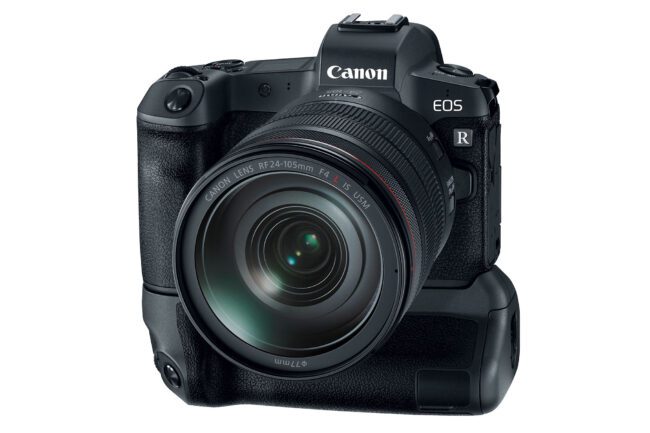 While the battery life of the camera is rated at 350 shots by CIPA, keep in mind that this is a very low estimate of the actual use in the field. Canon says that you can get up to 560 images with the power saving mode turned on and if you opt to use the rear LCD screen instead of the power-hungry EVF, but if you turn off things like image review and turn the camera off when not in use, you can probably squeeze a lot more images out of the battery.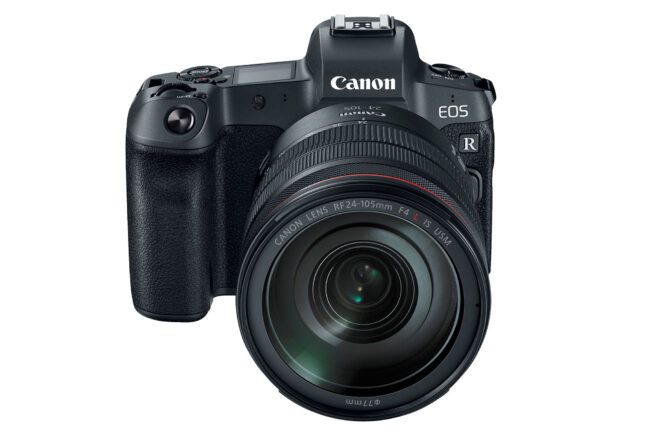 For those who want to use EF lenses on the EOS R, Canon has made a total of three different adapters, which is a very interesting idea. The first adapter will be a standard adapter to convert EF to EOS R mount. The second adapter will feature a control ring to adjust lens settings. And lastly, the third adapter will have a drop-in filter feature, so that you can put filters (such as graduated or polarizing) in-between the lens and the camera.
Together with the Canon EOS R, the company has also announced a total of four lenses for the new RF mount: Canon RF 28-70mm f/2L USM, Canon RF 50mm f/1.2L USM, Canon RF 35mm f/1.8 Macro IS STM and Canon RF 24-105mm f/4L IS USM. This is a very solid line-up that addresses the needs of both enthusiasts and professionals and the first two pro-grade lenses are especially important for Canon, since the company always pushed great images first. Although large, heavy and costly, the Canon RF 28-70mm f/2L USM is the first of its kind – there has never been a standard zoom lens with such a fast aperture before. It is definitely a "show-off" lens for Canon, similar to Nikon's Z 58mm f/0.95 Noct. And while Canon has had an EF 50mm f/1.2L lens in its line-up in the past, the new RF version is supposed to be on a different level in terms of overall performance. The RF 35m f/1.8 Macro IS STM is a lightweight and compact stabilized choice and the 24-105mm f/4L IS USM should be a great all-purpose lens for Canon shooters as well. Without a doubt, it is a very strong line-up of Canon RF lenses!
Promotional Videos
Below are the promotional videos by Canon:
Official Press Release
MELVILLE, N.Y., September 5, 2018 – Canon U.S.A. Inc., a leader in digital imaging solutions, today announced the next revolution in the company's long history of innovative and award-winning camera systems, the EOS R system featuring the newly designed RF mount. Recognizing the need to advance optical design, the Company sought to create a versatile and powerful new system that supports all current EF, EF-S, TS-E and MP-E lenses, and also provides the optical advancements and engineering flexibility to build upon for years to come.

When Canon set forth to develop a new interchangeable lens camera system, they focused on three core optical principles: high-image quality, high-specification performance, and compact design. Recognizing that optics is the foundation for any camera system, the RF mount was conceived to open new doors in optical design. Canon's new RF mount features the same size diameter as the EF mount (54mm) and shorter back focus distance. This allows for lenses to sit closer to the sensor (the focal plane) and allowed Canon optical engineers to reimagine lens design utilizing larger rear lens elements to produce an image on the full-frame sensor. This new optical formula has paved the way for higher performing lenses. In addition, the Canon RF mount features a high-speed 12-pin communication system that provides faster and more in-depth communication between the camera and lens over existing Canon mount systems.

The EOS R system is designed for full, uninhibited compatibility with all existing EF, EF-S, TS-E and MP-E lenses through the use of mount adapters. In addition, through the use of the optional Drop-In Filter Mount Adapter or Control Ring Mount Adapter these lenses, in fact, gain functionality.

"There has never been a time in history in which visual expression has been so prolific. Imaging, both still and video, are the communication mediums of today's society. Much in the same way we learned to type in the past, today's youth are skilled in shooting, editing, and visual storytelling in ways that only the masters of each craft were decades ago," said Kazuto Ogawa, president and chief operating officer, Canon U.S.A., Inc. "Knowing this, we needed to step back and design a system that delivers all the creative expression and functionality today's youth crave, now and in the years to come."

The First in a New System: The EOS R
The new Canon EOS R full-frame mirrorless camera features a 30.3 megapixel CMOS sensor that is powered by the Company's latest image processor, DIGIC 8, enabling shooting at up to 8.0 frames per second. The new camera inherits a lot from Canon's legacy in both EOS and Cinema EOS. Video storytellers can capture stunning 4K UHD video up to 30fps and record in 10-bit 4:2:2 (with an external recorder). The EOS R also comes with the ability to shoot Canon Log, providing 12 stops of dynamic range, minimal loss of detail in shadows and highlighted areas and an increased range of choices when color grading. Users with an existing collection of Canon lenses will be excited to know that all EF and EF-S lens are compatible with the camera. In order to do so, photographers and videographers can choose between using one of three new mount adapters, each uniquely designed to meet the individual needs of the user.

The new Canon EOS R camera features Dual Pixel CMOS Auto Focus with 5,655 manually selectable AF points, supporting AF at up to f/11 with a 384 zone (24×16) real-time metering system. With f/1.2 lenses, the camera astonishingly boasts AF sensitivity in low light in as little as EV-6. When using the RF 24-105mm F4 L IS USM lens with the EOS R, the camera can focus in as little as 0.05 seconds with Dual Pixel CMOS AF, making it the fastest autofocus speed in the world. These features provide photographers and videographers with Canon's most advanced AF system to date. The EOS R also features a silent shutter setting when shooting in single-shot mode; an important feature for those who need to capture imagery without disrupting the scene. An upcoming free firmware update will enable silent shutter in continuous shooting mode as well.

"The EOS R system is not just a new camera or a new lens mount, it is a new design that will allow us to produce visual tools that were previously impossible, and allow our customers to tell their stories with greater depth, richness of color, and creative flexibility, in optically stunning ways." states Kazuto Ogawa

Thoughts From the First Users
"I think every camera system has its place and it's all about having the right tool for the job," reported acclaimed outdoor photographer and Canon Explorer of Light Jimmy Chin. "The new EOS R system for me in particular is very useful for the kind of shooting that I do in the mountains, where I need to worry about the size and weight. Having the option to use the new RF lenses or the EF lenses is really great."

"I was instantly impressed with how quickly the EOS R was able to focus," remarked celebrated fashion photographer and Canon Explorer of Light Lindsay Adler. "Whether my subject was moving or I was shooting in near-complete darkness, I had no problem getting tack-sharp focus in every shot. It was a relief to know my gear wasn't going to hold me back from executing my vision, but instead it would really help me to execute this vision."

"For us, it's all about getting the shot no one else can get, and a lot of this has to do with the camera," says Devin Graham, director and filmmaker behind YouTube's DevinSuperTramp. "The new EOS R will become one of our main cameras. It has a very small footprint, yet is able to create amazing images. As for the lenses, the new RF 28-70mm F2 has just become one of my all-time favorites. I'll be bringing it on every project."

Conveniently placed just to the right of the EVF, Canon has introduced a new Multi-Function Bar that will allows users to more easily access their customizable settings, such as AF, ISO and White Balance. Users will have the option to either slide or tap the bar to gain access to the settings and adjust on-the-go as they deem necessary depending on each particular shooting situation.

Answering the demand for enhanced mobile editing of RAW image files, Canon is also announcing a new application, Digital Photo Professional Express (DPP Express). In combination with an updated Canon Camera Connect App, DPP Express enables users to send, view, edit and process CR3 RAW files on their iPad. A free download of the app will be available October 2018.

Additional noteworthy features of the EOS R Camera include:

RF Mount Compatible with RF Lenses and EF/EF-S Lenses
Built-in EVF with 3.69 Million Dots, Vari-angle Touchscreen LCD and Dot-matrix LCD Panel
ISO range of 100-40,000, expandable to 102,400
USB 3.1 in-camera charging support
Built-in Bluetooth and Wi-Fi® providing easy sharing to compatible smart devices and social media sites
Single UHS-II SD card slot
CR3(RAW/C-RAW) and Dual Pixel RAW Support
Dust and weather resistant

Availability and Pricing
The Canon EOS R full-frame mirrorless camera is scheduled to be available in October 2018 for an estimated retail price of $2299* for the body only. It will also be sold as a body-and-lens kit with the new RF 24-105mm F4 L IS USM lens for $3399*.

To learn more about this system, including in-depth educational tutorials, please visit usa.canon.com/eosrsystem.