Canon is releasing the much anticipated Canon 5D Mark III on March 2nd, a major update to the existing Canon 5D Mark II camera that was released back in 2008. The 5D Mark III is a very interesting and appealing update, because Canon decided to keep the resolution of the camera about the same – 22.3 MP sensor, versus the 21.1 MP sensor on the 5D Mark II. This is a very different move compared to what Nikon did with its D800, which boasts a crazy high resolution of 36.3 MP, versus 12.1 MP on its previous generation Nikon D700. It almost seems like Canon and Nikon are reversing their roles, because Canon has always been pushing for a higher megapixel count, while Nikon has been focusing on better image quality, better autofocus and other important features. The Canon 5D Mark III specifications are indeed very impressive – seems like Canon is finally listening to its large customer base. The AF system went through a complete rework and the camera now has 61 focus points, up to 41 of which are cross-type. The previous 9 focus points and 1 cross-type on the 5D Mark II sound like a joke in comparison. The Nikon D4 and D800 have 51 focus points total, 15 of which are cross-type. So Canon is way ahead in terms of AF specifications (that's assuming that Canon finally addressed its AF problems). The continuous shooting speed has also increased to 6 fps (compared to 5D Mark II's 3.9 fps and Nikon D800's 4 fps) and the viewfinder coverage is now 100%, compared to 98% on the 5D Mark II. There are many other new features to talk about – see the detailed specifications below.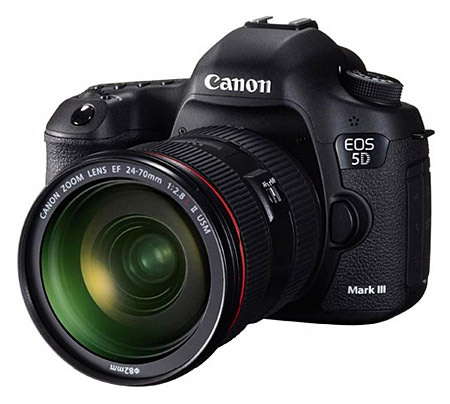 Here is a summary of the Canon 5D Mark III specifications:
Sensor: 22.3 MP full frame sensor
Sensor Size: 36 x 24mm
Native ISO Sensitivity: 100-25,600
Boost Low ISO Sensitivity: 50
Boost High ISO Sensitivity: 51,200-102,400
Image Size: 5760 x 3840
Processor: DIGIC 5+
Metering System: iFCL metering with 63-zone dual-layer sensor
Metering Types: Centre-weighted, Spot, Evaluative, Partial
Dust Reduction: Yes
Weather Sealing/Protection: Yes
Body Build: Full Magnesium Alloy
Shutter: Up to 1/8000 and 30 sec exposure
Shutter Durability: 150,000 cycles
Storage: 1x CF slot and 1x SD slot
Viewfinder Type: Optical TTL
Viewfinder Coverage: 100%
Speed: 6 FPS
Built-in Flash: No
Additional Exposure Modes: Silent and low vibration
Autofocus System: Advanced 61-point high-density reticular AF (up to 41 cross-type points)
LCD Screen: 3.2 inch diagonal Clear View LCD II with 1.04 million dots
Movie Modes: Full 1080p HD with ISO 100-12,800, expandable to ISO 25,600
Movie Exposure Control: Full
Movie Output: AVI, H.264/MPEG-4 in MOV Format (Compressed)
In-Camera HDR Capability: Yes
Live View: Yes
Camera Editing: Lots of in-camera editing options with HDR capabilities
GPS: No
Battery Type: LP-E6
Battery Charger: LC-E6
USB Standard: 2.0
HDMI Port: Yes
Mic Port: Yes
Wireless: No built-in wireless, optional wireless accessory
Physical Dimensions: 152 x 116.4 x 76.4mm
Weight: 860g (body only)
Price: $3,499 MSRP
A detailed list of features will soon be available on Canon.com.
For a comparison between the new and the old 5D, see my Canon 5D Mark III vs 5D Mark II article.