While I wait until quarterly data is available from CIPA to do full camera market updates on my photography blog, I thought Photography Life readers may like to have a quick look at how 2017 is shaping up for the digital camera market. The charts in this short article are based on April YTD 2017 CIPA statistics. I've included YTD actuals for 2017 as well as my market estimates for 2017. These estimates were calculated after examining some basic trends that the camera market has been demonstrating for the past decade.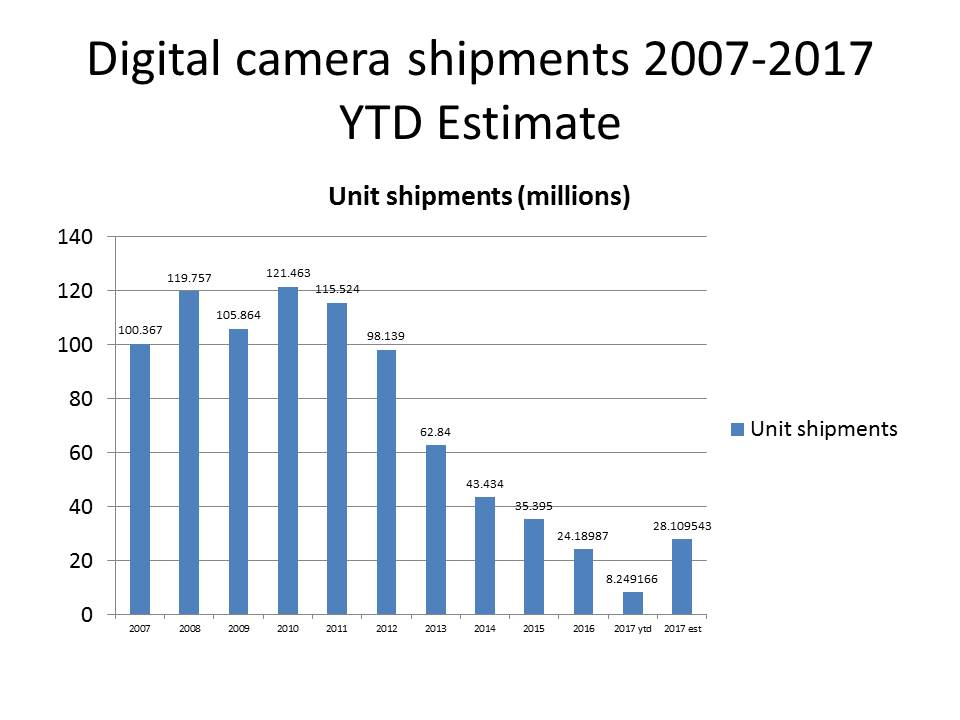 Thus far in 2017 the overall trend for the digital camera market is reasonably positive. If things continue as they have for the past four months it would appear that the overall size of the digital camera market may show a modest volume increase when compared to 2016, but still below 2015 levels. Perhaps this is an early sign that the camera market is stabilizing.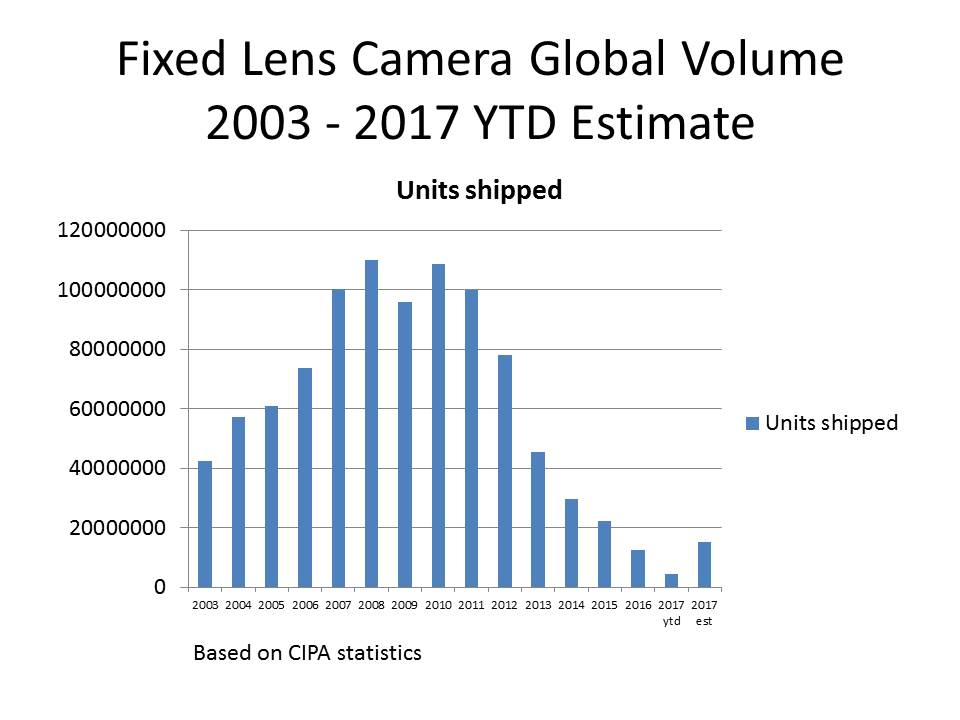 This fixed lens camera market, which has been in a precipitous decline for many years may actually show a modest increase in volume in 2017 if the current trend holds.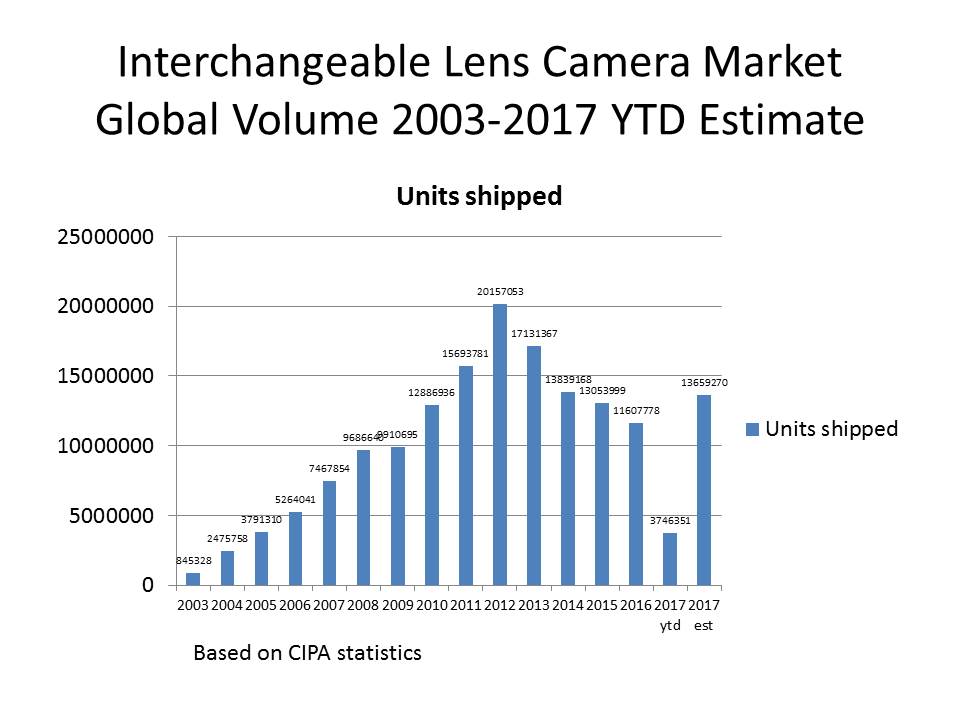 The current trend with the interchangeable lens camera market is even more positive with YTD 2017 indicating that this market may also show a volume increase, resulting in potentially higher shipment levels than experienced in both 2016 and 2015.
Shipments of DSLRs also appear to be stabilizing, but still may register slightly below the 2016 level, should the current trend continue.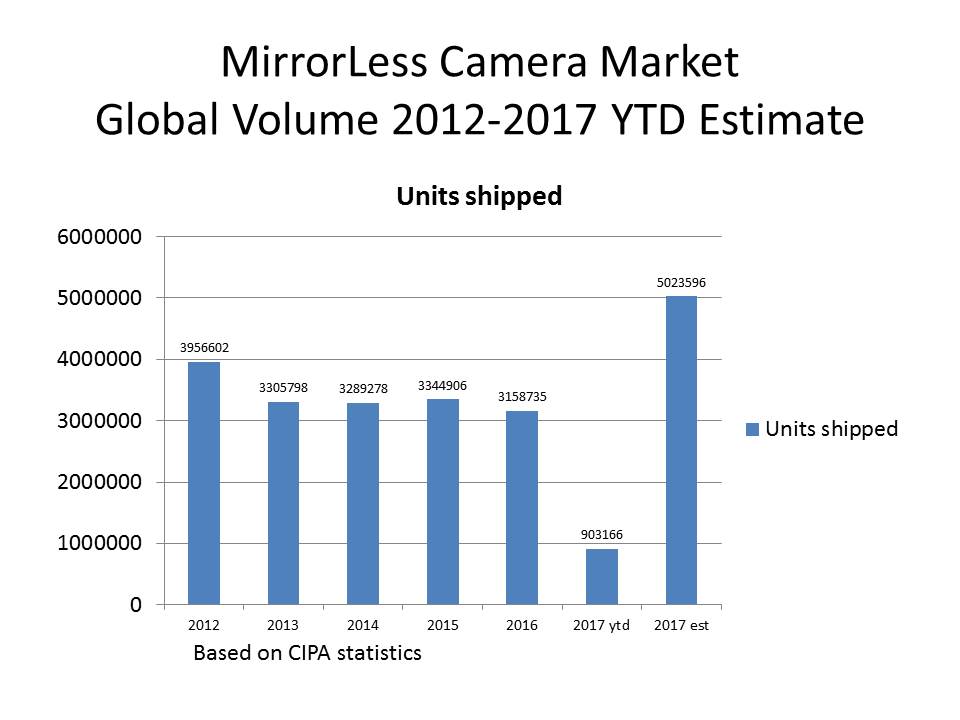 The brightest spot in the camera market in 2017 appears to be with mirrorless cameras, which are off to a strong start this year. If the trend continues the overall volume of mirrorless shipments could post significant gains. This could put some additional pressure on manufacturers like Nikon to potentially develop APS-C and/or full frame mirrorless cameras.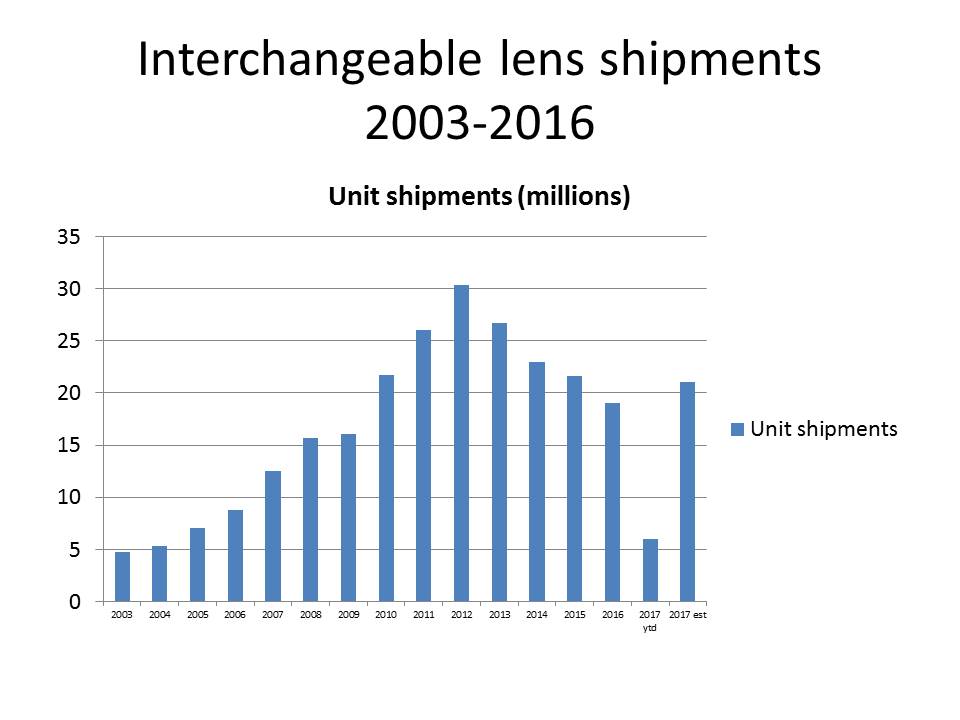 Shipments of interchangeable lenses are also showing potential volume growth for 2017, if the current trend continues. It is too early to predict any major resurgence of the camera market, but perhaps these YTD April 2017 statistics are at least pointing to a camera market that is stabilizing. If this is the case it will help the various manufacturers adjust their strategies accordingly. I'll leave it to the readers at Photography Life to further interpret and debate what these recent CIPA statistics may mean for their favorite gear manufacturer.
Article and graphics are Copyright 2017 Thomas Stirr. All rights reserved. No use, adaptation or reproduction of any kind is allowed without written permission. Photography Life is the only approved user of this article. If you see it reproduced anywhere else it is an unauthorized and illegal use.