Maybe my self-esteem was dipping that day or maybe I was just feeling like seeing how the little people lived. Whatever the reason I decided I needed to humiliate myself a bit so I decided to slap a third party lens on my Ferrari, er, I mean Nikon D4s. The choice – the Tamron 150-600mm f/5-6.3 VC USD. For the last 30 years I'd never shot anything but Nikon glass – no cheap third party lens would dirty up my cameras.
When I first picked up the Tamron 150-600mm it felt pretty solid but not excessively heavy – pretty similar in weight to the Nikkor 80-400mm I shoot, but longer and slimmer looking. The next impression was at how quick it focused – right up there with the Nikkor 80-400mm. A squirrel ran past and I ripped off a sequence. Did this third party pretender actually just lock on and follow that?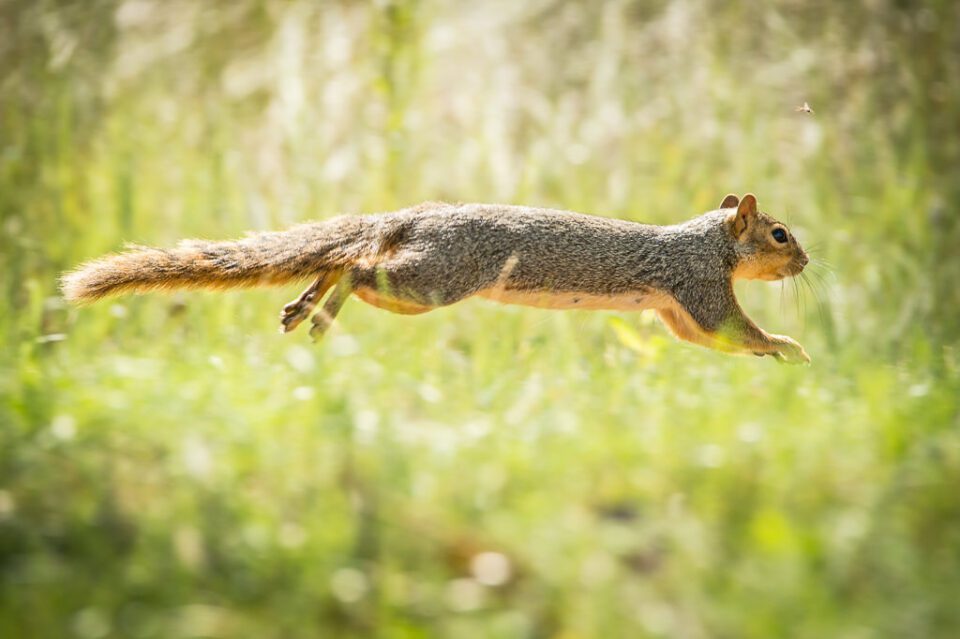 Whoa. Not bad – shot this at 600mm with maybe 15% cropped away in post. So the squirrel was big in the frame and the AF not tricked by the busy grass stems in the background. Another squirrel ran past – zoomed back towards the short end the Tamron still tracked well even with a relatively small subject in the frame. Ditto with a bunch of bird shots I won't bore you with. Bottom line is I'm impressed at how well this lens focused and tracked as long as you have moderate to good light levels and are using a body with a high-end AF system like the D4s. When it gets dark, the 150-600mm has a tendency to search around for focus – not surprising for a lens with a slow maximum aperture.
So fast focus and good tracking were my first impressions. Next was how clumsy the zooming felt – it takes two to three hand shuffles to crank from 150-600mm and vice versa. As well, the zoom ring felt stiff, making it slow to do those zoom maneuvers. This would likely break in over time, but the long rotation from 150mm to 600mm is there to stay.
Dammit Verm, just cut to the chase and give the readers what they want. Just how sharp is this lens?
And at 100%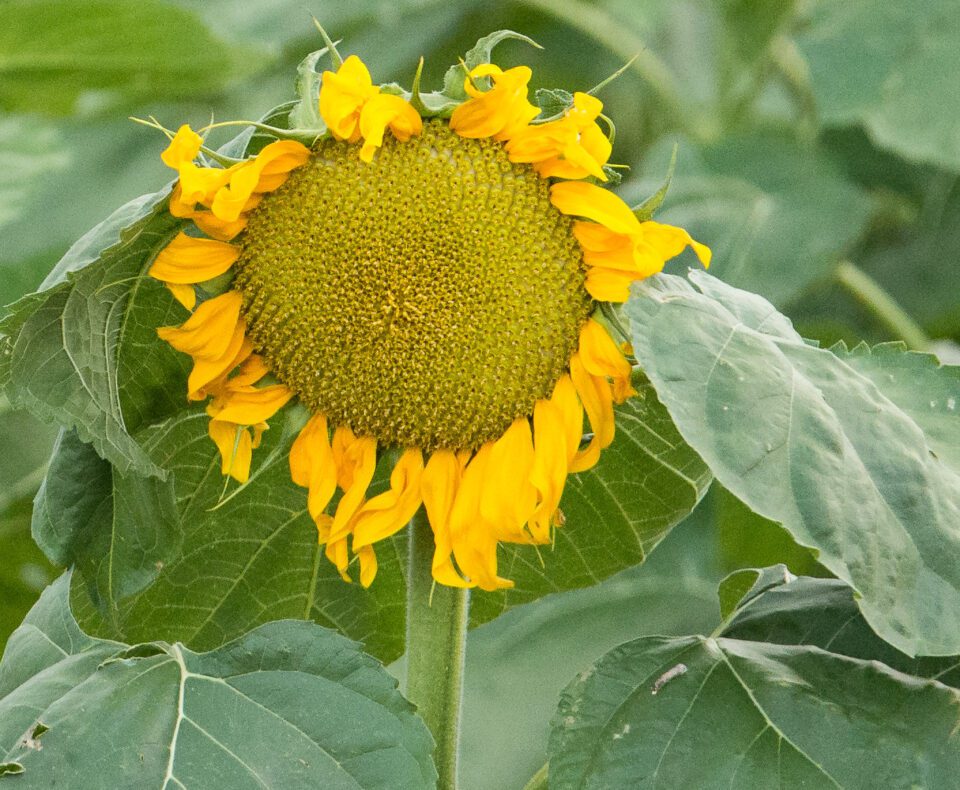 How about this sharp at 400mm handheld out the window of my van? Granted my van was parked at the time, but it was getting dark so this was shot at 1/640, f/8 (with the VR on like all the shots in this post). Oh yeah, this is at ISO 6400 with minimal noise reduction. That's what the D4s is good at.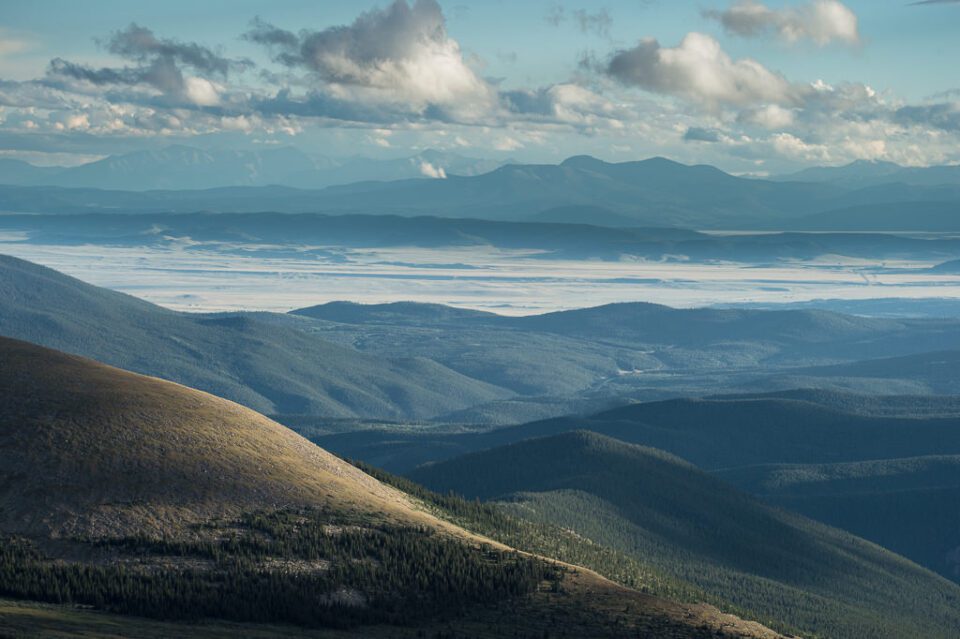 Here's at 150mm, 1/1000, f/8, ISO 800 (yeah my settings are kinda lame for a landscape but they were for a pterodactyl that just flew past – had to delete those pics as they were focused on the far eye, not the near one).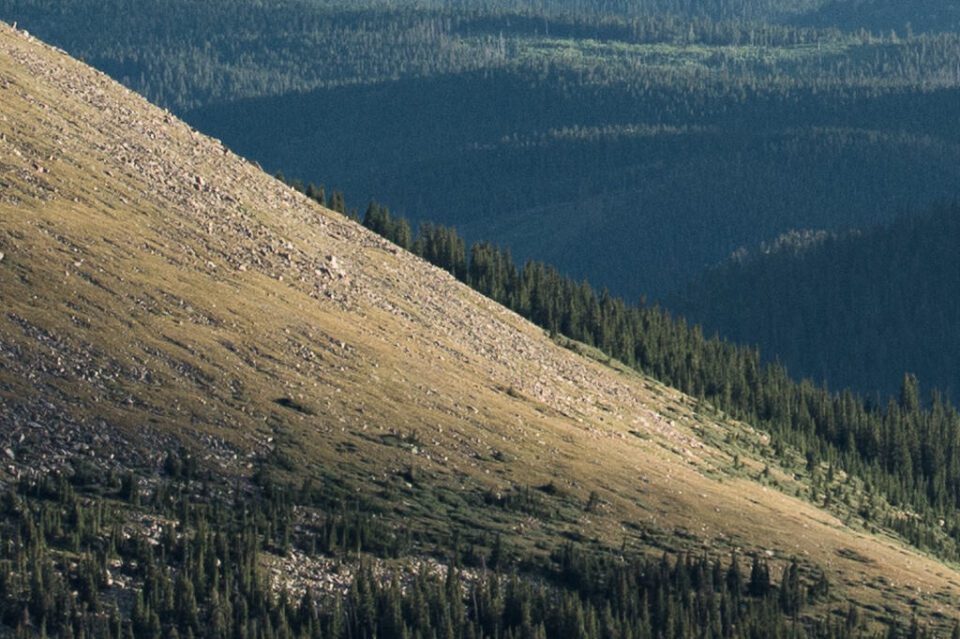 and cropped to 100%
Oh I'm such a tease – you really want to know how it does at the long end. Well okay.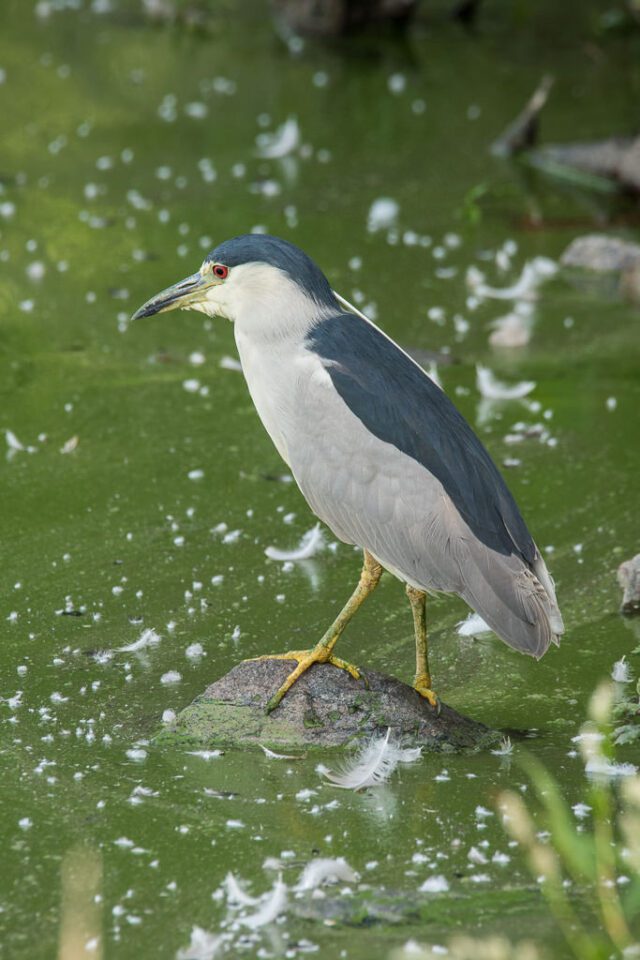 At 600mm on tripod, 1/320, f/11, ISO 2000 on a D810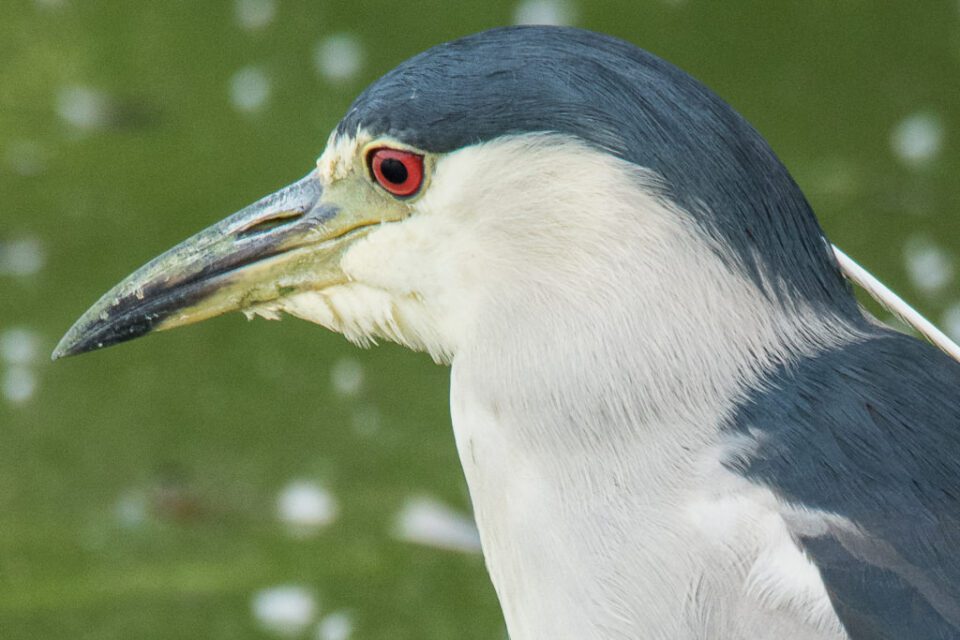 And at about 90% – ah the eyes are the window to the soul, eh?
So how does this compare to the Nikkor 80-400mm VR (new version). I'm so happy you asked.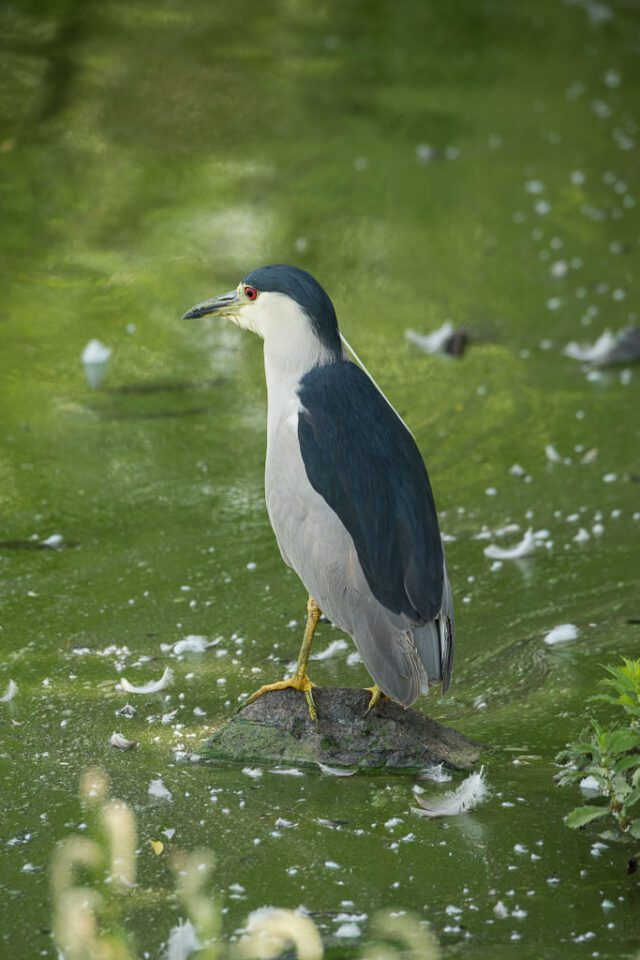 Here's the same Black-crowned Night Heron from the same distance, shot with the Nikkor 80-400mm at 400mm, 1/800, f/8 ISO 1000, D810.
And at the obligatory 100%. Yep, the more than twice as expensive Nikkor has resolution out the butt.
Whhhaaaaauuugghhhh! Your settings aren't the same Verm – this isn't fair. The Nikkor got to shoot at ISO 1000, not 2000. Hey if you want to compare apples to apples, go to the farmer's market. This is nature photography and when the light changes (as it did when I changed lenses) my settings changed so as not to blow out the white feathers. From what I'm seeing the Tamron did darn well at double the ISO – bravo.
While we're at it, let's compare tangerines to tangelos. All these were shot on a tripod from the same distance then cropped to show the young herons the same size in the final output. Obviously the longer focal lengths required less cropping.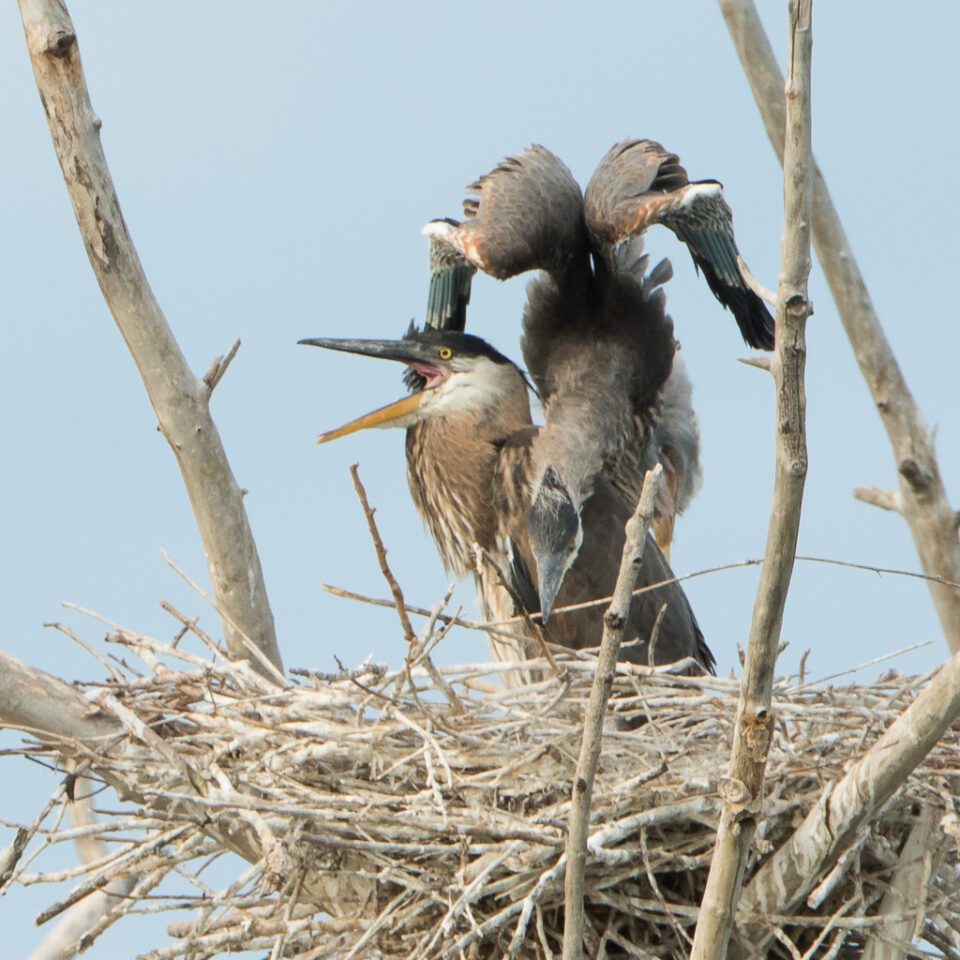 Tight crop (~100%) from the 80-400mm at 400mm, 1/400, f/10, ISO 500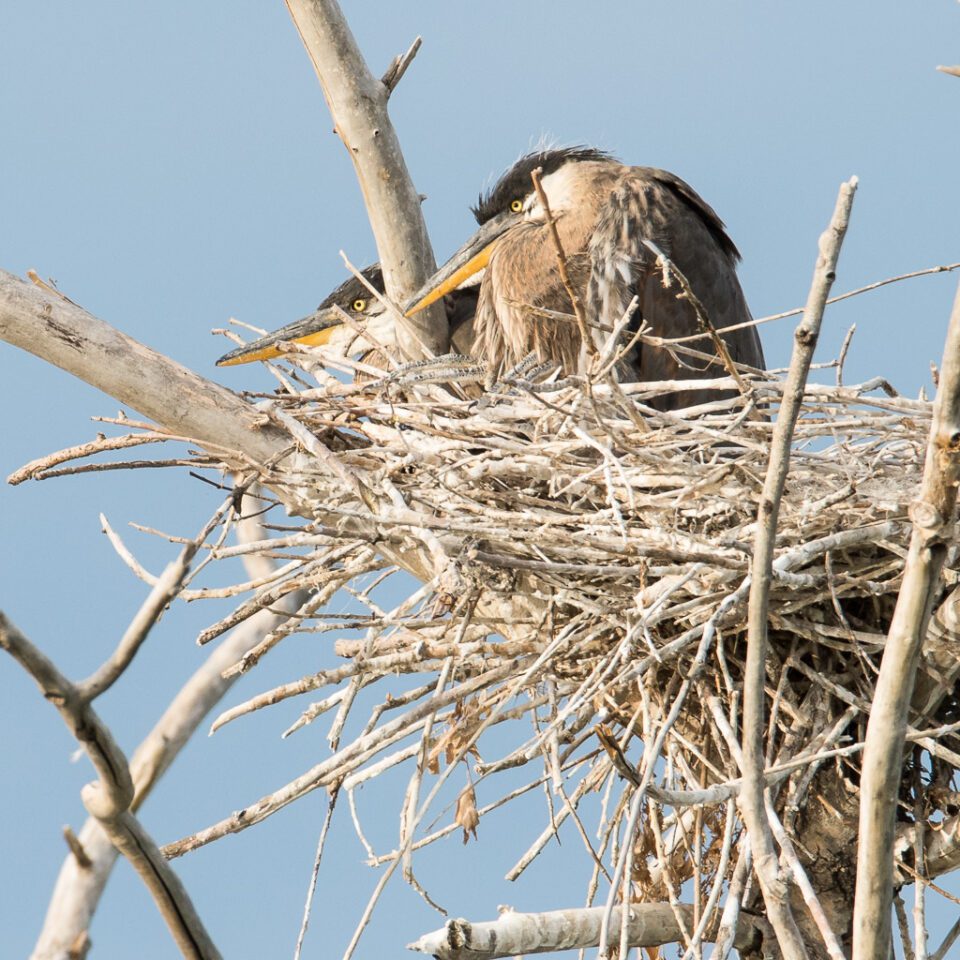 Slightly looser crop from 150-600mm at 500mm, 1/500, f/8, ISO 500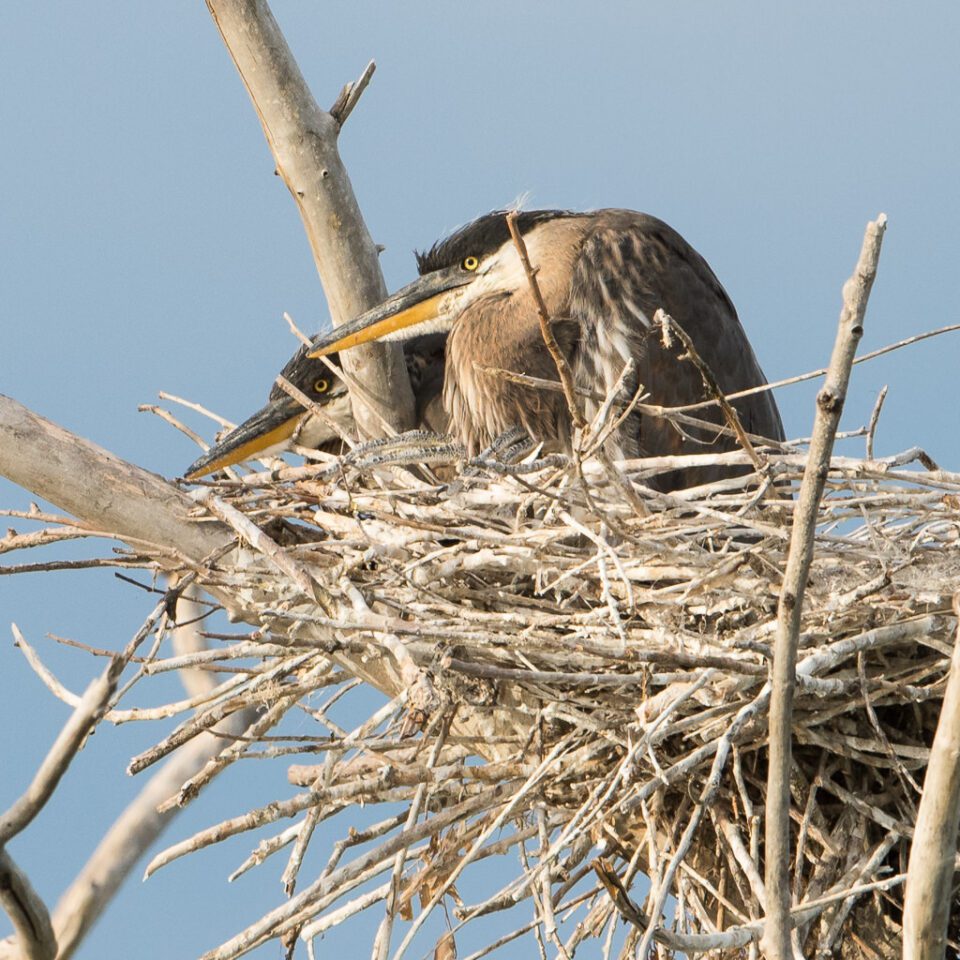 And the Nikkor 500mm f/4G VR prime yum yum, 1/640, f/8 ISO 500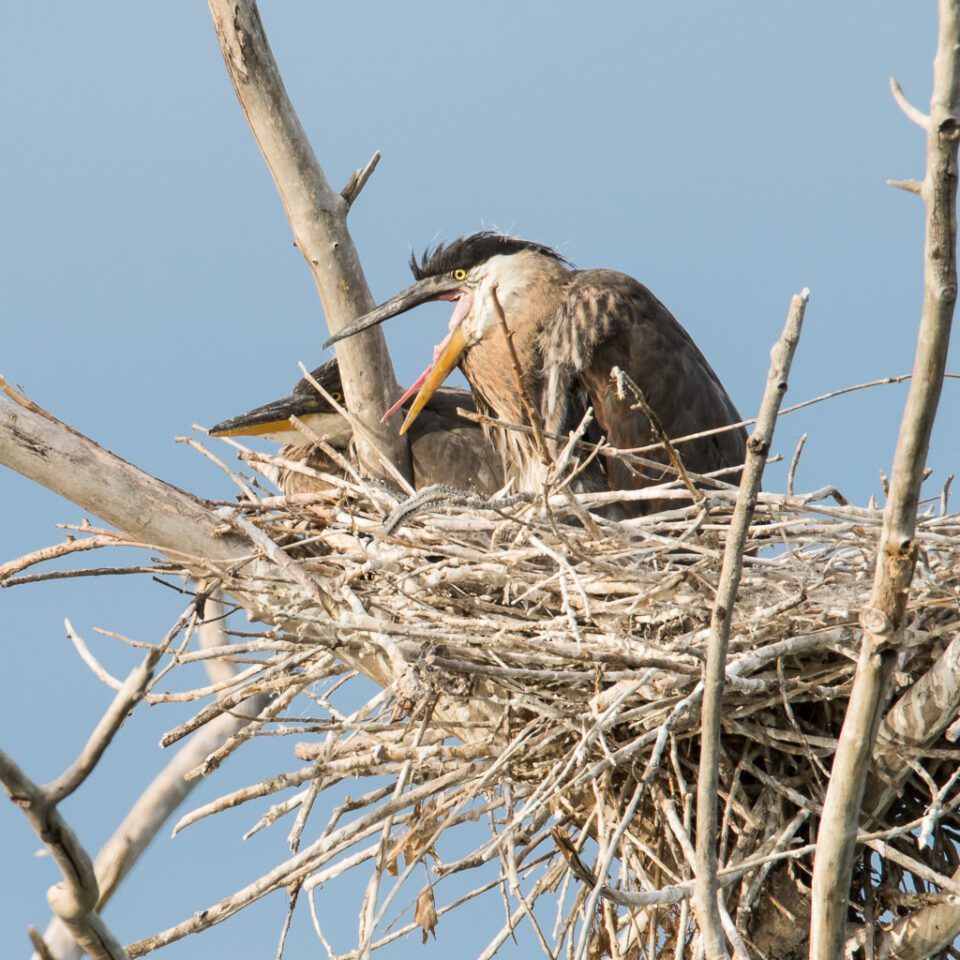 And lastly the Tamron 150-600mm at 600mm, 1/400, f/9, ISO 500
Looks like the Nikkor 500mm wins, and for 8500 clams it should. But the Tamron did well. The 80-400mm was outmatched in this because it just took too extreme a crop. So why not slap an 1.4x teleconverter onto the 80-400mm to get it reaching out to 560mm? Well this is why: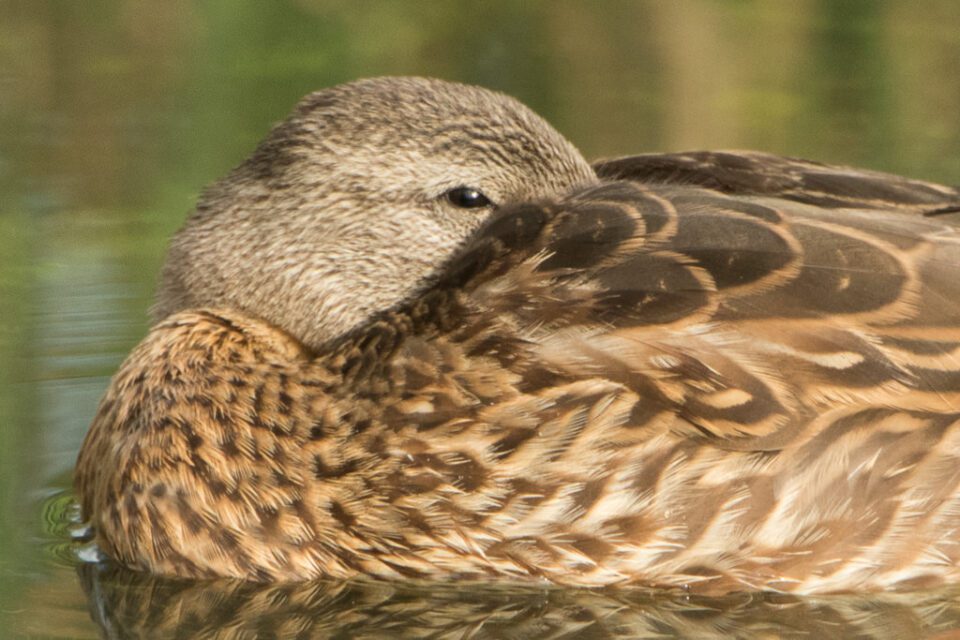 Shot with the 80-400mm + 1.4x at 560mm. I have never had luck putting a teleconverter on the 80-400mm and I've tried multiple times. It just sucks.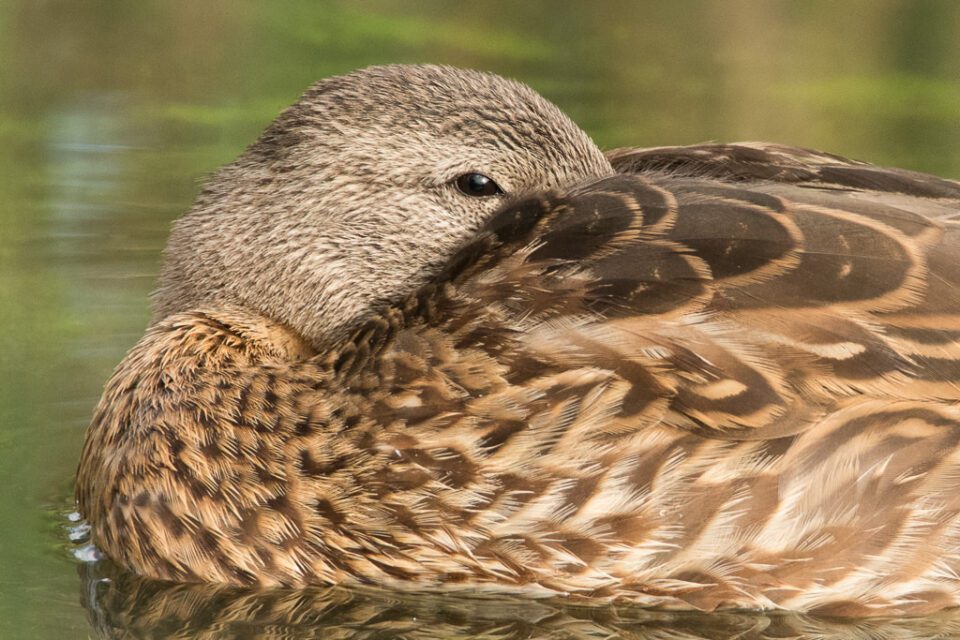 Here's the 150-600mm at 600mm for comparison. Makes the 80-400mm + 1.4x look like a bruised apple.
Let's try cropping our way to glory.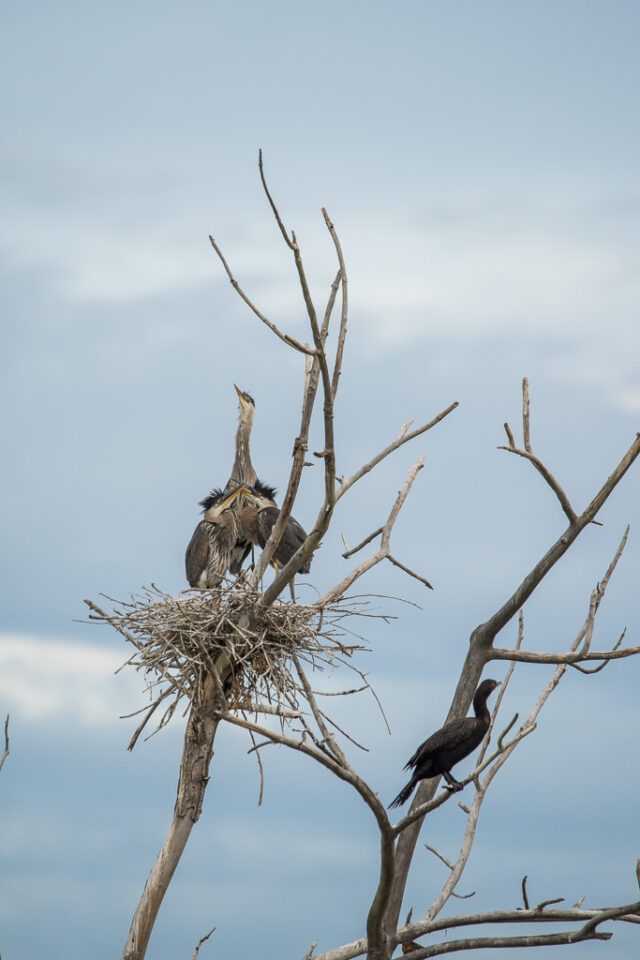 First the uncropped shot from the 150-600mm.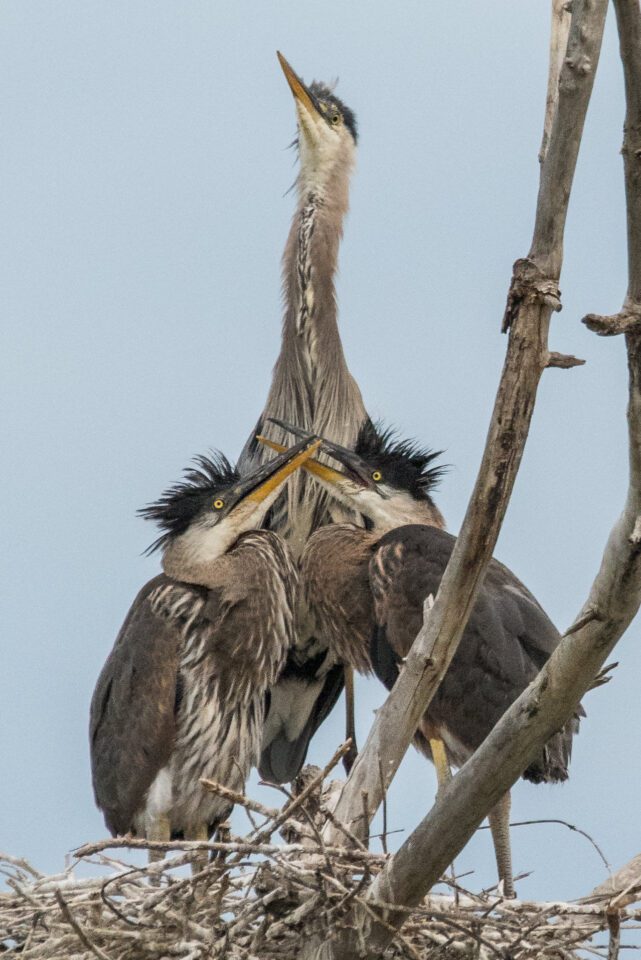 And the big crop. I shot this at 600mm on the 36mp D810, so this is what it looks like once I tossed out 33.5mp of boring pixels. Still at 2.5 MP this file could print ¼ page in an 8.5"x11" magazine format at 300 dpi. If you want to print full page you'll have to do this.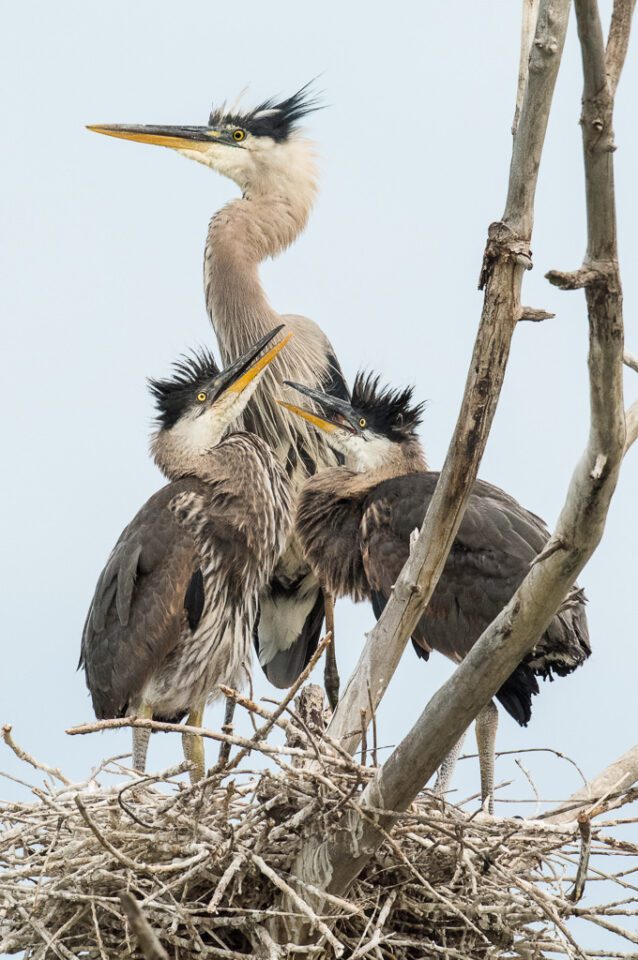 Shot on the D810 with the Nikkor 800mm + 1.25x teleconverter (1000mm) and cropped from 36mp to 8.5mp, just enough for a full page at 300 dpi. By the way, could buy a dozen Tamron 150-600mm lenses for the price of the Nikkor 800mm and still have enough left over to buy a boat and get you closer to the rookery.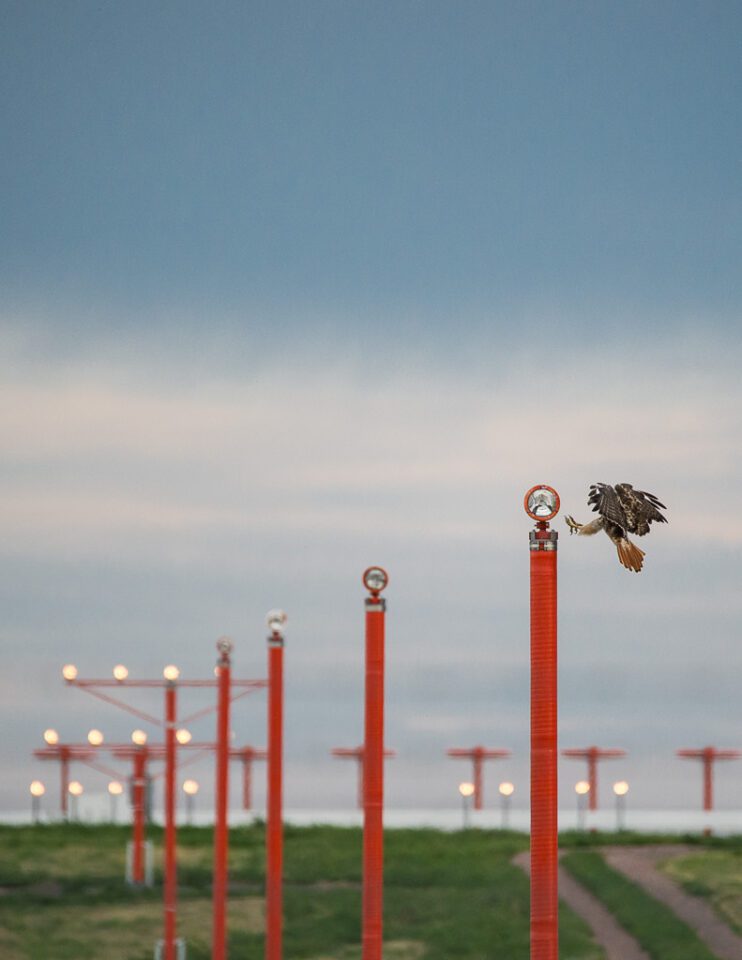 Tamron 150-600mm at 600mm, 1/2000, f/6.3, ISO 2000, Nikon D4s, 50% crop. Wide open at the long end.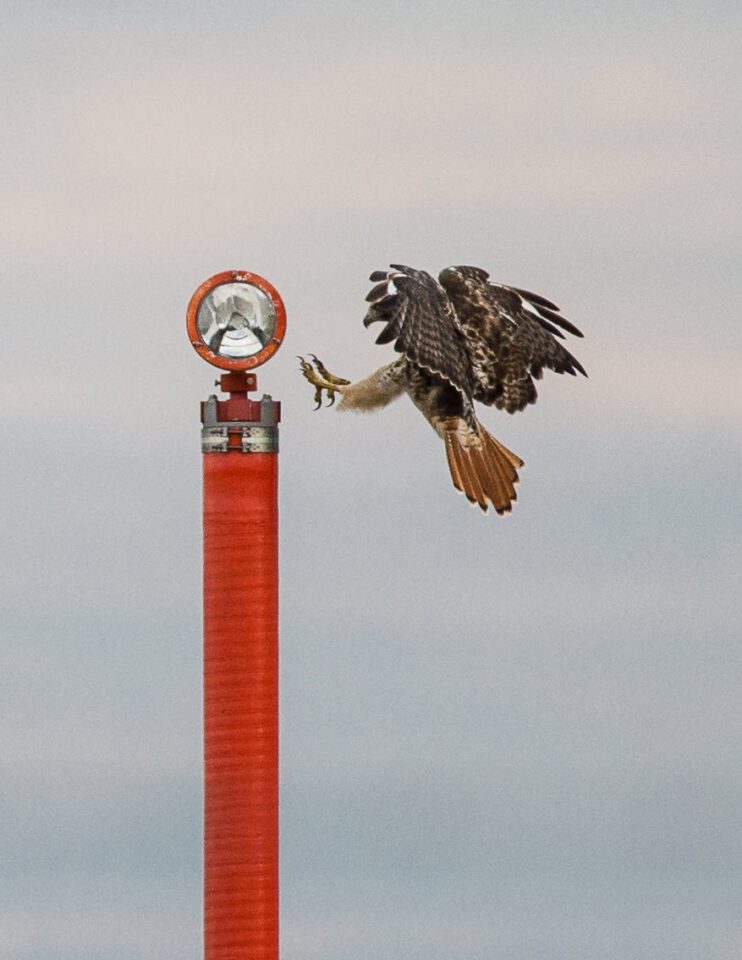 At 100% as stated in other reviews, the 150-600mm is a bit soft wide open at 600mm, this improves a lot at f/8.
Wow, at f/8 the Tamron even makes you look younger – Black-crowned Night Heron in juvenile plumage. 1/640, f/8, ISO 640, full frame from Nikon D4s.
I've got to say I had a blast during my 24 hours with the Tamron 150-600mm. It was much sharper than I expected, had fast accurate AF, quiet operation, and decent vibration reduction. Size and weight are manageable for a lens of its focal length and it seemed to balance okay on both the burly D4s and more petite D810. All these plusses make it a great lens for folks starting out in wildlife photography or those on a budget (ha, if you're on a budget, do yourself a favor and don't get into wildlife photography in the first place). On the downside is the aforementioned multi-twist stiff zoom and the slow maximum aperture which makes for a relatively dark view in your viewfinder (and consequent trouble trying to manually focus). The slow aperture also means this lens probably won't focus worth poo on any camera made before about 2011.
I should mention that three times the AF lost communication with my D4s body (aperture still responded during these freeze-ups). Though I didn't miss any critical shots while I turned my camera off, re-racked the lens on the mount, then turned the camera back on to get AF working again, I could see this costing some good opportunities later. Hopefully a firmware update can solve this, but I can't guarantee that.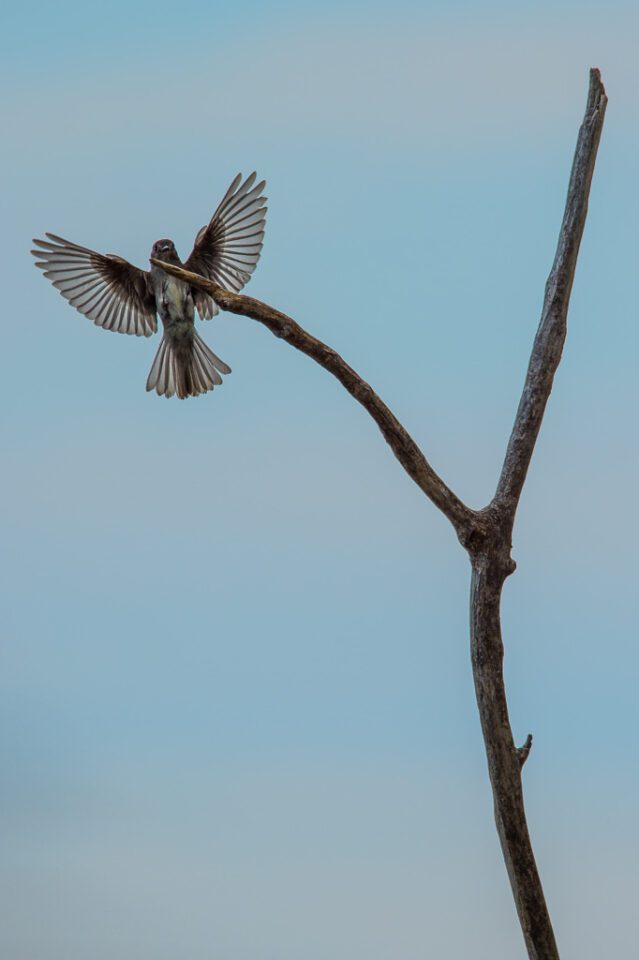 Overall I'm really impressed with the Tamron 150-600mm, but one thing really bugs me – at $1069, it doesn't cost enough to make me feel good about myself.