Have you ever wondered how to create stunning photographs of mountains? In this article, Jack Brauer, a professional photographer from southwest Colorado who specializes on mountainscapes shares some excellent tips on mountain photography.
Originality in the Grand Landscape
I am a mountain photographer. Mountains are my greatest passion; whether I'm hiking, camping, snowboarding, photographing, or just sitting there soaking in the view, mountains make me feel more alive and inspired than any other kind of landscape, and definitely more than any city. For that reason I live in a small town in southwest Colorado, surrounded by the mighty San Juan Mountains, an endless sea of peaks that provide a lifetime's worth of exploration and photography.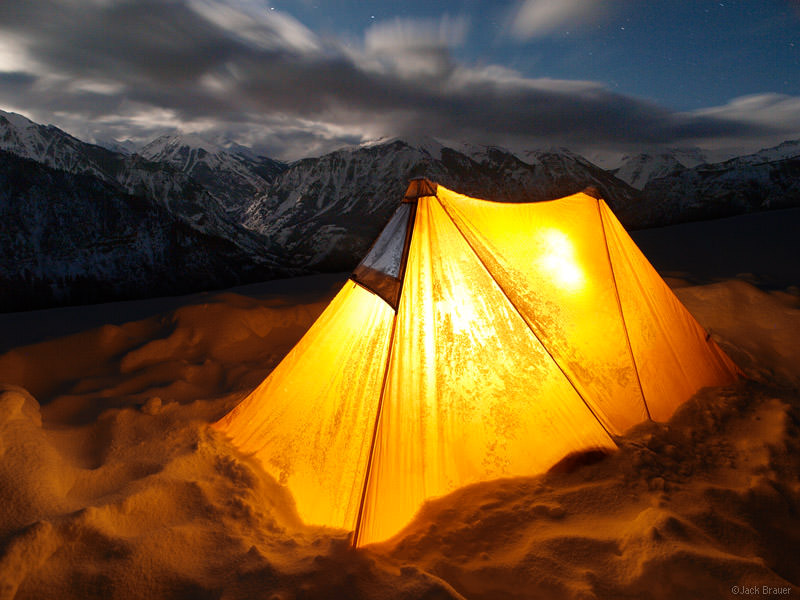 (Winter camping on a high ridgeline above my town of Ouray, Colorado. Olympus E-420, Zuiko 7-14mm, 30 sec exposure)
When it comes to photographing mountains, I heavily favor the "grand landscapes" – those sweeping vistas full of rugged peaks as seen from high vantage points, preferably splashed in rich sunrise or sunset light. These big views are the reason I fell in love with mountains, and perhaps the reason why most people venture up a mountain in the first place – to see the view!
I will admit, however, that it can be difficult for us photographers to be very creative when shooting big landscapes. After all, the grand landscape photo is mostly about the landscape itself, rather than a display of the photographer's sheer creativity. Whereas a macro or close-up shooter has a virtually blank canvas to paint with light, with an infinite palette of color, selective focus, and bokeh, the landscape photographer is more or less tied to the reality of the scene and the whims of the weather and light. My goal of this article is to explain how photographing the grand landscapes can still be a very creatively fulfilling pursuit, and not just from behind the camera!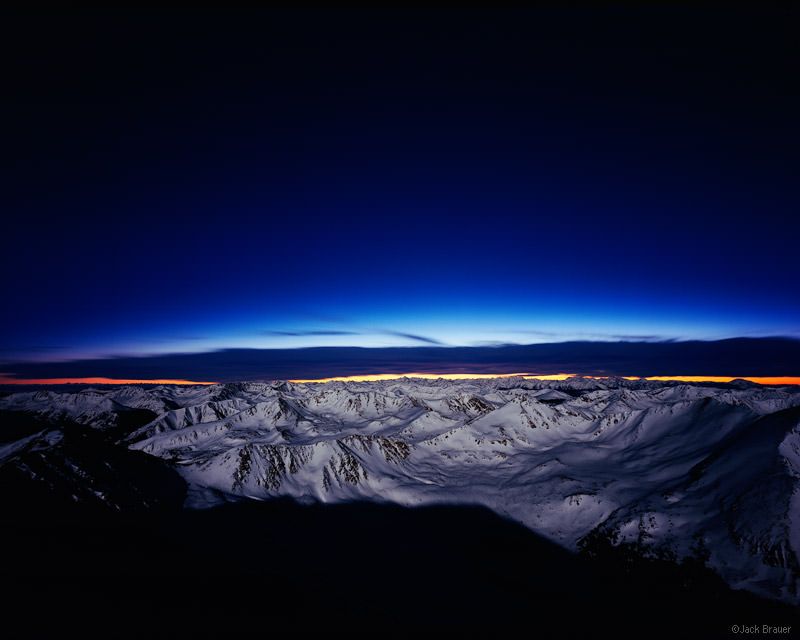 (Moonlit mountains and the last colors of sunset, as seen from the summit of Mt. Elbert, the tallest mountain in Colorado at 14,440 feet, February. I spent three hours on the snowy summit on this calm winter night, in awe of our planet, before I made my way down under the moonlight. Tachihara 4×5 wood field camera, Provia film, 8 minute exposure.)
Location, location, location
Obviously, when photographing a grand landscape, the single most important thing is the landscape itself! The place. The location.
In terms of creativity, here's where I think most photographers shoot themselves in the foot from the start. They swarm to the same iconic spots, over and over and over again. Delicate Arch. Maroon Bells. Oxbow Bend. Etc. Yes, these places are iconic for a reason – they are spectacular! But, the problem is that in this day and age we've all seen these photos thousands of times before. In most cases, the best a photographer can hope for in these iconic locations is getting something "as good" as what they've already seen before, or maybe just a little bit better if the weather and light conditions are truly phenomenal. But usually, the photos are already stale before the shutter is even pressed.
If you enjoy the camaraderie of your fellow photographers and strive to tick the checklist of all the popular iconic views, then perhaps this can be a fun pursuit. But if you're more interested in getting your creative juices flowing, I would suggest straying from the beaten path. Whether it means taking a short side path through the bushes away from the established viewpoints, or trekking for days into the wilderness to get away from it all, finding your own spot is the first step in the creative landscape photography process.
For me, this is a huge part of the process, and most of the fun of it all. I am fortunate to have the time and health to go on long backpacking treks in the mountains, and indeed this is what I enjoy doing, as much or even more than taking photos. I loved backpacking before I even owned a camera, and I still love it. Photography just adds another dimension and motivation to the experience. The bonus for the hiking photographer is that they can get to their own locations – places that haven't been photographed to death, places where he or she can see landscapes with fresh eyes and can choose compositions that haven't been chosen before.

(Misty Teton Reflection B/W. Here is a shot of the famous Grand Teton in Wyoming, reflected in a remote alpine lake on the west side of the mountain. We've all seen the classic views of the Tetons from the Jackson Hole valley – they are indeed spectacular. But I prefer the experiences and challenges of hiking into the range to pursue lesser known vistas like this. Tachihara 4×5 wood field camera, Nikkor 135mm, GND grad, Provia, drum scanned and converted to b/w in Photoshop)
The initial creative spark of much of my photography happens before I even put my backpack on. I spend a lot of time researching new routes and remembering past hikes and views, all the while trying to envision potential scenes in potential light. There are three very powerful tools I use for this:
1) National Geographic's Topo! mapping software has all the USGS topo maps for a given state stitched together seamlessly in one easy to use application. I can draw my routes and it will tell me the mileage and elevation gains. Then I can print out only the sections I need for my trip. This is the best way to plan a trek. Having all the maps on my computer, I don't need guidebooks anymore for trip ideas – I just open the topo maps and pick my own routes. Topo! is expensive, though; free online alternatives include Caltopo.com, Hillmap.com, and Mappingsupport.com.
2) The Photographer's Ephemeris (TPE) is a fantastic tool for planning potential light conditions. This application, built by photographer Stephen Trainor, shows maps or satellite imagery with an overlay of where and when the sun and moon will rise and set. This is invaluable knowledge for planning grand landscape shots. Will the sunrise shine directly into this mountain valley, or will it be blocked by a high ridgeline? Will the moon set behind this peak, or somewhere off to the side out of view? TPE makes it easy to figure out. [ https://www.photoephemeris.com/ ]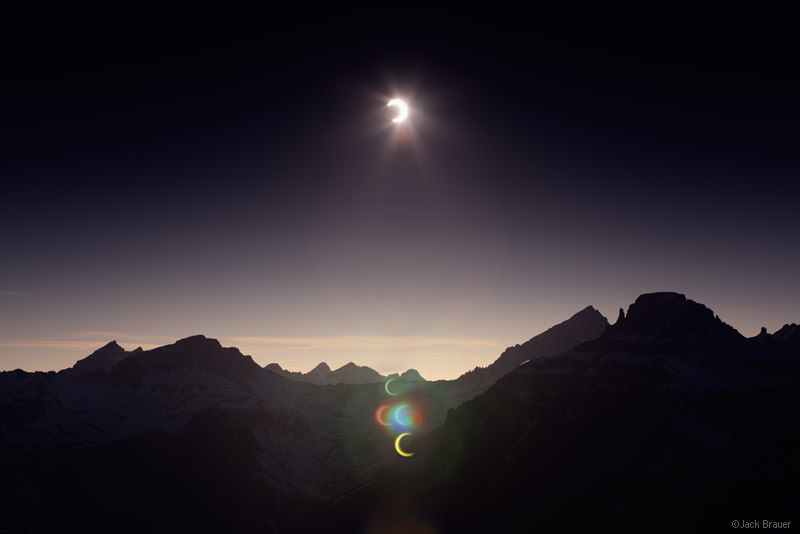 (Solar eclipse over the Sneffels Range, Colorado, May 2012. I used TPE to determine that I'd be able to view the eclipse positioned above Mt. Sneffels if I climbed up 13,139 ft. Hayden Peak. That much was planned, but while I was shooting I was surprised and thrilled to see that the eclipse was clearly visible as multi-colored refractions in the lens flare! Normally I go to great pains to minimize or eliminate all lens flare, but this time I quickly experimented with different focal lengths, angles, apertures, and shutter speeds in order to fully maximize the lens flare and the eclipse refractions.)
3) Google Earth is just plain fun. Who doesn't like flying around the globe seeing all the 3-D topography from a bird's perspective? But it's also a powerful tool for planning grand landscape shots. Before Google Earth, I'd just have to study a map carefully and try to imagine the topography as it would be seen from a certain point. Google Earth does this for me, and does it well! Say, for example, that I know I want to shoot from a certain high ridgeline. Normally I'd hike up to that ridgeline and then I'd have to hike around back and forth, perhaps over a number of peaks, just to scout out the best spot to shoot from. I might even have to do this the day before to find my spot, then return again the next morning. With Google Earth, I can do this before I even leave! By virtually flying around in Google Earth, I can find that perfect vantage point on a big ridgeline, mark it on the map, and then I can hike to that spot in the dark, knowing precisely where I want to be for sunrise. This saves many hours of hiking. Google Earth is also helpful for scouting off-trail bushwhack routes. I'll print out a screenshot overview of the terrain from Google Earth, which is sometimes much more helpful than an actual map, since I can "see" the terrain and vegetation as reference while hiking.
So, using these tools, along with weather forecasts and a reservoir of experiential knowledge from past trips (depending on where I am), I am not only able to discover new landscape perspectives to photograph, but I'm also able to increase my chances of being there in the right place at the right time. If I'm going on a 7-day trek, I'll use these tools to pick out a potential grand scenic photo or two for each morning and evening of the trek. I go into these treks with these pre-visualized photo options in my mind. Sometimes the weather and light work out perfectly and I actually get the shots that I imagined; other times the light sucks and I don't get the shot I wanted, or oftentimes I find something totally different and unexpected.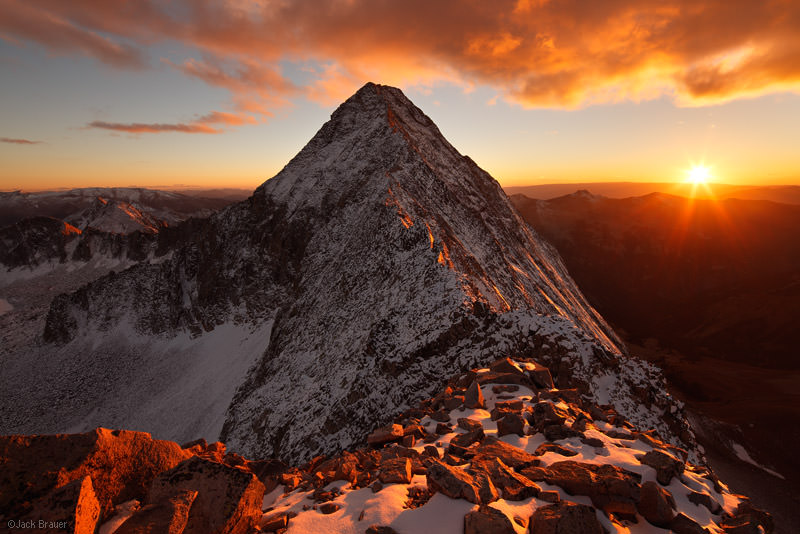 (Sunset behind Capitol Peak, 14,130 ft., in the Elk Mountains of Colorado after the first snowfalls of autumn. After shooting the sunset and moonrise from this high perch, I made my way carefully back down to camp under the full moon light. Canon 5D Mark II, 17mm TS-E)
The Hollow Pursuit of Tripod Holes
What I do not recommend doing is to see a striking photo and say to yourself "I want to go THERE!". Some photographers do this. Hell, I even catch myself with this impulse from time to time. We see a photo we love and we'll figure out where it was taken and we'll hike for days to basically reshoot the scene. That kind of motivation is no different than the icon shooting that I mentioned before – except it's just harder to get there!
No, what I'm talking about here is finding your own locations. It doesn't have to be a place that nobody's ever been before; after all the entire planet is more or less thoroughly explored and photographed by now. When I mean is to do your own research, come up with your own ideas, and then pursue those ideas. This is part of the creative process!
By following in other's footsteps and trying to copy other images that you've seen, you're shortchanging yourself of the initial creative spark. In fact, in that case the creative spark is not yours at all – you're simply executing someone else's original creative vision! Sure, you can make your own variation on the composition and maybe you'll get lucky with even better weather conditions, but the end result will always be less gratifying than a photo that you conceived and created on your own from start to finish.
This is what I strive to do with my photography, and what I enjoy doing the most. Are all my photos totally original location ideas? No, of course not. But a large portion of them are (at least as far as I know), and those are the photos that mean the most to me.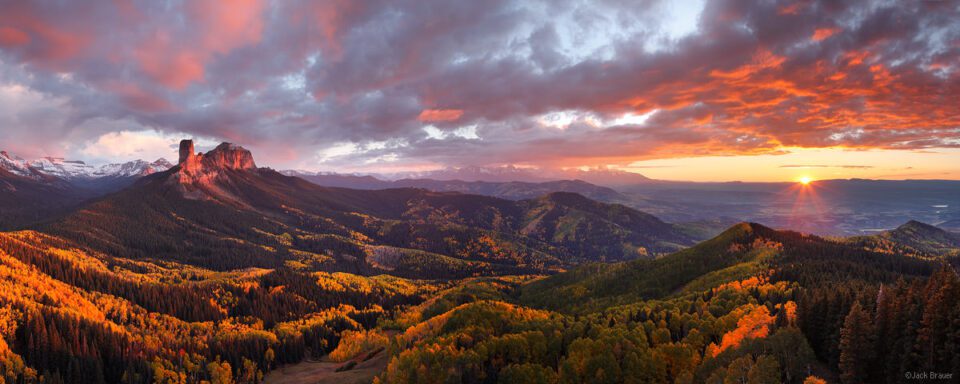 (Cimarron Sunset Panorama, San Juan Mountains, Colorado. This was taken from an outcropping that I had scoped out from afar during a hike up a nearby mountain early in the summer. When I finally made the bushwhack hike up to this point in the autumn, I was delighted by the great view and the even better sunset! Canon 5D Mark II, 24mm TS-E. This is a stitched panorama of four images – and each of those four images were a combination of 2-3 exposures each for exposure range, blended manually in Photoshop before the final stitch in AutopanoPro.)
It can be argued that if the originality of a landscape photo is based simply on finding an original location, then it's not truly creative since anybody could simply go find that same location and potentially take a similar or better photo. While that is true to some degree, again I think it goes back to the intentions and motivations of the photographer. This is the personal aspect of creativity, and many times only the photographer him/herself will know if his or her photo was truly born out of an original creative idea. Nobody else knows, or cares. But, I believe that over time, the collection of an original creative photographer will speak for itself.
Regardless of these judgements of originality and creativity, the point is that by finding unique, original landscape perspectives to photograph, it is much more enjoyable and much easier to get the creative juices flowing. It's easier to create your own landscape interpretations when you are seeing a place with fresh eyes, without previous photographers' images cluttering up your head and influencing your motivations.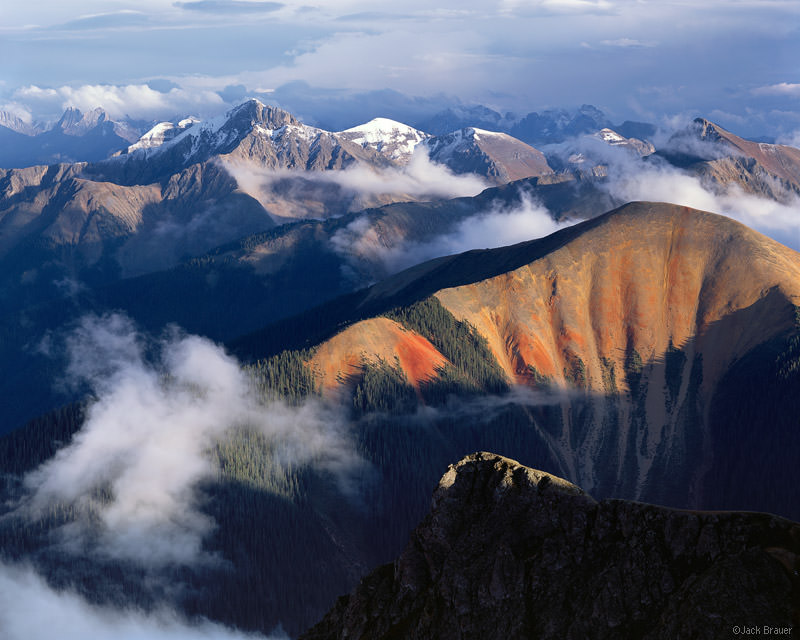 (Sultan Mountain, high above Silverton, Colorado. After waiting in our tents in an autumn storm, a photographer friend and I hiked up to this high ridge to watch the breaking storm clouds lift off the peaks. The combination of repeating ridgelines – accentuated by the compressed view of a longer lens – misty clouds, and natural complimentary colors made for a striking photo. Tachihara 4×5 wood field camera, Nikkor 200mm, Provia.)
Although hiking and backpacking is the easiest method for find unique locations, it's not always a necessity. For example, here in the San Juan Mountains where I live, there are also a lot of 4×4 dirt roads – a vast network of old mining roads that go way up into the mountains as far as 13,000 feet. These offer plenty of opportunities for non-iconic grand landscape shots, especially for those who are willing to wait while storms pass, so that they can be up high to shoot the dramatic weather. Or for another example, in another place perhaps a canoe or kayak could get you to some lesser seen river canyons or ocean beaches. Even at iconic locations, chances are you can wander away and find your own unique perspective on the scene.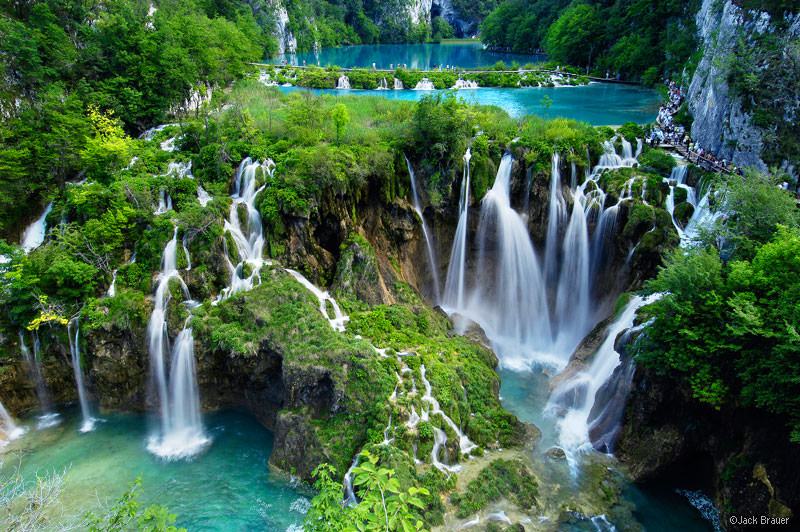 (Plitvicka Jezera. This famous national park in Croatia is a fantasyland of turquoise lakes and waterfalls. Instead of shooting from the regular viewpoint near here, I bushwhacked through the forest a little ways to gain this front-and-center perspective of the waterfalls. The overcast weather allowed a longer shutter speed to give the waterfalls that soft motion look. Nikon D100.)
The basic idea here is to get off the beaten path, to come up with your own ideas to find unique locations to photograph. Instead of searching other photographers' portfolios for photo location inspiration, search a map and use your imagination. This is a big part of the creative fun of shooting grand scenics!
That Special Something
The next step is to seek that "special something". Any striking landscape photo needs to have something special going on – something out of the ordinary. A good cloudy sunrise or sunset is the standard sure bet (if the weather cooperates). A splash of sunlight beaming through the clouds or trees. Foggy mist swirling about the peaks. A perfect reflection that adds symmetry to the composition. Things like this add that extra spice to an image, and set it apart from a regular snapshot. They elevate a scene into more than just a static landscape, but a unique slice of time – an event in nature.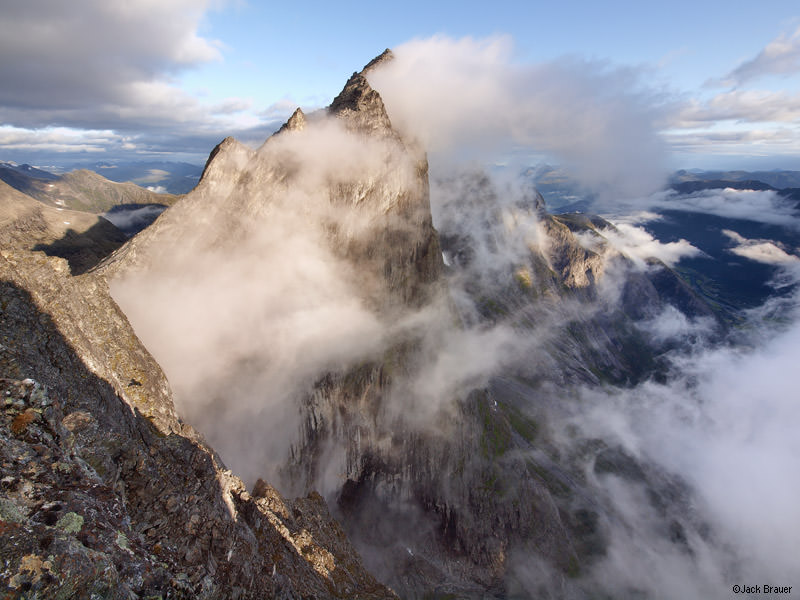 (Trollveggen, Norway. This photo is all about the misty clouds streaming off the peak, which happens to be the tallest vertical wall in all of Europe. The light isn't remarkable, and without those clouds the photo would be fairly mediocre. But the swirling clouds add a fascinating dynamic that turns the scene into more than just a landscape image – it's a moment in time.)
There are two main ways to increase the chances of finding special weather and light conditions. The first is to shoot when the light is good! And the most surefire way to do this is to get up and be there for sunrise and/or sunset. Not only that but be there a half hour or more before sunrise and after sunset. Sometimes the best light for certain landscapes is that soft purple dawn glow which illuminates entire landscapes and reveals the topography better than direct light can. This often involves hiking and waiting in the dark, so be sure to have warm clothes and a bright headlamp with you. I oftentimes wait in one place for hours for the best light; but this is never boring for me. I value this time to relax and soak in the view.
The second way is to go out in unstable weather, when you'd probably usually rather not go out. When the weather forecasts call for a week of pure sunny weather, unlike most "normal" human beings I usually lose motivation to go backpacking and I just stay at home. Why? Because cloudy stormy weather makes for dynamic photographs and great sunrises and sunsets.
That said, clear weather offers unique opportunities too, particularly for night shooting. What's the moon doing? Did you know that a rising or setting moon will cast the same kind of red alpenglow that sunrise or sunset does? It's not visible to the naked eye, but it is certainly visible to a high-ISO camera sensor with a long exposure. Or perhaps there's just a sliver of moon and you can capture the stars and Milky Way over the mountains? Just moonlight or stars on their own won't always provide that special touch, but they are ingredients that can help push a photo in that direction.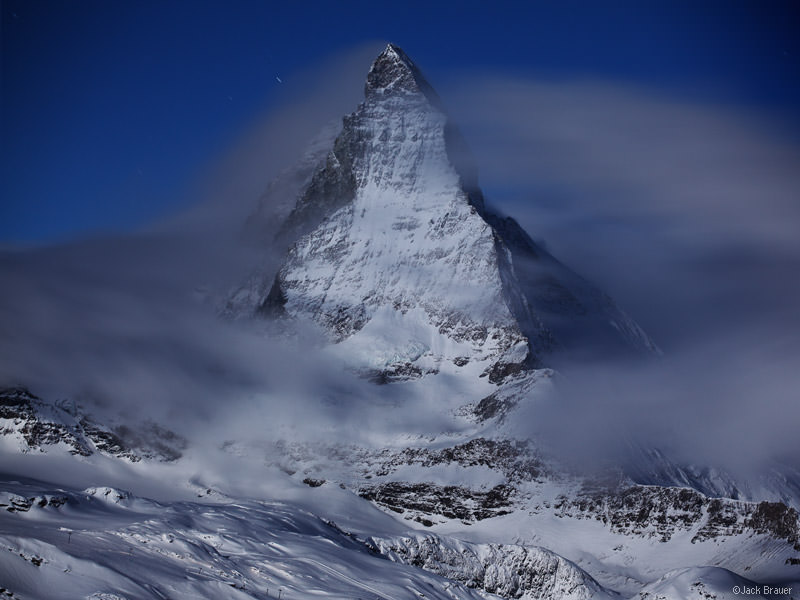 (The most iconic mountain of all, the famous Matterhorn in Switzerland. Here is an example of a mountain that makes me want to say – ignore everything I just said about not shooting icons! The mountain might be the most photogenic in the world, and it pulls ALL photographers to it like magnets. In this photo I was fortunate to catch three extraordinary elements together to create a more unique take on the oft-photographed peak: fresh snowfall, breaking storm clouds swirling about the peak during a long exposure, and full moon light illuminating the night scene. This photo probably also breaks some fundamental photographic rules by having the peak smack in the center of the frame, but I wouldn't want it any other way. The peak demands to be front and center. Canon 5D Mark II, 70-200mm f/4)
In any given landscape, it's important to seek out those special moments of light and weather, and somehow incorporate that into your photo. Remember that photographs of a big landscape are never as impressive as being there in person. You can stand on the edge of the Grand Canyon in the middle of the day and be totally awed by the scene, but that awe will not transfer over to the two-dimensional photograph unless the light or something about the atmosphere is special.
Creative Composition
Framing the shot is without doubt the most hands-on, actively creative part of photography.
Shooting grand landscapes is a somewhat traditional affair, and by that I mean that it is difficult to get wildly creative; afterall, the subject is the landscape in front of you and you have to take what is given to you – you don't have full control over the possibilities. That said, you still have an immense amount of control over how you choose to present the landscape.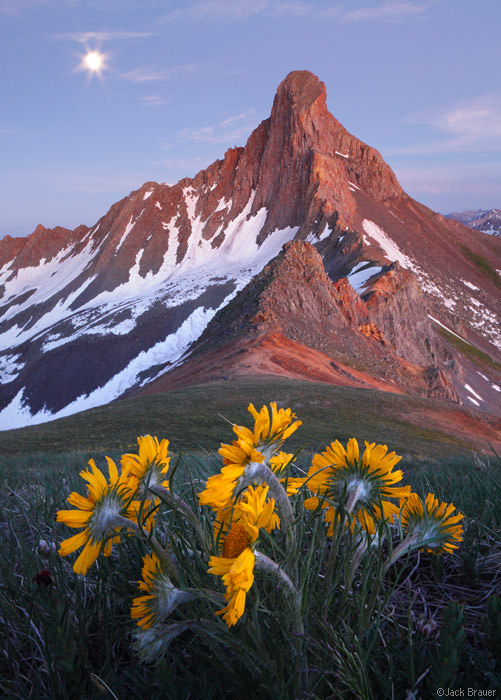 (Wetterhorn Peak in Colorado is one of my favorite mountains and this is the best angle of it. I took this on the first night of a 5-day trek around this peak. My wife and I hiked up to this high ridgeline for sunset, but I took this photo after sunset, when the moon was rising and the alpenglow illuminated the peak with an even, warm light. Some people have remarked that "it's too bad" the flowers are facing away, but I actually like it that way in this image. It's like they are the audience of the scene, admiring the mountain and the moonlight. The attention is not focused towards the viewer, but rather towards the mountain itself. This was shot with a Canon 5D Mark II with a 24mm tilt/shift lens, in relatively low light: 4 seconds at f/20 and ISO 1600. By using the lens's full tilt, I was able to keep the extreme close up flowers and the peak both in focus in one shot (something that would require numerous exposures and an impossible mess of focus blending with a regular lens). Because I was at the limit of the lens's tilt focus ability, I also stopped way down to f/20 to ensure that everything was as much in focus as possible. I jacked up the ISO (the sensitivity of the sensor) in order to have a relatively quick 4-second exposure to increase my odds of getting those flowers sharp between gusts of wind.)
Choosing the foreground is perhaps the most creatively important aspect of framing the grand landscape, and can have a profound effect on the image. I do think it's important to have a solid foreground, when appropriate, in order to give the viewer a place to "stand" in the scene. A close foreground gives a better context of reality and scale of the scene, and it makes it easier for people to imagine being there in person.
I rarely shoot with my tripod fully extended; when the camera is closer to the ground I can get much bolder lines and compositions, and objects in the foreground are bigger and more dynamic looking. Also, with the camera down low, I can move just a few feet or inches to dramatically change the composition. Using this technique, I can hone in on a foreground composition that compliments the subject.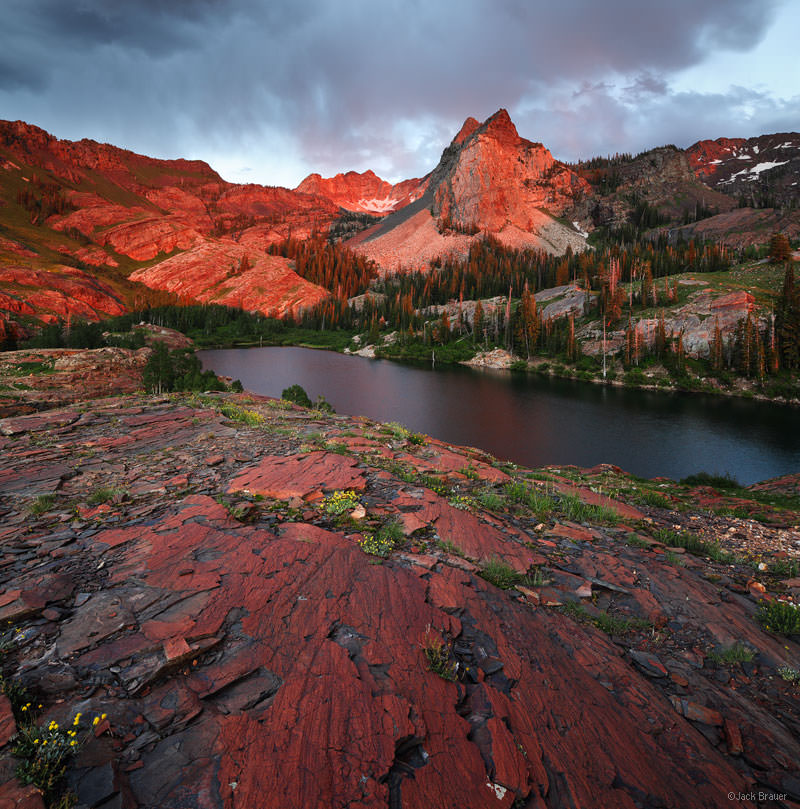 (Sundial Peak, Utah. I typically go for reflection shots when I have the chance, but on this evening the wind made that impossible. I was then drawn to these big glacier-polished slabs and their unique crimson color. The lines in the rock converge towards the peak, leading the eye into the photo. Canon 5D Mark II, 24mm TS-E, with lens shifted up and down for a seamless stitch of two horizontal frames.)
Some people really go nuts with foreground, with compositions where the foreground utterly dominates the scene. Ideally these foregrounds will have strong leading lines that direct attention to the subject in the background. When done right, this can lead to very dynamic compositions; when done wrong it can actually block the viewer from the scene, distract from the subject, or just look plain gimmicky.
Typically when I shoot mountain landscapes, my priority is to frame the shot in a way that centers the attention on the subject itself (usually a mountain peak). The foreground is supplemental and only used when it compliments the subject and grounds the scene. Therefore, in many of my photos, the mountain is big and the foreground is just enough to ground the scene and lead the viewer into it.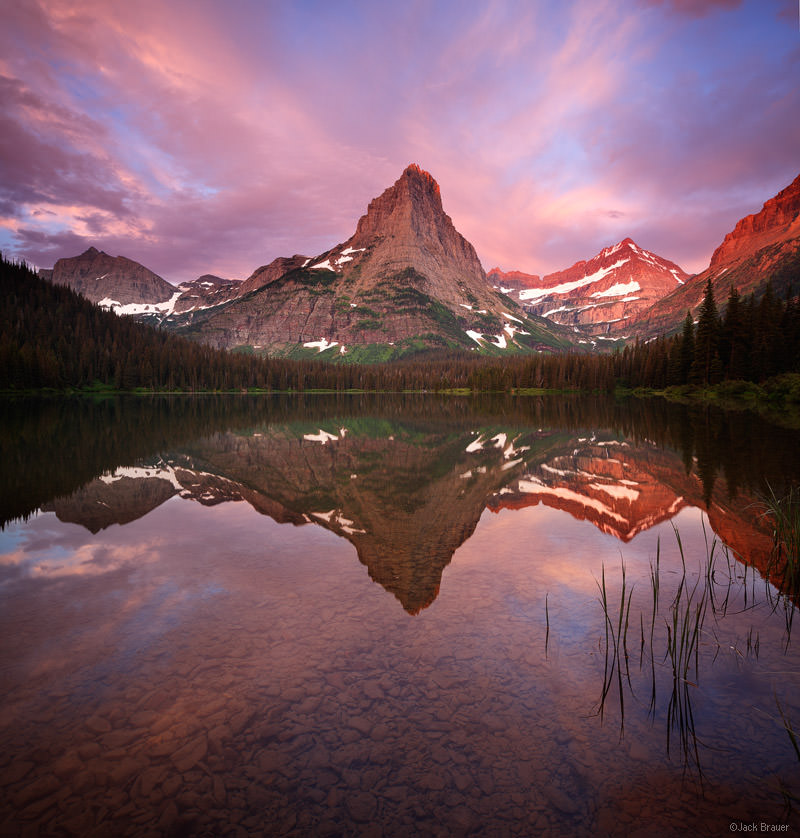 (Pyramid Peak Sunrise, Glacier National Park, Montana. Here's an example of a most minimal foreground. The underwater rocks are very subtle, yet just enough to ground the scene. The reeds at bottom right give just a touch of spacial reality – they break up the mirrored symmetry just enough to bring the scene back to a relatable reality. Canon 5DII, 24mm TS-E, with lens shifted up and down for a seamless stitch of two horizontal frames.)
As for compositional rules, I say forget about them. I've never felt the need to formerly learn them myself, and in my opinion they only serve to clutter your brain and make it harder to think clearly while shooting. I think it's better to trust your instincts and frame the composition in a way that simply looks pleasing too you. One simple exercise that I use when framing a composition is to think of it as a print already on the wall. If that image was a print on my wall, seeing it day in and day out, what would I change to make it more pleasing, more interesting, more balanced? If you can think in terms of a finished print before you even take the photo, it will help you hone in on better compositions in the field.
I also think it is good practice to try to choose the exact composition before setting up the tripod. This is something I learned when I used to shoot a large format 4×5 field camera (the old-fashioned style camera with the bellows, dark cloth, ground glass focusing, and all that). That camera was so difficult to set up and manually focus that once it was set up, it might take another five minutes to move positions and refocus. This forced me to learn how to compose my shots first, using just my eyes, before setting up the camera. With digital it's tempting to just immediately set up the camera and keep moving it around and taking shots while gradually honing in on the best composition. But, it is faster and more effective to try to learn how to chose the composition first. That way you won't have to mess around with adjusting the tripod so much and you'll be able to take less photos, with a higher keeper rate.
It would be funny to see myself doing this composition hunting – walking around, bending up and down, bobbing my head around like some kind of voodoo dance until I find the right spot and height to set up the camera. If you walk around, do the dance, and get on your hands and knees and snoop around the scene like a hound dog, you'll find more interesting and creative compositions than if you just show up and set up the tripod in the first spot you come to. You'll find things that you might miss on first glance.
Wrap it up!
If you've made it this far, I thank you for reading and I hope that perhaps some of my words and photos here have inspired you to think creatively about shooting original "grand landscapes". To boil it down to the essence, creativity with grand scenic photography goes beyond just framing and taking the photos; it involves the entire process including researching unique locations, coming up with original ideas to shoot, and the adventures to get to the right place at the right time.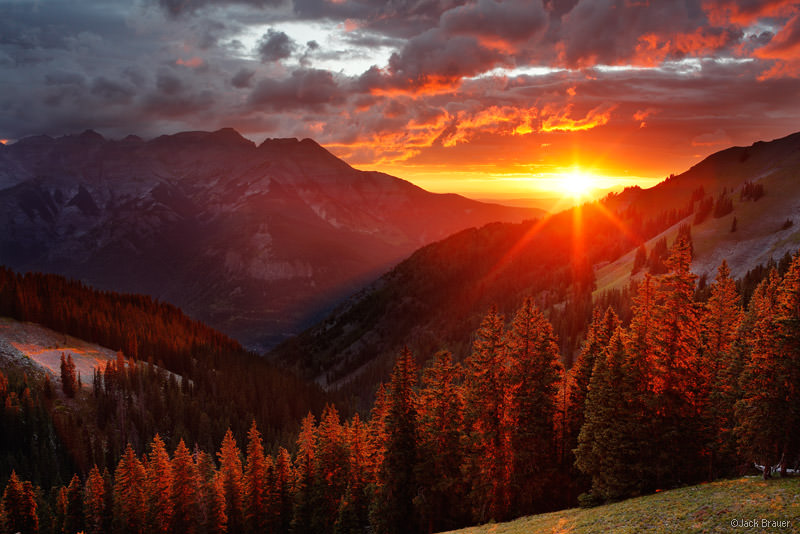 (Uncompahgre Sunset, Colorado. Despite everything I've said in this article, here's an example of a totally unplanned spontaneous photo – just dumb luck of being in the right place at the right time. If you get out enough, even this will happen quite often!)
---
This article was contributed by Jack Brauer, a talented mountain photographer from Colorado. Please visit his website to see more of his work.