Within the next few weeks, Microsoft will be releasing the new generation model of its successful laptop for professionals, the Surface Pro 4. Having been using the Surface Pro 3 since it came out, I have taken it all over – from the dusty Race Track playa of Death Valley to the red sands of Wadi Rum in Jordan. Being light and portable, it has been in my camera bag pretty much everywhere I go. I have always been a PC guy (although I recently bought an iMac), so I have had quite a bit of experience using all kinds of PCs for my needs. And although I have never had issues with PCs, my biggest struggle has always been laptops. Having tried everything from expensive Dell Precision models to lightweight ultrabooks, I pretty much hated them all for one reason – the amount of heat they generate, particularly when using them on my lap.
Overtime, I had to find various solutions to make it comfortable to work – I started out with a few different kinds of boards with built-in USB fans and ended up with small tray tables that would accommodate those laptops. And the larger the laptop was, the more ridiculous the solutions were getting. The idea of using a workstation-class laptop as a primary machine faded away over the years, as I was not particularly interested in carrying a monstrous and heavy laptop anymore. Then I tried out the iPad, which at first sounded like a good idea. But aside from reading emails and browsing the web, it turned out to be a joke (and still is, including the new iPad Pro) for any serious needs. No USB ports, no mouse, no full version of Lightroom or Photoshop. No, thanks! I then ventured on to ultrabooks and tried a few Dell XPS, HP, Sony and Acer models. They were certainly better for travel, but they were still designed as the good old laptops, making them terrible lap buddies. Still the same issues with heat generation, even those with carbon fiber chassis and special heat dissipation vents. Some would need periodic dis-assembly and cleaning of vents, or they would slow down to a crawl.
And then one day I saw the Surface Pro 2. After playing with it for a few minutes at a local Best Buy store, I decided to give it a try. I was instantly in love! No more lap heat, silent operation – all in a very compact and lightweight package. And best of all, no custom crippled operating systems! The thing ran a full version of Windows, which meant that I could run anything I wanted on it. After a month-long trip to England with the Surface Pro 2, I was blown away – I wrote my thoughts in a detailed review of Surface Pro 2 back then. And then came the Surface Pro 3, which was even faster and more capable than its predecessor, particularly for running Photoshop and Lightroom. I ended up upgrading to a higher-end Core i7 version, which was a great decision that I certainly have no regrets for, since the Surface Pro 3 has been my companion for not only travel, but also working from home. After using the machine for a while, we shared our happy thoughts in our detailed review of the Surface Pro 3.
Being a touch-screen display, I have also been spoiled by the fact that I can just grab the screen and use my fingers to click on things or navigate through websites. I don't have to think about using the touchpad all the time or an external mouse! I got so used to doing it, that sometimes I find myself accidentally touching my monitor on my workstation PC and wondering why it is not responding.
I am currently finishing up with the last group in our Colorado fall colors workshop and although it has been a pretty intense last few weeks, I am happy to be back again at writing content for the site and working on processing the many photos I have captured during this wonderful trip. There is something special about sitting outside in a beautiful campground, working and seeing aspen leaves fall – that's one of the reasons why I keep coming back over and over again to this truly magical place… It is hard to keep any concentration here, as the natural beauty makes me want to put everything away, sit back and just relax in happy thoughts. But work is work and I cannot enjoy all this too much, or nothing will get done :) Which means I am back working on my travel companion for a couple of more days, until I have to pack up and leave…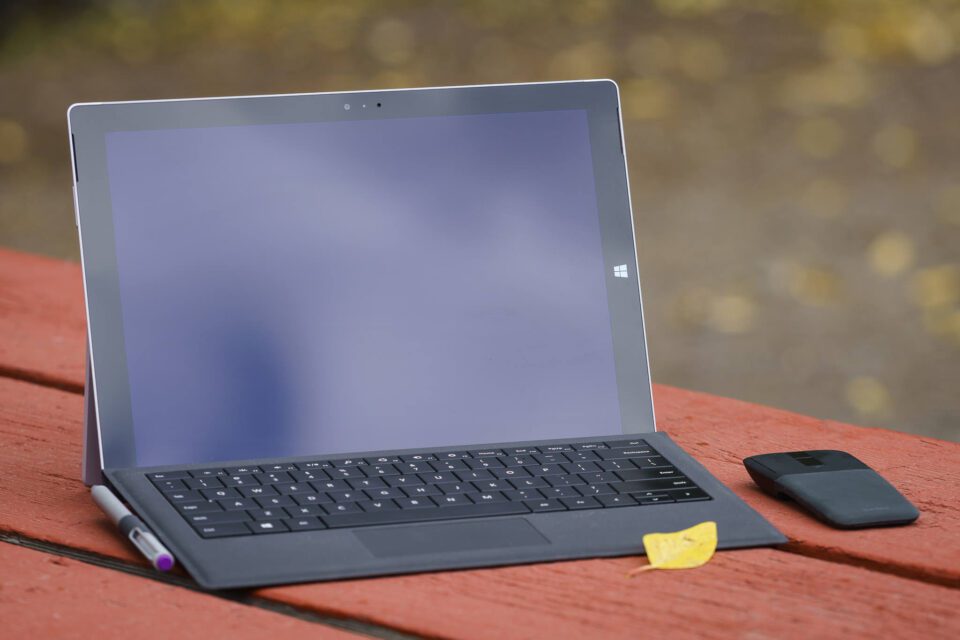 If you have been on a quest to find a solid machine for your photography needs with a great balance of performance and features vs weight and size, check out Microsoft's Surface Pro, particularly the upcoming fourth generation model, which is supposed to be released sometime next week. If Microsoft uses Intel's Skylake architecture, 16 GB of RAM and a much faster GPU (these are the rumored specs), it could become the next dream machine for many photographers, including myself. I am pretty happy with what I can do on my Surface Pro 3, but Adobe's apps can be pretty demanding in terms of processing power and memory usage, so faster performance would certainly be a good reason to consider upgrading.
The Surface is a very interesting machine, because it kind of reminds me of an Apple MacBook in some ways. MacBooks have been praised for years for being very stable, reliable laptops and one of the reasons in my opinion has been software and driver support – using a limited number of hardware parts is always easier in terms of support and you don't deal with stability issues. Microsoft's Surface does exactly the same, since Microsoft delivers all the firmware and driver updates automatically. Having been running Windows 8 and now Windows 10 on the Surface Pro 3, both have been rock stable. Didn't have to deal with any drivers at all – everything just works out of the box, which I am sure Apple fans can relate to.
What do you think about the Surface Pro? I know it might not look appealing for Apple fans, but for us PC users who often travel, it seems like the best choice around, at least in my opinion…