Every once in a while, Adobe releases major updates to Lightroom that might drastically change the way RAW images are converted and processed. In order to make sure that photographers can preserve their existing edits within Lightroom, Adobe came up with something called "Process Version", which basically stores the different versions of various sliders in Lightroom. If you upgrade your copy of Lightroom and a new Process Version becomes available with new sliders, keep in mind that you should fully understand what the new version does before you decide to apply it to your edited images, as it might make them look completely different. In this article, I will go over Lightroom's Process Version and explain what it is all about.
1. What is Lightroom Process Version?
When Adobe comes up with better technology to process RAW images in Lightroom, it recognizes that photographers might have many images in their catalogs that were already processed a certain way. Therefore, instead of forcing changes through new sliders, sub-modules, and drop-downs, the company implemented a versioning system that would enable different functionality within the Develop module. If you navigate to the "Camera Calibration" section of Lightroom, you will see something like the following: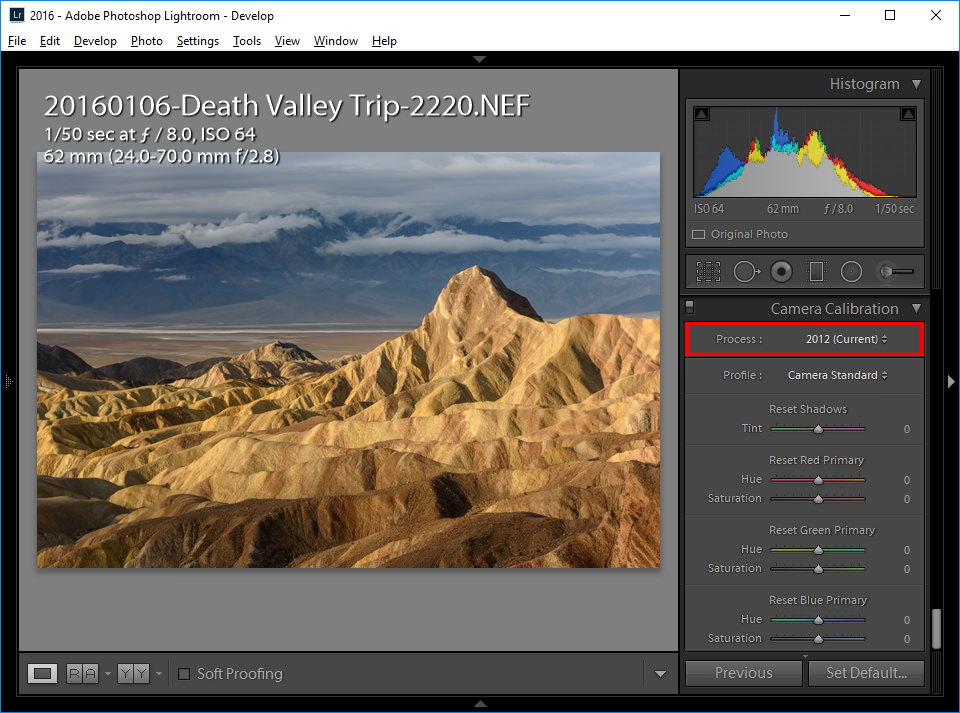 Clicking the drop-down will reveal a number of different process versions such as 2003, 2010, 2012, and Version 4 (current). As you can probably tell, these process versions correspond to the years when different functionality was rolled out. As of 2018, the latest process version is "Version 4," released in 2017 to allow compatibility with Lightroom CC's new color and luminance range masks. Everything else is the same in this version as in the prior 2012 process.
When Adobe releases a new major Lightroom upgrade, it typically forces existing catalogs to be upgraded to the latest and greatest catalog version. After you go through this process, you might receive a notification within the Develop module about the availability of a new process version. Clicking the notification might bring a window that looks like this:

As you can see, Lightroom is warning that there is a new processing technology available that you can update to. If you are looking at a single image, clicking the "Update" button will change the process version to the latest one on just that one image. So you can update the image and see how it impacts your edits, or you can Review Changes through the Before / After screen by checking the corresponding checkbox. Unless you know what you are doing, I would not click the "Update All Filmstrip Photos", since it would mass-apply the new process version to all the images in the filmstrip.
So what happens when you change the Process Version? Take a look at the two screenshots below: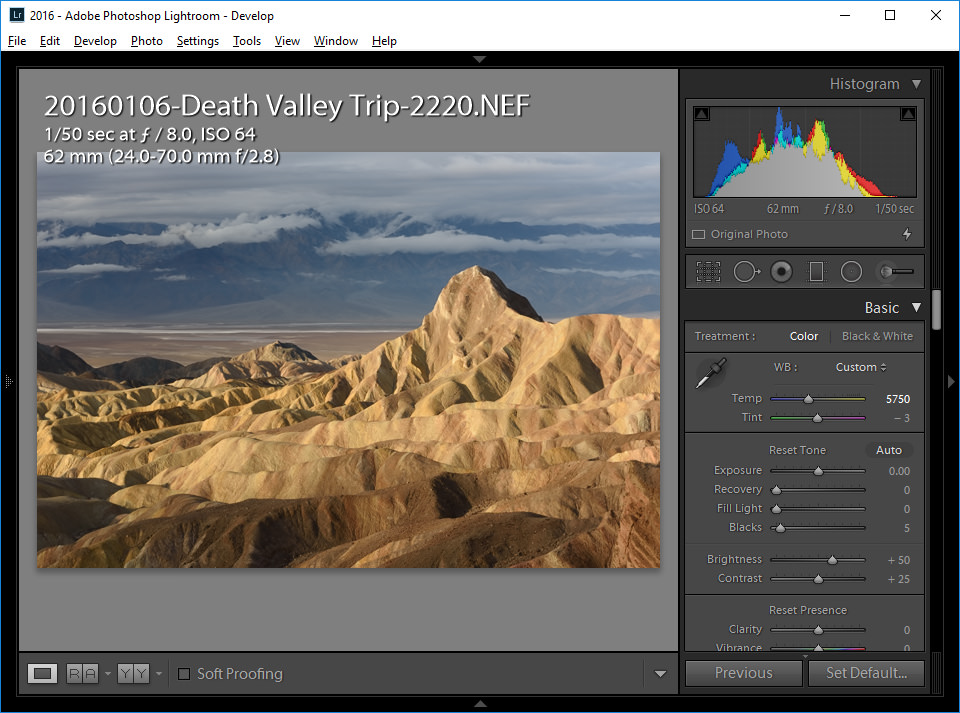 The "Before" screenshot is Process Version 2010, whereas the "After" image is Process Version 2012. As you can see, not only do the images look very different, but the sliders are also completely different in the "Basic" panel. The older 2010 version of Lightroom had sliders like "Recovery", "Fill Light" and "Brightness", which do not exist in the 2012 version. Instead, they were replaced with sliders like "Highlights", "Shadows" and "Whites", which work very differently in comparison.
It is also worth noting that the different process versions don't just impact one module – they can change the functionality of all kinds of features within the Develop module. For example, enabling the 2003 Process Version disables a bunch of sliders under "Effects" and "Detail", so it can actually impact more than one editing function in Lightroom. It is also important to point out that when switching between different process versions, Lightroom will try to minimize editing changes and make the images look as close as possible. However, the changes often are so drastic, that Lightroom pretty much fails at this task – you will need to revisit all the sliders manually to make your photos look similar. For this reason, you must take extreme caution when mass-applying new process version on your images, as it might alter the way they look.
2. Updating Process Version
Before you decide to update to the latest process version, I would recommend making a full backup of your Lightroom catalog. Once you complete the backup, you can then start experimenting with the newer process version. My recommendation would be to start with a couple of images that you have already edited. Go to the Camera Calibration sub-module within the Develop module, then click the drop-down under "Process" and right before you select the latest one, look at the image and see if it is going to change when you pick the latest version. If nothing changes, then see what has actually changed in the different sub-modules. Do you see new sliders and drop-downs anywhere? Once you find the differences, experiment with those new features and see how they impact your images. Do this for at least several different images before you risk updating your entire catalog.
In many cases, I personally found that it is easier to leave the older images be and only use the new process version for newly imported images, but your mileage might vary.
If you would like to mass-update all of your existing images to the latest process version, you can follow these steps:
Go to the Library Module or press the "G" key on your keyboard.
Click on the root folder that contains all of your images (left panel, under "Folders").
Press "CTRL + A" ("CMD + A" on Mac) to select all images in your catalog.
Right-click any of the images that were selected, then go to "Develop Settings" and choose "Update to Current Process".
Once you do this, all of your images will get upgraded/converted to the latest process version, which will allow you to use all the newly available features.
3. New Images and Import Process
By default, all new images that you import into Lightroom should have the latest process version. However, if you used to apply specific presets to your photographs upon import, you will then also have to update those presets to reflect the new process version. Here is how I suggest to do it:
Go to the Develop Module or press the "D" key on your keyboard.
Find "Process" drop-down under "Camera Calibration" and select the latest version from the list.
On the left tab of Lightroom, right-click your import preset, then select "Update with Current Settings".
Uncheck everything except "Process Version", then click the "Update" button on the right lower corner.
This will update your import preset to use the most current process version for your images.