Once upon a time, there was just Lightroom. But ever since Adobe moved to cloud-based and subscription-based services, Lightroom has had two incarnations: Lightroom Classic and Lightroom (formerly known as Lightroom CC, where CC stands for "Creative Cloud"). Lightroom Classic is the desktop-only Lightroom that most photographers use, whereas Lightroom is a cloud-based editor that stores your original photos in Adobe's cloud.
Depending on what package you buy from Adobe, there's a good chance that you'll have both Lightroom Classic and Lightroom available to download. But that doesn't mean you should be using both of them. Despite some similar features, these programs are quite different from one another. I'll outline the differences between the two below.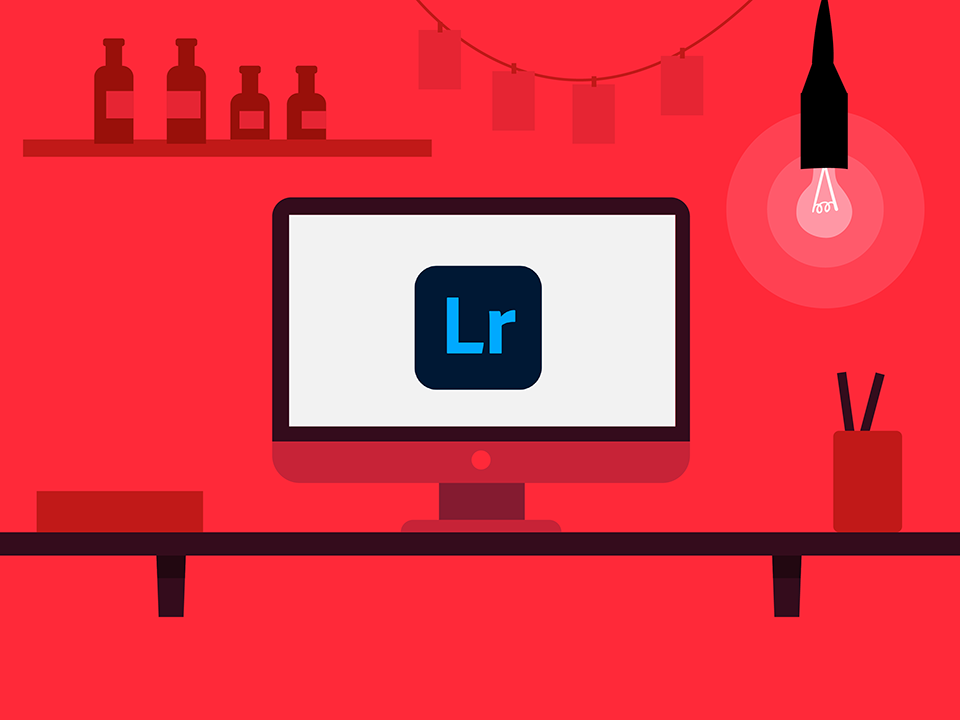 1) The Naming Headache
For years, Adobe has offered both Lightroom Classic and Lightroom on the market. At first, the only difference was that Lightroom Classic was a standalone, perpetual-license product, while Lightroom was part of Adobe's Creative Cloud subscription model. Over time, Adobe started to differentiate them and add unique features to each one.
The interface on Lightroom Classic is exactly the same as the interface in the older, perpetual-license versions of Lightroom. On the other hand, Lightroom is a bit different. It has a simplified and less powerful interface, but it is cross-platform – meaning that you can edit your photos on your desktop and then switch to your phone or tablet to continue your work.
To sum it up:
Lightroom Classic is a continuation of Adobe's popular desktop-based RAW editing software
Lightroom is a cross-platform, cloud-based editor that has more limited editing and organization features than Lightroom Classic
The next section will clarify things if you want a full list of feature differences between Lightroom Classic and Lightroom.
2) Comparing Features Between the New Lightroom Products
| Feature | Lightroom Classic | Lightroom |
| --- | --- | --- |
| Options upon import | Same as in prior Lightroom releases | Limited; only "Add to album" |
| Organize with folders | Yes | No |
| Organize with collections | Yes | Yes, but called albums |
| Smart collections | Yes | No |
| Rename photos | Yes | No |
| Artificial intelligence keywording | No | Yes |
| Face recognition | Yes | Yes |
| Flags and stars | Yes | Yes |
| Color labels | Yes | No |
| "Basic" panel adjustments | Yes | Yes, in a different order than usual |
| Clarity and dehaze adjustments | Yes | Yes |
| Tone curve adjustments | Yes | Yes |
| HSL panel adjustments | Yes | Yes |
| Split toning adjustments | Yes | Yes |
| Sharpening and noise reduction adjustments | Yes | Yes |
| Lens corrections | Yes | Yes |
| Camera calibration panel | Yes | No |
| Adjustment history | Yes | No |
| Soft proofing | Yes | No |
| Compare, survey, and reference views | Yes | No |
| Local adjustments (brush, gradient, radial tools) | Yes | Yes |
| Healing tool | Yes | Yes |
| Merge HDRs | Yes | Only in desktop |
| Merge panoramas | Yes | Only in desktop |
| AI-powered denoise | Yes | No |
| AI-powered enhance raw details | Yes | Yes |
| AI-powered super resolution | Yes | Yes |
| Edit full-resolution images on mobile devices | No | Yes |
| Edit on mobile devices at all | Yes, but only as smart previews; Lightroom mobile | Yes |
| Map module and geotagging | Yes | No |
| Tethered capture | Yes | No |
| Printing module | Yes | No |
| Book, web, and slideshow modules | Yes | No |
| Images must be on Adobe's cloud server | No | Yes, if you want to use Lightroom's unique features |
| Edits on one device instantly sync to others | Yes, but only smart previews and Lightroom mobile | Yes |
| Plugin support | Yes | No |
| Original photos backed up to the cloud | No | Yes |
| Create snapshots | Yes | No |
| Create virtual copies | Yes | No |
| Create actual copies | Yes | No |
| Sync settings | Yes | No |
| Color and tonal adjustments on video | No | Yes |
| Original files can be stored locally | Yes | Yes — click "Store a copy of all photos locally" |
| Can be split into multiple catalogs | Yes | No |
| Edit unlimited photos without extra cost | Yes | No — 1TB storage limit before price increase |
| Greatest magnification to view photos | 11:1 | 2:1 |
| Secondary screen | Yes | No |
| Export file types | JPEG, TIFF, DNG, PSD, Original | JPEG, TIFF, DNG, PSD, Original |
| Export color space | sRGB, Adobe RGB, ProPhoto | sRGB, Adobe RGB, ProPhoto |
| Export with watermark | Yes | Yes |
| Price | $19.99 per month with Photoshop and 1TB cloud storage | $9.99 per month per 1TB of cloud storage |
Basically, Lightroom Classic really is "classic." If there's something you've been able to do in prior versions of Lightroom, you can do it in Lightroom Classic as well. It is also more advanced and has better organization-related capabilities (except that it lacks the artificial intelligence keyboarding of Lightroom).
Meanwhile, Lightroom is very streamlined. It lets you edit the same photo on your desktop, laptop, tablet, and phone without worrying about transferring images across devices. It also doesn't have a huge learning curve; it should be pretty easy for most people to figure out what's going on. However, it's less advanced than Lightroom Classic, and if you want to gain the signature features that it offers over Lightroom Classic, you need to pay to store your photos on Adobe's cloud. This can get expensive if you have multiple terabytes of photos.
Even though Lightroom Classic has more advanced editing features, most of the good ones made their way to Lightroom as well. That includes things like local adjustments, for example, which are a must-have for advanced editing. Lightroom also has an artificial intelligence keyword search tool, which is an useful way to find a set of photos with the same subject. For example, consider this image, with a search for "cactus":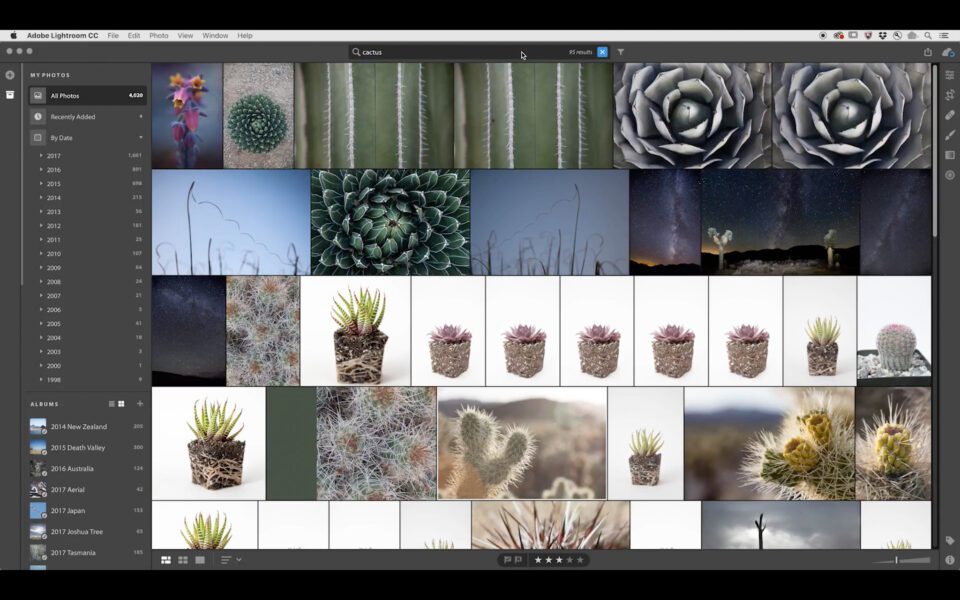 3) Who Should Use Lightroom Classic?
Are you an advanced or professional photographer? Have you used Lightroom before in the past? If so, Lightroom Classic is the obvious path for your work.
It simply has more features that advanced photographers would want, like tethering, soft proofing, and complex organizing. As nice as the artificial intelligence keyword search in Lightroom can be, most professionals will care more about things like plugins, multiple catalogs, fully-fledged develop features, and so on. Lightroom Classic fills the same market segment as all the prior versions of Lightroom did.
Target audience:
Advanced or professional photographers who have used Lightroom in the past and appreciate its in-depth feature set
Photographers who edit a large number of photos, which would be too expensive to store in the cloud or too inconvenient with a slower internet connection
Photographers who use third-party plugins
4) Who Should Use Lightroom?
In many ways, Lightroom can seem a bit slimmed-down compared to Lightroom Classic. It doesn't have some of the features that photographers consider valuable, or even necessary, for professional work. However, that is one of the biggest benefits of Lightroom in some ways. The target audience of Lightroom is photographers who value ease-of-use more than advanced features and capabilities in their software.
Lightroom has a very consumer-oriented design and feature set to make the learning curve as easy as possible, while still containing fairly advanced editing and organizational features. As such, it's the better software for hobbyists, especially those with multiple devices like a desktop/laptop/tablet that they often switch between.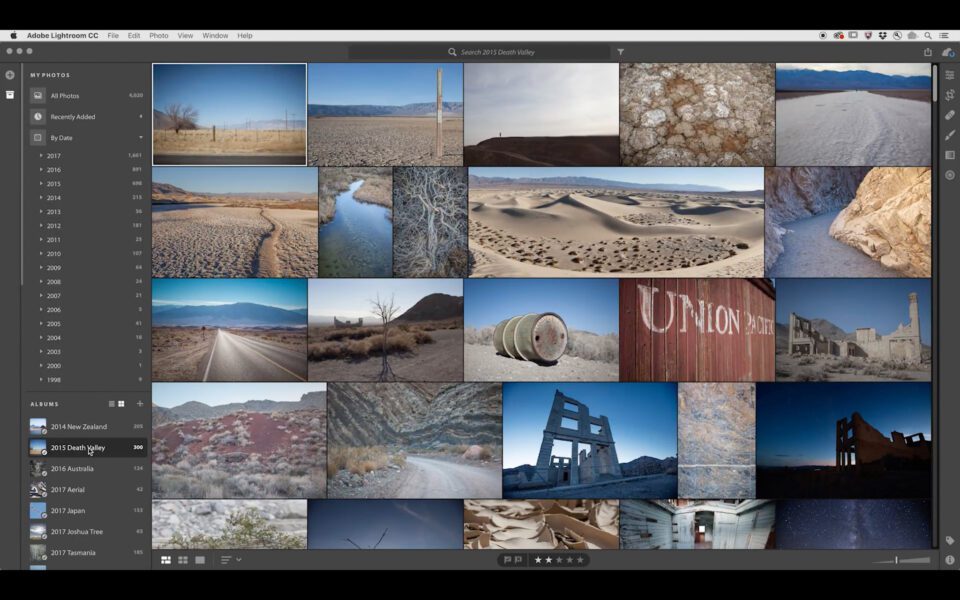 Does that mean advanced photographers would never use Lightroom? Actually, there are some circumstances where I see Lightroom as holding a distinct advantage over Lightroom Classic even for professionals.
For example, if you do a lot of social media marketing, you'll want the ability to edit videos on the go (i.e., behind-the-scenes smartphone videos). Lightroom can do that, and Lightroom Classic can't. I can see YouTube and social media professionals relying on the relatively advanced post-processing abilities of Lightroom to post quick content in the field.
In short, Lightroom is built for mobile use, in addition to its value for hobbyist photography. If you're an advanced photographer who doesn't use your phone or tablet as an integral part of your brand and marketing strategy, though, Lightroom Classic will make more sense most of the time.
Target audience:
Casual or hobbyist photographers who want an easy-to-learn, yet surprisingly powerful, post-processing app for multiple-platform editing
Professionals with an active social media or YouTube presence who consistently create/share content on the go, especially with smartphones
Photographers who want to edit across multiple devices without worrying about file management
5) Pricing
The pricing for Lightroom Classic is $19.99/month with Adobe's photography package, which also includes Photoshop. This package also includes the cloud-based Lightroom.
If you don't need Lightroom Classic and Photoshop, you can get just Lightroom and 1TB of cloud storage for $10/month. If 1TB is not enough for your uses, you will need to add another $10/month for every additional terabyte.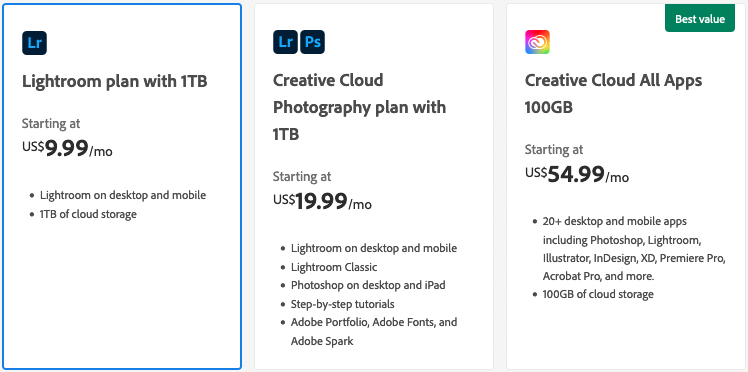 6) Conclusion
A lot of professionals will find the cloud-based version of Lightroom lacking in a few areas. No plugin support, virtual copies, history panel, or even color labels? It's definitely limited in that respect.
Still, the biggest target audience for Lightroom – casual photographers – neither needs nor wants most of those things. Professional photographers who do want them will prefer Lightroom Classic instead. And some photographers will use a combination of the two, such as professional photographers with a big social media following who might want some features of both.
At the end of the day, it's not surprising that Adobe split Lightroom into two parts. The only frustrating thing is that the two different software options have such similar names. And most of the time when photographers just say "Lightroom," they're referring to Lightroom Classic! Hopefully, though, this article has helped you see the differences between them and recognize which one is right for you. If you have any questions, leave a comment below, and someone from our team of professional photographers at Photography Life will get back to you with an answer!