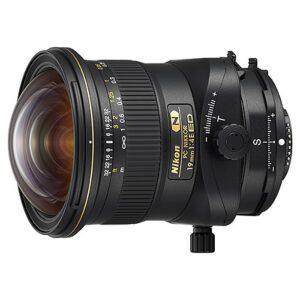 Lens Summary
Brand: Nikon
Also Known As: Nikon 19mm f/4E Tilt Shift
Lens Type: Prime Lens
Format: Full Frame / FX
Focus: Manual Focus
Lens Mount: Nikon F
Release Date: 2016-10-19
MSRP Price: $3399
Made in: Japan
Infrared Rating: Good
Production Status: In Production
Lens Description: Featuring an ultra-wide design prized for architectural and interior subjects, the PC NIKKOR 19mm f/4E ED from Nikon allows you to impart both tilt and shift movements to control focus and perspective, as well as apply the movements independently for more creative flexibility. Up to +/- 7.5° of tilt is possible, for focus control, and +/- 12mm of shift, to adjust perspective and composition, and tilt can be applied parallel or perpendicular to shift. Up to 90° of rotation is also possible using the PC Rotation capability, and shift movements do not require locking or unlocking for use. Characterized by an expansive field of view that is ideal for photographing tight indoor spaces and complex architectural subjects, this lens also offers flexible perspective and focus control to adjust distortion and depth of field.
Photography Life Review Summary: I very much enjoyed testing the Nikon 19mm f/4E PC and I am very pleased with the quality of the results. Overall, the Nikon 19mm f/4E PC-E is the best tilt-shift lens I have ever used. Read the full Nikon PC NIKKOR 19mm f/4E ED Review by Photography Life.
---
Nikon PC NIKKOR 19mm f/4E ED Specifications
Lens Specifications
* Supplied accessories may differ depending on country or area
Lens Type
Prime Lens
Focal Length
19mm
Mount Type
Nikon F
Format
Full Frame / FX
Compatible Format(s)
Full Frame / APS-C
Compatible with Teleconverters
No
Maximum Reproduction Ratio
0.18x
Vibration Reduction (Image Stabilization)
No
Aperture Information
Aperture Ring
No
Maximim Aperture
f/4
Minimum Aperture
f/32
Maximum Angle of View (APS-C or smaller format)
73°
Maximum Angle of View (Full frame or larger format)
97°
Optical Information
Lens Elements
17
Lens Groups
13
Diaphragm Blades
9 (Rounded)
Extra-Low Dispersion Glass Elements
3
Aspherical Elements
2
Nano Crystal Coat
Yes
Super Integrated Coat (SIC)
Yes
Fluorine Coating
Yes
Focus Information
Focus
Manual Focus
Built-in Focus Motor
No
Minimum Focus Distance
0.9 ft. (0.25 m) from focal plane
Electronic Diaphragm
Yes
Distance Information
Yes
Filter Information
Filter Size
N/A
Accepts Filter Type
N/A
Physical Characteristics
Weather / Dust Sealing
No
Mount Material
Metal
Dimensions
3.5 in. (89 mm) x 4.8 in. (124 mm)
Weight
31.2 oz. (885 g)
Other Information
Available in Colors
Black
Supplied Accessories
LC-K101 Slip-on front lens cap, LF-4 Rear Lens Cap, CL-1120 Lens Case
Perspective Control
Horizontal and vertical shift and tilt
Shift: ± 12 mm
Tilt: ± 7.5°
Rotation
Rotates 90° left and right with stops every 30°; tilt mechanism rotates 90° left with a stop at 45°.
Lens Construction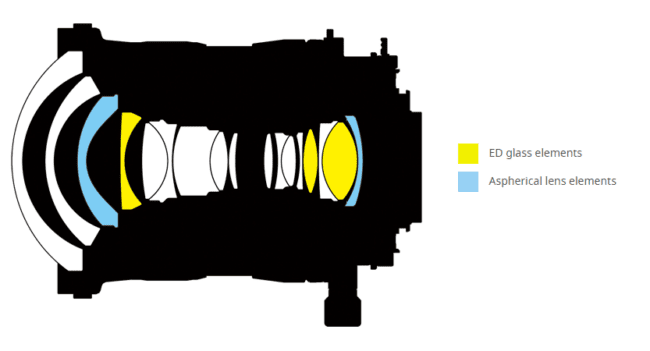 MTF Chart