The Nikon Z NIKKOR 70-200mm f/2.8 VR S is a pro-grade telephoto lens designed specifically for Nikon's mirrorless system. Although the lens was initially launched in January of 2020, shipping was delayed several times and it only became generally available in late 2020. We've now tested two samples of the lens at Photography Life, both in the field and in the lab. In this in-depth review, I'll cover everything we've learned about the Nikon Z 70-200mm f/2.8 VR S, including how it performs relative to its popular F-mount sibling.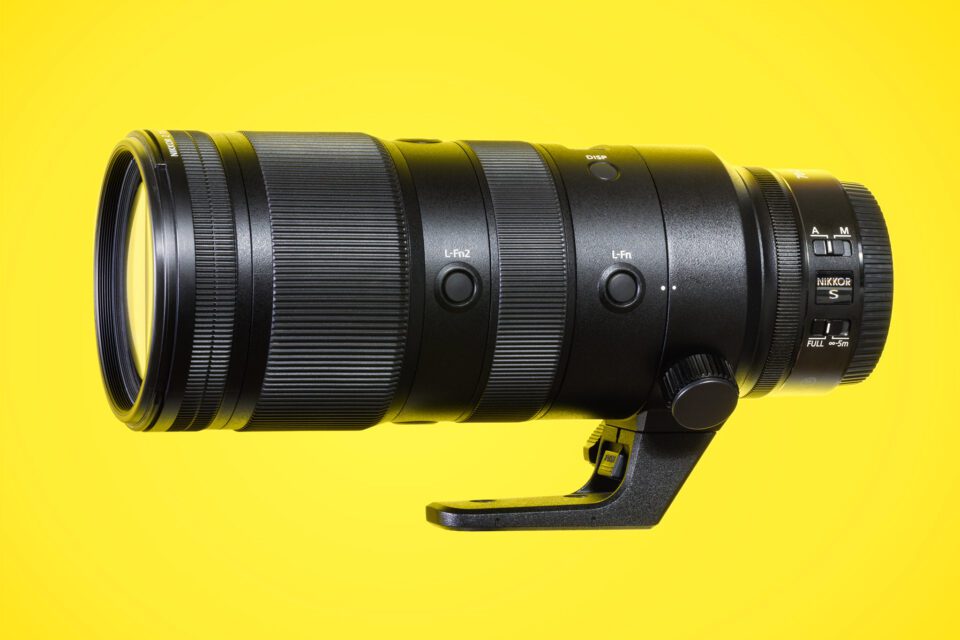 The 70-200mm f/2.8 VR S is one of the most advanced lenses for the Nikon Z system yet. That's reflected in the lens's high-end construction, advanced features, and excellent image quality – as well as the high price. At $2600, the Nikon Z 70-200mm f/2.8 S is hardly a cheap lens, though its competitors are similarly expensive. The Sony EF 70-200mm f/2.8 costs $2600 and the Canon RF 70-200mm f/2.8 costs $2700, though the Nikon F-mount 70-200mm f/2.8E VR is a bit less at $2350.
Build Quality
The Nikon Z 70-200mm f/2.8 VR S is built with a mix of plastic and metal. The tripod collar and foot are both metal, and they get colder than the rest of the lens in low temperature environments. All six buttons on the lens are weather-sealed rubber. The zoom and focus rings are covered in rubber, while the control ring (the one nearer to the lens mount) is uncovered metal. There is also a "false control ring" at the the very front of the lens; it has the same grip material and pattern as Nikon's usual zoom or focus rings, but it doesn't actually move.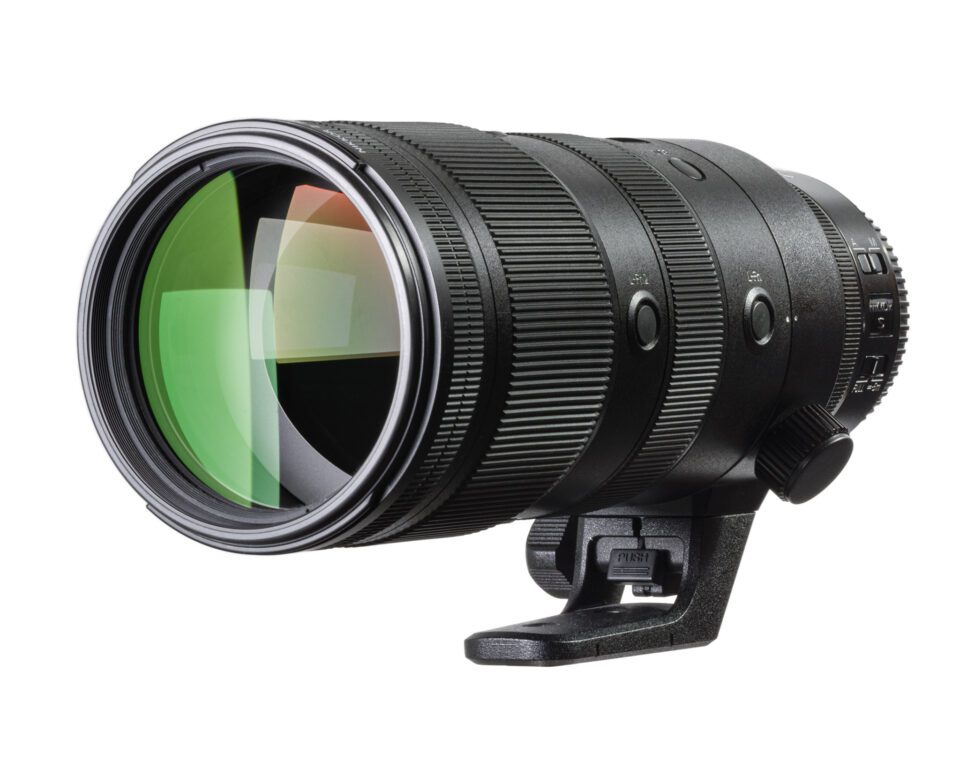 As I mentioned earlier, the Nikon Z 70-200mm f/2.8 S weighs almost exactly the same as the F-mount 70-200mm f/2.8E at 1440 g (3.17 lbs) with the tripod foot. This may be a bit frustrating for some Nikon Z fans, especially considering that most of Nikon's other Z lenses have weighed less than their F-mount counterparts so far. Not to mention the inevitable comparisons with Canon, whose mirrorless RF 70-200mm f/2.8 L lens is noticeably lighter at 1200 g / 2.65 lbs (and just 1070 g without the tripod collar).
Still, the Nikon Z 70-200mm f/2.8 VR S is hardly the heaviest 70-200mm f/2.8 on the market; that dubious crown belongs to some older generation 70-200mm f/2.8 DSLR lenses. In fact, when the Nikon F-mount 70-200mm f/2.8E FL came out in 2016, we praised it for its relatively light weight compared to prior 70-200mm f/2.8 lenses. While standards have risen in recent years (partly Nikon's own doing thanks to their excellent and lightweight Z lenses), the fact remains that the Z 70-200mm f/2.8's weight is manageable and not unusually high for such a lens.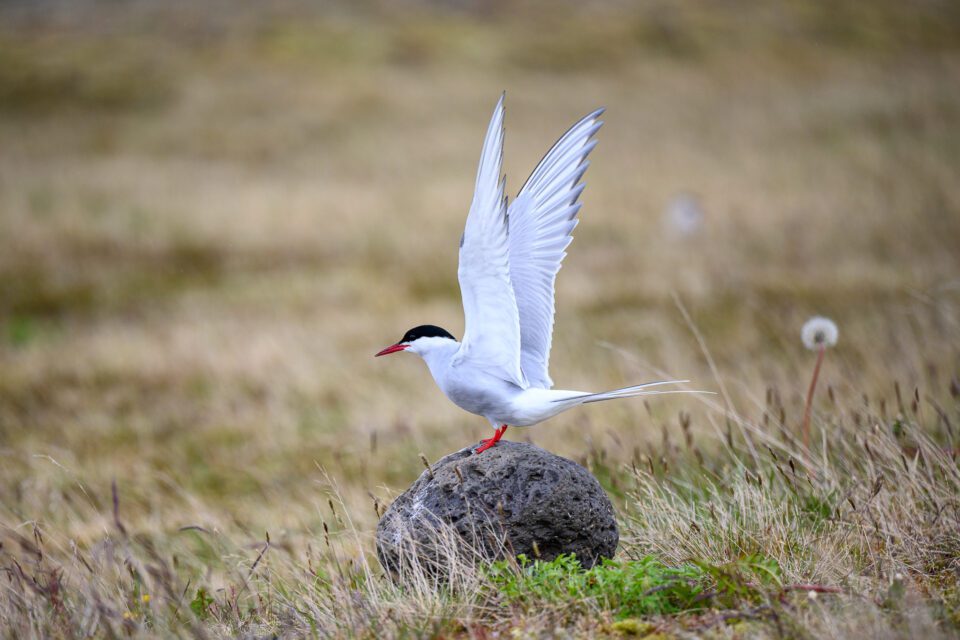 As for the rest of the build quality features, this lens is extremely well sealed against the elements. Nothing externally moves on the lens except for the switches, buttons, and dials that you move yourself. In other words, this is an internally zooming and internally focusing lens. (Incidentally, the same cannot be said of the Canon RF 70-200mm f/2.8 L, which extends when zoomed – one of the main compromises that allowed Canon to make it so lightweight.)
Some photographers may be wondering about the tripod foot that's coupled with the Z 70-200mm f/2.8 S. In the past, Nikon has used non-standard, non-Arca-Swiss tripod feet on their high-end lenses, and unfortunately this one is no different. If you want to attach the 70-200mm f/2.8 S to an Arca Swiss-type tripod head, you'll need to buy a separate tripod foot and replace the one Nikon included. Or, you could add a standard Arca Swiss plate to the bottom at the expense of a bit more weight and an extra attachment point.
The tripod foot on the Z 70-200mm f/2.8 is removable, but the whole tripod collar is not, and removing the foot on its own leaves an uncomfortable (even sharp) protrusion that isn't great for handholding. Thankfully, you can spin the knob on the tripod collar to rotate the collar wherever it's most comfortable to you. (This is possible regardless of whether the tripod foot is attached or detached.) I'd still have preferred being able to remove the collar entirely, but it's not a big issue.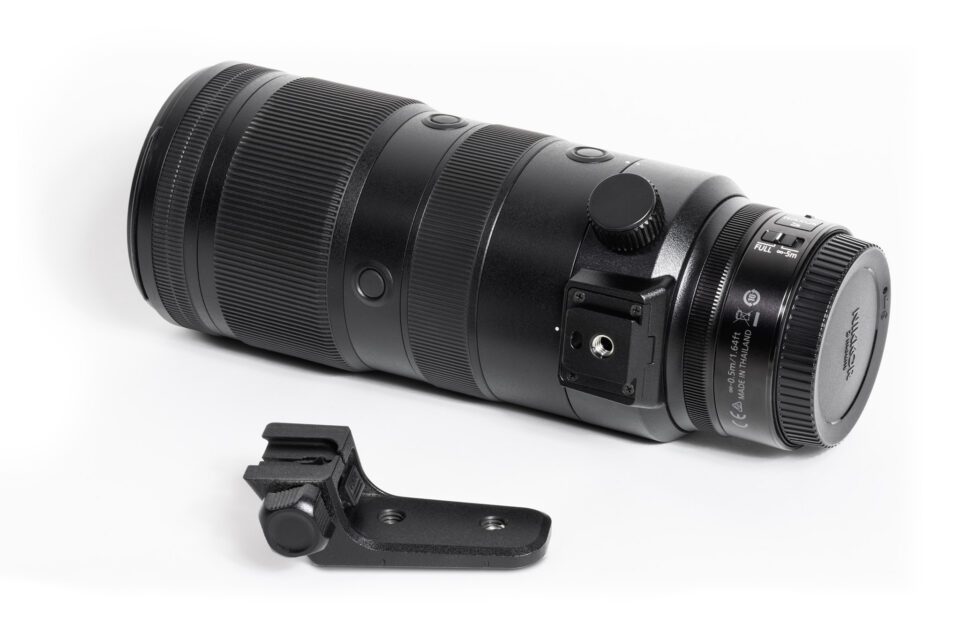 Now let's cover the handling features of the Nikon Z 70-200mm f/2.8 VR S.
Handling
The Nikon Z 70-200mm f/2.8 VR handles similarly to the other top-of-the-line Z-series lenses like the 14-24mm f/2.8, 24-70mm f/2.8, and 105mm f/2.8 macro. It has focus ring, zoom ring, customizable control ring, and an EL display for information like distance and depth of field. You can turn the EL display on and off, as well as change which information it shows, by pressing the "DISP" button nearby.
Perhaps the most interesting handling feature on the Z 70-200mm f/2.8 S is that it lets you program two different custom functions: L-Fn and L-Fn2. While L-Fn has a single dedicated button on the lefthand side of the lens, there are a total of four buttons wrapped around the lens which you can use to access L-Fn2. These four buttons duplicate one another and cannot be independently programmed; they always match whatever custom setting you've chosen in your camera for Fn2. Nikon made this decision so that you can access your chosen Fn2 setting regardless of how you're holding the lens.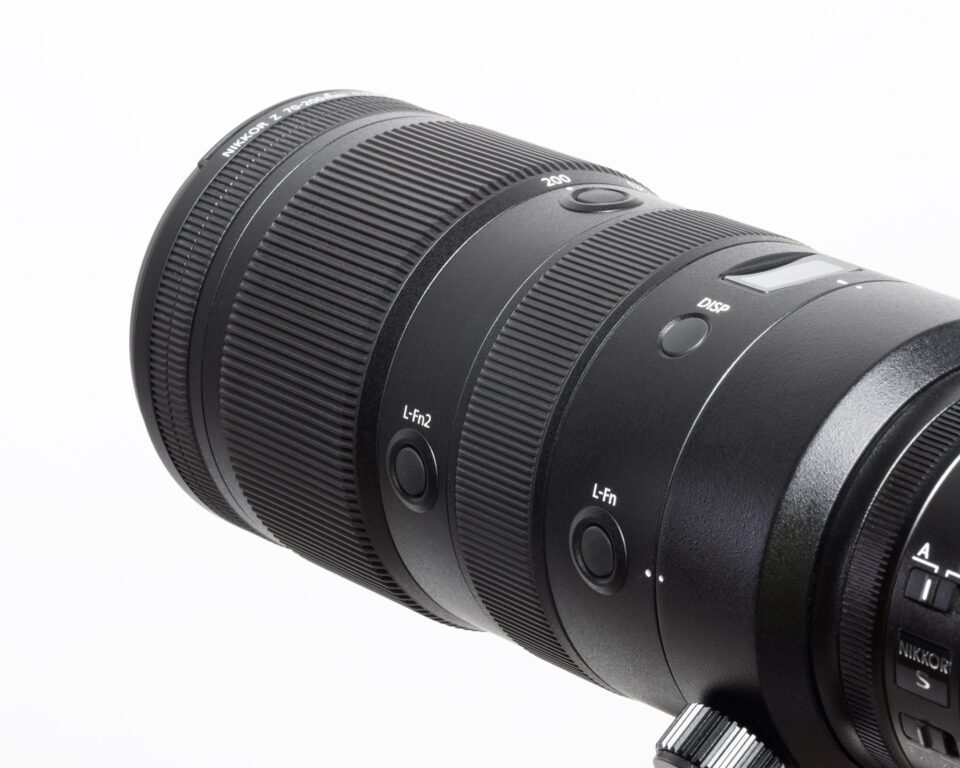 A noteworthy feature on the 70-200mm f/2.8 VR S is that the front element has a fluorine coating that repels dust, water droplets, and fingerprints. Although this is far from the only Nikon Z lens with a fluorine coated front element, it's a good complement to the rest of the lens's weatherproofing features. In windy, rainy, and dusty conditions, we never had any issues with the front of the 70-200mm f/2.8 S getting covered in grime. It handled well in every condition we threw at it.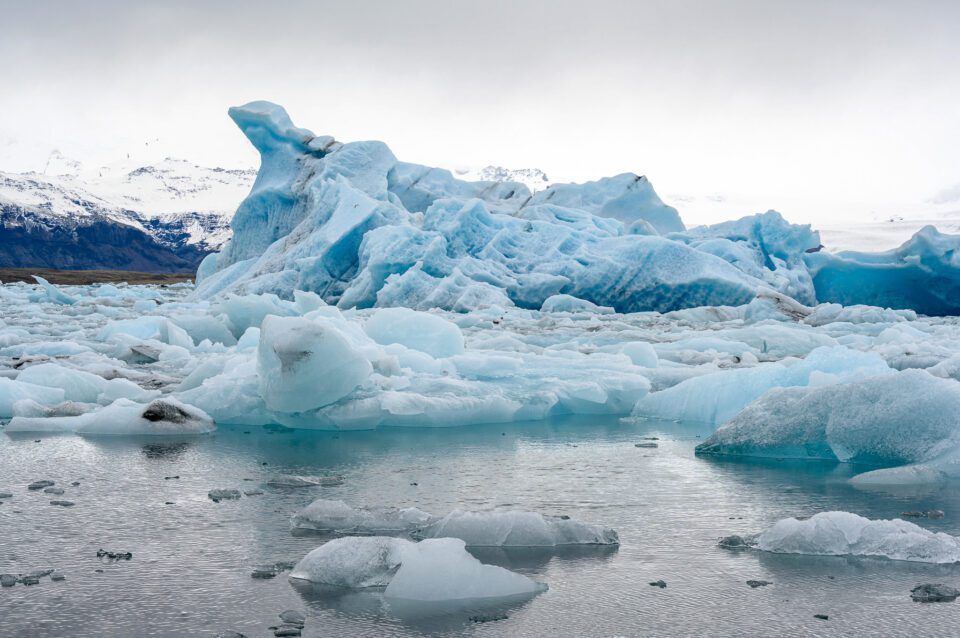 The Nikon Z 70-200mm f/2.8 is meant to pair well with Nikon's two Z-series teleconverters, the TC-1.4× and TC-2.0×, for photographers who want more than 200mm of reach. Using the 1.4× teleconverter results in a 100-280mm f/4 lens, while the 2× teleconverter results in a 140-400mm f/5.6. I prefer the 2× teleconverter of the two, even though it loses more light and isn't quite as sharp, because it's enough extension to make the 70-200mm f/2.8 useful for photographing distant wildlife.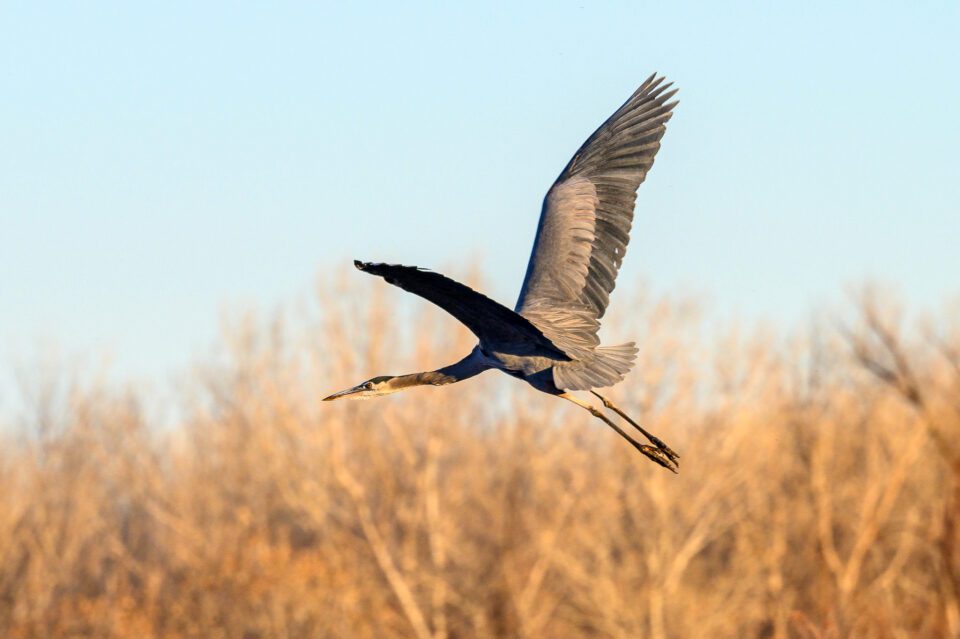 The last handling feature I'll mention is stabilization. Unlike most Nikon Z lenses so far, the 70-200mm f/2.8 S has built-in vibration reduction (VR). Even though most photographers will be using this lens with a Nikon Z camera that has in-body image stabilization (IBIS) like the Nikon Z6 II or Z7 II, the VR feature is still helpful if you want to use this lens on a camera like the Nikon Z50 and Nikon Zfc that doesn't have IBIS.
Nikon says that the Z 70-200mm f/2.8's VR works in tandem with IBIS for a total of 5.5 stops of stabilization. As usual, we found these claims to be a bit higher than we could measure in practice. At 70mm, I consistently got about 3.5 stops of stabilization compared to using the lens with VR turned off; at 200mm, that improved to about 4.5 stops of stabilization. These are good real-world numbers and match my expectations.
A slight oddity is that this lens doesn't have a VR switch on the side, so enabling VR must be done via an in-camera menu (the i menu being the quickest way). I wish that Nikon had included a VR switch on the side of the lens, but it seems they aren't doing that with the Z lenses. Another thing to note is that, if your camera does have in-body image stabilization, you cannot engage VR or IBIS independently of one another; you either get both or neither.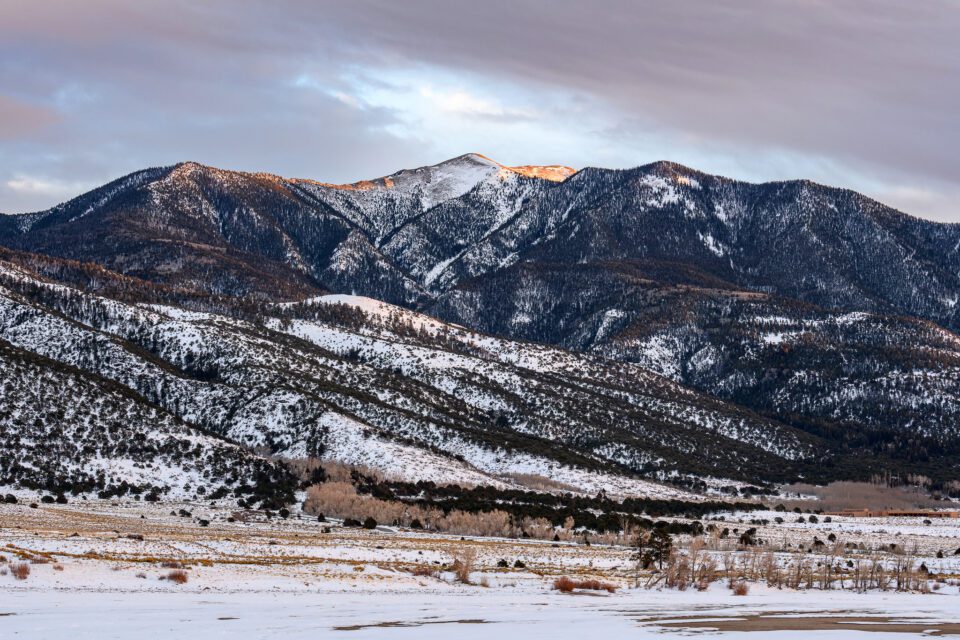 Overall, the build quality and handling on this lens are excellent. The few complaints I have aren't unique to this lens, but rather apply to many other Nikon Z lenses as well (like the lack of a VR switch and the ergonomically awkward EL display). Everything else, it does seamlessly.
The Nikon Z 70-200mm f/2.8 S looks interesting on the surface, but what features does it bring to the table and how well does it perform? To answer those questions, we'll take a closer look at the lens's specifications.