Sharpness and Contrast
The ability to put the lens closer to the sensor (reduced flange distance) allowed Nikon engineers to create lenses with new level of optical performance, and that's quite evident from every Z-mount lens we have tested so far. While most 24-70mm designs come with compromises, Nikon put quite a bit of effort into making sure that the performance of the Z 24-70mm f/2.8 S is consistent from wide to telephoto range. First, let's take a look at the Nikon-provided MTF charts and compare the performance of the Nikon Z 24-70mm f/2.8 S against the F-mount Nikon 24-70mm f/2.8E VR:

As you can see, the Nikon Z 24-70mm f/2.8 S promises better contrast at both ends, but the sharpness (blue line) is supposed to be stellar when compared to its F-mount brother, especially when zoomed in to 70mm. There is a little bit of softness towards the edges on both ends, but keep in mind that all MTF charts show the theoretical performance of lenses wide open (f/2.8 aperture), which is not particularly useful.
The real question is, how does this lens perform at all focal lengths and apertures? To find out, we measured the sharpness of the lens in our lab using Imatest and below are our findings.
Here is how the lens looks at 24mm: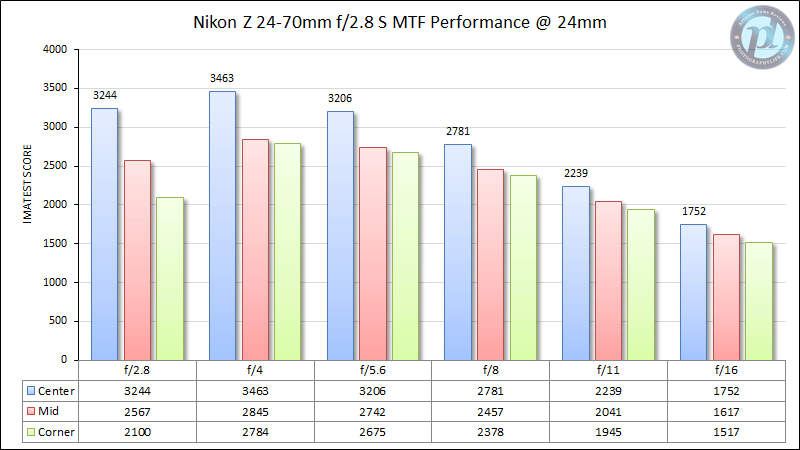 As you can see, the lens looks astonishingly good in the center frame at f/2.8, with a noticeable decline of sharpness towards the edges of the frame, which is in line with Nikon's MTF charts. However, take a look at how sharpness improves when you stop down to f/4 – that's a pretty astonishing result that is rare to see even on high-end prime lenses. The lens peaks in performance at f/4 and stopping it down from here only reduces its potential, as evidenced from this chart.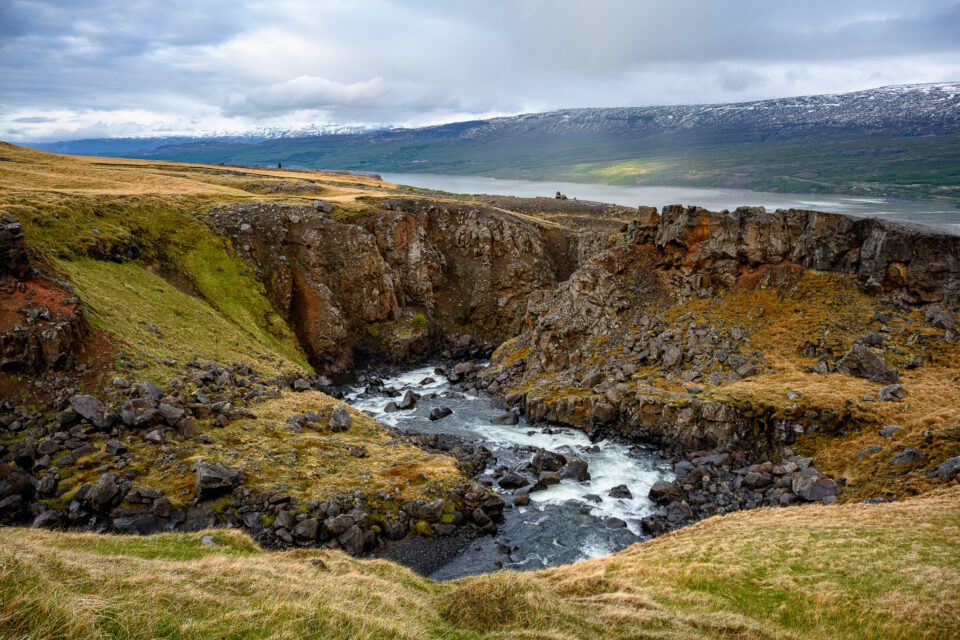 What about 35mm?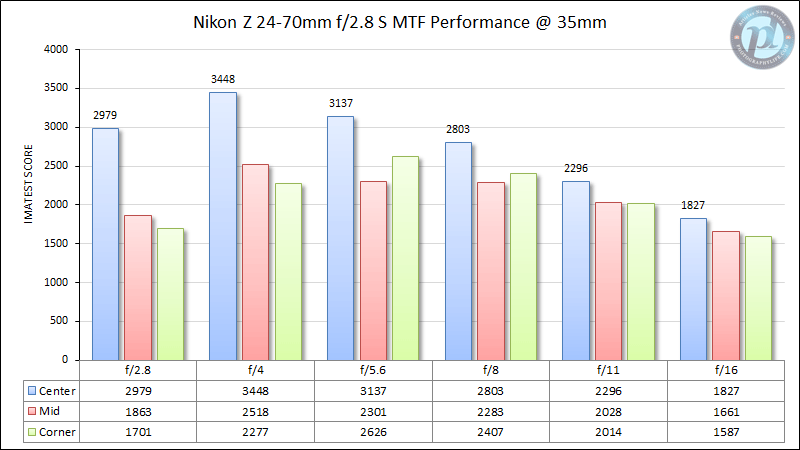 Zoomed in to 35mm, we can see that the center performance drops down a little, but it is still quite excellent at f/2.8. Again, we can see that the lens yields best sharpness in the center frame at f/4, but if you want to get the best results in the corners, you will need to stop down to f/5.6. The reason why the corners look better than the mid-frame has to do with wavy field curvature, which isn't very noticeable in images, but certainly revealed when shooting a flat test chart.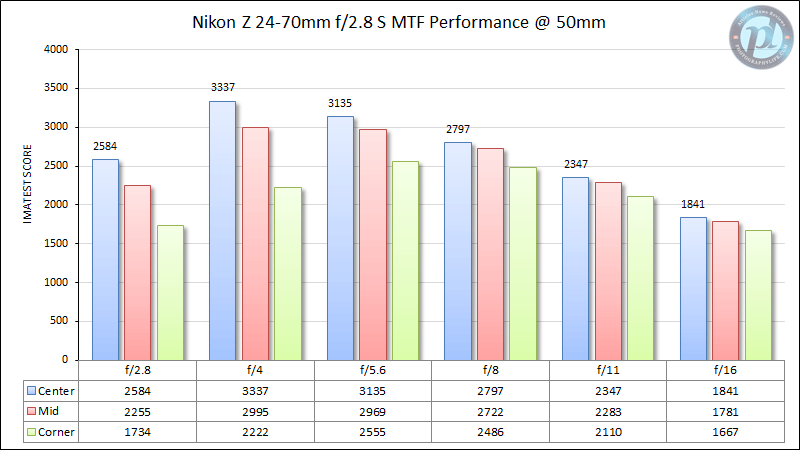 Zoomed further to 50mm, there is a define drop in sharpness at maximum aperture, but stopping down to f/4 once again brings out the best in the lens, with f/5.6 being the best overall aperture.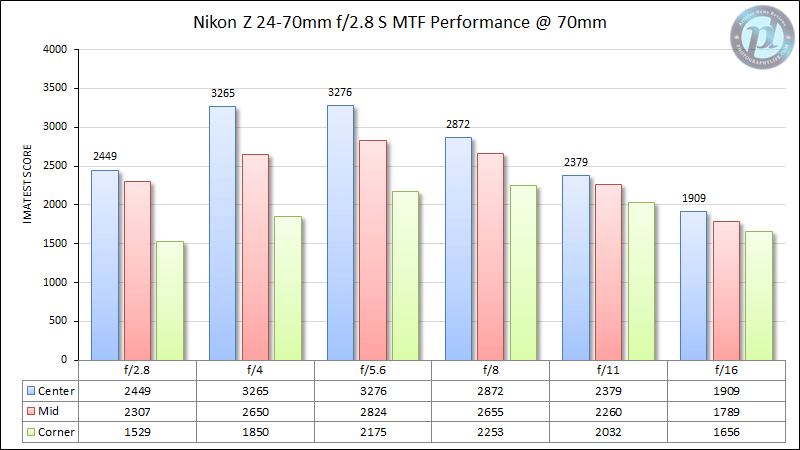 Lastly, the Nikon Z 24-70mm f/2.8 S certainly looks worse at the telephoto end, which is once again in line with Nikon's MTF chart. Here, we can see that the wide open performance is visibly weaker when compared to 24mm, and stopping down certainly improves sharpness quite a bit, although not to the same levels as other focal lengths. I would say that the best overall performance is achieved at f/5.6 here.
It is important to note that I encountered almost no signs of focus shift during testing, which is great.
To understand how amazing these MTF charts are, you will need to see the next page of the review, where I compare these MTF charts with those from the Nikon 24-70mm f/2.8G, 24-70mm f/2.8E VR and the Z-mount 24-70mm f/4 S.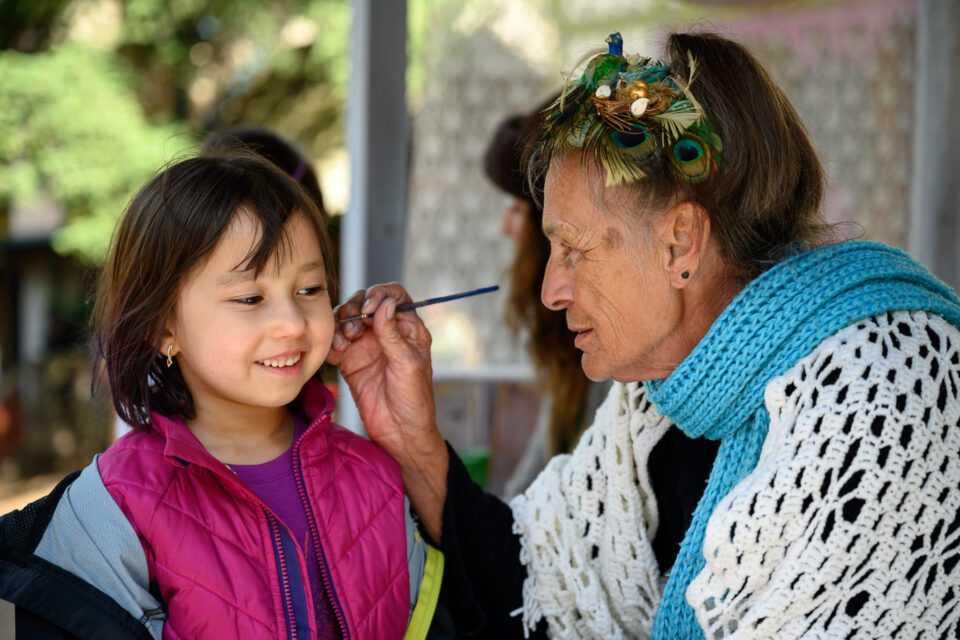 In terms of contrast and colors, the Nikon Z 24-70mm f/2.8 S is top notch – the images are vivid and beautiful, definitely the signature of pro-level lenses.
Bokeh
Most zoom lenses are rarely optimized to yield beautiful background highlights, and the presence of aspherical lens elements makes things even worse, because aspherical glass often causes ugly onion-shaped bokeh. As you can see from some of the sample images of this review, the bokeh of the Nikon Z 24-70mm f/2.8 S isn't particularly great. You can definitely observe rough transitions between background highlights, and the highlights themselves are quite edgy, with visible outlines inside them.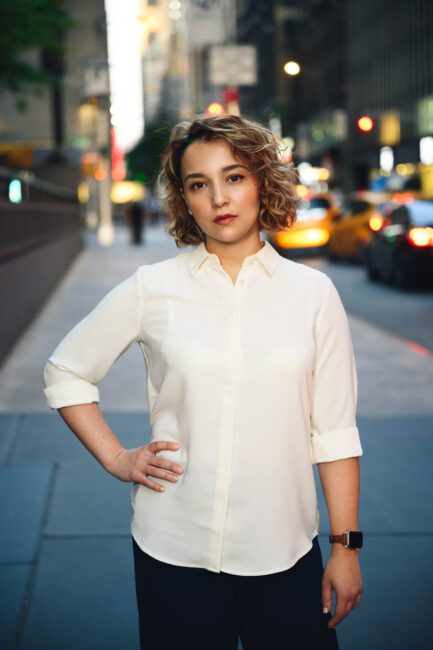 Again, that's a pretty normal thing to see on most 24-70mm f/2.8 lenses that contain aspherical elements. I personally don't mind this, but if you are after creamy bokeh, you will have to look elsewhere. Lenses like the Nikon 85mm f/1.4G are much better candidates for that, as they are optimized to yield beautiful out-of-focus highlights.
Vignetting
One of the biggest issues with most 24-70mm f/2.8 lenses, is the amount of vignetting they yield at wide focal lengths. This is a common issue in the Nikon 24-70mm f/2.8E ED VR design, which shows over two stops of light loss at the edges of the frame, as shown in this chart: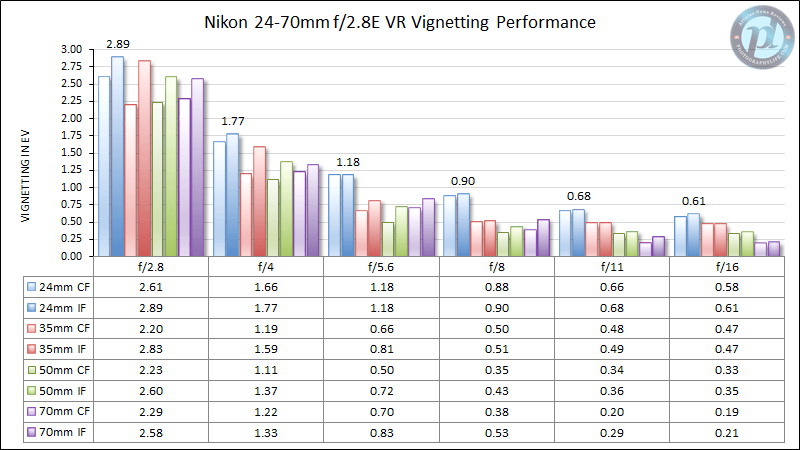 Nikon promised much better vignetting performance with the new Z 24-70mm f/2.8 S design, and our test results prove that: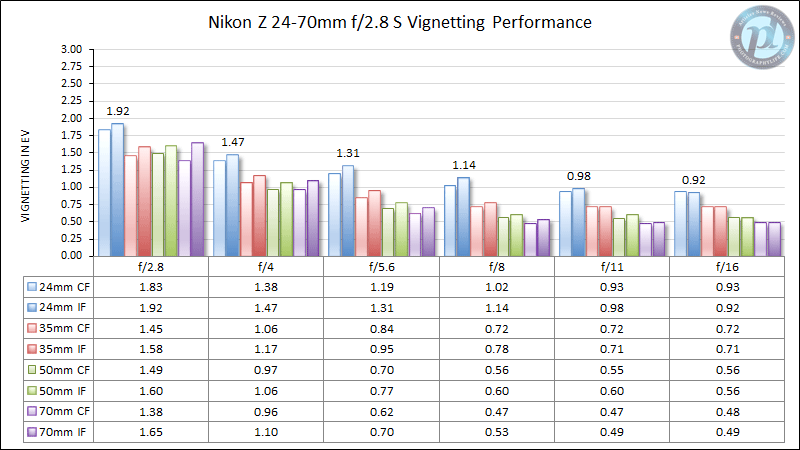 The new optical formula is certainly better, showing less than two stops of vignetting on the wide end, and a little under a stop at the telephoto end. However, if we were to compare these results to those of the original Nikon 24-70mm f/2.8G, vignetting performance is still not as good, with the latter practically having no visible light fall-off past f/4.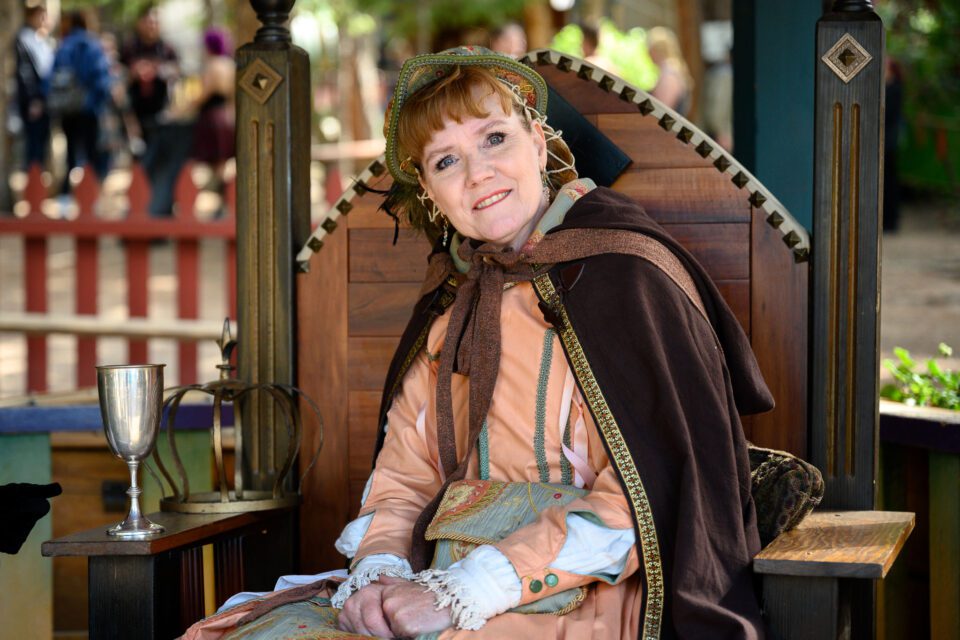 In all honesty though, vignetting is not that big of an issue, as it only takes a single click in most post-processing software like Lightroom to correct. Personally, I rarely ever touch vignetting exhibited by a lens, since I like how it draws the attention of the viewer towards the center of the frame.
Ghosting and Flare
With so many different types of coatings present, you might be wondering how the Nikon Z 24-70mm f/2.8 S performs when shooting bright sources of light. Nikon pointed out that the new ARNEO coat is supposed to significantly reduce ghosting and flare when used in conjunction with Nano Crystal Coat. So how did the lens do? The two word summary would be "amazingly well". When shooting bright sources of light, unless the light source is extremely large, you will rarely ever encounter ghosting and flare in your images. Take a look at this shot at night, which has plenty of street lights in it: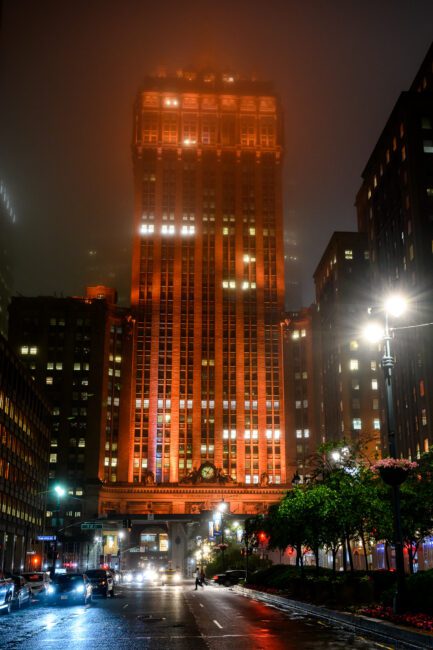 As you can see, the results at f/5.6 are impressive. Keep in mind that the amount of ghosting and flare will depend on where the bright source of light is in the frame. For example, if you put the sun towards the extreme edges, you will most likely see those ghosting artifacts. If you carefully place your light source in the frame, you might have no ghosting or flare to deal with.
Distortion
What about lens distortion? Take a look at the following chart: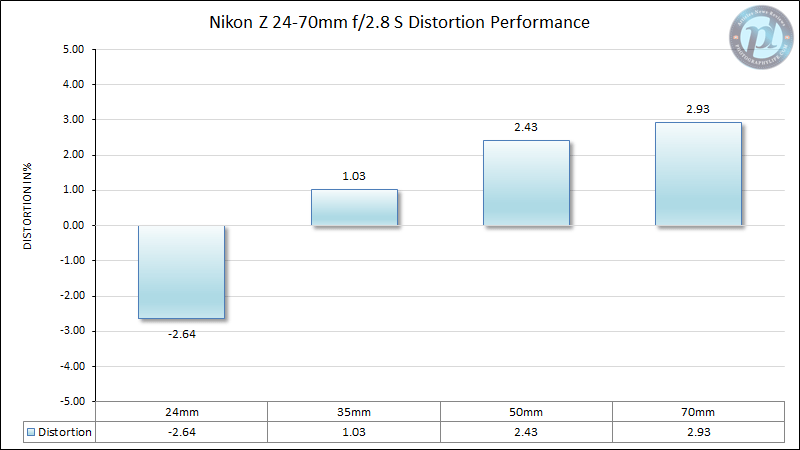 The lens certainly has quite a bit of barrel distortion at 24mm, which is unfortunate. However, this is noticeably better when compared to both Nikon 24-70mm f/2.8G and 24-70mm f/2.8E VR, which yield over 3% barrel distortion. Unfortunately, that's where the good news end – the Nikon Z 24-70mm f/2.8 S has significantly more distortion at longer focal lengths in comparison. As you zoom in towards 35mm, the lens switches to slight pincushion distortion, and by 70mm it reaches close to 3%, which is a bit high.
Something to keep in mind, Adobe Photoshop Lightroom automatically takes care of both chromatic aberration and distortion issues on Z mount lenses, so you will never see these results if you use Lightroom. I had to use Dcraw in Imatest to convert RAW files and yield the above results.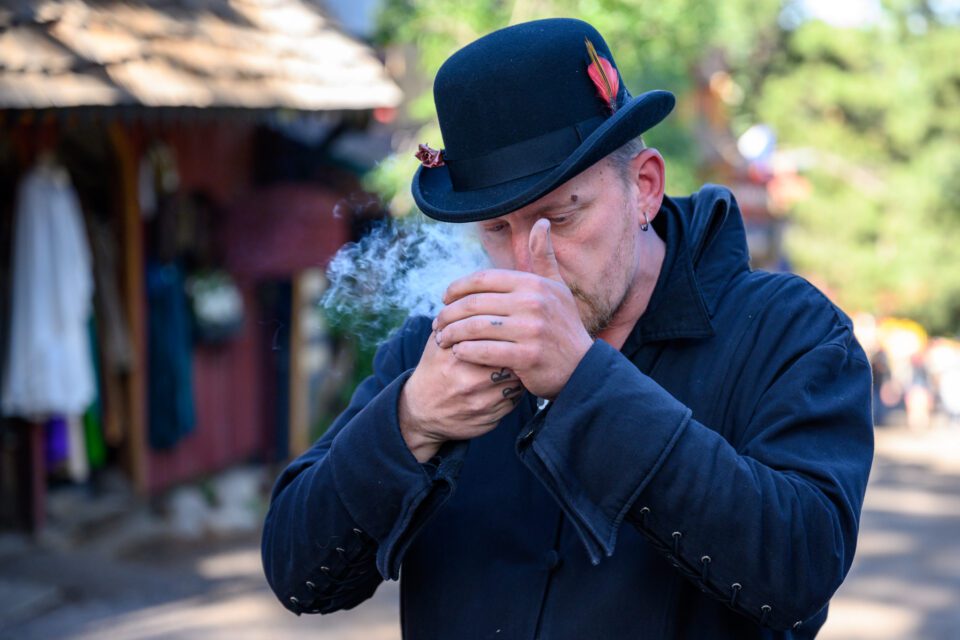 Chromatic Aberrations
The Nikon Z 24-70mm f/2.8 S keeps lateral chromatic aberration well under control, yielding a little over 1 pixel at 24mm. At 35mm and 70mm it is even less pronounced, but the best focal length is 50mm, where there is practically no sign of lateral chromatic aberration present.
Compare this to over 2 pixels on the 24-70mm f/2.8G, and over 3 pixels on the 24-70mm f/2.8E VR, and you will realize how excellent the Nikon Z 24-70mm f/2.8 S is in handling chromatic aberrations. Again, lateral chromatic aberrations are easy to fix, and Lightroom automatically takes care of what's left, so you will not be likely to ever encounter it in your images.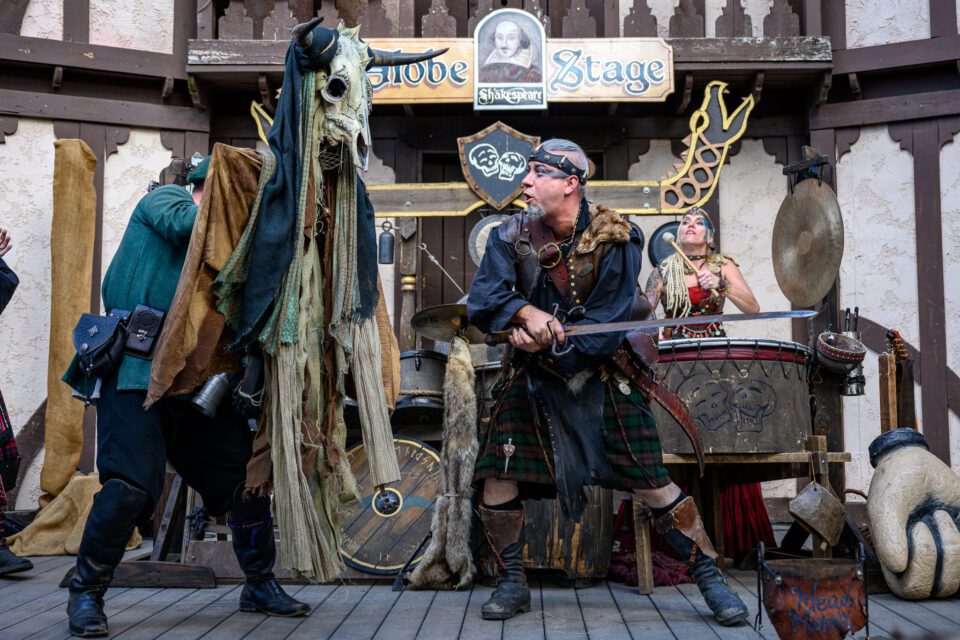 The lens also handles longitudinal chromatic aberration really well. I tested it at different apertures at 70mm, and only saw a little bit of transition to blue at f/2.8.