The word "superzoom" doesn't always conjure pleasant images in a photographer's mind. Historically, a lot of superzooms are low-end lenses with bad image quality and even worse construction. The $900 Nikon Z 24-200mm f/4-6.3 VR aims to change that impression. Does it succeed?
It's complicated. While the Z 24-200mm f/4-6.3 is in most ways the best superzoom we've ever tested, it's still a superzoom. When you choose this lens, you're sacrificing some sharpness and light-gathering capabilities in exchange for less weight and more convenience.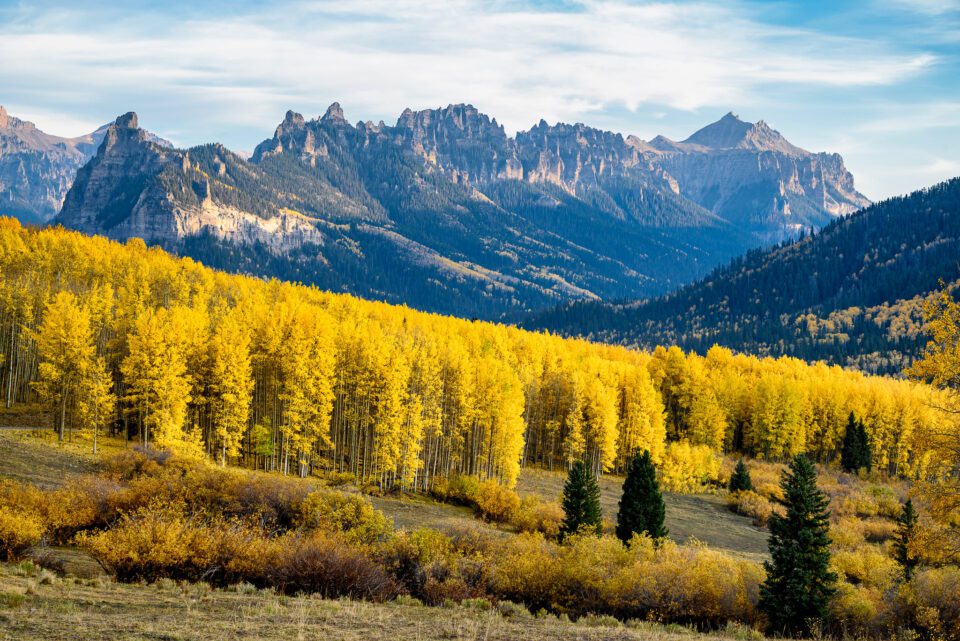 Weight and convenience are nothing to laugh at, though. Considering that we're talking about a lightweight mirrorless system in the first place, a lot of photographers who shoot with Nikon Z cameras are trying to avoid heavy gear. Travel photographers, hikers, and so on – not to mention people photographing their family or just wanting to carry a camera around on the go – are all photographers who could benefit from a superzoom like this.
Even if none of that applies to you, the 24-200mm f/4-6.3 still fills an important gap in Nikon's current full-frame (FX) Z lens lineup at the moment: the missing lightweight telephoto zoom. Since the Z6 and Z7 were first announced in 2018, tons of photographers have asked Nikon for a Z-series 70-200mm f/4 or 70-300mm f/4-6.3 to get high quality telephoto shots without weighing down their bag. Such lenses would perfectly complement the high-quality 14-30mm f/4 and 24-70mm f/4 zooms that Nikon has released so far. Unfortunately, neither a 70-200mm f/4 nor a 70-300mm f/4-6.3 has been announced yet, and the Z lens roadmap doesn't indicate that we'll see one for at least another year.
But if this 24-200mm lens is good enough, why can't it serve the same purpose? It's extremely light at 570 grams (1.25 lbs), which is even less than the Nikon F 70-300mm f/4.5-5.6 (at 680 grams / 1.50 lbs). In fact, the 24-200mm is the lightest telephoto zoom in Nikon's entire FX lineup at the moment, whether DSLR or mirrorless. Maybe this is the missing lightweight telephoto we've been waiting for all along, and it just slipped under our noses undetected.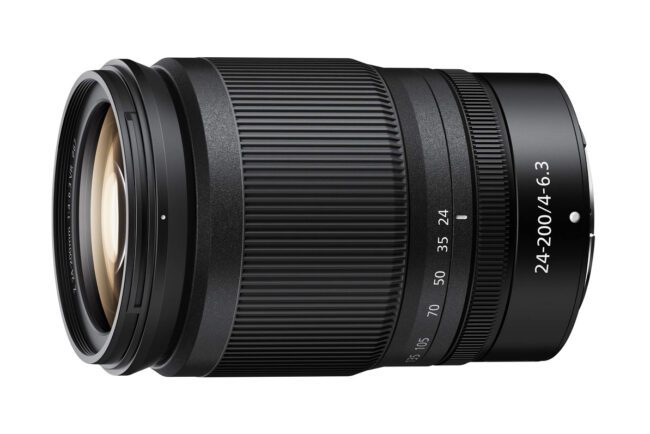 But that's only true if it's a good lens – at a minimum, better than a typical superzoom. Light weight is always welcome, but it's rarely worth buying a soft or cheaply-made lens just to save a few ounces.
That's why it was pretty surprising of Nikon to release this lens sooner than any other lightweight telephoto zoom for their full-frame Z system. They clearly have confidence in its image quality and other factors like build quality and autofocus. Is that confidence well-placed? Now that we've tested the 24-200mm f/4-6.3 extensively at Photography Life, we'll share our answer to that question throughout this review.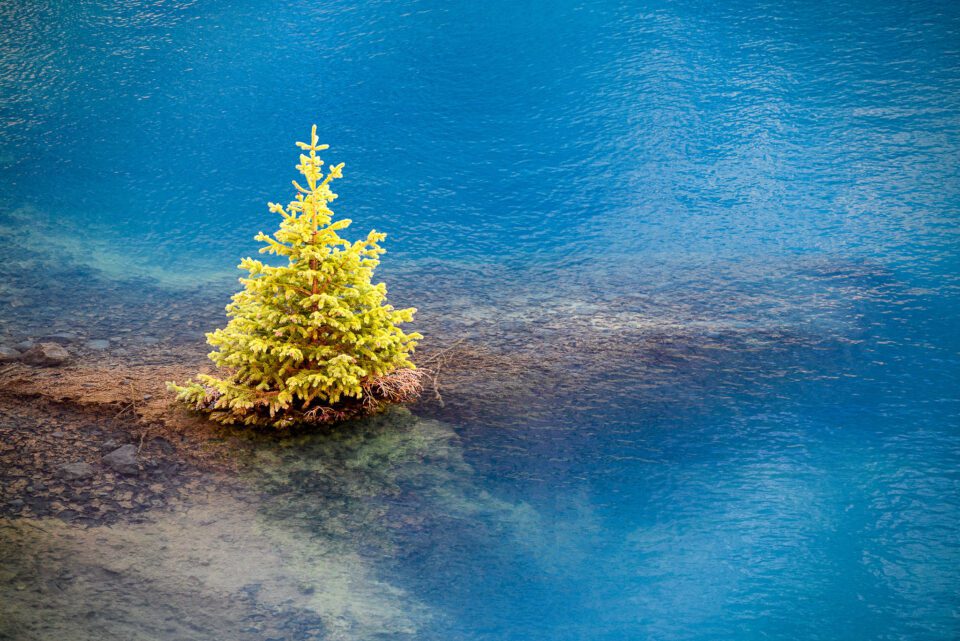 The next page of this review dives into the 24-200mm f/4-6.3's construction and real-world use in more detail. So, click below to go to the next chapter, "Build quality and handling."
Build Quality and Construction
The Nikon Z 24-200mm f/4-6.3 VR is not a heavy-duty metal lens that you can drive your car over, nor is it meant to be. At 570 grams / 1.25 pounds, it's barely heavier than the Nikon Z 24-70mm f/4 kit lens (which is 500 g / 1.10 lbs). Nikon went with an external plastic construction to save weight, except for a few important points like the lens mount, which is metal. Considering the target audience of this lens, that's the right decision on Nikon's part.
Of the similar mirrorless lenses from other camera companies, the Canon RF 24-240mm f/4-6.3 is noticeably heavier at 751 grams / 1.66 pounds. The Sony FE 24-240mm f/3.5-6.3 is heavier still, at 780 grams / 1.72 pounds. However, the Canon and Sony lenses both go to 240mm rather than 200mm, which explains at least some of the extra weight.
In terms of compactness, the Nikon Z 24-200mm is bigger than the Nikon Z 24-70mm f/4, although not by so much that it gets unwieldy. When both lenses are at their packed size – the 24-200mm zoomed out to 24mm, and the 24-70mm f/4 turned to the "lock" position – the 24-200mm is one inch (25 millimeters) longer.
As you zoom in, the 24-200mm f/4-6.3 extends substantially, as shown in the images below: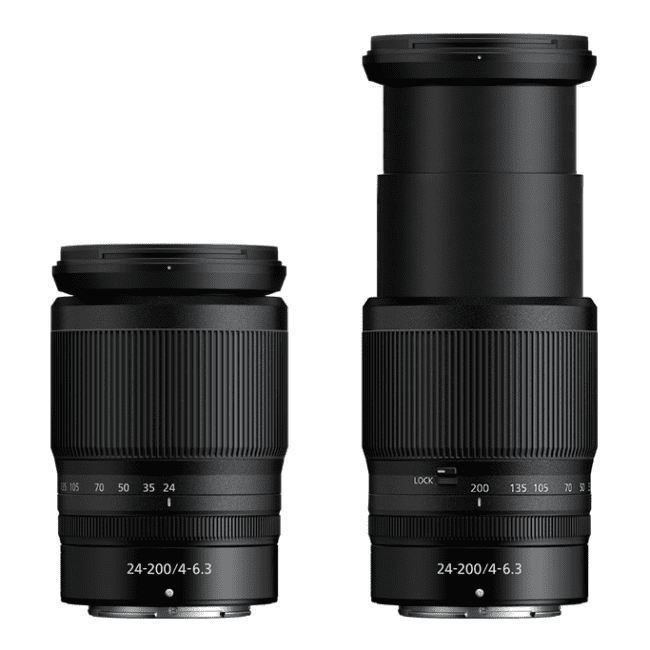 As you can see, the lens gets about 1.5× longer as you zoom in (from 114 mm / 4.5 inches to 175 mm / 6.9 inches), so you'll probably want to zoom out to 24mm before storing it in your bag. Despite the telescoping zoom, it's still smaller than the Canon and Sony 24-240mm lenses at comparable focal lengths.
Dual telescoping barrels are usually a recipe for bad build quality, but the Nikon Z 24-200mm f/4-6.3 is an exception. Even at 200mm, I found very little shake on the front barrel of the lens when I deliberately tried to wobble it (not really recommended though). Nikon has been doing a great job improving the manufacturing tolerances on the Z-series lenses so far, and this one isn't any different than what I find on my 14-30mm f/4 or 24-70mm f/4. It's certainly more of a surprise on a superzoom, though.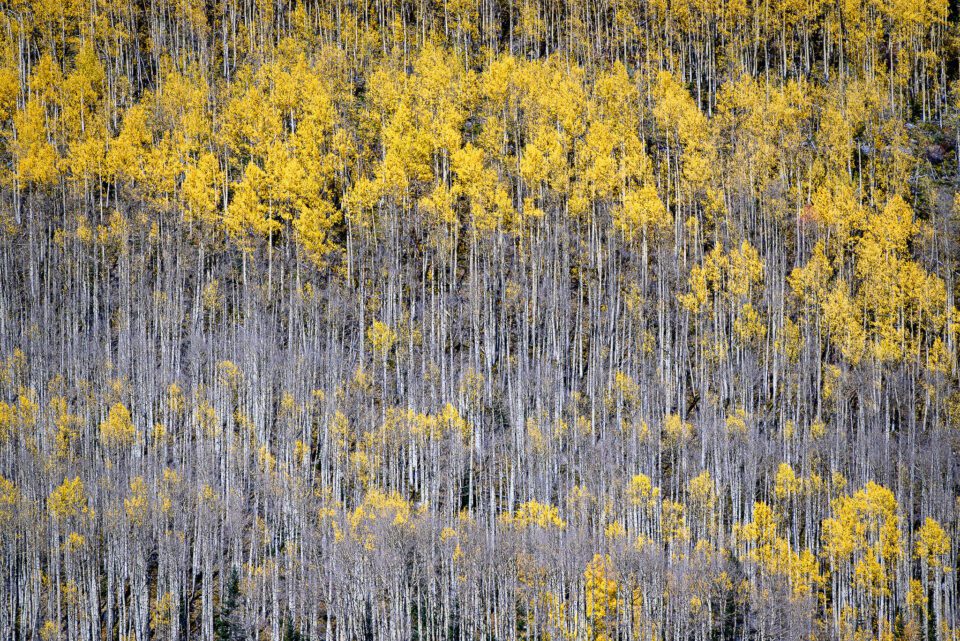 The 24-200mm f/4-6.3 VR has good weather and dust sealing, and it's unlikely that moisture will get into the lens even in a serious downpour. We tested it in very dusty and sandy conditions for about a week with no ill effects. That said, the very nature of an external zoom means it's possible to get grains of sand or dust stuck in the lens barrel, regardless of Nikon's weather sealing. These grains of sand are unlikely to make their way into the optics of the lens or harm your image quality, but they can scratch up the outside of the barrel and require more forceful zooming in order to change focal length. This isn't something that happened during our time with the lens, but you may see it after using the 24-200mm for several years in dusty conditions.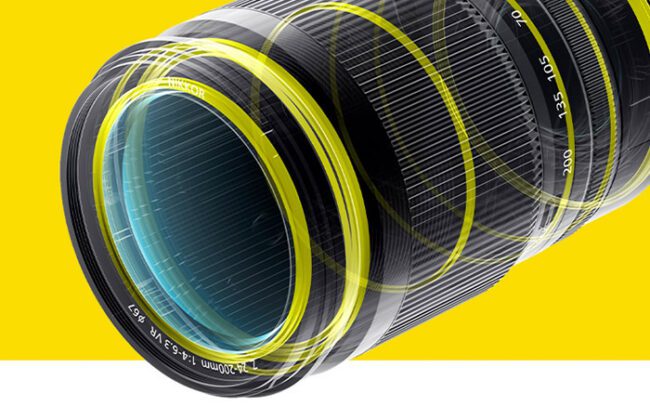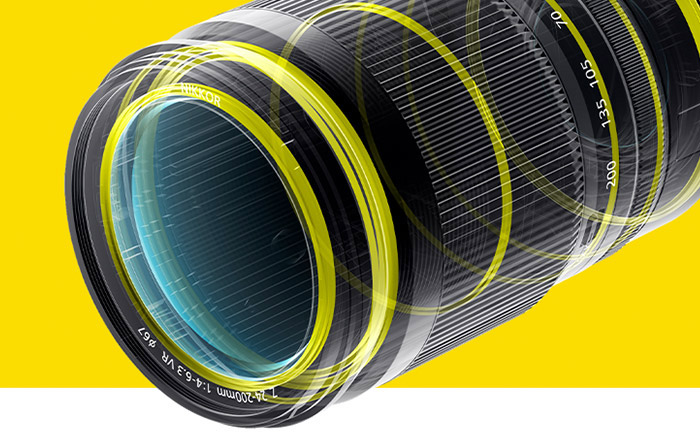 One nice benefit of the 24-200mm f/4-6.3's construction is the fluorine-coated front element. This coating does a good job repelling dust and water, which beads off the lens more easily than on ordinary glass. It's still best to use a lens hood and periodically dry off the front of your lens if you're shooting in the rain, but the fluorine coat is a big help. It's not a feature unique to the 24-200mm, but it's only on about half of the Nikon Z lenses so far, and it's a welcome sight either way.
Overall, you're not giving up much build quality with the Nikon Z 24-200mm f/4-6.3 over a typical external zooming lens. Yes, the construction is plastic, but it's high quality and durable with ample weather sealing throughout the lens. Despite the reputation of a lot of superzooms, this one definitely is not made of bottom-barrel parts.
But what about the 24-200mm's handling? I'll cover that next.
Handling
Nikon did leave out a few handling features when designing the 24-200mm f/4-6.3, probably to save weight or cost. Notice anything odd about the left-hand side of the lens, where the switches normally are?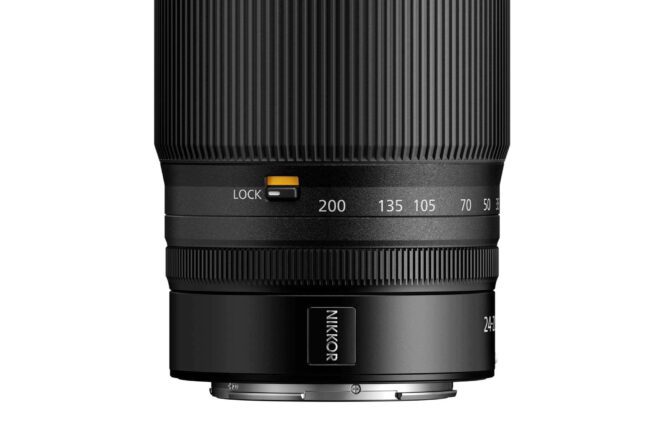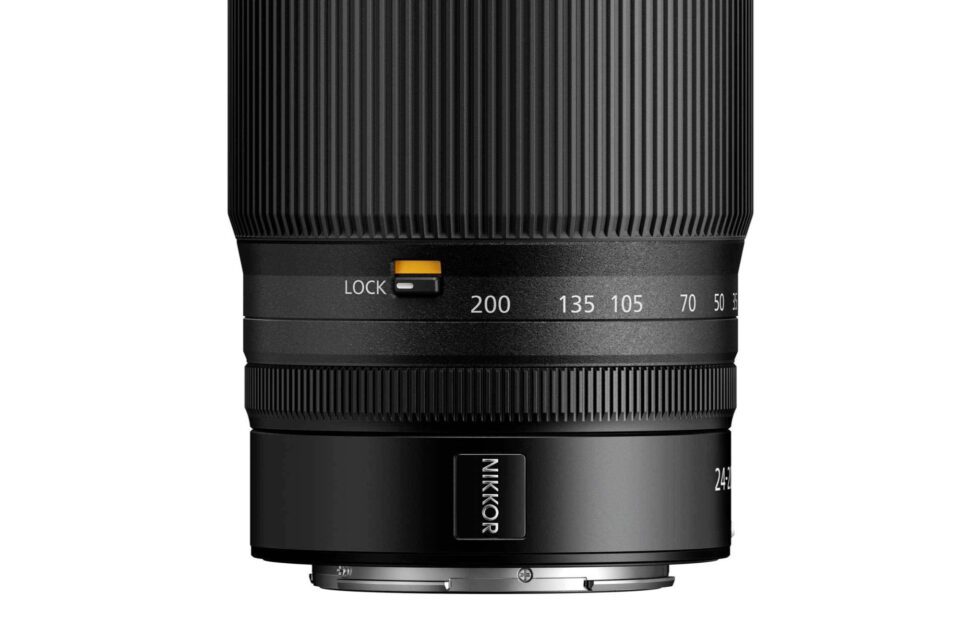 We're missing some! There is no AF/MF switch on the Nikon Z 24-200mm. Nor is there a VR switch, even though this lens does have vibration reduction. In order to lock the lens to manual focus or change vibration reduction, you need to control it directly from your camera.
The one switch we do get is not particularly helpful. It locks the 24-200mm's focal length in place, although it only engages when you're at 24mm (where the lens is at its most compact). This is meant to prevent zoom creep when you're carrying around the lens all day, but there's really no zoom creep on the 24-200mm to speak of. It could also be meant for traveling with the 24-200mm so that it doesn't move around too much in storage. Either way, I'm not opposed to it, but it isn't really necessary.
On the rest of the 24-200mm f/4-6.3, the only control aside from the zoom ring is the usual programmable control ring, which I recommend keeping at the default of controlling focus. You can spin this ring at any point for instant manual focus override. As a result, if you're already using back-button autofocus rather than autofocusing when you half-press the shutter button, you'll rarely need to worry about the missing AF/MF switch, if ever. I still wish that Nikon had included one, but I find the bigger issue is actually the missing VR switch.
In order to enable VR with the 24-200mm f/4-6.3, you need to change it on the camera itself. The easiest way is to add the image stabilization option to your "i" menu, at which point it takes a few button presses to turn it on and off. Note that this lens's VR system cannot be engaged without simultaneously engaging the camera's own stabilization system (assuming your camera has it); the lens's VR and the camera's IBIS are inseparable in any of Nikon's menus.
As for the performance of the VR, Nikon claims you'll get up to five stops of image stabilization when using the 24-200mm f/4-6.3. In practice, we didn't get that much at the wide-angle end (closer to 3 stops), but five stops was on the edge of possible at 200mm. Taking a burst of photos in a row with good handholding technique, we could get sharp, handheld shots like this at less than 1/10 second at the telephoto end: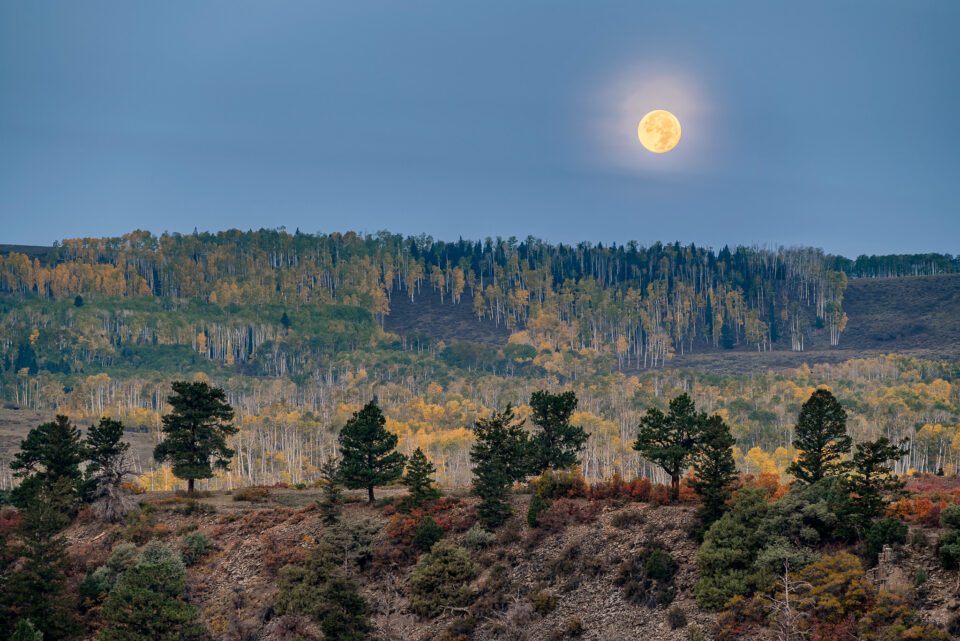 It's pretty amazing to shoot under moonlight handheld at 180mm, without even raising the ISO! Plenty of travel photographers who are considering the 24-200mm f/4-6.3 won't use it with a tripod, so good VR performance is critical. The 24-200mm f/4-6.3 delivers in that regard.
Next, let's take a step back and look at the specifications of the Nikon Z 24-200mm f/4-6.3.