Nikon makes some seriously good ultra-wide lenses. The F-mount 14-24mm f/2.8 is often considered one of the best wide zooms ever, and the wide-angle Z lenses we've seen so far have also been fantastic. But how does the Nikon Z 14-24mm f/2.8 S compare?
The short answer is that it's one of the best lenses we've ever tested. Nikon has managed class-leading performance in almost every measure, while also bringing the lens's weight down to a remarkable 650 grams (1.43 pounds). By comparison, the F-mount version weighs 1000 grams (2.20 pounds), which is more than 1.5 times as heavy.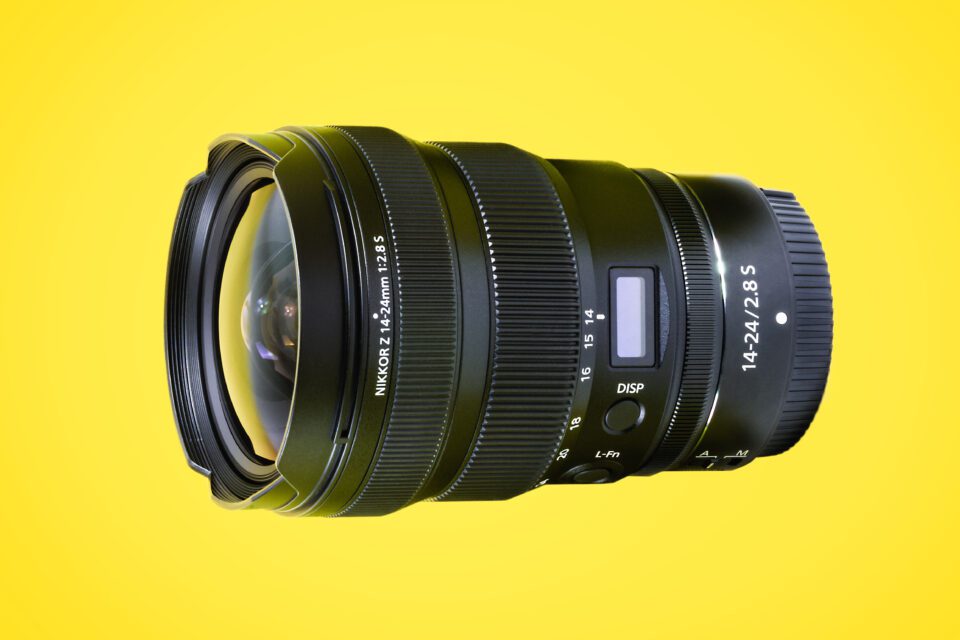 While the Nikon Z 14-24mm f/2.8 S isn't cheap at $2400 (with periodic sales bringing it to $2200), it's not out of line for what similar lenses cost. The Canon RF 15-35mm f/2.8 is $2300, for example; the Sony 12-24mm f/2.8 is $2900-3000. Even the Nikon F-mount 14-24mm f/2.8 was a similar price when it was introduced: $1800 in 2007, which is $2330 in today's dollars. Some third party-lenses are obviously cheaper, and you can always by used, but this isn't a bad price for a name-brand f/2.8 ultra-wide zoom.
The Nikon Z 14-24mm f/2.8 has a reasonably complex design with 16 lens elements in 11 groups, of which three are aspherical and four use extra-low dispersion glass. It has Nikon's high-end construction for a Z-series lens, with two control rings, a custom function button, and an EL display for things like distance and depth of field information.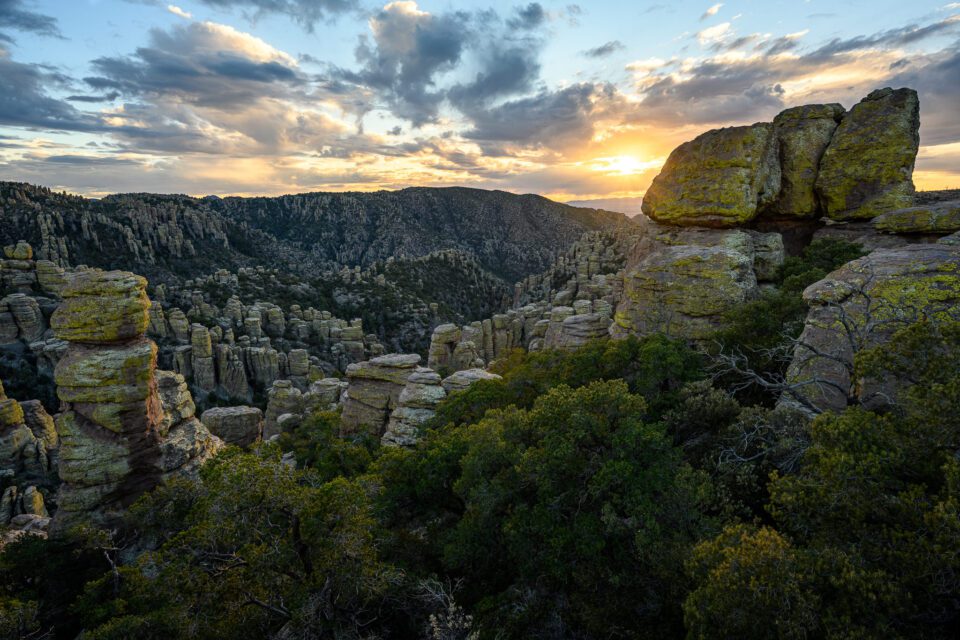 At the same time, considering that Nikon already has a Z-series 14-30mm f/4 that's lighter, less expensive, and has a longer zoom range, who is the 14-24mm f/2.8 meant for in the first place?
Part of the answer is that it has a wider maximum aperture of f/2.8. Astrophotographers and event photographers will salivate over capturing twice as much light compared to f/4, not to mention the better-focusing capabilities in low-light conditions. Along with that, as you'll see later in this review, the Nikon Z 14-24mm f/2.8's optical characteristics are so good that they may sway plenty of photographers who trying to decide between it and the 14-30mm f/4 S. I'll cover those optical characteristics in a moment, but first, let's start by taking a look at the Nikon Z 14-24mm f/2.8's full specifications in the next page.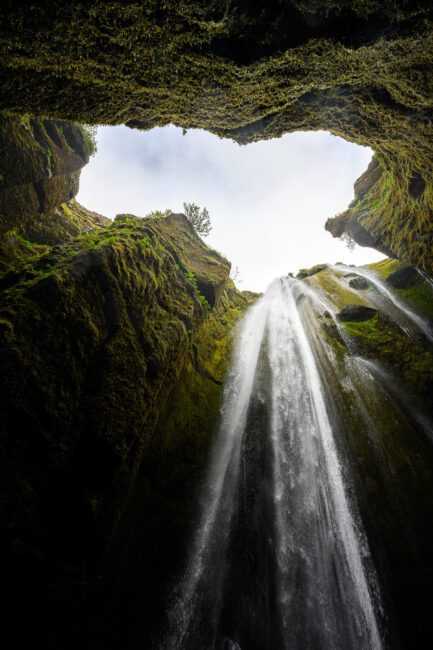 Build Quality
The first thing you'll notice when using the Nikon Z 14-24mm f/2.8 S, at least if you've used a similar lens in the past, is just how light it is. Take a look at the list below of the current ultra-wide f/2.8 lenses from different brands in descending order of weight:
Sigma 14-24mm f/2.8 A for DSLR: 1150 grams / 2.53 lbs
Tamron 15-30mm f/2.8 G2: 1100 grams / 2.42 pounds
Nikon F 14-24mm f/2.8: 1000 grams / 2.20 lbs
Tokina AT-X 16-28mm f/2.8: 950 grams / 2.09 pounds
Sony 12-24mm f/2.8: 847 grams / 1.86 pounds
Canon RF 15-35mm f/2.8: 840 grams / 1.85 pounds
Sigma 14-24mm f/2.8 A for FE & L-mount: 795 grams / 1.75 pounds
Canon EF 16-35mm f/2.8 III: 790 grams / 1.74 pounds
Nikon Z 14-24mm f/2.8 S: 650 grams / 1.43 pounds
Sony 16-35mm f/2.8 GM II: 547 grams / 1.21 pounds
I give Nikon very high marks for this. Few photographers would have been surprised if this lens had weighed at least a couple hundred grams / half a pound more. Yet somehow Nikon found a way to make it one of the lightest lenses in its class.
Does this come with a durability penalty? Not particularly. While it's true that the Nikon Z 14-24mm f/2.8 S has a mostly plastic exterior, it's high-quality plastic, and the lens mount is still metal.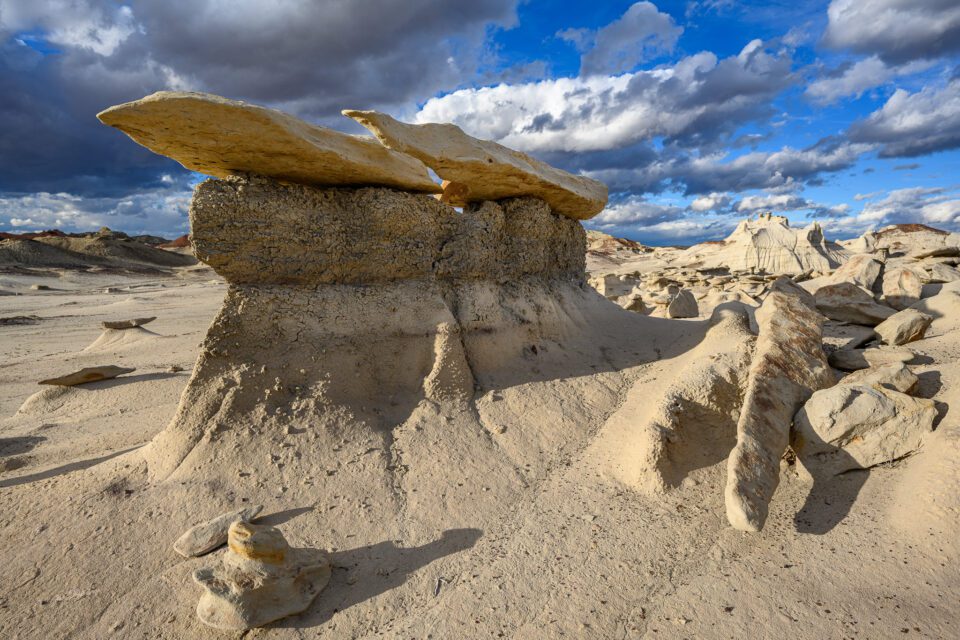 I actually tend to prefer plastic lenses over metal, assuming modern high-quality plastic. They don't sap the warmth from your hands in cold weather as quickly, which matters to a lot of landscape photographers. If dropped or bumped around (hopefully never happens, but you never know), plastic lenses are more likely to bounce rather than dent. And of course, they're lighter. The Nikon Z 14-24mm f/2.8 S is the perfect case in point.
As for the rest of the build quality features, the Nikon Z 14-24mm f/2.8 S has excellent weather and dust sealing, including a rubber seal along the lens mount. Nikon has been publishing x-ray style illustrations of the weather sealing for their recent Z lenses, including for the 14-24mm f/2.8 S: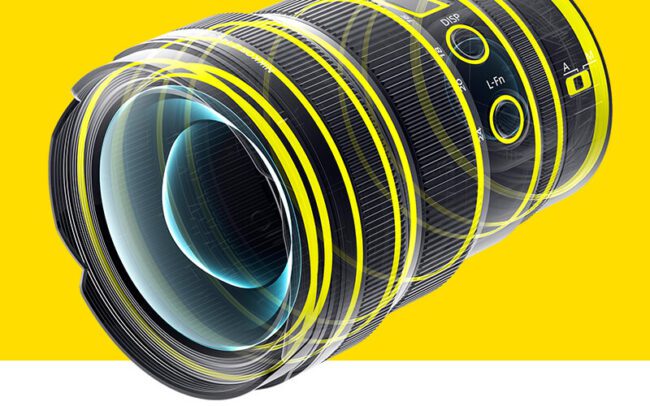 The size of the 14-24mm f/2.8 is more reasonable than a lot of ultra-wide f/2.8 lenses, and it doesn't have the bulbous front element that you'll often see. Here's a size comparison between the Nikon Z 14-30mm f/4 S and the Nikon Z 14-24mm f/2.8 S at 14mm: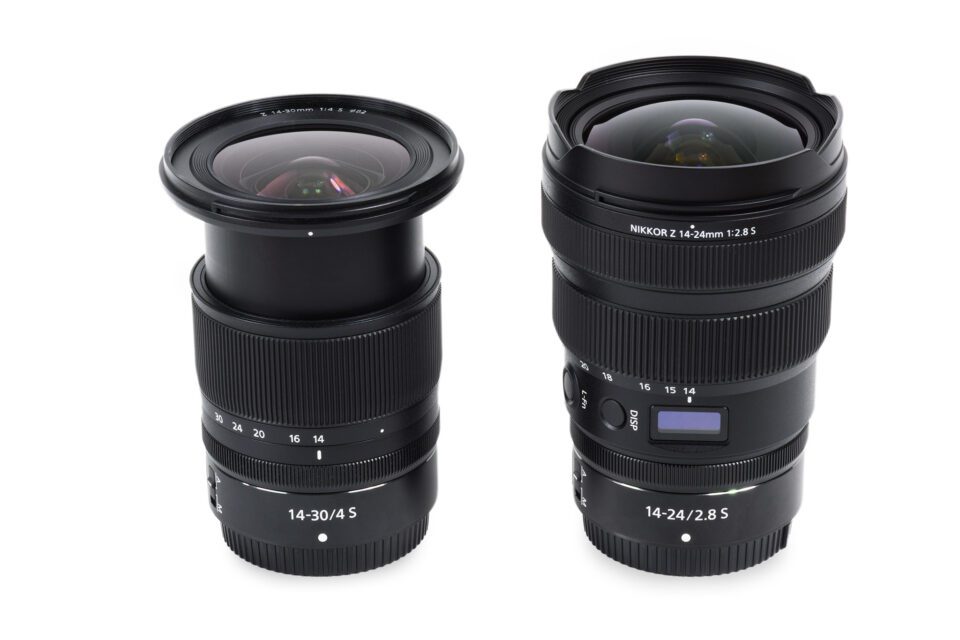 And at 24mm: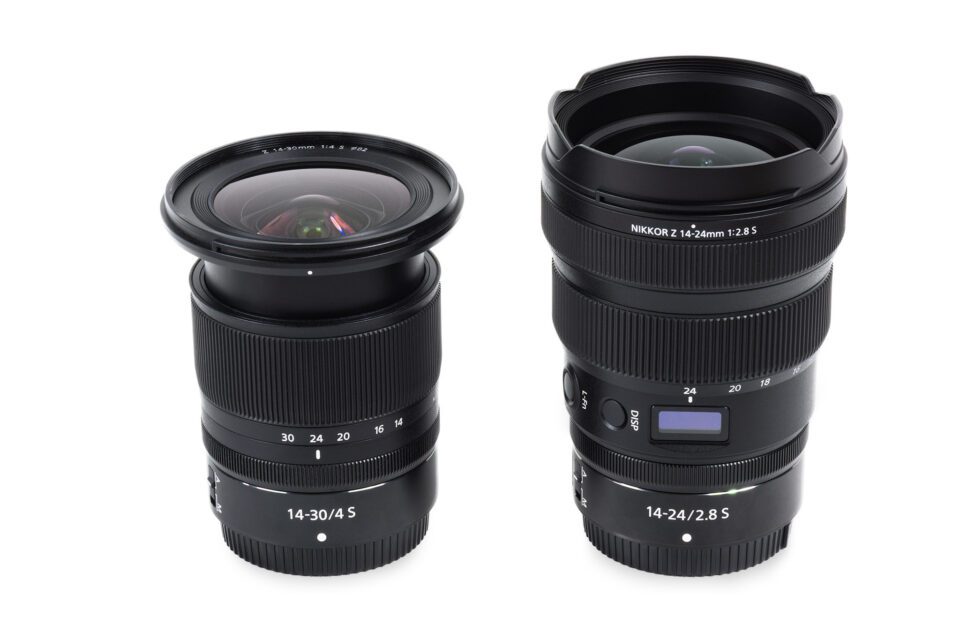 The Nikon Z 14-24mm f/2.8 is the larger lens (and it doesn't have the ultra-compact "locked" mode found on the 14-30mm f/4) – but it's not a drastic difference. The 14-24mm feels well-balanced on every full-frame Nikon Z camera so far.
One small weatherproofing issue with the Nikon Z 14-24mm f/2.8 S is that the front lens element moves as you change focal lengths, as you can see in the images above. It's the most extended at 14mm, and it gradually recedes as you zoom to 24mm. The lens's dimensions never actually change; instead, the front element is moving forward and backward within the lens's nonmoving outer barrel.
This isn't something I'd worry about unless you constantly shoot in dusty or sandy conditions. If you do, it's possible that some grit can land in the lens barrel and make it harder to zoom the lens over time (though it's unlikely to reach or damage the internal optics themselves). My recommendation for photographers who are concerned is to use a 112 mm UV or any other filter in combination with the HB-97 lens hood in sandy conditions. At that point, there won't be any external moving lens elements when you zoom, and dust has nowhere to collect.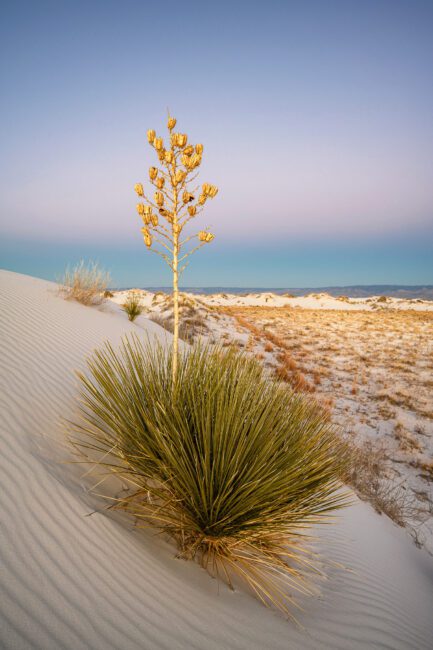 Now let's cover the handling features of the Nikon Z 14-24mm f/2.8 S.
Handling
The Nikon Z 14-24mm f/2.8 handles similarly to the other top-of-the-line Z-series lenses like the 24-70mm f/2.8, 70-200mm f/2.8, and 105mm f/2.8 macro. It has two control rings (at least one of which you should reserve for manual focus), a custom function button, and an EL display for information like distance and depth of field. The "DISP" button is to change which information appears on the EL display.
Something unusual about the 14-24mm f/2.8 S is that it ships with two lens hoods rather than one. The first, the HB-96, is a smaller, standard lens hood like you'd expect. The other is called the HB-97, and it's a slightly larger hood with a built-in filter thread for 112 mm filters. You can see the difference here: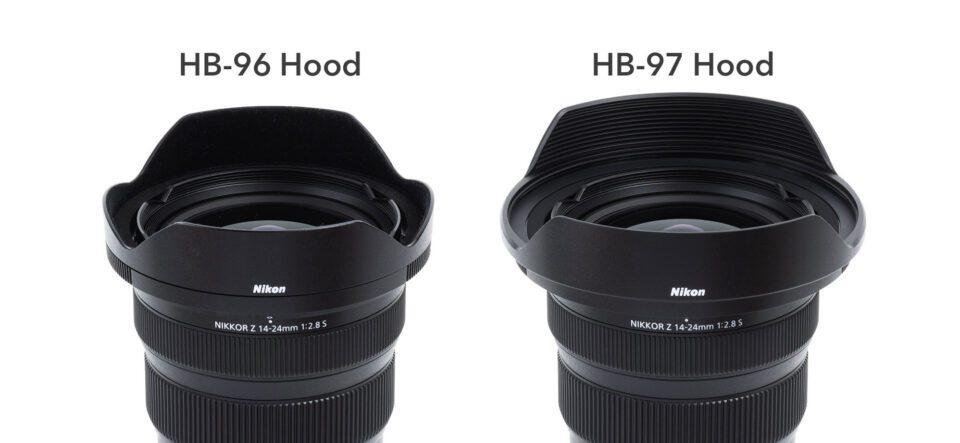 I'm a big fan of the idea of putting filter threads in a lens hood. It solves the problem of trying to use a filter and a lens hood simultaneously for landscape photography (which can be especially tough with a polarizer that you're trying to rotate. You can see below in this product photo from the filter company NiSi how the setup works: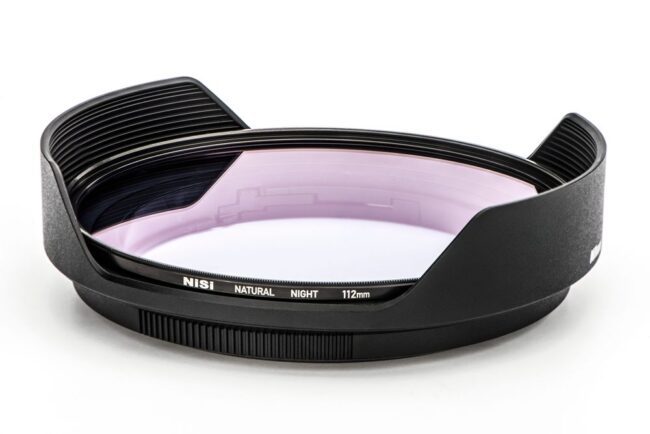 Nikon actually sells a 112 mm polarizing filter and UV filter for the HB-97, but they're rather expensive at $680 and $420 respectively. A better option is to get a third-party 112 mm filter, or a full filter holder. The various filter and filter-holding options that exist at the moment are:
Something seriously cool about the HB-97 lens hood is that it doesn't just fit the Z 14-24mm f/2.8 S, but also three other Nikon Z lenses so far: the 14-30mm f/4 S, 24-70mm f/2.8 S, and 70-200mm f/2.8 S. This means that if you get a 112 mm filter or holder system to use with the 14-24mm f/2.8 S, you can rapidly swap it from lens to lens just by swapping the hood! What a cool feature and well done to Nikon for thinking up such a clever system. (Of course, the original lens hoods for the 24-70mm f/2.8 and 70-200mm f/2.8 provide more coverage against the sun than the wide-angle-optimized HB-97 – but they don't have filter threads.)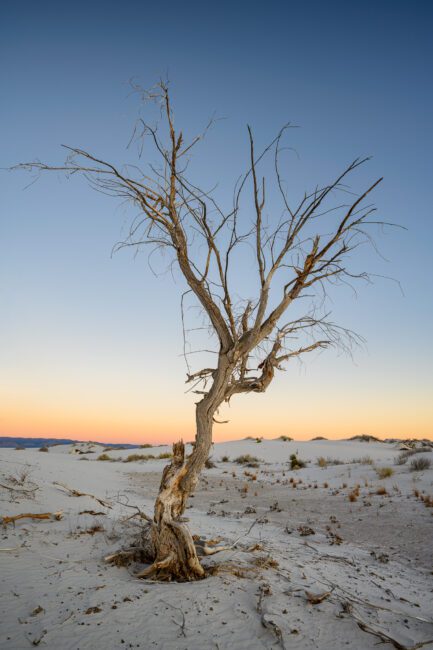 You also have the option to use rear gel filters with the Nikon Z 14-24mm f/2.8 S, although the only way to attach or remove them is to take the lens off your camera. The good news is that rear gel filters are smaller and lighter than a 112 mm front filter, so they may be preferable for certain applications. That said, they're mainly just useful if you want to use an ND filter (like these); there aren't any rear gel polarizing filters, nor would one be especially useful, since you couldn't spin it to adjust for the light.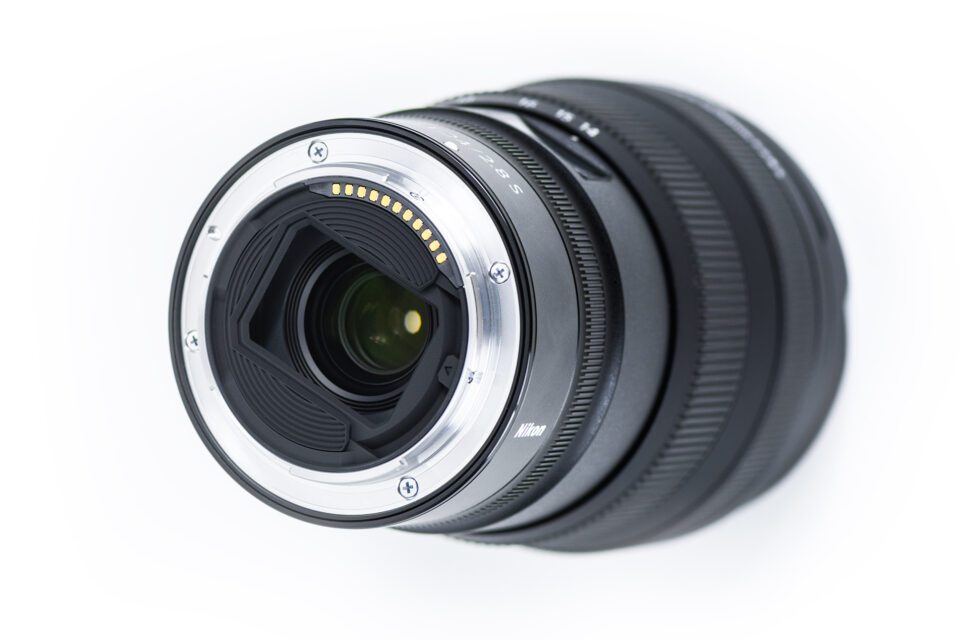 The last handling feature I'll mention is stabilization. The Nikon Z 14-24mm f/2.8 S does not have vibration reduction, although it's fully compatible with Nikon's in-body image stabilization (IBIS) system found on most of the Z-series cameras. The result is that you can get about three stops of stabilization when shooting handheld on the Z 14-24mm f/2.8 S compared to turning off IBIS. It's not as much as on some Nikon Z lenses because of the wide angle focal length (especially if you look closely at corner details) but it's still enough to make this a great handholding lens.