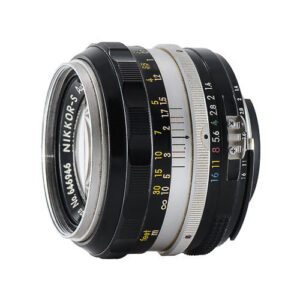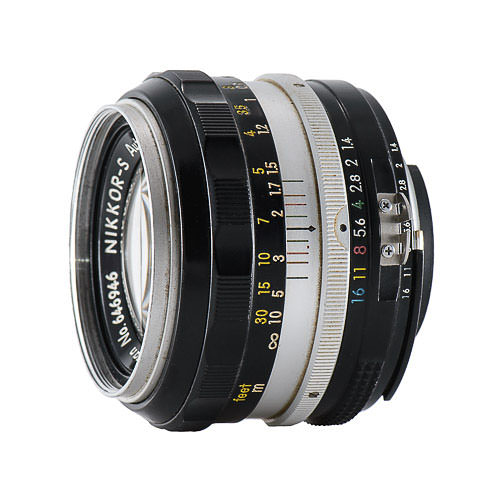 Lens Description: Released in 1962, this lens became just as popular as Nikon had hoped it would and established its position as a standard normal lens for Nikon F cameras. It was produced in its original form for 14 years until multi-layer coatings were adopted in 1972 and its optical system was improved in 1976. The Nikkor-S Auto 50mm f/1.4 was the most popular NIKKOR lens during the Nikon F and F2 eras.
Photography Life Review Summary: The classic NIKKOR-S 50mm f/1.4 is an interesting lens with impressive performance characteristics when one gets to know how to properly use it. Since it suffers from spherical aberration, field curvature and a very noticeable focus shift, one must understand these limitations when using the lens on modern DSLRs. Still, when stopped down to f/4 and smaller, the lens is capable of producing excellent results, especially in the center of the frame. Read the full Nikon NIKKOR-S Auto 50mm f/1.4 Review by Photography Life.
---
Nikon NIKKOR-S Auto 50mm f/1.4 Specifications
Lens Specifications
Lens Type
Prime Lens
Focal Length
50mm
Mount Type
Nikon F
Format
Full Frame / FX
Compatible Format(s)
35mm Film, FX/DX Digital (AI Only)
Compatible with Teleconverters
No
Maximum Reproduction Ratio
1:9.8
Vibration Reduction (Image Stabilization)
No
Aperture Information
Aperture Ring
Yes
Maximim Aperture
f/1.4
Minimum Aperture
f/8
Maximum Angle of View (Full frame or larger format)
46°
Optical Information
Lens Elements
7
Lens Groups
5
Diaphragm Blades
7
Focus Information
Focus
Manual Focus
Built-in Focus Motor
No
Minimum Focus Distance
0.6m
Filter Information
Filter Size
52mm
Accepts Filter Type
Screw-in
Physical Characteristics
Weather / Dust Sealing
No
Mount Material
Metal
Dimensions
67 x 48mm
Weight
307g
Other Information
Available in Colors
Black
Lens Construction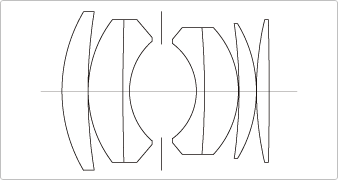 MTF Performance
Here is how the lens performed according to Imatest:

Due to very strong spherical aberration issues, The NIKKOR-S 50mm f/1.4 shows weak performance at the maximum aperture. On top of that, the lens suffers from field curvature, which results in blurry mid-frame and corners. And even worse, there is a very noticeable focus shift when going past f/2. In order to produce the above numbers, I had to reacquire focus at each aperture all the way to f/5.6.
Stopping down to f/2 improves sharpness in the center quite a bit, but the rest of the frame stays very weak until f/2.8. At f/4, the effect of spherical aberration and field curvature is significantly reduced, resulting in much better overall performance. Center sharpness is very impressive at f/4 and peaks at f/5.6, where the lens produces exceptionally sharp images across the frame. Best corner performance is reached at f/8.
Distortion
There is a little bit of visible barrel distortion, but it is not too noticeable – better than on the NIKKOR 50mm f/1.2 Ai-S. Imatest measured barrel distortion at -1.10. Unfortunately, since neither Lightroom nor Camera RAW have built-in lens profiles for this classic, all distortion corrections have to be carried out manually.
Chromatic Aberrations
Chromatic aberration levels are fairly low when compared to other classic 50mm lenses. Imatest measured CA at under 1 pixel on average, as shown below:
Vignetting
Vignetting is extremely strong wide open, reaching as many as 3 full stops of difference in the corners. As the lens is stopped down, vignetting is reduced considerably – by f/4, it is almost completely gone:
Here is an illustration of the worst case scenario, shot at f/1.4: