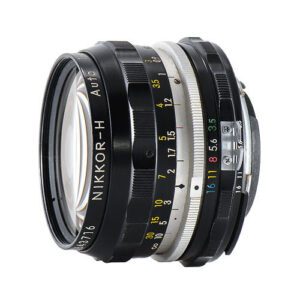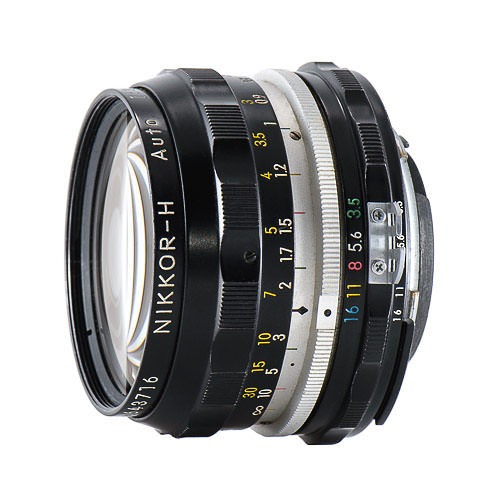 Lens Summary
Brand: Nikon
Also Known As: Nikon NIKKOR-H 28mm f/3.5
Lens Type: Prime Lens
Format: Full Frame / FX
Focus: Manual Focus
Lens Mount: Nikon F
Release Date: 1959-01-01
MSRP Price: N/A
Made in: Japan
Infrared Rating: Good
Production Status: Discontinued
Photography Life Review Summary: The NIKKOR-H 28mm f/3.5 is a solid lens with an all-metal barrel. While its performance is quite good in the center (peak performance is reached at f/5.6), the mid-frame and corners are very weak due to heavy field curvature. The effect of field curvature is so heavy, that the lens requires stopping down to f/11 to get average results throughout the frame. Focusing in the corners can yield sharp results, but it blurs the center and mid-frame severely. Hence, unless only center sharpness is desired, this is not a good candidate for modern digital cameras. Read the full Nikon NIKKOR-H Auto 28mm f/3.5 Review by Photography Life.
---
Nikon NIKKOR-H Auto 28mm f/3.5 Specifications
Lens Specifications
Lens Type
Prime Lens
Focal Length
28mm
Mount Type
Nikon F
Format
Full Frame / FX
Compatible Format(s)
35mm Film, FX (AI converted only)
Compatible with Teleconverters
No
Vibration Reduction (Image Stabilization)
No
Aperture Information
Aperture Ring
Yes
Maximim Aperture
f/3.5
Minimum Aperture
f/16
Maximum Angle of View (Full frame or larger format)
74°
Optical Information
Lens Elements
6
Lens Groups
6
Diaphragm Blades
5
Focus Information
Focus
Manual Focus
Built-in Focus Motor
No
Minimum Focus Distance
0.6m
Filter Information
Filter Size
52mm
Accepts Filter Type
Screw-on
Physical Characteristics
Weather / Dust Sealing
No
Mount Material
Metal
Dimensions
62.5 x 54mm
Weight
215g
Other Information
Available in Colors
Black
Lens Construction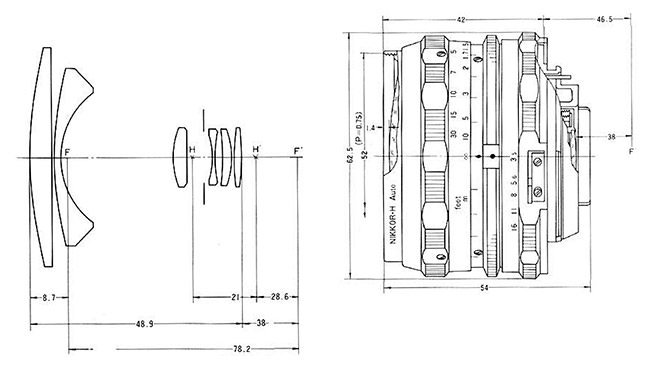 MTF Performance
Here is how the lens performed according to Imatest:
The lens showed a rather severe case of field curvature visible at all apertures, especially from f/3.5-f/8. For best overall performance, the lens should be stopped down to f/11, as can be seen from the above chart. The center performance peaks at f/5.6, where the NIKKOR-H 28mm f/3.5 produces very sharp images comparable to modern prime lenses.
Distortion
Overall, the distortion is controlled quite well. However, the NIKKOR-H Auto 28mm f/3.5 suffers from a slight "mustache distortion". Imatest measured it at 0.22 (pincushion), which is not bad.
Chromatic Aberrations
Chromatic aberration levels are moderate. Imatest measured CA at over 1 pixel, as shown below:
Vignetting
Vignetting is quite strong wide open, reaching as much as 2 full stops of difference in the corners. As the lens is stopped down, vignetting is reduced considerably. By f/5.6 vignetting is reduced to less than a stop and is almost fully gone at f/11:
Here is an illustration of the worst case scenario, shot at f/3.5: