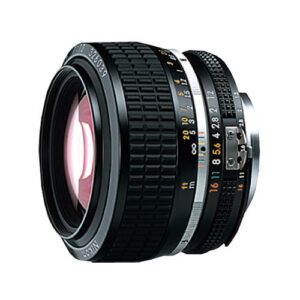 Lens Summary
Brand: Nikon
Also Known As: Nikon 50mm f/1.2 AIS
Lens Type: Prime Lens
Format: Full Frame / FX
Focus: Manual Focus
Lens Mount: Nikon F
Release Date: 1981-09-01
MSRP Price: $699.95
Made in: Japan
Infrared Rating: Poor
Production Status: In Production
Lens Description: High-performance compact and lightweight manual focus lens features a fast f/1.2 aperture.
Photography Life Review Summary: The 50mm f/1.2 Ai-S is a classic NIKKOR lens that is still being manufactured today, thanks to its impressive f/1.2 aperture and superb performance. While the lens suffers from spherical aberration issues at the maximum aperture, the lens performs exceptionally well once stopped down to f/2.0 and smaller. As of today, it is the only Nikon lens that was able to surpass the 3600 mark in our Imatest lab tests, when mounted on the high resolution Nikon D800E DSLR. Read the full Nikon NIKKOR 50mm f/1.2 Ai-S Review by Photography Life.
---
Nikon NIKKOR 50mm f/1.2 Ai-S Specifications
Lens Specifications
* Supplied accessories may differ depending on country or area
Lens Type
Prime Lens
Focal Length
50mm
Mount Type
Nikon F
Format
Full Frame / FX
Compatible Format(s)
FX, DX, FX in DX Crop Mode, 35mm Film
Compatible with Teleconverters
No
Vibration Reduction (Image Stabilization)
No
Aperture Information
Aperture Ring
Yes
Maximim Aperture
f/1.2
Minimum Aperture
f/16
Maximum Angle of View (Full frame or larger format)
46°
Optical Information
Lens Elements
7
Lens Groups
6
Focus Information
Focus
Manual Focus
Built-in Focus Motor
No
Minimum Focus Distance
1.7 ft. (0.5m)
Filter Information
Filter Size
52mm
Accepts Filter Type
Screw-on
Physical Characteristics
Weather / Dust Sealing
Yes
Mount Material
Metal
Dimensions
(Approx.) 2.7x1.9 in. (Diameter x Length), 686x48.3mm (Diameter x Length)
Weight
(Approx.) 12.7 oz. (359g)
Other Information
Available in Colors
Black
Supplied Accessories
52mm front lens cap, Rear lens cap
MTF Performance
Here is how the lens performed according to Imatest:
The lens suffers from spherical aberration issues at the maximum aperture of f/1.2 and f/1.4, so its performance is quite limited across the frame. However, once stopped down to f/2.0, aberrations are dramatically reduced, resulting in much higher performance. By f/2.8, the lens yields excellent sharpness in the center and in the mid-frame. There is a little bit of focus shift when jumping between f/1.2, f/2 and f/4. Field curvature is definitely present, which explains the lower performance of the mid-frame and the corners when compared to the center.
Peak performance is reached at f/4.0, where the lens passes the 3600 mark in the center – sharper than the Sigma 35mm f/1.4 and sharper than any other Nikon lens that we have tested to date. Corners also pick up significantly by f/4. The best overall performance is reached at f/5.6, where the lens shows very good sharpness throughout the frame.
Distortion
Distortion is a little on the high side for a lens of this class. Imatest measured barrel distortion at -1.55. Unfortunately, since neither Lightroom nor Camera RAW have built-in lens profiles for this classic, all distortion corrections have to be carried out manually.
Chromatic Aberrations
Chromatic aberration levels are moderate. Imatest measured CA at about 1 pixel at the larger apertures, averaging 1.5 pixels at smaller apertures, as shown below:
Vignetting
As expected, vignetting is quite strong at the largest apertures, reaching as many as 2 full stops of difference in the corners. The good news is, vignetting is cut significantly at f/2.0 and practically disappears by f/2.8:
Here is an illustration of the worst case scenario, shot at f/1.2: