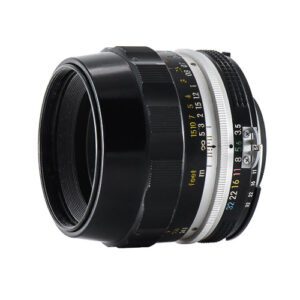 Photography Life Review Summary: A true classic, the Micro-NIKKOR Auto 55mm f/3.5 is a great performer even on the latest Nikon DSLRs like D800. Its center performance is outstanding and while the mid-frame and corners suffer from field curvature a bit at the largest apertures, stopping down the lens to f/5.6 produces superb results across the frame.
---
Nikon Micro-NIKKOR Auto 55mm f/3.5 Specifications
Lens Specifications
Lens Type
Prime Lens
Focal Length
55mm
Mount Type
Nikon F
Format
Full Frame / FX
Compatible Format(s)
35mm Film, FX / DX (AI Version Only)
Compatible with Teleconverters
No
Maximum Reproduction Ratio
1:10
Vibration Reduction (Image Stabilization)
No
Aperture Information
Aperture Ring
Yes
Maximim Aperture
f/3.5
Minimum Aperture
f/32
Maximum Angle of View (Full frame or larger format)
43°
Optical Information
Lens Elements
5
Lens Groups
4
Diaphragm Blades
6
Focus Information
Focus
Manual Focus
Built-in Focus Motor
No
Minimum Focus Distance
0.25m
Distance Information
Yes
Filter Information
Filter Size
52mm
Accepts Filter Type
Screw-on
Physical Characteristics
Weather / Dust Sealing
No
Mount Material
Metal
Dimensions
65.5 x 64.5mm
Weight
245g
Other Information
Available in Colors
Black
MTF Performance
Here is how the lens performed according to Imatest:
The Micro-NIKKOR 55mm f/3.5 is a very sharp lens in the center, even at the maximum aperture of f/3.5. Its mid-frame and corners are pretty weak though, due to the rather heavy case of field curvature. However, once the lens is stopped down to f/5.6, the effect of field curvature is significantly reduced, increasing sharpness in the mid-frame and corners by quite a bit. Its overall peak performance is reached at f/8, where the lens shows excellent sharpness across the frame. The lens does suffer from some focus shift from f/4 to f/5.6, but it is not result in too much image degradation.
Distortion
Distortion is controlled quite well and is barely invisible. Imatest measured some barrel distortion at -0.22, which is very low.
Chromatic Aberration
Chromatic aberration levels are moderate. Imatest measured over 1 pixel at largest apertures and under a pixel when stopped down to f/8:
Vignetting
Vignetting is controlled quite well. There is a little bit of vignetting from f/3.5-5.6, but stopping the lens down to f/8 completely removes it:
Here is the worst case scenario, shot at f/3.5: