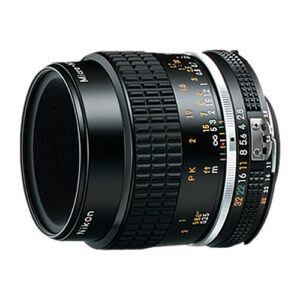 Lens Summary
Brand: Nikon
Also Known As: Nikon 55mm f/2.8 AIS
Lens Type: Prime Lens
Format: Full Frame / FX
Focus: Manual Focus
Lens Mount: Nikon F
Release Date: 1979-09-01
MSRP Price: $409.95
Made in: Japan
Infrared Rating: Good
Production Status: In Production
Lens Description: This manual focus Micro lens is perfect for extreme close-up and general photography with continuous focusing from infinity to 1/2 life-size (1:2).
Photography Life Review Summary: A great classic with impressive performance, especially when stopped down to f/5.6. CA levels are controlled extremely well and the lens is distortion-free. A great buy, especially on the second hand market.
---
Nikon Micro-NIKKOR 55mm f/2.8 Ai-S Specifications
Lens Specifications
* Supplied accessories may differ depending on country or area
Lens Type
Prime Lens
Focal Length
55mm
Mount Type
Nikon F
Format
Full Frame / FX
Compatible Format(s)
FX, DX, FX in DX CRop Mode, 35mm Film
Compatible with Teleconverters
No
Vibration Reduction (Image Stabilization)
No
Aperture Information
Aperture Ring
Yes
Maximim Aperture
f/2.8
Minimum Aperture
f/32
Maximum Angle of View (Full frame or larger format)
43°
Optical Information
Lens Elements
6
Lens Groups
5
Focus Information
Focus
Manual Focus
Built-in Focus Motor
No
Minimum Focus Distance
0.9 ft. (0.25m)
Filter Information
Filter Size
52mm
Accepts Filter Type
Screw-on
Physical Characteristics
Weather / Dust Sealing
Yes
Mount Material
Metal
Dimensions
(Approx.) 2.5x2.4 in. (Diameter x Length), 63.5x60.9mm (Diameter x Length)
Weight
(Approx.) 10.2 oz. (285.6g)
Other Information
Available in Colors
Black
Supplied Accessories
52mm front lens cap, Rear lens cap
MTF Performance
Here is how the lens performed according to Imatest:

Performance is very impressive wide open in the center of the frame. Mid-frame and corners start out a little weaker due to field curvature, but the performance is restored to very good levels when the lens is stopped down to f/8. Center frame peaks at f/5.6 reaching excellent results, while the corners are the best at f/8. The lens did exhibit some focus shift issues, but they were not anything major like on some older manual focus lenses.
Distortion
This lens is practically distortion free – very few Nikkor lenses are this good! Imatest measured a tiny bit of barrel distortion at -0.05, which is not something one would be able to see with a naked eye.
Chromatic Aberration
Chromatic aberration levels are surprisingly low for a classic lens (most modern lenses measure around 1 pixel in CA):
Vignetting
Vignetting levels are moderate wide open and decrease significantly when stopped down to f/4:
Here is the worst case scenario, shot at f/2.8: