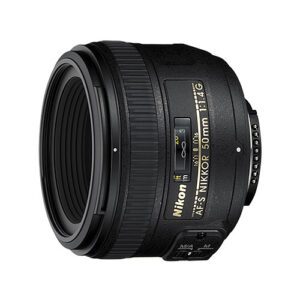 Lens Summary
Brand: Nikon
Also Known As: Nikon 50mm f/1.4G
Lens Type: Prime Lens
Format: Full Frame / FX
Focus: Autofocus
Lens Mount: Nikon F
Release Date: 2008-09-22
MSRP Price: $484.95
Made in: China
Infrared Rating: Poor
Production Status: In Production
Lens Description: Ideal for travel, event, environmental and general photography in a wide variety of conditions, with superb optical formula and an ultra-fast f/1.4 maximum aperture.
Photography Life Review Summary: Since 2008, the Nikon 50mm f/1.4G has been a workhorse lens for both Lola and I. At the end of every year I go through image data in Lightroom and find out what lens was used the most. The Nikon 50mm f/1.4G always tops the list, surpassing all other lenses by a huge margin. It is lightweight, compact and renders beautiful colors and sharp images. Lola loves it so much, that she often refuses to use anything else. When we come back from a wedding or an engagement session, it is typical to see more than 90% of her images shot with the Nikon 50mm f/1.4G. While I am out hurting myself with heavy gear like D3s and 70-200mm f/2.8G, she prefers to stay light with the D700 and 50mm combo. And she takes better pictures. Always. The 50mm focal length just seems to be perfect on a full-frame body. Before the 50mm f/1.4G AF-S came out, the Nikon 50mm f/1.4D was our favorite lens for the same reasons. But the newer AF-S version made the AF-D obsolete and once I showed performance differences between the two to Lola, we made the switch. Read the full Nikon AF-S NIKKOR 50mm f/1.4G Review by Photography Life.
---
Nikon AF-S NIKKOR 50mm f/1.4G Specifications
Lens Specifications
* Supplied accessories may differ depending on country or area
Lens Type
Prime Lens
Focal Length
50mm
Mount Type
Nikon F
Format
Full Frame / FX
Compatible Format(s)
FX/35mm, DX
Compatible with Teleconverters
No
Maximum Reproduction Ratio
0.15x
Vibration Reduction (Image Stabilization)
No
Aperture Information
Aperture Ring
No
Maximim Aperture
f/1.4
Minimum Aperture
f/16
Maximum Angle of View (APS-C or smaller format)
31°30'
Maximum Angle of View (Full frame or larger format)
46°
Optical Information
Lens Elements
8
Lens Groups
7
Diaphragm Blades
9
Super Integrated Coat (SIC)
Yes
Focus Information
Focus
Autofocus
Built-in Focus Motor
Yes
Silent Wave Motor (SWM)
Yes
Minimum Focus Distance
1.5 ft. (0.45m)
Focus Mode Switch
Auto, Manual, Auto/Manual
G-type
Yes
Distance Information
Yes
Filter Information
Filter Size
58mm
Accepts Filter Type
Screw-on
Physical Characteristics
Weather / Dust Sealing
No
Mount Material
Metal
Dimensions
(Approx.) 2.9x2.1 in. (Diameter x Length), 73.5x54.2mm (Diameter x Length)
Weight
(Approx.) 9.9 oz. (280g)
Other Information
Available in Colors
Black
Supplied Accessories
HB-47 Bayonet Lens Hood, LC-58 Snap-On Front Lens Cap, LF-1 Rear Lens Cap, CL-1013 Soft Case
MTF Chart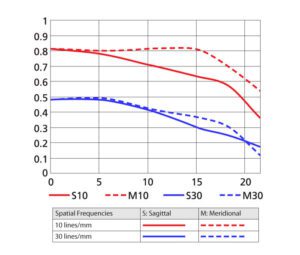 Lens Construction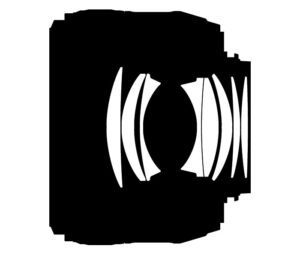 MTF Performance
Here is how the lens performed according to Imatest in our own lab environment:
Distortion
The Nikon 50mm f/1.4G suffers from quite a bit of distortion – even higher than the cheaper Nikon 50mm f/1.8G. Imatest measured barrel distortion at -1.42, which is easy to remove using Lightroom, Adobe Camera RAW or other third party tools.
Chromatic Aberrations
Chromatic aberration levels are fairly low, especially when compared to some other 50mm lenses. Imatest measured CA at under 1 pixel on average, as shown below:
Vignetting
Vignetting is moderate wide open, getting close to 2 full stops in the extreme corners. As the lens is stopped down, vignetting is reduced considerably – by f/4, it is almost completely gone:
Here is the worst case scenario, shot at f/1.4: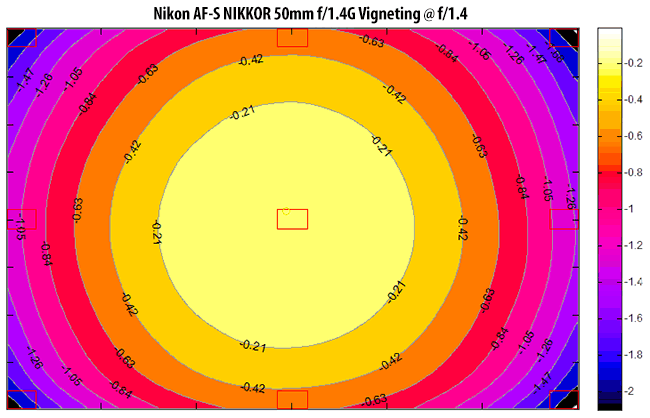 Image Samples