In this in-depth field review, we are going to have a look at a Nikon telephoto zoom DX lens, the Nikon AF-P DX NIKKOR 70-300mm f/4.5-6.3G ED VR, which was launched in August of 2016. This is one of the three existing DX lenses featuring the new AF-P abbreviation, along with the Nikkor 18-55mm (VR and non-VR versions) and the new Nikkor 10-20mm VR wide-angle lens. AF-P stands for a new piece of technology – a pulsing / stepping focusing motor.
This product hardly caused any excitement, as it is an all-plastic lens designed primarily for entry-level DSLRs. Nikkor 70-300mm DX VR AF-P lens is currently sold in many popular sets with DSLR bodies such as D5600, D3400 and D7200. In the past, kit lenses were notorious for their low build quality and rather mediocre optical performance. Nikon, however, managed to produce quite a few decent basic DX zoom lenses (such as the 55-300mm DX VR and 18-55 DX VR) that yield very good performance / price ratio. While many enthusiast photographers call for dedicated DX primes, Nikon decided to invest its resources into even more lightweight and compact DX zooms, such as the new 70-300mm DX VR AF-P lens. How does this lens with new design fare in a real-life test? Let's take a look.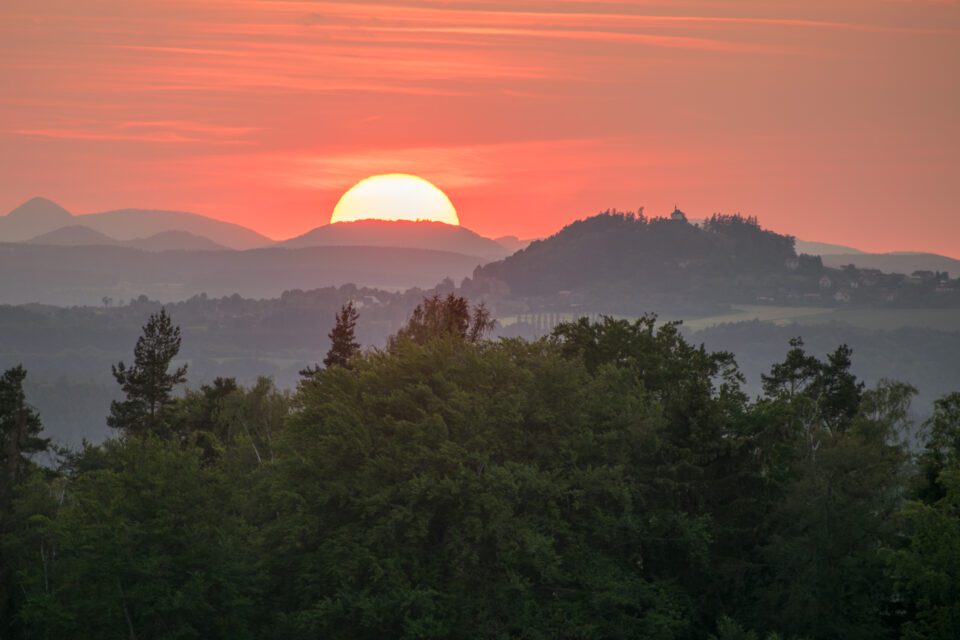 Compatibility
Important notice: the AF-P line is only compatible with the latest Nikon DSLR bodies. It means the number of cameras usable with the lens is limited.
This is how Nikon USA specifies compatibility by grouping cameras in three subsets:
Fully compatible models: Even for compatible cameras, firmware update may be required. Fully compatible models are: D7500, D5600, D5500, D5300, D3400, D3300, D500 and later models
Compatible models with limited functions: D5, D810 series, Df, D750, D7200, D7100, D5200, Nikon 1 series with the FT1
Incompatible models: D4 series, D3 series, D2 series, D1 series, D800 series, D700, D610, D600, D300 series, D200, D100, D7000, D5100, D5000, D90, D80, D70 series, D3200, D3100, D3000, D60, D50, D40 series, film cameras
I have tested this lens on my old Nikon DSLR D7000 (featured by Nikon as an incompatible model) and it indeed does not work. Since the focusing is fully electronic, you cannot even use the manual focusing. The picture in the viewfinder stays blurred all the time, no matter how you turn the focus ring. Stay away from this lens if you have an old body and plan to stick with it.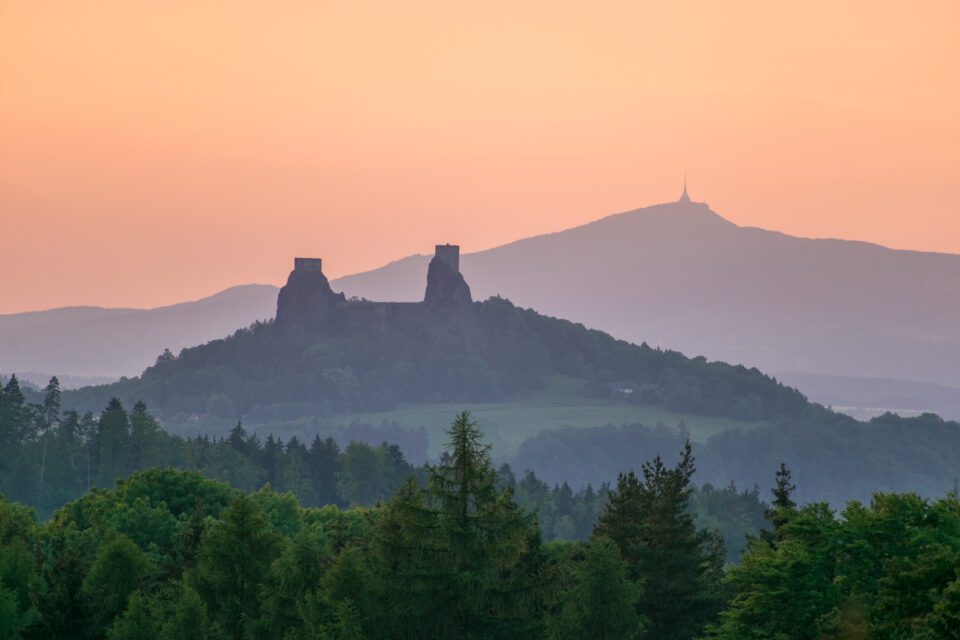 Lens Handling and Features
The Nikon 70-300mm VR AF-P is a lightweight, small, and ultra-portable tele-zoom lens, which feels great in your hands and balances well with all crop sensor DSLRs (DX format). The VR version weights as little as 415 grams (14.7 oz), the non-VR version is slightly lighter (by some 10g). Such low weight is due to its all-plastic design, including a plastic mount. I personally have no issue with plastic mounts, Nikon started using them even in some higher priced lenses: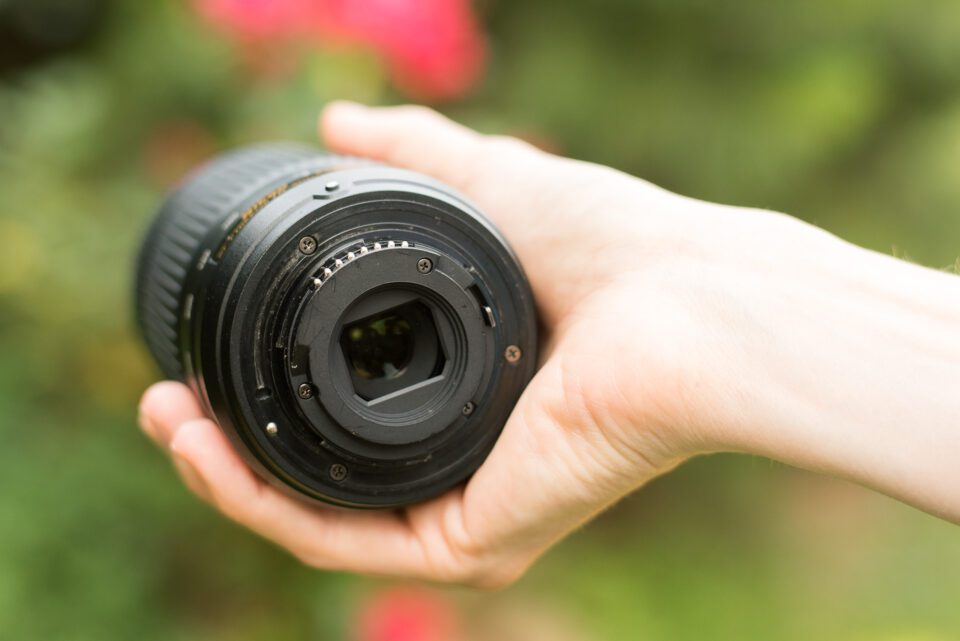 The 4.3x zoom of this 70-300mm lens is a nice range, offering far reach on DX bodies (roughly equivalent to 450mm in field of view on a full-frame camera). The direct DX predecessor of this lens offered even a wider range by having 55mm on the short end, which I would personally prefer, but I understand that such a construction calls for more optical compromises that negatively affect the image quality.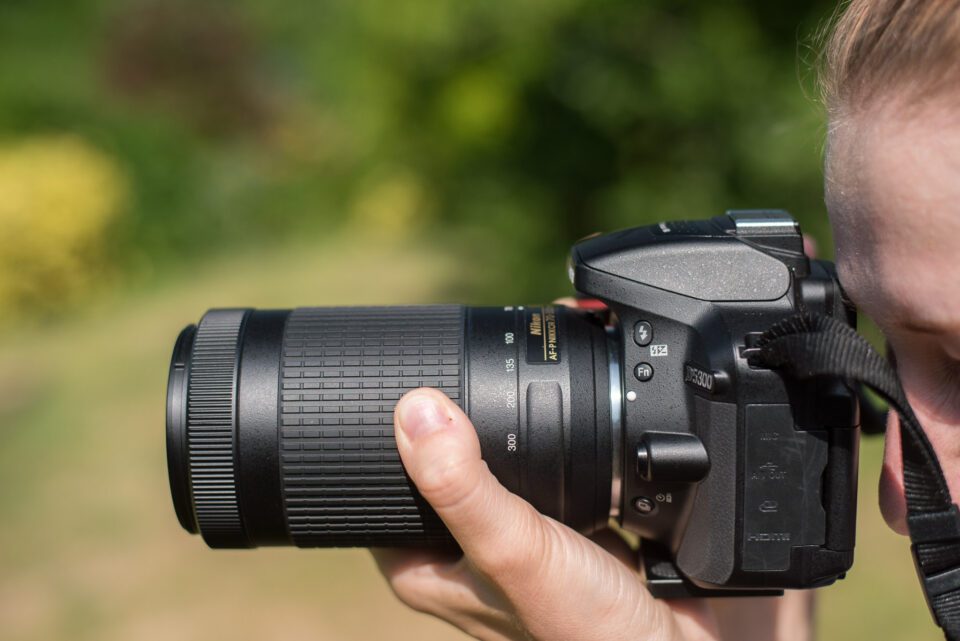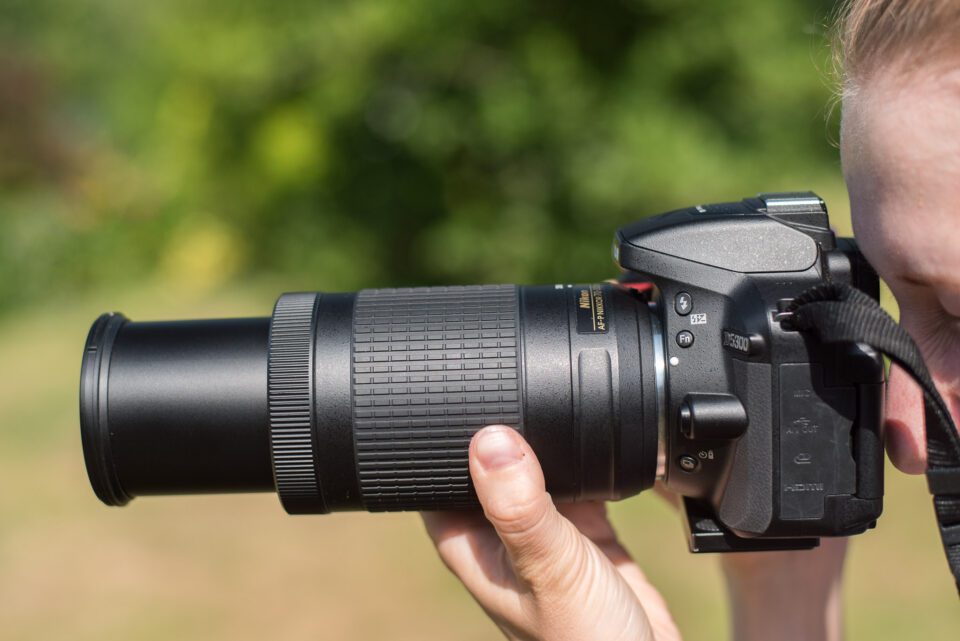 The zoom ring is very large, occupying most of the lens barrel, which makes it easy to zoom in and out with your left hand, while holding the camera with your right hand. The ring is perfectly damped with just the right amount of resistance and zoom creep is not an issue.
At the front, a relatively thin focus ring is placed – yet it due to a very compact size, the ring placement at the very front still keeps the operation very easy.
Nikon's "P" series of NIKKOR lenses use stepping motors to "focus smoother and quieter than previous drive systems. This quiet drive system makes the lenses ideal for use when shooting video." (quotation from Nikon Press-release). See section 4 where I write how the lens fares in real-life shooting.
Strikingly, the AF-P line of lenses, including this 70-300mm tele-zoom, has no mechanical switches (VR or AF/MF). The absence of AF/MF switch is not a big deal, since the lens features a constant manual override option, which comes as a new feature. On older DX kit lenses, you had to first switch to "M mode on the lens to be able to rotate the front of the lens barrel, where the focus ring is located. This lens allows you to override autofocus by simply rotating the focus ring – any time. I find this very handy and practical.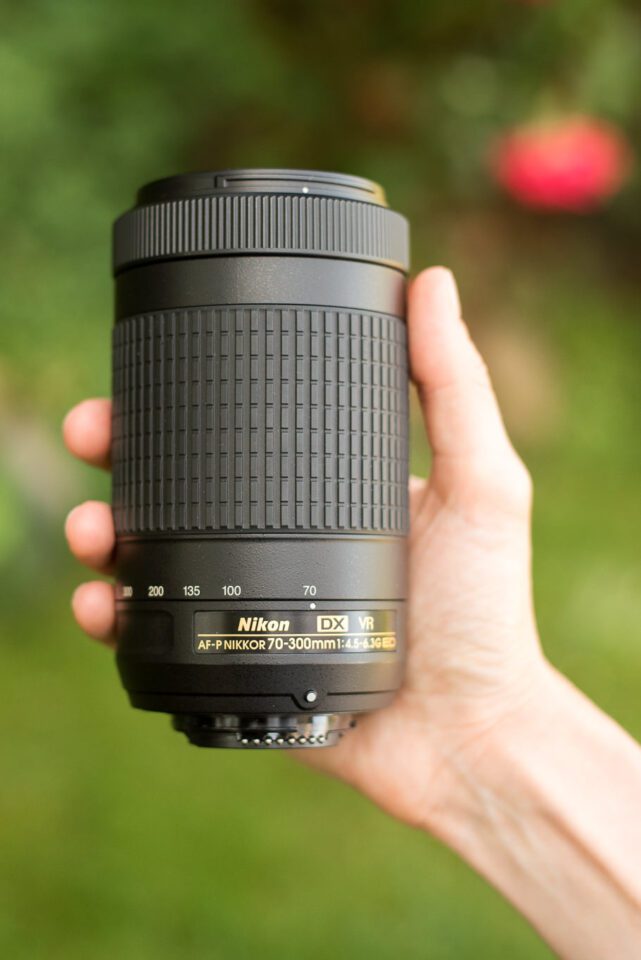 The VR switch absence is more puzzling though, as you must go into your camera internal set-up menu to switch VR functionality on or off. What's more, not all compatible cameras have this feature (such as my D7100). See more information in section 5.
This lens can be paired with a B-77 bayonet lens hood, but it is not included in the price (unlike with the previous version of 55-300mm). You must purchase it separately for 30 USD.
Since it is a variable-aperture lens, the aperture changes as you zoom in from 70mm to 300mm:
70mm – f/4.5
72mm – f/4.8
150mm – f/5
180mm – f/5.3
240mm – f/6
270mm – f/6.3
300mm – f/6.3
Compared to the previous Nikon 55-300mm DX VR, and the even the older 70-300mm VR, this new DX AF-P version offers a slower aperture at 300mm – f/6.3 instead of the more usual f/5.6. While at first it may seem as a big change, it is actually only 1/3 EV slower, which to me is acceptable if focusing and optical performance are OK. So how are they?