Clothing
Base Layer – 32 Degrees Heat Performance Baselayer: B+
This base layer is made of polyester; in hindsight, using wool should have been obvious. I own a couple great wool base layers that I frequently wear on hikes, but I decided against it this time because they are more prone to scratching my shoulders with a heavy backpack. All I can say is that my shoulders should suck it up and take the hit. The 32 Degrees base layer did a passable job of wicking moisture, but the result was nothing exceptional – certainly colder than my usual Icebreaker shirt.
Fleece Layer – Patagonia R1 Full-Zip: A+
I love this jacket with a passion. It's warm, light, and breathable. For the Laugavegur, it was the perfect mid-layer (directly above the base layer shirt). It's one of only two articles of clothing I brought on the trip that I would give a flawless A+ rating. Patagonia also has a hooded version that is more rarely in stock, but the one without the hood worked very well. You can find it on Amazon for $140 for men's and $130 for women's, although you might run into some out-of-stock issues, so look around if it isn't available there.
Synthetic Layer – Red Fox Outdoor Equipment Hoodie: A-
I can't find the specific name of the hoodie I used for the hike, since Red Fox doesn't have much of a US presence, so I won't bother with a lot of detail here. Suffice to say that you should have a synthetic insulating layer to move moisture, typically placed above the fleece as a second mid layer. The one I used worked quite well, although the venting material on the underarms took too long to dry. I'd bring it again, but I don't recommend going out of your way to find the same one I had.
Insulating Layer – REI Magma 850 Down Vest: A-
I figured that a down vest would be better than a down jacket for reasons of weight and compressibility, and that turned out to be true. The REI Magma did a great job keeping me warm when I was standing still by a tripod and taking pictures. The only problem, as with most down jackets, is that it stopped working well at all when it got wet – and it took a while to dry. I'd bring it again, but I would be wary of wearing it in rainy conditions. It's a great choice for cold, dry weather.
Hardshell Jacket – Columbia Outdry EX Caldorado Jacket: A
It's hard to find something lighter than the Columbia Outdry Caldorado without any major waterproofing compromises. I didn't get caught in any downpours, but I got the sense that this jacket would handle any weather I encountered, never once saturating or wetting out. I was glad to have it along with me. The only problem is that it's a minimalist jacket; there are limited vents, no hand pockets, and a higher cut at the bottom than I would have preferred. For this particular hike, it was practically the perfect hardshell, but it's not the rain jacket I'd bring on a more normal trip. It's a relatively new release, but you can get it for $200 from Columbia's website for men and women.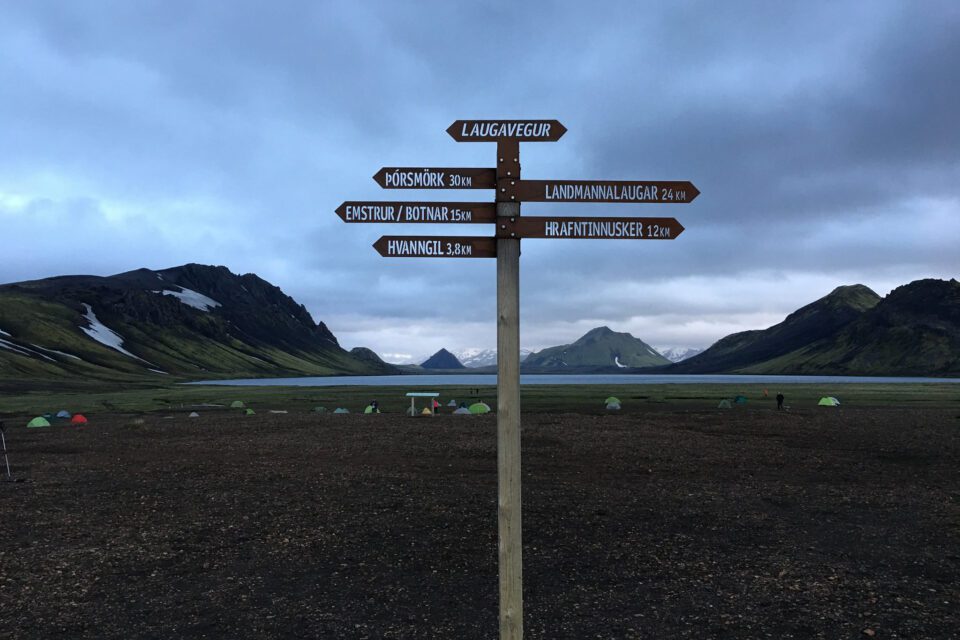 Heavy Pants – Jack Wolfskin: A-
My usual cold-weather pants are a thick, waterproof pair from Jack Wolfskin. I can't find them online, and the brand doesn't have a huge US presence, but they weren't so exceptional that you should chase after them. I like Jack Wolfskin in general, and these did their job, but a lined pair of waterproof pants just isn't ideal for a hike like this. They got somewhat stuffy over time.
Hiking Pants – Prana Brion: A
The other setup I brought involved three main layers: long underwear, hiking pants, and thin rain pants. For the hiking pants component, I picked the Prana Brion pants, which are lightweight and tough. They worked very well, with no real flaws to write about. They only miss out on the A+ rating because it feels like most good pairs of hiking pants would be similar; these weren't otherworldly. But I definitely would bring them again. They're around $60-70 depending upon the size you pick. There isn't a women's version of this exact pair, but there is a similar "Halle" lineup in the range of $80.
Rain Pants – Outdoor Research Helium Pants: A
I got these the day before I left, which is never something you should do, but I realized too late how heavy my old pair was. The gamble paid off – these rain pants were fantastic. They weigh practically nothing, but they did a great job protecting against wind, rain, and sleet. Note that I never tested them in a downpour, just several hours of mist. They worked excellently for me, although I suspect they will let in some moisture over time in heavy rain. A couple times, the membrane started to saturate, although no water ever made it through. Interestingly, they don't have great reviews on Amazon, although that mainly seems due to sizing concerns. (I bought mine in person, and it wasn't an issue; maybe I was lucky?) They're expensive at about about $95, depending upon the size and color.
Long Underwear Base Layer – 32 Degrees Thermal Baselayer: A-
Just like with the shirt, I used a synthetic base layer here when I should have picked wool – in this case because my wool long underwear weighed an extra ounce. It wasn't an awful decision, though, since there was less moisture to contend with in the first place. My legs never got cold during the trip, except when walking through rivers, which wasn't avoidable anyway.
Underwear – ExOfficio Give-n-Go Sport Mesh: A
These were comfortable and lightweight, which is a big deal on a hike this long. Uncomfortable underwear will ruin a trek faster than almost anything else, and the ExOfficios didn't disappoint. They come in both men's and women's versions for $25 and $18 respectively.
Gloves – Seirus Innovation Xtreme: D
One of the few truly bad pieces of equipment I brought on this hike was a pair of Seirus gloves. Although they purported to be waterproof, and that might technically be true, they soaked up absurd amounts of moisture in their membranes. The result was cold and clammy, and they never really seemed to dry. Even in the best of cases, their main contribution was to block the wind rather than add much warmth.
No-Name Glove liners: C-
Unfortunately, the glove liners I brought were hardly any better. Presumably because I used my hiking poles so strenuously, the tips of each finger on the glove almost immediately started to tear open. They became fingerless glove liners before the trip was over. I don't know the brand name because I don't remember when I bought them, and it's not printed on the gloves – but you'd be well-served buying a pair from a higher-end manufacturer instead of a budget brand. You might be wondering why I gave a C- to gloves that fell apart, and a D to gloves that didn't. At least these kept my palms warm.
Hat – SmartWool Cozy Cabin Hat: A-
There's not much to say about this one – it was a hat, and it did its job! The SmartWool Cozy Cabin didn't have any major flaws, but there wasn't much exceptional about it, either. I'll bring it again if I happen not to buy another hat in the meantime.
Boots – Vasque St. Elias: A
The Vasque St. Elias is one of the first pairs of boots I've ever owned that doesn't hurt the arch of my foot, and it's the most waterproof pair I've used as well. I certainly don't see myself switching until these have holes in them, which looks like it will happen approximately never. The big downside is that they're pretty hefty, especially in today's world of lightweight backpacking shoes. You can get them for $160 at most sizes.
Gaiters – Outdoor Research Rocky Mountain High: A
If you're walking through snow with low-quality gaiters on your boots, your feet will start to freeze. I love the Outdoor Research gaiters that I've had for about a year – completely waterproof, flexible, and quite lightweight. The only issue is that they take a decent amount of time to put on and take off compared to other pairs I've owned, which isn't a big deal in the long run. The small, medium, and large sizes are also only $29 at Amazon right now, which is crazy – I paid more than twice that when I bought mine last year.
River Shoes – Crocs Swiftwater Sandals: A-
On the Laugavegur, it's essential to have some sort of shoe when you make the river crossings. I know of some people who go without any, and I also know of at least one person who crushed a toe several years ago because he went barefoot. Personally, I picked up a pair of Crocs at a local shoe store, and they worked well – lightweight and closed-toed (with open sides). There are slightly lighter running shoes on the market that you may prefer instead, but the difference is pretty minimal. I also know of a couple people who did it in flip flops, but I'm glad I had something sturdier. Wouldn't want to dunk my camera underwater!
Socks – Darn Tough Full Cushion: A
You'll want wool socks on a hike like this, both for smell and for warmth. The more you walk, the more moisture will collect in your shoe from sweating, especially with waterproof boots. Wool is the best material to keep your feet comfortable when they're wet. I like the Darn Tough socks that I've been using for years, and I even bought an extra pair for this hike (at annoyingly high prices for a pair of socks). I'm giving them an A rather than an A+ because you should be able to use any good pair of wool hiking socks for a similar result, rather than this specific brand. But if you do want these, it's $24 for a women's pair and $25 for men.
Sock liners –
Injinji Liner Crew Toesocks:

A+

If you do not have these, you need to get them. After nine straight days of hiking, maxing out at 28 kilometers per day (17.5 miles) and averaging 19 km (12 miles), I didn't have a single blister. The only hot spot on my foot happened during the easiest day of hiking, when I foolishly switched these out for a traditional (non-toed) sock liner. I don't know if toe socks from other brands will work equally well, but I'm not taking chances and switching – these things were perfect. They're unisex and $10 at Amazon.